Milwaukee M18 7-1/4 Miter Saw Review 2023 – Pros, Cons & Final Verdict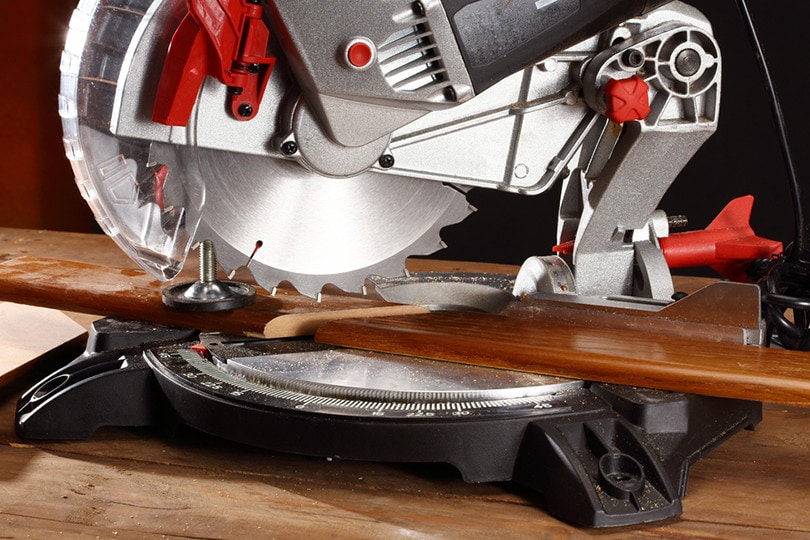 Review Summary
Our Final Verdict
We give Milwaukee M18 7-1/4 Miter Saw a rating of 4.5 out of 5 stars.
Build Quality: 4.5/5
Power: 5/5
Features: 5/5
Price: 4.5

 Milwaukee M18 7-1/4 Miter Saw: A Quick Look
Specifications
Manufacturer: Milwaukee
Models Number: 2733-21
Size: 7 ¼ inch
Weight: 35.2 pounds
Dimensions: 2 4.8 x 16.14 x 25 inches
Batteries: Lithium-ion battery
Blade Length: 4 inches
Measurement System: Metric
Warranty: 5-year tool warranty
Only a decade ago, the idea of a very powerful cordless miter saw was a joking matter. However, the Milwaukee M18 proves that miter saws can be cordless, powerful, and highly efficient, which no one thought was truly possible.
In fact, when the Milwaukee M18 first came out, many carpenters were hesitant to believe that it could do everything it claimed. However, users quickly reported that the Milwaukee M18 truly is as powerful, efficient, compact, and versatile as Milwaukee promises.
Although the Milwaukee M18 is best for professionals or DIYers looking for a compact and convenient miter saw, other users would benefit from the features of this model as well. Read our review below for a comprehensive look at the stellar product.
Pros
Brushless motor
Portable and lightweight
Powerful enough for most jobs
Easy to use
Smooth action
Safe to use
Shadow line

Milwaukee M18 7-1/4 Miter Saw Details
Lightweight and Compact
The Milwaukee M18 miter saw is very compact and lightweight. Even with the battery, it weighs only 28 pounds, making it one of the lightest miter saws available. Many individuals are hesitant to believe that the saw can get a lot of jobs done because of how lightweight it is, but they are quickly satisfied with its powers.
Due to its compact design, it is easy to take this saw with you to many different jobs. Whether you are working around the house or need to take it with you to job locations, the Milwaukee M18 is one of the easiest to toss in your truck and carry around the home.
---
Impressive Power and Versatility
Despite being lightweight, the Milwaukee M18 is very powerful too. Countless carpenters have reported using this tool on many different tasks. Its battery is long-lasting. Milwaukee claims that the device can make 600 cuts from the battery, and most carpenters agree that this statement is true.
The device also offers dual bevels with stops at both 45 degrees and 48 degrees. It can miter 48 degrees in both directions. There are also vertical cutting capacities, crown capacities, and horizontal cutting capacities that make the device versatile for many cuts and jobs.
Ease of Use
On top of the Milwaukee M18's lightweight and versatility, this is one of the easiest miter saws to use. Carpenters report that it has a convenient rail design and numerous features that enhance the usability of the experience. You can easily adjust the saw to your preferences with little to no effort.
Cutting with this miter saw is easy too. It comes with an LED shadow cut line. Carpenters agree that this is better than a traditional red laser line. In other words, all aspects of using the Milwaukee M18 is easy and convenient, even for beginners.
---
Price
Because the Milwaukee M18 is backed with impressive power, a compact design, and an easy-to-use model, it probably won't surprise you that this is slightly expensive. Although there are more expensive miter saws, this one is expensive, especially for it being battery powered.
FAQ
Does the Milwaukee M18 have a laser?
No. The Milwaukee M18 does not have a laser. Instead, it uses a shadow mechanism to create the same line as a laser would. The difference is that this shadow is easier to see, especially in bright conditions. In other words, the shadow is more visible than a traditional laser.
What are the dimensions of the Milwaukee M18 base?
The length of the base, starting from the front of the blade guard to the back of the saw, is 24 inches. The outside dimensions of the base are 22 by 13 inches. This is a much more compact dimension than other miter saws of its category.
Does the Milwaukee M18 rail glide smoothly?
Yes. The Milwaukee M18 rail glides very smoothly. Carpenters and household users agree that it is one of the smoother gliding rails.
Does the Milwaukee M18 come with a warranty?
Yes. Milwaukee offers a five-year tools warranty on the Milwaukee M18.
What the Users Say
To ensure we offer the most accurate review of the Milwaukee M18, we analyzed reviews of this product on several different sites. Almost all these reviews sing praises of the Milwaukee M18, especially its convenience, compact design, and battery efficiency.
Both professional carpenters and DIYers agree that the Milwaukee M18 is one of the easiest miter saws to use. Its compact design allows anyone to transport the saw to and from workstations, which is a major benefit of the design. More so, users are impressed at the battery efficiency. Unlike many other cordless miter saws, this one really does last and packs enough power to get most jobs done.
A few people note that they think it is slightly overpriced, but most users agree that the price is worth it for its superior capabilities.

Conclusion
The Milwaukee M18 miter saw is a great choice for professionals and homeowners who want a lightweight, compact, and efficient cordless miter saw. Its compact design means that you can take this saw with you anywhere. Meanwhile, it is powerful and has a long battery life so that you can enjoy a hard-working saw.
---
Featured Image Credit: Alex Kosev, Shutterstock