25 Great Gifts for Carpenters, Builders & Construction Workers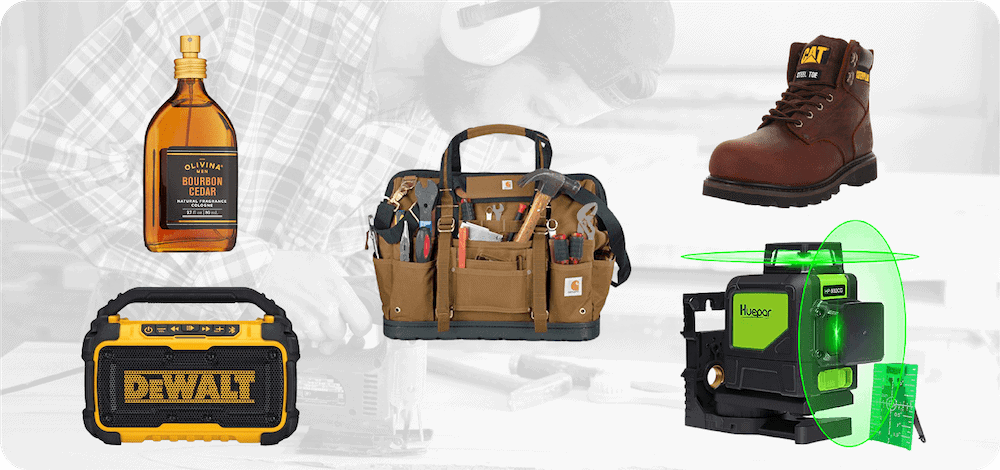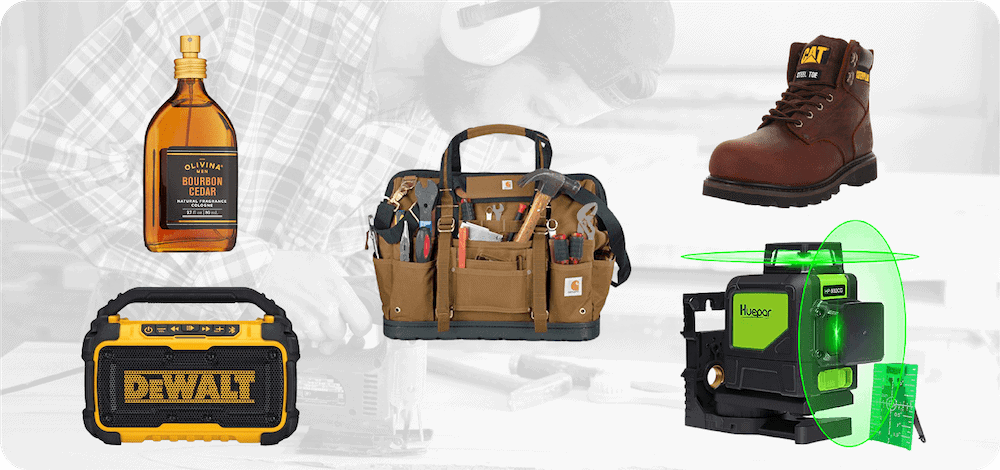 You may have builder friends, or maybe you want to find the best gift for the carpenter who fixed your termite-ridden front porch. In any case, builders and carpenters can be tough to shop for. Finding gifts for the construction workers in your life is easy with this list of awesome items to inspire your generous spirit and help you find the perfect fit. It's arranged from most expensive to least expensive for your browsing convenience.
1.

OXX COFFEEBOXX Job Site Single Serve Coffee Maker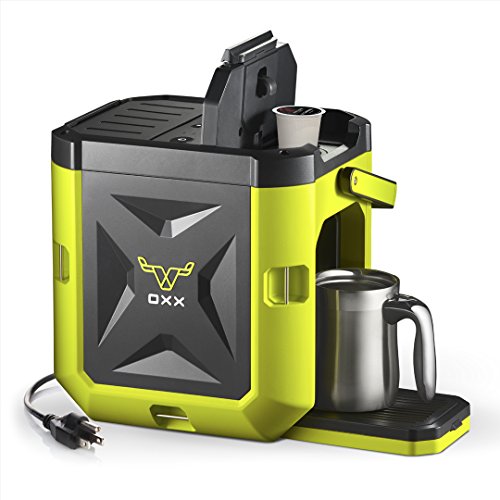 Imagine this little beauty sitting right next to your builder's air compressor and table saw. It holds up to 1,500 pounds, and it's built to withstand the dangers of a rugged construction site. It also takes any size of K-Cup pod. Yeah, they're going to flip over this one.
---
2.

Viva Sol 2'x4' Bean Bag Toss Game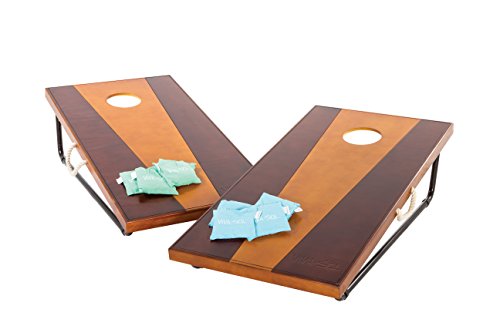 They'll need some time to wind down, too, and a good game of Corn Hole is always a winner. These high-quality boards and beanbags will look great in the yard, the driveway, the beach, or anywhere that strikes their fancy.
---
3.

Ozark Trail 22-piece Camping Combo Set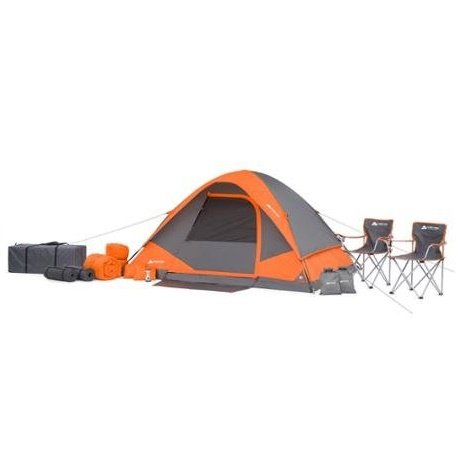 Our next idea is this camping set because what's better after a long week of building than a relaxing campout? This set has absolutely everything your builder needs for a night away, including a tent, camping chairs, sleeping bags, foam pads, a lantern, pillows, and more. It's like a party pack.
---
4.

Huepar Self-Leveling Cross Line Laser Level
Make your carpenter's nerdy side sing with this 360-degree cool-as-heck laser level. It has multiple modes, including horizontal or vertical leveling, and it can line out an entire room at the speed of light. Don't be surprised if you catch them making lightsaber sounds when they power it on.
–> Click here to see a comparison of our 5 Favorite Green Laser Levels of the Year.
---
5.

Carhartt Legacy Tool Bag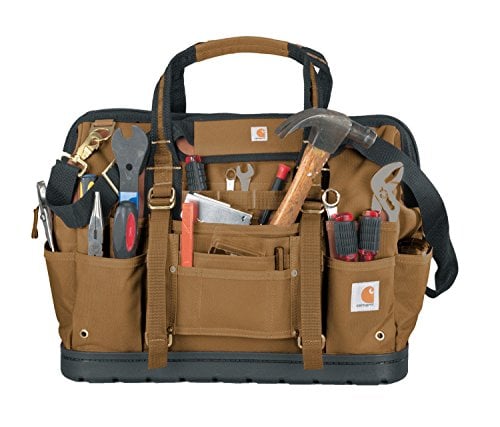 Just think of all the tools a builder can store with this muscley canvas tool bag. Its molded base will keep it sturdy and upright, the plentiful pockets will hold a mighty arsenal of hand tools, and your builder's friends will all be jealous.
---
6.

Vacmaster 12 Gallon Wet/Dry Vacuum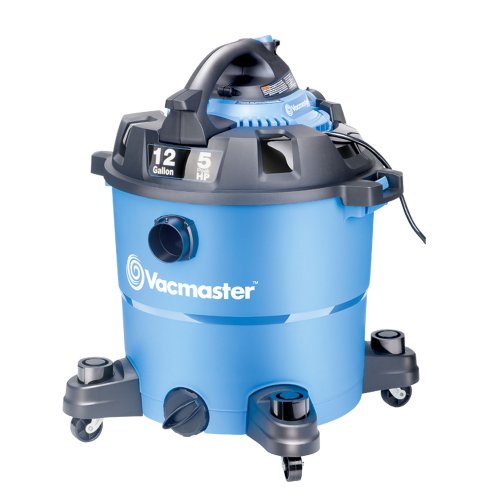 This shop vac has a giant 12-gallon tank, it operates at 5 horsepower, it rolls, and it doubles as a blower. It's kind of like Rosie from The Jetsons, without the sass.
---
7.

DEWALT Bluetooth Jobsite Speaker
It's time to get the job site thumping with this 100-foot-range Bluetooth speaker by DeWalt. Everyone knows you gotta jam out while you're working. Otherwise, those walls just aren't going to go up straight.
---
8.

Caterpillar Men's Second Shift Steel Toe Work Boot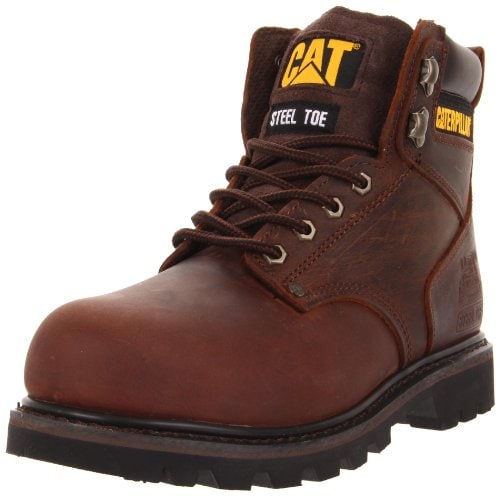 If you're wondering how tough these boots are, just remember that Caterpillar normally makes backhoes. These boots are 100% leather and steel-toed for ultimate durability.
---
9.

Cookie and Chocolate Filled Toolbox
Our next idea on our list of gifts for construction workers is these cookies and milk chocolate tools, simply because they are much more delicious than what you usually find in a toolbox. This one's great as a Christmas treat, too.
---
10.

Shiatsu Back Shoulder and Neck Massager with Heat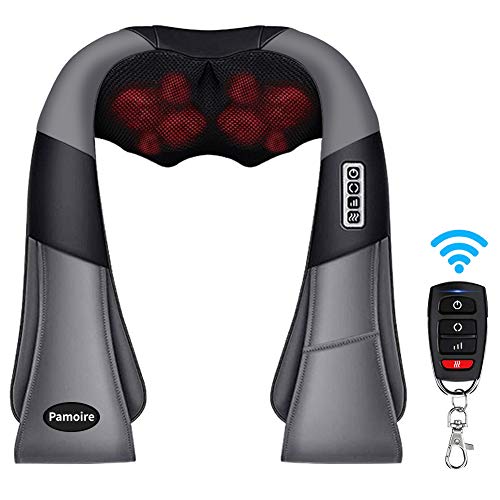 Everyone should come home to one of these. Your builder will sigh relief when they feel that shiatsu pressure on their neck and shoulders. It has a heating element, too, which means they'll probably be snoring in seconds.
---
11.

Home Brewing Starter Kit for Beer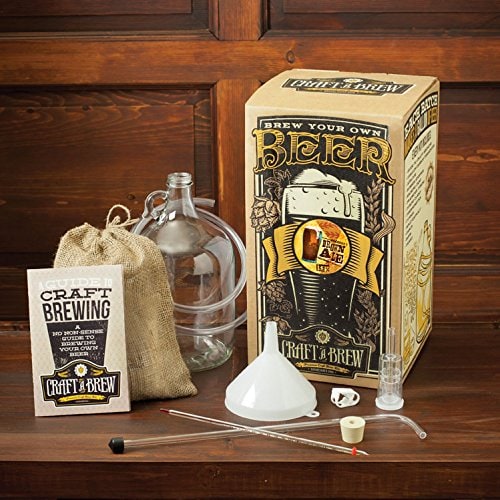 Builders like to make things with their hands, but when was the last time they made something for themselves? Now they can concoct a growler of their very own brewski and slam it down, knowing they made it from scratch. The best part is, it'll boost their coolness factor with their friends.
---
12.

Leather Journal Gift Set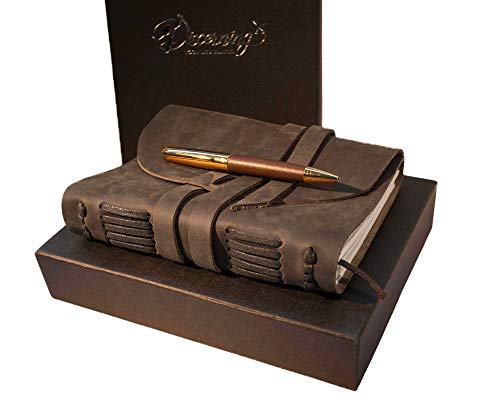 Your builder probably has some complicated thoughts while pounding nails and throwing up sawdust. Now they can write them down in this soft, authentic leather journal. It comes with a pen and a nice gift box.
---
13.

Carhartt Men's Billfold Wallet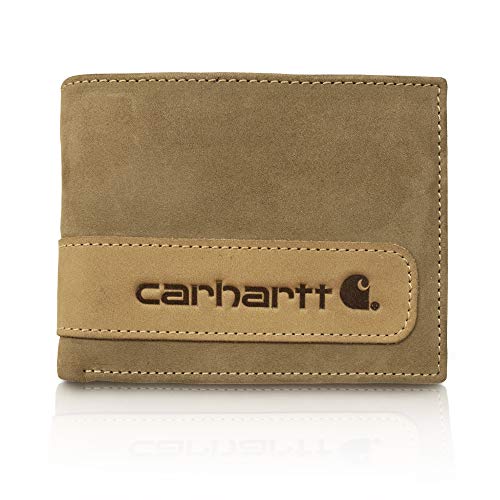 He'll appreciate knowing his money is safely stowed in this heavy-duty wallet. Carhartt is known for making rugged materials, and this wallet is no different. His pockets will take some wear and tear after a long day on the job, but his wallet will be in top-notch shape.
---
14.

Personalized Laser Engraved Wood Handle Hammer
This hammer says it all. At least it will, once you have it engraved with a personal message that will get your builder all misty-eyed every time they swing it, and not just from bashing their thumb.
---
15.

Olivina Men Natural Fragrance Cologne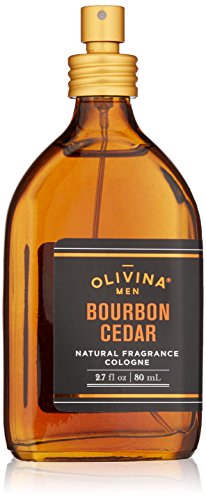 This next pick on our list of gifts for construction workers smells amazing. Bourbon and cedar could be the manliest scents on the planet, and Olivina has done some magical mixology to bring them together and bottle them. The company also makes deodorants and other delicious-smelling products.
---
16.

Carhartt Deluxe Dual Compartment Insulated Lunch Cooler Bag
What's the most vital part of any workday? That's right, lunch break. Instead of sending your carpenter off to Mickey D's for another heart attack sandwich, encourage them to pack a healthy lunch in this sturdy insulated cooler.
---
17.

POLIGO 20pcs BBQ Grill Accessories Set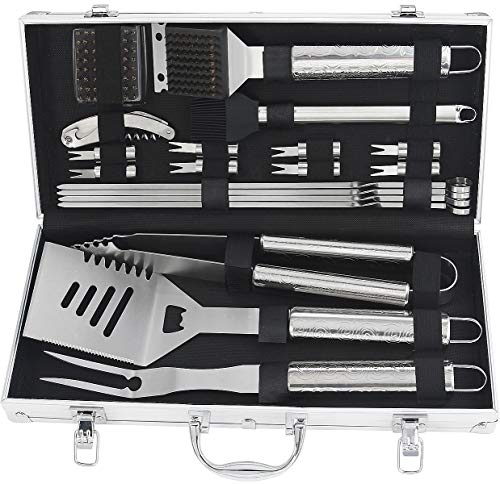 After a long week's work, they will need some homemade barbecue. There's something about the smell of flame-broiled cow flesh that makes a person feel good about life. This set includes it all, and the spatula even has a built-in bottle opener. They'll figure out what to do with that.
---
18.

ROCKNIGHT Driving Polarized Sunglasses for Men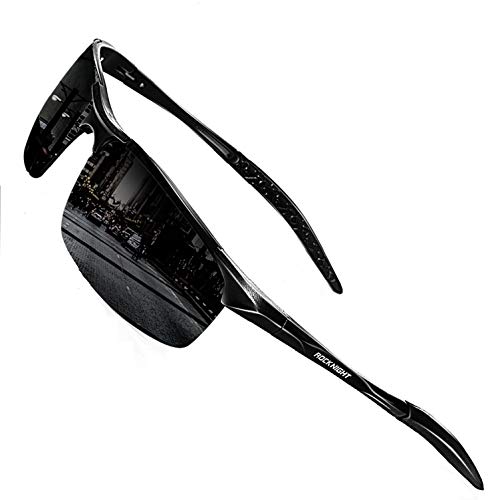 Protect their eyes with this sporty pair of sunglasses. They're polarized with 100% UV protection, so you know your builder will be taken care of during those long days in the sun. They come in a wide variety of color options.
---
19.

Funny Travel Coffee/Tea Mug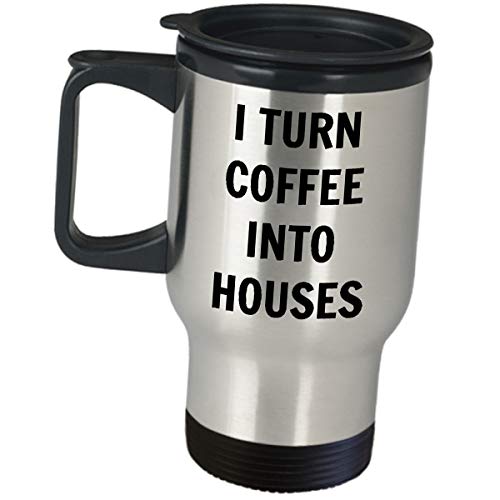 Help your builder express their superpowers with this stainless-steel travel mug. They can bring it on the job site and show off a catchy phrase and stay caffeinated in the meantime.
---
20.

Premium Utility Knife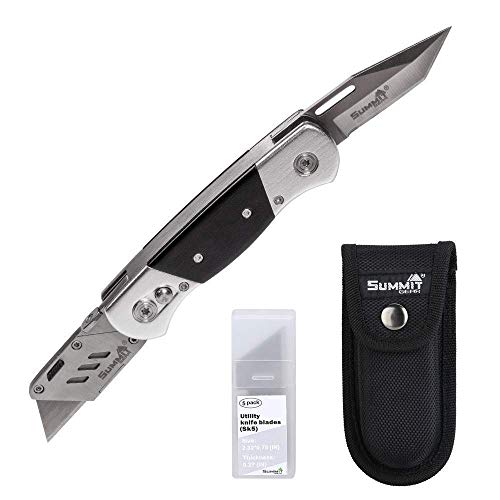 Your builder will be ready for a quick fix or the zombie apocalypse with this shiny, all-purpose knife. It's lightweight enough to stow in a pocket but heavy-duty enough to stand its ground. It comes in a durable carrying case, too.
---
21.

Streamline Hand Tool Pens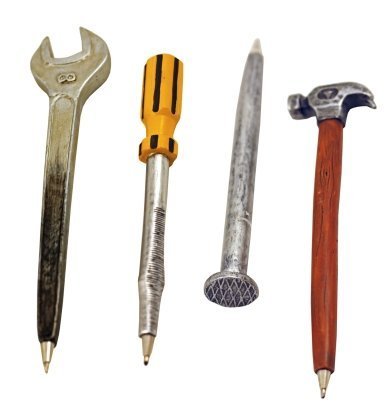 These are for the carpenter with a whimsical side. This set of pens will look snazzy on any desk or in a toolbox. Now they'll have no excuse not to write stuff down when you ask them to.
---
22.

Paddle Your Own Canoe: One Man's Fundamentals for Delicious Living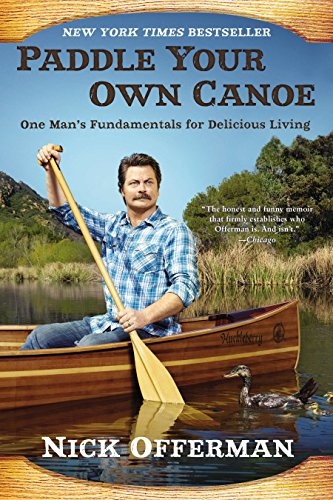 This gift comes from an icon of the outdoors. Everyone needs to nurture their identity when they're not at work. Comedian Nick Offerman has a few things to say about this in his memoir about all the good things in life, from mustaches to romance to woodworking and more.
---
23.

Ironclad General Utility Work Gloves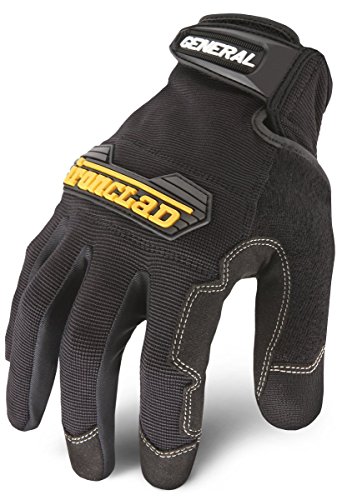 For the builder who doesn't like to mess around with cheap gloves, get a pair of these snug-fitting, iron-gripping, finger-saving, skin-protecting gloves. Their hands will thank them (and you).
---
24.

RAK Magnetic Wristband
Make your builder look tough with this heavy-duty magnetic wristband. With 10 magnets sewn into the fabric, it will keep nails, screws, nuts, bolts, and more right at their disposal. It's like having a third hand.
---
25.

"Sawdust is Man Glitter" Funny T-Shirt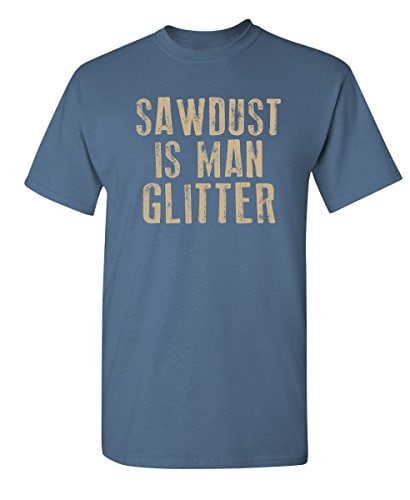 Don't ask him to get fancy when he comes home. He has all the fancy he needs in his hair and down his shirt: man glitter. Now he can say it with pride with this hilarious shirt. It comes in a variety of sizes and colors.

Conclusion
We've only scratched the surface here, but hopefully, this cornucopia of ideas will at least help inspire you to find that great gift for a construction worker. We know the carpenter, builder, or construction worker in your life is a complicated person, so we tried thinking outside the box to spark your imagination. Good luck with your search!
See Also: