10 Most Expensive Homes in Missouri (With Pictures)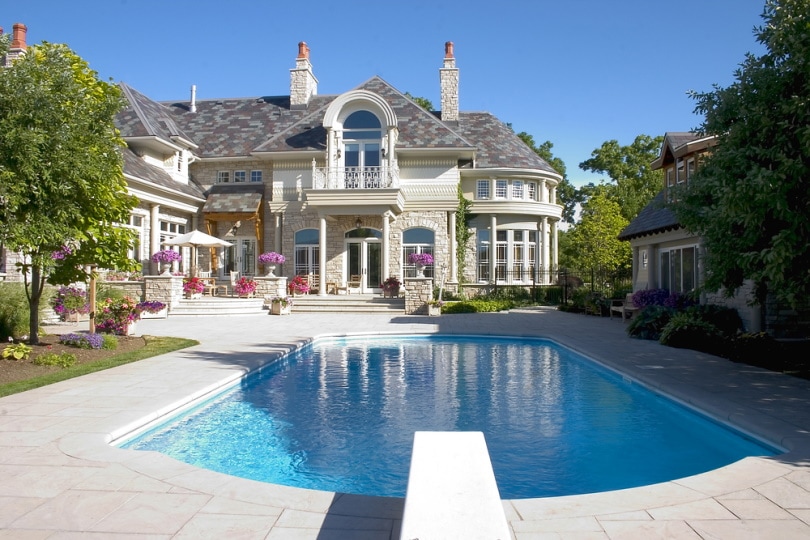 Are you considering moving to the state of Missouri? Or perhaps you're just curious about how expensive homes can get in the beautiful "Show Me" State. Missouri is home to beautiful lakes, forest preserves, and a blend of several cultures all nestled in a small region. It has a southern charm with a Midwest feel that can make it hard to leave if you're visiting for the first time. So, let's take a look at some of the most expensive homes that the state has to offer.

The 10 Most Expensive Homes in Missouri
1.

7 Hillside Court, Wentzville
| | |
| --- | --- |
| Price | $20,000,000 |
| Size | 20,550 square feet |
Only minutes away from the airport, this lovely and unique 7-bedroom estate ranks first on our list of expensive homes in Missouri. The home itself is over 20,000 square feet and it's perfect for multigenerational families or someone who simply loves large spaces.
It's luxurious, swanky, and has a host of features worth noting. This wonderful palace of a home features 8 brick fireplaces, exterior raised-bed gardens, a man-made lazy river, and a private chapel
It has so much to offer, including safety, security, family spaces, and tons of entertainment that will last a lifetime. The entire exterior is made of masonry and this 20-acre home also has a theater, dance room, and a bowling lane. Who could ask for more?
---
2.

120 Breckenridge Dr, Sunrise Beach
| | |
| --- | --- |
| Price | $7,696,300 |
| Size | 18,552 square feet |
This lovely estate features about 40 acres and is actually three different residences. It has six bedrooms and eight bathrooms in total. The master bedroom in this home is a sight to behold. It simply oozes tranquility and has a walk-in shower and closet as well as its own washer and dryer.
The luxurious interior features Brazilian cherry wood floors, African mahogany doors, and crown molding.  The patio leads to the infinity pool and hot tub, and then on to the pool house, which has sliding walls that open in Hawaiian style. It also features a bar, game room, and one-bedroom apartment.
---
3.

10000 NW 75th Street, Kansas City
| | |
| --- | --- |
| Price | $6,800,000 |
| Size | 15,060 square feet |
This home was built in 1993, which is great if you're looking for something more modern and up to date. It's Tudor-inspired and you'll see evidence of this as you stroll through the large foyer. It has 100-year-old limestone, a European blue slate, and stained glass.
The home also features heated stone floors and has its own private docking area for boats and yachts. Need more space in the kitchen? Well, this home features two kitchens as well as its own greenhouse. So, if you're looking to start your own vegetable garden at home for me, look no further.
The estate also features a den, a media room, wet bar, sunroom, and a full sauna to relax after a good workout. The development is also close to the lake's tennis courts and private parks.
---
4.

1 Denny Lane, St. Louis
| | |
| --- | --- |
| Price | $4, 975,000 |
| Size | 3,046 square feet |
This lovely property is actually located in Huntleigh, which is about 13 minutes west of St. Louis. Huntleigh is an affluent county and this home sits right in the middle of a beautiful woody area. It was built in 1954 and has only three bedrooms, but enough space for a very large family.
The master bedroom is on the main floor. The pool deck and rear patio are connected by thousands of feet of beautiful flat stone. It features a gazebo, an inground pool, and a spectacular waterfall. There's also a separate spa with a 10-person jacuzzi. This stunning property is located just two minutes from the I-40 highway and is ideal for an equestrian estate if you want a place to breed or train horses. There's also a separate spa with a large jacuzzi.
---
5.

150 Carondelet Plaza, Unit 2801, St. Louis
| | |
| --- | --- |
| Price | $5,499,000 |
| Size | 7,719 square feet |
Yes, this penthouse suite is a whopping 5.5 million dollars. The terraces alone in this space are 700 square feet. It has 4 bedrooms and 5 bathrooms, and huge windows that let in tons of natural light throughout the day. The master bedroom has two walk-in closets and a large sitting area. There is also a master bathroom with a jetted jacuzzi tub and a spacious walk-in shower.
The space features Smart home technology for convenience and is set up for formal gatherings and guests. The large living space includes a music and game room as well as a sitting area, a sitting room, and a media room. The suite also offers a chef's kitchen, wet bar, breakfast room, and a formal dining area.
---
6.

3660 Bouquet Road, Pacific
| | |
| --- | --- |
| Price | $5,900,000 |
| Size | 4,010 square feet |
This estate features 4,010 square feet of space and is complete with four bedrooms. It is housed on 70 acres and is one of the most beautiful pieces of architectural design that you'll find in the area. It has classically inspired columns, a white oak herringbone floor, glass-stained windows, and huge bay windows for tons of natural light.
The large kitchen features high-end granite and connects to an indoor family room that has 20-foot ceilings. Talk about living like royalty. The master suite features a wood-burning fireplace and a dressing room. The main bedroom comes complete with a 4-person jacuzzi and a huge marble-lined shower. Want to sit outside and enjoy the view? You can just do that on the lovely veranda located at the front of the property.
---
7.

58 Pacland Estates Drive, Chesterfield
| | |
| --- | --- |
| Price | $5,000,000 |
| Size | 13,782 square feet |
Chesterfield is another affluent county in Missouri, which is only about 21 miles from St Louis. This Property is an architectural dream throughout the space, you'll see tons of craftsmanship and meticulous detail. It has 13 bedrooms and it's located in a private gated community.
This gorgeous home features a variety of high-end finishes, detailed millwork, and lovely handmade archways and columns. It also has Smart home systems and a 12-seat theater. The home also has a full wet bar for entertaining, and professional kitchen for those holidays where you're the gracious host, and tons of patio space.
There is also a multi-car garage, rooms with gyms and walk-in closets, and a game room. The 3-acre landscaped grounds offer privacy and even feature a veranda that'll remind you of pictures of vacation homes on the Mediterranean.
---
8.

33 Brentmoor Park, St. Louis
| | |
| --- | --- |
| Price | $5,975,000 |
| Size | 10,200 square feet |
Clayton is one of Missouri's most popular and busiest counties. Its prestigious allure attracts many business owners and C-level executives. This particular home has a neo-classical design that features architecture from the 19th century.
It has beautiful high-end amenities including an in-home elevator, tasting room, wine cellar, and private movie theater. There is also a wet bar, wet bar, gourmet kitchen, and home office. The estate also has a small pool, outdoor garden, 3-car garage, and indoor pool house. So, if you're looking for a home where you can relax and enjoy the outdoors, look no further.
---
9.

525 Ticino Drive, Imperial
| | |
| --- | --- |
| Price | $4,950,000 |
| Size | 13,740 square feet |
Here's another Missouri property that makes the cut. This estate features a whopping 13,740 square feet of space and is roughly 121 acres. It has a total of 6 bedrooms and has a spectacular view of the Mississippi River.
The home also features a lovely formal dining room and a spacious family room with indoor balconies and two-story ceilings. The estate was built in 1915 and is ideal for horse lovers. It has an equestrian facility that can comfortably house 12 horses. The rolling grounds include ample wooded land, landscaped lawns, and a small pond. And for the tennis fans, there's also a full tennis court and an in-ground spa to unwind after a good game.
---
10.

26 Upper Ladue, St. Louis
| | |
| --- | --- |
| Price | $4,950,000 |
| Size | 10,000 square feet |
This property is a French-style Manor that was constructed in 1920. It has a beautiful 18-foot ceiling and large sun-catching windows in every single room. The home underwent a lot of renovations, which expanded its size significantly.
There is also a home theater, a billiards lounge, a sunroom, and a family room with a fancy wet bar. The property's 3.5 acres also includes a 2-bed guesthouse for your friends or family to hang out while visiting. The expansive grounds are surrounded by mature trees and meticulously landscaped lawns. The main house also features a library, a home office, and a huge kitchen fit for a sous chef.

Wrapping Things Up
While Missouri isn't the largest state on the map in terms of population, it definitely has a large enough economy to make some pretty pricey and luxurious homes. The average price of expensive homes in Missouri hovers around 5-6 million dollars, but they can definitely get much higher.
---
Featured Image Credit: ramone, Shutterstock