10 Most Expensive Homes in Oklahoma (with Pictures)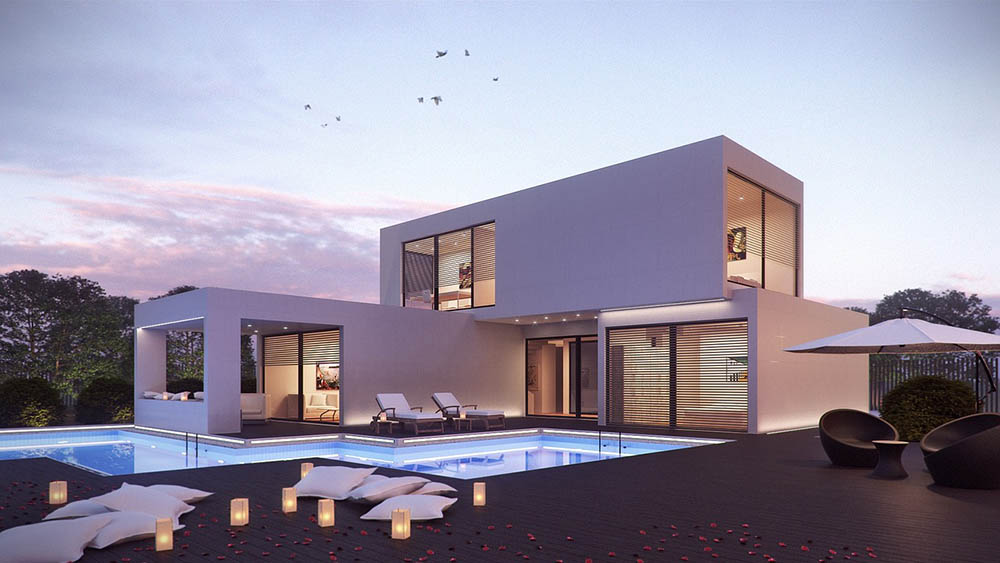 If you are familiar with the Sooner State you know that this place offers a variety of landscapes, from the flat, arid plains to subtropical forests and even some dense mountainous areas. Not only does Oklahoma offer up some breathtaking scenery and gorgeous sunsets, but it is also home to some stunning homes that are worth the look.
We've searched all over the state to bring you a list of the 10 most expensive homes in Oklahoma, let's see what they're made of:

The 10 Most Expensive Homes in Oklahoma
1.

400 Deep Fork Cir, Edmond, OK
| | |
| --- | --- |
| Bedrooms  | 7 |
| Bathrooms | 8.5 |
| Square Footage | 12,020 sq ft |
| Lot Size | 2.6 acres |
| Price | $5,950,000 |
Undoubtedly one of the most eye-catching homes in the entire state is this gorgeous estate in Edmond. The home is absolutely breathtaking from the inside out and you have to see it to truly appreciate all it has to offer. The chef's kitchen features an oversized marble island and top-of-the-line appliances.
The home includes a total of 8 fireplaces, a partial basement and wine cellar, and state-of-the-art outdoor entertaining with a resort style-infinity pool and an entire entertainment suite with a built-in bar and grill. Inside you'll find a beautiful living area with a gorgeous view. The main suite contains a fireplace, celebrity-style closets, and heated marble flooring.
The décor throughout the entire house is exquisite and unique, offering a blend of natural earth tones, popping color, and sleek, modern furnishing. The list of features goes on and on, but one thing is for sure, anyone with this home is living in the lap of luxury.
---
2.

3226 E 62nd St, Tulsa, OK
| | |
| --- | --- |
| Bedrooms  | 4 |
| Bathrooms | 7.5 |
| Square Footage | 9115 sq ft |
| Lot Size | 2.11 acres |
| Price | $5,500,000 |
This one-of-a-kind estate sits on the Historic 12th tee box of Southern Hills Country Club in Tulsa. This property is truly a golf-enthusiasts dream.  The home features professionally landscaped flower gardens and a beautiful pool area that also features a hot tub, plenty of room for relaxation, a cabana for some shade from the sun, and an outdoor kitchen.
This property was built in 2010 and features a modern style with energy efficiency. The top-of-the-line features and amenities will leave you as speechless as the view of the golf course. The home is situated in a very convenient location in South Tulsa, where there is easy access to dining and entertainment.
---
3.

537 Old Hochatown Rd, Broken Bow, OK
| | |
| --- | --- |
| Bedrooms  | 3 |
| Bathrooms | 2 |
| Square Footage | 3200 sq ft |
| Lot Size | 80 acres |
| Price | $5,400,000 |
This single-family home in beautiful Broken Bow was built in 1996, and while it's your average-sized home with 3 bedrooms, 2 bathrooms, and 3200 square feet, the acreage and landscape are what got this home on the list. Now, that's not downgrading the home because of the size, as this is a beautiful brick home with a clean, vintage feel on the inside.
The 80 acres of vast woodland that comes with the home is perfect for any outdoorsman or those looking for developmental prospects. The property is rich with streams and rolling hills. It is fenced on 3 sides. It is within walking distance to Broken Bow Lake at only ½ mile.
It also features a 24 by 40 shop complete with boat storage and a 40 by 22 drive-through shop building that would be ideal to store just about anything.
---
4.

6633 Timberlane Rd, Tulsa, OK
| | |
| --- | --- |
| Bedrooms  | 5 |
| Bathrooms | 8 |
| Square Footage | 7024 sq ft |
| Lot Size | 7.87 acres |
| Price | $4,800,000 |
This is another unique and expensive property that was built in 1959 and sits right on the Southern Hills Golf Course in Tulsa.  This private estate is single-story with a 3-car garage and sits on 8 acres.  It features a 2-bedroom, 2-bathroom guest house, a pool house, 2 shops, and a greenhouse. That's not all though, it also has an outdoor kitchen and entertaining area near the pool, a pond, and a tennis court.
The home sits back in the trees for a nice, private feeling. The large windows in the living area give a wonderful view of the landscape. The inside features a mix of modern and vintage throughout the house. Like the other home located nearby on our list, this South Tulsa location is convenient for the dining and entertainment that T-Town has to offer.
---
5.

1396 E 27th Pl, Tulsa, OK
| | |
| --- | --- |
| Bedrooms  | 6 |
| Bathrooms | 8.5 |
| Square Footage | 17,370 sq ft |
| Lot Size | 2.34 acres |
| Price | $5,000,000 |
This breathtaking Spanish/Mediterranean style home is considered the Philbrook "sister" estate and is located right next to the iconic Philbrook Museum in Tulsa. The home sits on nearly 2.5 acres and was custom built-in 2001. It was designed by Richardson Robertson and decorated by Charlotte Moss to encompass the historic essence of the Philbrook Museum.
The home is absolutely huge, coming in at 17, 370 square feet with 6 bedrooms and 8.5 plus bathrooms. If you are ever in Tulsa and visiting the Philbrook Museum of Art, take a peek at this beauty and admire all the detail and quality that went into this gorgeous estate.
---
6.

1505 Guilford Ln, Nichols Hills, OK
| | |
| --- | --- |
| Bedrooms  | 5 |
| Bathrooms | 6.5 |
| Square Footage | 8179 sq ft |
| Lot Size | 1 acre |
| Price | $4,500,000 |
Not far outside the heart of Oklahoma City sits this gorgeous estate in Nichols Hills. It is a two-story home with a floating staircase and all bedrooms conveniently placed on the main level. For wine lovers, there's a temperature-controlled wine cellar and for gamers, there's an entire game room with a balcony.
For those harsh weather risks, the home comes complete with an interior safe room and guest house with privacy shades, a full kitchen, and a top-quality home and audio system. If that plus all the home has to offer doesn't keep visitors entertained during their stay, nothing will.
This home is stunningly modern, and the décor will leave you speechless. The closets are nothing short of celebrity quality. The inground pool sits not too far from the Oklahoma City Thunder-decorated basketball court. There is an indoor entertaining area that sits in convenient proximity to the pool as well. It's no wonder this beauty made the list.
---
7.

2140 E 30th St, Tulsa, OK
| | |
| --- | --- |
| Bedrooms  | 6 |
| Bathrooms | 7.5 |
| Square Footage | 9875 sq ft |
| Lot Size | 1.02 acres |
| Price | $3,800,000 |
Located right near the corner of 31st and Lewis Ave in Tulsa, this home will certainly turn heads.  It is situated on a private, gated lot in Forest Hills that is just over an acre. The home was built in 1930 but has been renovated throughout. It is a 6-bedroom, 7.5-bathroom home with a 6-car garage.
The landscaping is beautiful with a private backyard space that features a pool and spa. No need for a gym membership because this home features its gym. To add, it features a wine cellar and its very own private guest suite for visitors. This home is situated right in Midtown Tulsa, leaving it in one of the most convenient locations in town, not too far from Brookside, Cherry Street, and anything going on Downtown.
---
8.

6320 E 88th St, Tulsa, OK
| | |
| --- | --- |
| Bedrooms  | 5 |
| Bathrooms | 4.5 |
| Square Footage | 11,732 sq ft |
| Lot Size | 2.31 acres |
| Price | $3,600,000 |
Built-in 2001, this South Tulsa residence sits near 91st and Sheridan Rd in Tulsa. It features a 5-car garage, a gorgeous professional landscape that sits on 2.3 acres, and a whole slew of amenities. It comes backed up with a Kohler 90kVA generator and top-of-the-line appliances. Do you ever feel like you'd need two dishwashers? Well, this house would have you covered.
There are wired speakers throughout the house and a gorgeous saltwater pool with a beautiful stone backdrop. The wine cellar in this home is to die for and would be the dream of any wine connoisseur. It also features an executive suite and a library. The home has a way of mixing in an earthy, modern look that is equally antique. It's something you just must see for yourself.
---
9.

11200 Sorentino Dr, Edmond, OK
| | |
| --- | --- |
| Bedrooms  | 7 |
| Bathrooms | 9 |
| Square Footage | 11,295 sq ft |
| Lot Size | 8.94 acres |
| Price | $3,300,000 |
This massive estate is in the Oklahoma City suburb of Edmond, OK. It was built in 2005 with 11,295 square feet and sits on a beautiful 8.94 acres and features a 9-car garage. This place is perfect for animal lovers or the outdoorsy sort, as it features its own barn and plenty of storage for ATVs and anything else you can make room for.
The property is gated and features a breathtaking outdoor entertainment area and cabana complete with a beautiful swimming pool where you can either soak up the sun or take a dip to cool off. You're bound to appreciate the aesthetic of this home and I'm sure any horses lucky enough to reside here would be more than happy as well.
---
10.

2668 Terwilleger Blvd, Tulsa, OK
| | |
| --- | --- |
| Bedrooms  | 5 |
| Bathrooms | 7 |
| Square Footage | 8815 sq ft |
| Lot Size | 1.03 acres |
| Price | $3,000,000 |
Another stunning Midtown Tulsa home worth noting is The Terwilleger House. It was built in 2012, so it's a super modern design both inside and out. It sits on one acre and features a large, open living area, super-high ceilings, and a wall full of windows to give the best view. The home was constructed with top-notch technology throughout.
The features in this home are absolutely incredible. There is a 4-car garage right next to the basketball court. The pool area has an incredible, sleek design with plenty of room for outdoor entertainment. It's a kid's dream come true with plenty of yard space, a playground, and a trampoline. It also features a child's hobby room for play and schoolwork. As we mentioned earlier about Midtown Tulsa, it's a great location that is easy access to all that Tulsa has to offer.
Conclusion
Whether you've got the finances to look into these types of expensive homes or you just like to take the time to admire them, Oklahoma sure does have a list of impressive properties all over the state. You don't have to be in Beverly Hills to get a top-quality mansion and the most luxurious style of living, it can be found right here in the fly-over states.
---
Featured Image Credit: Giovanni_cg, Pixabay