10 Most Expensive Homes in Oregon (with Pictures)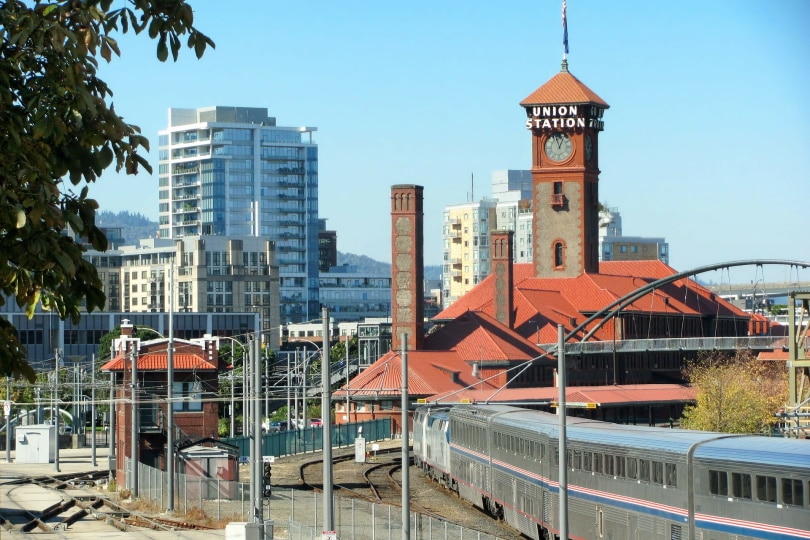 From 2010 to 2020, Oregon grew at a rate exceeding 10% which was one of the fastest rates in the United States. Oregon is known for its Pacific Northwest climate, eclectic cities, and outdoor lifestyle. The growth in Oregon also led to record-breaking property sales as wealthy buyers from Seattle and California flocked to Oregon to snap up their own slice of this amazing state. There have been multiple properties that have sold for multiple millions of dollars which continues to drive a hot housing market in the Portland area.
Here are the 10 most expensive homes sold in Oregon.
* Note: All prices are based on real sale numbers, not the asking price. This list was populated with data available through the end of 2021.

The 10 Most Expensive Homes in Oregon
1.

Gated Lake Estate, Lake Oswego, OR – $7.5 Million
Features:
Square Footage: 6,300
Beds / Baths: 4 bed; 5.5 bath
Zip Code: 97035
This gated estate located in Lake Oswego commanded a hefty price. The $7.5 million price tag was the most expensive residential property sold in 2019 and is the number one sale on our list. This property has an expansive 6,300 square feet of living space, a private dock, a full boat house, a hot tub, an artificial creek water feature, tennis courts, bocce ball courts, and a standalone studio apartment. The home was initially built in 1935 but has been updated into a swanky three-story abode. The lot is a full acre and also features a large four car garage as well as personal access to Lake Oswego.
The property tax bill for this slice of heaven is over $47,000 per year. If you mortgaged this home, it would cost you roughly $30,000 per month, not to mention the landscaping costs, homeowner's association fees, and utilities for such a large home.
---
2.

Pearl District Gem, Portland, OR, $6.995 Million
Features:
Square Footage: 4,300
Beds / Baths: 3 bed; 3.5 bath
Zip Code: 97209
Portland is not exactly known for its high rise lifestyle. However, an ambitious builder took two full condo units and combined them into one complete home in the Pearl District. The soaring price can be connected to the best views in the city. This condo features three outdoor decks that offer nearly 360-degree views of the beautiful Portland area. It also features two kitchens, a bar, and custom sound wired throughout. It is an entertainer's paradise.
The sticker price is not the only thing about this unit that is expensive. The condo also comes with a mandatory $2,366 monthly association fee which includes a concierge service, a manicured outdoor courtyard, guest services, and state-of-the-art fitness facilities. The Portland property taxes are estimated to clock in at around $65,000 per year.
---
3.

Tranquil Vineyard Acreage, West Linn, OR – $6.3 Million
Features:
Square Footage: 14,014
Beds / Baths: 6 bed; 10 bath
Zip Code: 97036
This property is located along the banks of the scenic Willamette River. The estate features a small working vineyard on 6.7 acres of riverfront land. It is not hard to see why this was one of the most expensive homes sold recently in Oregon. The home is massive, standing at 14,014 square feet, making it the largest house on this list by far.
The estate has every amenity you can imagine including multiple game rooms, sports courts, and walking trails. It also features a large six-car garage, wine vines, a swimming pool, a private boat dock, and shaded gazebos. The numerous buildings hug the gorgeous blue water of the Willamette and are the perfect blend of modern luxury and outdoor tranquility.
---
4.

Golfer's Paradise, Lake Oswego, OR – $5.25 Million
Features:
Square Footage: 5,855
Beds / Baths: 4 bed; 5.5 bath
Zip Code: 97034
There is no doubt that this property located next to the Oswego Lake Country Club was purchased by an avid golfer. This home features views of no fewer than five separate fairways of the neighboring golf course. In addition to being close to the links, this mansion was designed to feel as though you are living at a modern golf resort year-round.
There are private outdoor areas featuring fire pits, a pool and a hot tub, and two covered areas to escape the elements. It even includes a private automatic boat slip that gives you instant access to Lake Oswego. All of those features are nestled on a large 2.25-acre lot that gives plenty of space for private activities while remaining close to all of the action.
---
5.

The Hamptons Come West, Lake Oswego, OR – $4.99 Million
Features:
Square Footage: 5,802
Beds / Baths: 5 bed; 5 bath
Zip Code: 97034
You would be excused if you thought that this home in Lake Oswego belonged in Southampton or East Hampton on Long Island rather than the Pacific Northwest. The Country French architecture is the classic Hamptons aesthetic and can be found here outside of Portland. The home was built in 2004 and features nearly 6,000 square feet of living space and an equal number of bedrooms and bathrooms.
The property features an immaculate 1.7 acres of space sandwiched right along the banks of the popular Lake Oswego. The property also features a covered fireplace, a waterfront porch, a private dock as well as a pool. In addition to the typical luxury amenities, the property also features a chicken coop, numerous raised garden beds and an outdoor wood-fired brick oven. There is truly something for everyone at this property.
---
6.

Modern Farmhouse for Wine Enthusiasts, Portland, OR – $4.75 Million
Features:
Square Footage: 5,493
Beds / Baths: 5 bed; 6 bath
Zip Code: 97201
Modern farmhouses made a stunning comeback in the past decade, but few of the popular homes boast a wine cellar like this one. Located in Portland's West Hills neighborhood, this upscaled farmhouse was constructed in 1943. It sold last year for a whopping $4.75 million and hardly resembled the original building built nearly 80 years ago.
Today, this home sits on a half-acre and features an expansive 1,200-bottle wine cellar. There is also a private theater located in the basement next to the cellar. Up top, the views are breathtaking. This property has a great vista, including Portland's skyline, a meandering river, and five mountain peaks.
---
7.

Ultra Modern Landmark, Portland, OR, $4.55 Million
Features:
Square Footage: 4,512
Beds / Baths: 2 bed; 4.5 bath
Zip Code: 97210
This modern architectural piece is prized for its pedigree, location, and aesthetic. It was once owned by the late artist David Carter and sits on a prime lot in Portland's Alphabet District. The home is four stories of modern glass, steel, and concrete.
You cannot walk by this house without noticing it. It is ultra-modern, eye-catching, and commanded a $4.55 million price tag in 2021. This house is just five minutes from Portland's downtown district and five minutes from the popular Pearl District located along the Willamette River. Function, aesthetic, form, and location combine into a perfect blend in this modern home.
---
8.

Swanky Lake House, Lake Oswego, OR, $4.5 Million
Features:
Square Footage: 5,401
Beds / Baths: 3 bed; 5.5 bath
Zip Code: 97034
This relaxing contemporary home in Lake Oswego was built in 2010 and features all of the best amenities. The entire house was designed to induce a feeling of stress release. The home features walls of opaque glass, heated limestone floors, high-end millwork, and stunning marble, which lends the inside a serene spa-like appearance. There is a sauna, library, fitness studio, and a cooling wine cellar.
Outside, the property has multiple tiered decks, a greenhouse, and a private dock, giving you access to the lake. The property is 1.7 acres of amazing detail located on South Shore Boulevard in Lake Oswego.  It is a perfect blend of indoor luxury and outdoor bliss.
---
9.

Spunky Boat House, Lake Oswego, OR, $4.5 Million
Features:
Square Footage: 4,601
Beds / Baths: 4 bed; 4.5 bath
Zip Code: 97034
This boat house was designed for people to have fun. It has a rooftop deck, a modern enclosed boat house, a floating dock, large windows, and plenty of room to store your water toys. It looks like the perfect home for a family with kids or a place to get together with the extended family. This home was built in 2000 and features plenty of modern upgrades inside as well as a ton of space to enjoy the water outside.
Inside there is a full fitness center, four bedrooms, and four and a half bathrooms as well as a wine cellar. Outside there is a hot tub and custom water feature as well as a beautiful waterfront. Altogether it is easy to see how this home commanded a price just north of $4.5 million.
---
10.

Colossal Colonial Estate, Lake Oswego, OR, $4.3 Million
Features:
Square Footage: 5,114
Beds / Baths: 6 bed; 4.5 bath
Zip Code: 97034
This property is located on an expansive 25-acre lot that features tons of fanciful things to discover. This massive area contains fruit trees, multiple gardens, a tennis court, an inground pool, a large private pond, and equestrian facilities. There are multiple pastures, a barn, and a riding arena to contain multiple horses.
The house itself was built in 1951 and contains an impressive 5,114 square feet. The property also features a full-fledged pool house and guest cottage, so numerous people can come to enjoy the rolling grounds at once. Despite a large amount of property, the house was listed at $7.99 million in 2019 but sold for just $4.3 million in 2021.
Conclusion
Oregon does not have the kinds of prices that dominate the headlines in Los Angeles and New York. Homes here are more likely to sell for $3 million than $30 million, but there are still dozens of listings selling for multiple millions of dollars. Many of the most expensive homes in Oregon are located along the banks of the Willamette River and Lake Oswego and there are numerous different styles, from ultra-modern to lake cottage to sprawling Hamptons estates.
---
Featured Image Credit: 12019, Pixabay