11 Farmhouse Interior Design Ideas (with Pictures)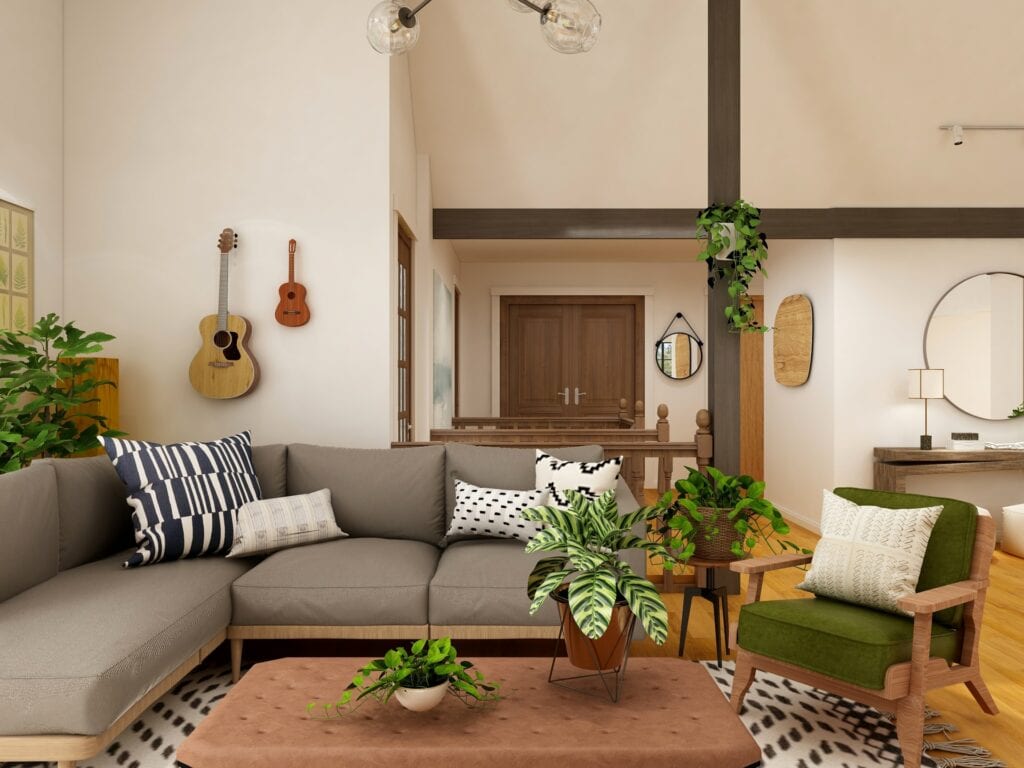 If you've just moved into a farmhouse or are looking to redecorate your current one, you've come to the right place for ideas. We've rounded up several farmhouse interior ideas to help you on your journey to create the perfect indoor space.
Unsure what colors to use? Have issues with pairing different wood tones? You're not alone. Creating a rustic or contemporary look for a modern-day farmhouse is entirely possible, regardless of your personal style. So, if you're looking to create a countryside escape feel or a "modern chic meets traditional" look, know that your options are limitless.

The 11 Farmhouse Interior Design Ideas
1.

Spice Things Up with Neutral Tones
A neutral color scheme is common to many farmhouse interiors–almost like a "go-to" color scheme. And the truth is that mixing and matching different shades of brown or  gray is a great way to create your base color scheme. It'll also help you create a timeless design that you won't get bored of.
You can spice it up with bright accents by using neutral backgrounds or undertones. It's quite easy to change the accent color and give your space an entirely new look. The cool thing is that you can use any accent color, from yellow to blue to red to orange in a farmhouse design.
To achieve the nature-inspired look that modern farmhouse interior design is known for, it's best to stick to slightly muted tones that don't stand out too much.
---
2.

Add Some Metals To The Mix
And then we have metals. A farmhouse-style decor simply isn't complete without some use of metals. Mixing metals, such as gold, silver, and brass, can be a good idea. These can be shiny, brushed, or distressed metals.
Gunmetal gray metals can sometimes be the core of farmhouse interior designs. Not just because  of their rustic look, but more because of the versatility they provide. Overall, dark metal colors add elegance and contrast to the space, making it an excellent choice for modern farmhouse interiors. So, whether you choose a traditional or modern farmhouse style, consider adding some galvanized steel to give it a unique style.
---
3.

Create Relaxing Themes With Durable Materials
One thing is unmistakable about farmhouse homes: their relaxed and laid-back atmosphere. Farmhouse interiors have a way of making you want to curl up on the couch with a cup of tea as soon as you step in the door.
But relaxed doesn't necessarily mean unorganized, as a good farmhouse interior theme isn't really random. It has specific features, textures, and furniture that create a calming atmosphere and also make it appear cohesive and well-curated.
The perfect farmhouse design should balance elegance and practicality. However, the space must not look so fragile that it can't be touched. For a home that is both practical and stylish, it should be made from durable materials.
---
4.

Mix Up The Textures and Patterns
Mixing different patterns and textures is a popular farmhouse decorating idea. Fabric textures can bring an abundance of life to a space. The same applies to worn furniture, tones, and antique picture frames, as well as unique accessories.
When choosing furniture, consider those with mismatched or textile surfaces. A mix of rich textures will add depth to your home,  whether you're looking for knitted blankets or natural fiber rugs, or even faux-fur pillows.
Sometimes it can be difficult to mix textures, but it is totally possible with a bit of creativity. You can tie your accessories and textiles together by sticking to neutral color palettes.
---
5.

Add Essential Accent Pieces
When it comes to interior design, it is all about the accessories. You know, the "extra" stuff. Small things such as pictures, accent colors, vintage prints, eclectic vases, and colorful lamps can add spice to any room layout.
Just remember to be consistent with your decor if you're going for farmhouse interior design–it's easy to get carried away and create a look that seems uncoordinated. Graphics and signs are great choices for farmhouse modern designs.
They're easy to make at home and can be found in most home decor stores. Also, you don't have to do everything at once– check out different shops both online and brick-and-mortar locations to find different types of furniture and accessories that'll fit the space.
---
6.

Add Rustic Finishes
If you prefer traditional looks, you may also want to consider rustic finishes. Rustic finishes are actually great for any style of a farmhouse, both modern and traditional. These distressed finishes instantly add character to any surface, whether it's weathered wood or exposed brick.
Their rough texture gives off an easy-going vintage vibe that is characteristic of a well-designed farmhouse interior. A brick wall, or even a realistic brick-like wallpaper, can add a classic feel to your space. Also, exposed rustic wood beams are another modern farmhouse favorite, as they'll instantly add charm to any space.
---
7.

Consider Adding Plants
Don't have a green thumb? No problem. You can always add fake plants to your space–many will pass for real plants. A touch of greenery can bring life and style into your farmhouse space, regardless of your personal taste.
Plants, especially small ones, work well in any room and in every home, no matter what style. You can use easy-to-maintain plants or go by specific color patterns or sizes. Consider common indoor plants such as wreaths, fiddle leaf figs, dragon trees, or cacti.
Also, think about the rooms in which you plan to place the plants. Where will they sit exactly? Is there room and sufficient light? Generally, the communal spaces such as the living room, kitchen, and dining area will work best. It's also a good idea to add greenery to the front area of your homes, such as on the outside doorstep or right in the front entrance.
---
8.

Repurpose Old Belongings
Don't pitch that old lamp just yet! Instead, consider repurposing it as a planter for one of your new plants. You can't go wrong with vintage items to give your space a rustic touch. A farmhouse interior remodel creates the ideal opportunity to visit your local antique shops and flea markets.
You'll find a bunch of genuine vintage pieces that will add a new dimension to your interior. And try to think out-of-the-box in terms of decorating. Old window shutters, for example, can be used in many ways in a farmhouse.
They can be used to make doors for cabinets or as boards to hang jewelry. Another great way to reuse objects is through lighting. This beautiful pendant light in a traditional farmhouse dining room is made from a crystal chandelier and an old tin can.
---
9.

Pair Different Wood Tones
Using awesome wood tones is almost a must-have for any farmhouse design, modern or traditional. One of the easiest and cheapest ways to add a bit of versatility to your farmhouse is to use different wood tones.
Typically, raw, unpainted, or unstained wood is not an ideal material for most farmhouse designs. Broad tonal shifts in the wood can add depth and character to your interior space. And be sure to experiment with different types of wood finishes.
Anything from ultralight wood stains to dark ebony tones andeven almond hues can work well. The cool thing about wood grains is that they tend to easily complement each other regardless of their color so it's a bit difficult to go wrong.
---
10.

Take Advantage of Imperfections
No matter what style you choose, imperfections will always be a great asset to your farmhouse decor–they just work. Farmhouse interiors are unique because of their imperfections and signs of use. It just gives it a classic, homespun (and off the beaten path) feel.
Just be sure to balance the imperfections out with clean and smooth textures. If not, you may risk creating a cluttered and disheveled appearance, which will throw everything off.
Unfortunately, there is no universal solution to finding the right balance. Your specific taste will determine how much you can afford to change–and don't forget that a little bit of sanding and a fresh coat of paint can go a long way (a really long way).
For example, consider making distressed items stand out by creating contrast with finer, smoother textures. Pair old furniture with antique accessories for a bit of continuity.
---
11.

Bring Old and New Styles Together
Lastly, consider mixing modern and vintage elements together to a farmhouse look that is the best of both worlds. If you generally prefer modern design, consider adding things such as shiny metal finishes, dark color tones, and minimally decorated areas.
Then, match this with things such as vintage-style accessories, distressed wood, crisp white linens, and antique furniture pieces. Pay attention to textures and color patterns when using this approach. And be sure to consider the look of individual rooms as well in comparison to the connecting hallways, backrooms, and exterior entrances.

Wrapping Things Up
Hopefully this has given you a few ideas to help you decorate your farmhouse in a style that suits your personal taste. Remember, there is no wrong way when it comes to decorating, you can always change your mind and switch things up!
See also: 6 Townhouse Interior Design Ideas (with Pictures)
---
Featured Image Credit: Collov Home Design, Unsplash