8 Patio Trends in 2023 – Design Ideas for a Modern Home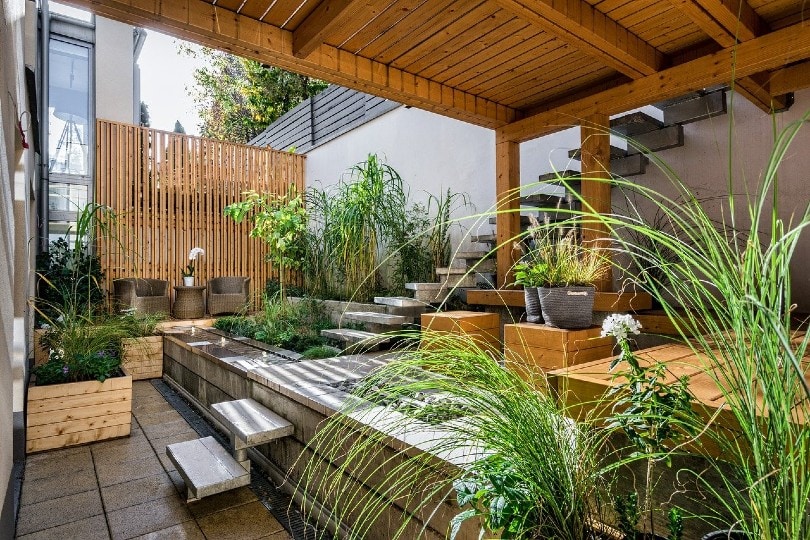 Following the past couple years of feeling stuck sheltering indoors, the call to venture to the outdoors has never been greater. While some of us have begun braving the many new and ever-changing travel protocols and regulations to experience some much-needed change of scenery wherever we can, others are looking for outdoor escapes within closer proximity to home. Others are simply opting to create an outdoor oasis at home, where they can feel all the thrill and release of a getaway without even having to leave their own backyard.
A rise in outdoor living in recent years has made way for several fun new trends for homeowners looking to spruce up their porches, patios, yards, and general outdoor space. Not only does doing so add value to your property, it provides you and your loved ones with an enjoyable space to take in some fresh air and nature, as well as the opportunity to entertain for family and friends who can come over to enjoy your lovely outdoor living space too.
Read on for some of the top trending ideas for jazzing up your patio this year.

The Top 8 Patio Trends in 2023
1.

Maximize and modernize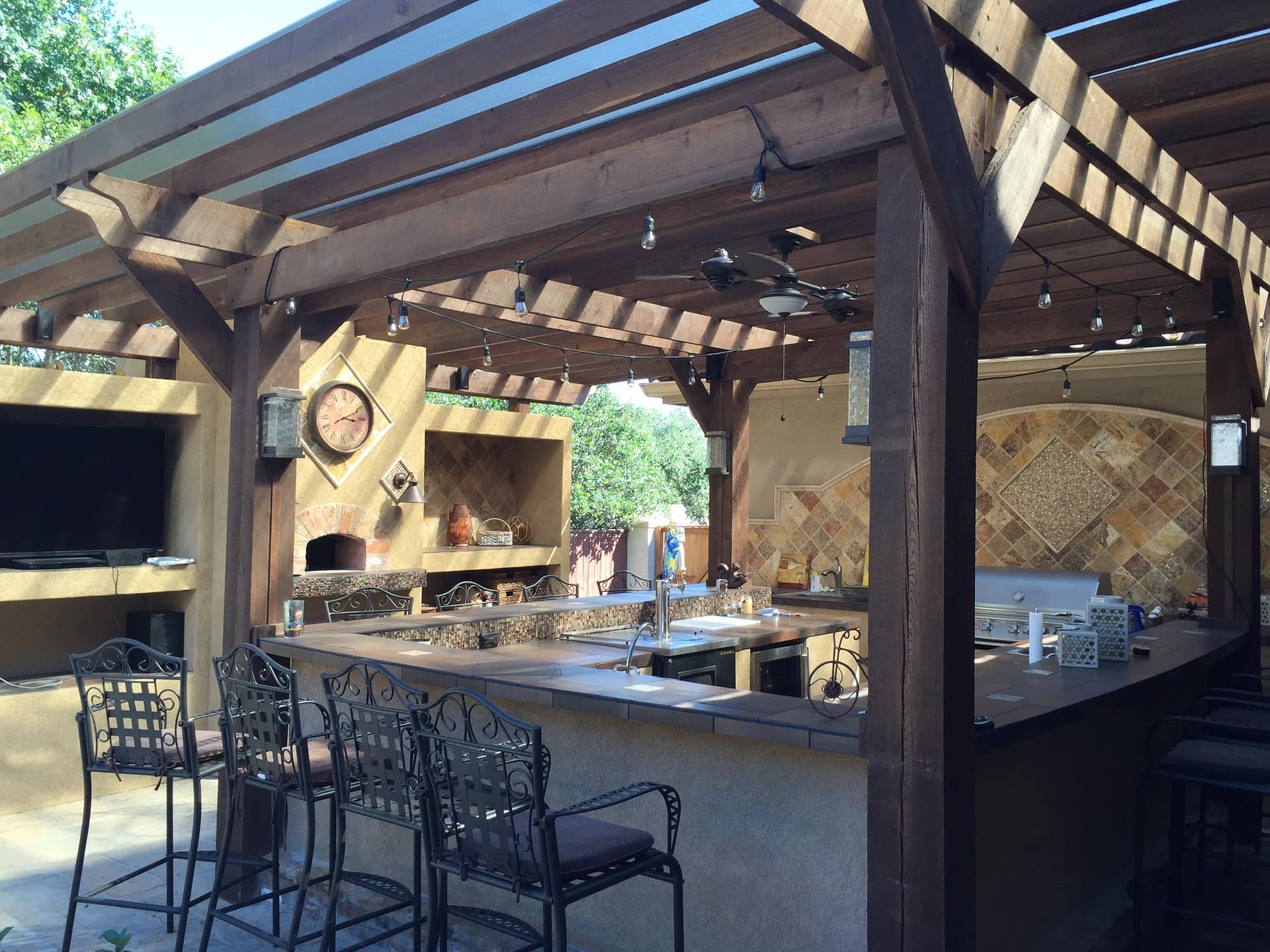 As the desire to be outside more has gone up in the past couple years, homeowners are looking to maximize the use of their outdoor space. By creating an area that is versatile and usable no matter the time of day or season, people are making the most use and functionality of their outdoor spaces in a number of ways. Along with wanting to utilize more outdoor space, homeowners are also opting to modernize these spaces to make it more suitable for not only day-to-day unwinding for themselves, but also for entertaining company.
More and more, we are seeing the incorporation of different elements in patio designs that include lighting, shade structures, and even sound systems to essentially bring indoor comfort outside. One patio trend that is only growing more popular is the addition of outdoor kitchen elements including small grill islands, outdoor bars or elaborate bar carts, and even pizza ovens. For obvious reasons, these are all super handy features for entertaining guests.
Another rising trend in patio designs is the incorporation of outdoor living room spaces. By utilizing outdoor furniture pieces that replicate the comfort of your living room outside, as well as adding cool new tech like large TVs, outdoor projectors, and sound systems that allow for optimal entertaining—your outdoor living space may easily become your new go-to spot at home.
By creating a more functional outdoor living space, the goal is to make even more use of it throughout the year regardless of the season. Especially as these renovations and upgrades all come at a cost—the more often you can utilize your patio year-round, the more cost-effective it will be in the end, as you will be getting the most bang for your buck.
Even without all the fancy-schmancy upgrades, all you need to create a functional indoor-turned-outdoor space is some comfy multifunctional furniture, some ambient lighting, and a shaded space all made to withstand the weather all year long.
---
2.

Opt for high-quality luxury upgrades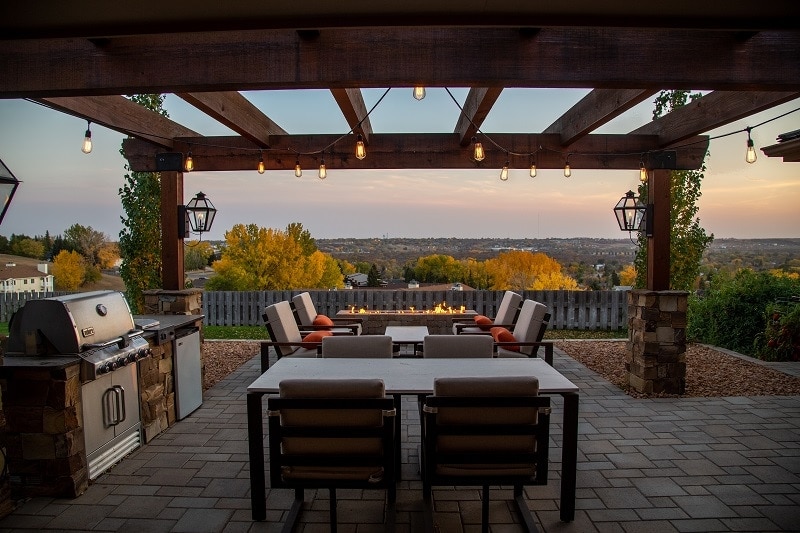 For those homeowners who are of the "go big or go home" mindset when renovating their outdoor living space, the good news for them is the trend for high-quality luxury upgrades has been seeing a recent rise.
More homeowners are looking for major upgrades when redoing their patio in several ways. Some are opting for custom-built luxury features made for entertaining and upgraded outdoor kitchen appliances. For example, the demand for custom luxury features like outdoor kitchens with fridges, supersized grills, dishwashers, pizza ovens, and even beer kegs are all adding to the increased desire to entertain guests outdoors in style.
Others are going for the look of luxury by utilizing high-quality traditional landscaping material such as granite and natural stone. Another trend on the rise is the use of man-made cladding and engineered work surfaces such as infinity stone or Dekton. Such surfaces are considered high-end as they are super tough, impermeable, and resistant to extreme conditions like high heat or freezing temperatures. The wide variety of available colors and textures in large formats also makes shopping for luxury patio upgrades a lot of fun.
---
3.

Play around with color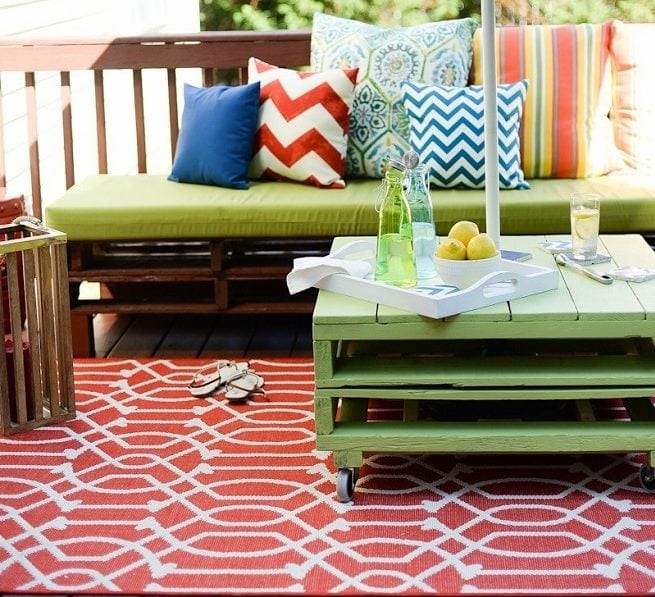 Different color trends for redesigning outdoor living spaces have emerged as of late. As color will always be an important factor to the overall aesthetic of a space, playing around with which color scheme best suits your desired vibe and atmosphere is important to consider when revamping your outdoor patio.
One trend that isn't necessarily new but continues to maintain its popularity is the use of monochromatic color schemes—as in, varying shades of the same color—while incorporating playful pops of colors in the form of accent furniture pieces, plants, or even throw pillows and other accessories.
Some trending color palettes include warmer colors, as well as pastels. Warm colors are associated with rustic earth elements while creating a cozy and comfortable feeling outdoors. Pastels have always been closely linked to spring, yet they make great accent colors that inspire feelings of both joy and relaxation all year long.
On the other hand, playing around with more than one color can not only be fun but practical too. Colors can be especially useful for creating a zoning effect to separate an area. For example, separating the outdoor living room from the outdoor kitchen space. You can also get creative by using color to draw attention to a certain focal point—like, say, that fancy new outdoor bar you've been dying to show off.
---
4.

Keep it clean and minimalistic
When it comes to revamping your outdoor living area, the saying "less is more" reflects the rising trend of opting for patio designs with clean lines and geometric shapes to create a more modern space.
Clean lines are key for this year. They create a simple, minimalistic, and uncluttered aesthetic that inspire a sense of calmness. After all, the last thing you want when creating an outdoor oasis in your own backyard is messy bulk. A growing trend is the use of modular geometric shapes and patterns—such as flooring, backsplashes, and other layouts with hexagons and herringbone.
What's more, the use of modular materials for these patio upgrades makes installation much more efficient, cutting down on your construction time and allowing you to enjoy your new-and-improved outdoor living space.
This minimalistic trend can also be achieved with the use of natural colors. By keeping your color palette to a minimum—using only a couple key color choices with just a few variations—you can really create a relaxing ambiance without being too busy or having too much visual stimuli distracting from your beautiful backyard surroundings.
---
5.

Fire it up – with eco-friendly gas, that is
The element of fire has been an ever-growing popular trend to include in any outdoor space, and one that is not going out of style any time soon. Fire pits and their updated counterpart, the fire table, are amongst top-selling features when it comes to outdoor living areas.
Especially with a recent push towards more eco-friendly gas options, these features are only growing in popularity alongside the public's growing awareness of the importance of going green. Even electric and gas grills have seen a recent rise in popularity and have even made way for more imaginative outdoor kitchen designs.
Originally limited to only being available on luxury yachts and boats, electric grills and other electric appliances have become more widely accessible in recent years. Hence the growing popularity of more eco-friendly modern outdoor kitchen appliances, as well as cleaner, more convenient, and easier-to-use gas fire pits that also make sleek and stylish focal points for any outdoor space.
---
6.

Innovate your inner green thumb
What's an outdoor living space without some calming elements of nature included? With the pandemic has come an increase in home-grown gardens for people eager to get outside, and perhaps to create some sense of hope in the form of sustainable new life. Whether it be plants, flowers, or home-grown fruits, veggies, and herbs, the growth in this trend has brought with it several creative new ways to incorporate these natural elements into your outdoor living space.
One trend that has seen more popularity as of late is vertical gardening. Originally intended to optimize space usage within confined areas, like on smaller balconies, vertical gardens have become a trendy way to add a tasteful touch of nature along walls, ledges, and trellises. Ladder gardens and vertically inspired tiered planter fixtures are other innovative ways to achieve this modern new look in your patio design.
If you're not limited on space, or if you just prefer a more traditional aesthetic, you really can't go wrong with using standard planters and decorative pots to spruce up an area. You can get creative with choosing colors and designs that either complement your chosen color scheme or provide vibrant accent colors. What's more, they also make great multi-purpose decorative props that can be used to set natural boundaries or to strategically separate a space.
Whatever your preference, adding touches of nature and vegetation to your outdoor living space can make it feel more accessible, comfortable, and soothing for you and yours.
---
7.

Lighten the mood
An ever-popular trend for transforming any living space is by adding lighting throughout. Illuminating your outdoor space is a generally cost-effective method of literally lightening up any space and is both a functional and decorative addition. Doing so can really spruce up an area and create an entire vibe and ambiance almost completely on its own.
When choosing how best to light up your patio, you've got options to choose from and let your creativity run wild with. For example, you can never go wrong with the popular go-to of string bulb lights, which you can easily hang above a space along a pergola or posts using minimal hardware that usually comes included with the lights. The best part about string lights is how versatile they are and how easily you can accomplish any look and set any mood with them—whether going for a casual evening with friends or a romantic date night.
Other lighting options for creating a warm and inviting appeal include outdoor lamps and lanterns. You can even personalize these simple yet elegant additions with different color options that complement the rest of your patio design. For example, opting for lamp shades with vibrant colors or prints on them will not only illuminate your space at night, it'll also add fun colorful motifs to your overall patio vibe.
More than just decorative, strip lights can be installed along railings as well as under stairs and other fixtures like countertops. This will help to illuminate walkways and general areas in your outdoor living space—serving the functional purpose of keeping you and your guests safe, while still dazzling at the same time.
---
8.

Aspire to inspire – with touches of travel and tradition
As we slowly but surely emerge from a stagnant couple of years being confined to our homes, during which traveling has been majorly restricted, those of us bitten by the travel bug years ago are feeling that itch to get back out into the world more than ever. And while much of the world is still very much off limits to us—or requires jumping through multiple hoops including mandatory quarantine orders to get to—why not create our own little corners of the world with travel-inspired design aspects in the meantime?
Such has been the trend in recent years, as we see an increase in décor and soft goods collections that reflect this longing for traveling, featuring curated pieces from around the world. For example, there has been a recent rise in interest drawing people towards buying more traditional artisanal items and folklore-inspired pieces. As such, choosing out vintage décor—whether perusing a thrift shop or repurposing old pieces you already have—has seen growing popularity that is sure to continue into this new year.
The more we see outdoor living areas renovated and revamped to be extensions of our interior spaces, the more we see this rising trend towards travel-inspired designs translating into boho-style backyards with the same worldly inspo. Whether achieving this look with vintage furniture pieces, an imported rug, original art pieces, avant-garde ceramic pots, or whatever tickles your inner world traveler's fancy, the best part about it is you can create your own personalized getaway destination right in your own backyard.
Conclusion
For unique reasons of their own, each of the abovementioned rising patio trends for this year reflect the changing of the current tides and how we're making the most out of adapting to them. As we're slowly returning to "normal" and making moves out of the house more often these days, having your own designated outdoor space designed to be as comfortable and relaxing as your home's interior has become an increasingly more worthy investment as far as home improvements go.
Whether giving your patio a complete design overhaul with a new outdoor kitchen, or adding some tasteful décor in the form of new lighting or vertical planters, you surely can't go wrong when reviving your outdoor living space with any, or all, of the these rising patio trends. Whichever trend(s) you choose to apply to your own new-and-improved outdoor living space, we hope it motivates you to get out and enjoy some fresh air more often from the comfort of your own backyard.
See Also: 
---
Featured Image Credit: krakowgardendesign, Pixabay