Makita vs Ridgid: Which Power Tool Brand is Better in 2023?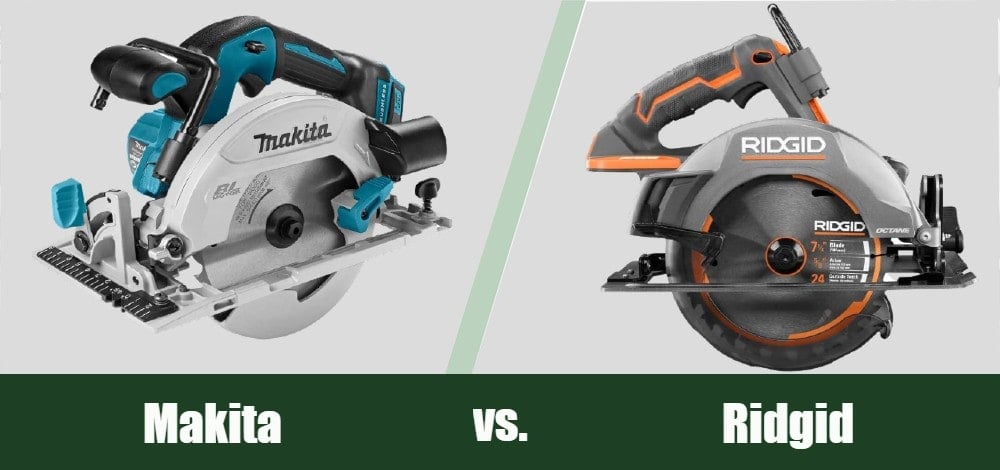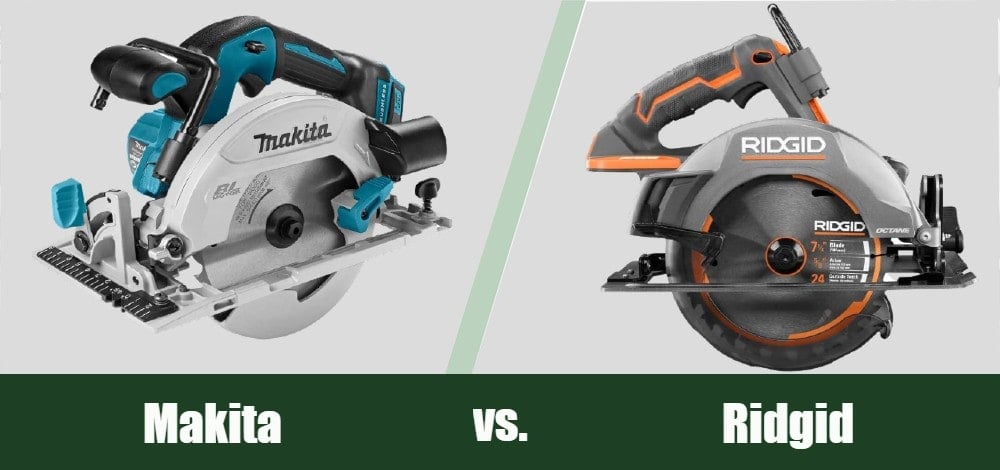 Makita and Ridgid are two of the most recognizable brands of power tools in the United States. Both have a large selection of high-quality tools for any situation. You can purchase a single tool or choose one of the many package deals both offer to equip your workshop with all of the most important tools at a reduced cost. However, choosing the right brand for you can be difficult if you don't know a lot about one or both makes, so we will take a close look at each to help you select between them.
Join us while we discuss durability, ergonomics, history, warranty, and more to help you make an informed purchase.

A Quick Comparison
Image
Product
Details

Makita

Established: 1915
Headquarters: Japan
Product lines: Power tools
Cordless tools
Accessories
Parent company/ major Subsidiaries: Makita
CHECK PRICE

Ridgid

Established: 1923
Headquarters: USA
Product lines: Power tools
Diagnostics
Machine press
Parent company/ major Subsidiaries: Emerson Electric
Ridge Tool Pattern
Techtronic Industries
CHECK PRICE

Brief History of Makita
Makita is a power tool company known for its durable and innovative tools. It began in 1915, selling electric motors and fixing lighting equipment. It expanded in 1958 with the world's first electric planer, and it started making and selling power tools in 1959. In 1969 they released the first rechargeable battery-operated drill decades before most other tool companies. They continued to release newer versions of the rechargeable drill. In 2005, they released the first tool using lithium-ion batteries changing the industry and how many of us use power tools.
---
Brief History of Ridgid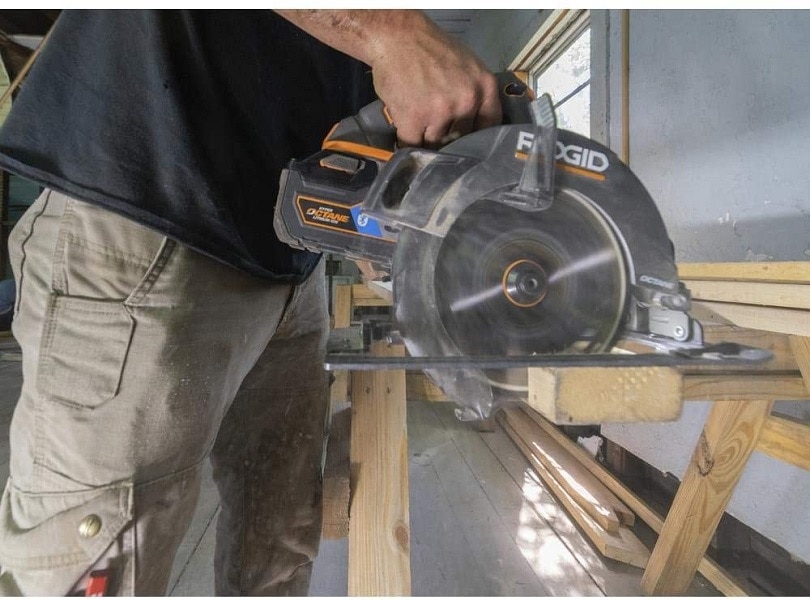 The Ridgid tool company began in 1923 and is the creator of the modern pipe wrench. The company started in North Ridgeville, Ohio, which is perhaps where it gets its name, but moved to Elyria, Ohio, where it remains today. Emerson Electric purchased it in 1966.

Makita vs Ridgid: Manufacturing
Makita
Makita operates several factories in more than 30 countries, including Brazil, China, Germany, Thailand, the United Kingdom, and the United States. They employ more than 13,000 people across the globe.
Ridgid
Ridgid tools are best known for their bright red pipe handles that they make along with several other hand tools right in their Ohio factory. Techtronic Industries, based in Hong Kong, makes many of their power tools, as they do for Milwaukie, Ryobi, and many other tool brands. Ridgid's parent company Emerson produces wet/dry vacuums and a few other tools.
---
Makita vs Ridgid: Product Line
Makita
Makita makes a wide range of products, but rechargeable tools are their main selling point. They were making rechargeable tools 20 years before any of their competitors and invented much of the technology used by them today. They have more than 50 categories of cordless tools, including drills, blowers, jigsaws, circular saws, sanders, routers, and even a coffee maker. There are often many models in each category to fit any budget.
Makita also has corded versions of their cordless tools, a full line of hand tools, and accessories.
Ridgid
Ridgid offers a full line of cordless power tools as well, with nearly 50 different models. Their selection isn't quite as large as Makita, but they have all of the essential tools you're likely to need, especially if you are just getting started. They also sell diagnostic equipment, corded tools, drain cleaning tools, pipe threading equipment, wet/dry vacs, and a large selection of American-made hand tools.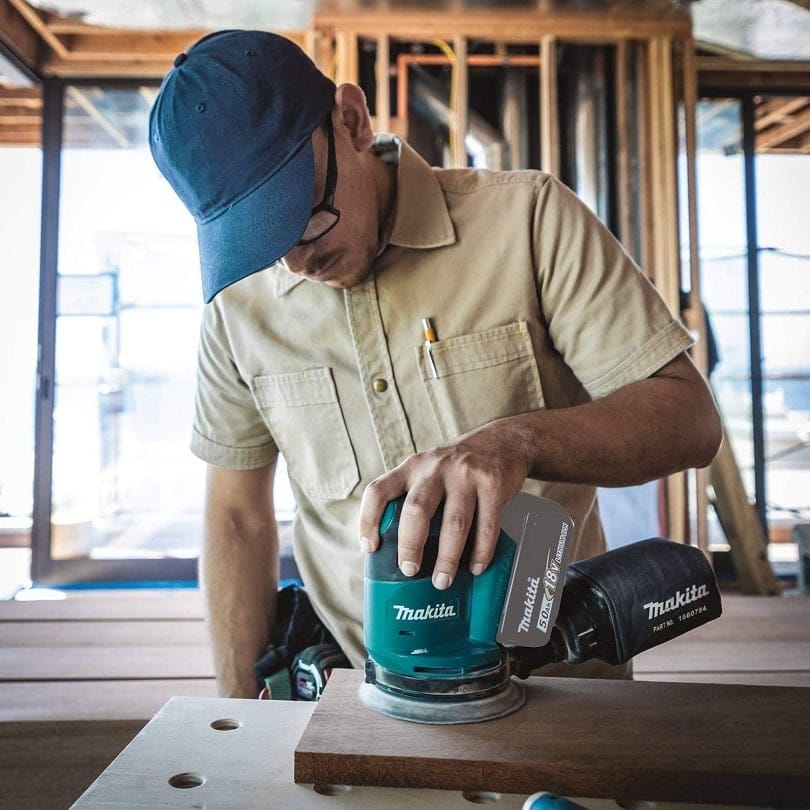 Makita vs Ridgid: Price
Makita
Makita makes several cordless power tools that you can, but for $100 or less, including the XOB01Z orbit sander, RT0701C router, XRJ01Z reciprocating saw, XPH12Z brushless drill, and many others.
Makita also sells some high-end tools, like the XBU02PT1 blower kit, XCU03PT1 chainsaw, HM1307CB demolition hammer, and others that can cost $300 or more. They also offer kits that contain several tools for one price. These kits can be expensive but usually save you quite a bit over buying the tools separately.
Ridgid
Ridgid also offers a large selection of tools for less than $100. The R86116 cordless drill, R8606B orbital sander, and R8694220B spotlight are just three examples, and there are plenty more.
Their expensive line includes mostly drain cleaning machines, like the 35473, 71722, and 58960, which can be very expensive.
---
Makita Brand vs Ridgid Brand: Warranty
Makita
Makita offers a 1-year warranty on most of their tools. It does not include parts that wear out due to normal use. Emissions-related products extend the warranty to two years, and it will also cover the fuel metering, air induction, and ignition systems. Makita's pneumatic nailer, battery, and charger each have a 3-year warranty. All tools come with a 30-day money-back guarantee.
Ridgid
Ridgid's hand tools have a lifetime guarantee. The power tools purchased after 2004 all have a 3-year warranty similar to what is offered by Makita. However, you can also opt for the lifetime service agreements for free parts, replacement batteries, and service.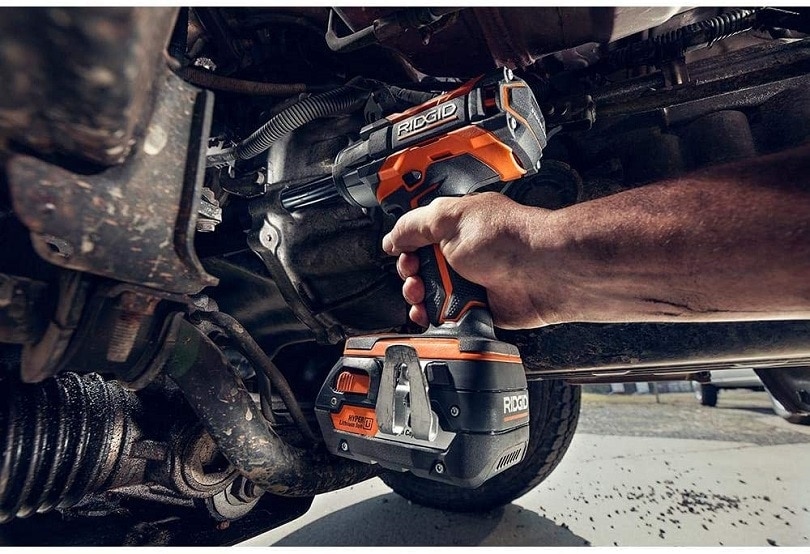 Makita Brand vs Ridgid Brand: Customer Service
Makita
Makita has excellent customer service representatives that listen and help you solve any problems. If you require parts, they usually send them out within a day or two so you can get them quickly.
The problem with Makita customer service is that it can be hard to reach a representative, and we often had long wait times or experienced busy signals. Also, since many plants are in different countries, it can take some time for your parts to arrive, depending on where they originate.
Ridgid
Ridgid brand also has excellent customer service, and their representatives are typically easier to contact. They will help you achieve a satisfactory solution to any problems you might have and send the parts out you need.
The downside to Ridgid service is that it usually takes them a few days longer to get your parts in the mail, so you often need to wait several days to receive them.

Head-to-Head: Cordless Drills
Makita XFD vs Ridgid R860054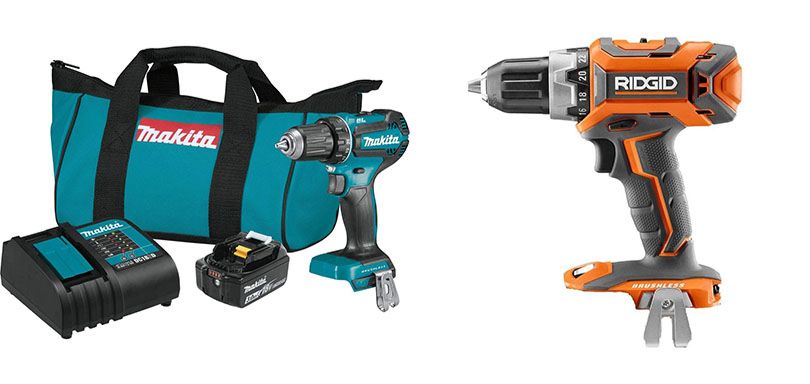 Both the Makita XFD and the Ridgid R860054 cordless drill use 18-volt batteries, have ½-inch chucks, and rubberized handles to improve comfort. They both have 2-speed settings and can reach about the same maximum revolutions per minute (RPM). The Ridgid tool is a little less expensive and has a brushless motor, but the Makita offers dual LED headlights that illuminate the surface you are working on, and it has a little more torque.
The brushless motor of the Ridgid will give you longer use per charge over the Makita, and there are no brushes to wear out. It also has enough power for most uses. If you do a lot of work in dimly lit conditions or frequently use your drill to put screws into hardwood, the Makita is a better choice due to the increased torque.
Our Verdict: Tie

Head-to-Head: Orbital Sanders
Makita XOB01Z vs Ridgid R8606B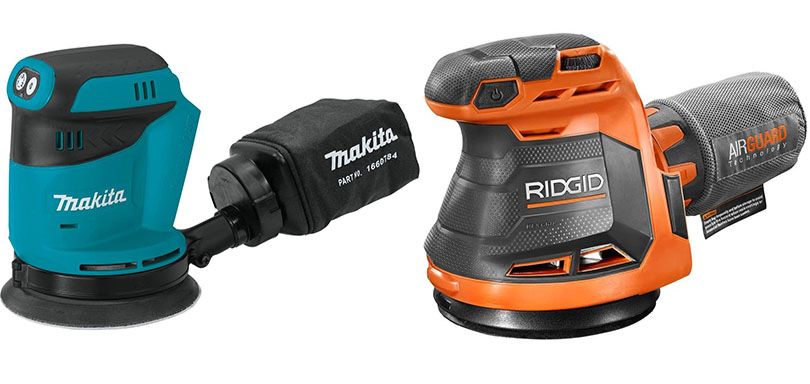 The Makita XOB01Z and Ridgid R8606B orbital sander are both 5-inch sanding devices. The Ridgid is less expensive and has a built-in vacuum adapter that will fit 1¼ or 2 ½-inch vacuum hoses to create the safest environment possible. The Makita only has a single 1¼-inch dust chute. However, the Makita is lighter, has more speed options, and the sanding disk orbits over a greater distance, allowing you to get finished faster. It's also a little more ergonomic.
The Makita has too many features that the Ridgid lacks to avoid paying the extra cost. If you only use your sander for light-duty work, you might appreciate the cost savings, but if you have larger jobs and need something you can rely on, it's better to save up for the Makita.
Our Verdict: Makita XOB01Z

Head-to-Head: Jigsaws
Makita XVJ03Z  vs Ridgid R8832B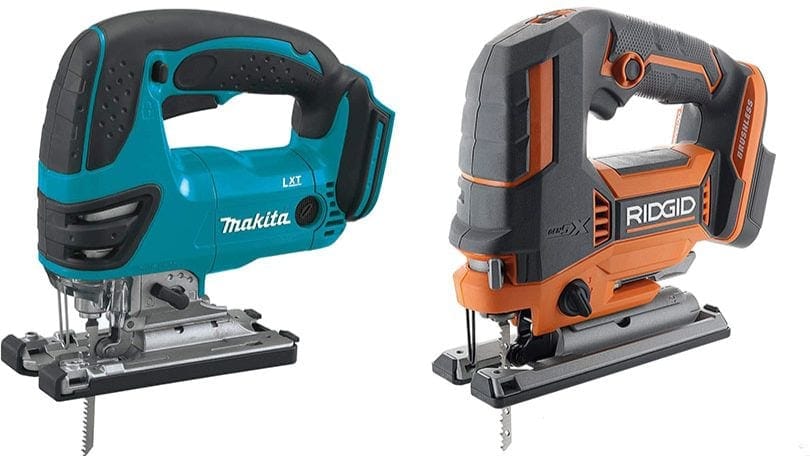 Both the Makita XVJ03Z jigsaw and the Ridgid R8832B use 18-volt batteries to power the tool and provide complete portability. Both are about the same price and have the same ergonomic shape with rubber-coated handles for comfort. The Ridgid is lighter and uses a brushless motor for increased battery life and less maintenance. The Rigid has Star Protection computer controls to protect it from overloading and overheating.
While we liked the added safety controls of the Makita but prefer the brushless motor of the Ridgid. Both tools are nearly identical in every other way.
Our Verdict: Ridgid R8832B

Overall Brand Reputation
Performance
Edge: Makita
Makita has a wider selection of tools in many tiers. It's usually possible to upgrade to a more powerful tool, and in our trials, the Makita usually had more power.
---
Price
Edge: Ridgid
While Ridgid doesn't have as many tools to offer as Makita, they have a bigger selection of budget-priced models of the most popular ones.
---
Durability
Edge: Tie
Both tools brands use similar materials in their construction, and they are often of comparable size and weight. While Makita still has several brushed tools, they both have a large selection of tools with brushless motors that don't wear out as quickly as traditional types that require more maintenance.
---
Design
Edge: Makita
While both brands are very similar to look at, it's Makita that are often the pioneers that create the design others copy.

Conclusion
We feel that Makita wins this shootout because they have a much larger selection of power tools and a better chance of having what you need. A bigger selection means more choices when you expand, and there's a good chance the number of tools they offer will grow as well. Ridgid also has several great tools, and if you purchase one of their multi kits, you can save a lot of money over individual purchases if it has everything you need. However, Makita has these same kits, and their tools often have a little more power.
We hope you have enjoyed reading over our reviews of these two popular brands and found the answers you needed. If we have helped you choose your next power tool, please share this shootout between Ridgid and Makita on Facebook and Twitter.
You may also be interested in: