TORQ 10FX vs Porter-Cable 7424XP: Which Polisher is Best?
If you are looking for a new polisher for your car or boat, both the TORQ 10FX and Porter-Cable 7424XP are good models, which can make it difficult to know which one to get. Both models polish pretty well and last a long time, but they are different in terms of design and technology.
Overall, you should get the TORQ 10FX if you are a more experienced hobbyist or professional. The advanced design and technology will make it more useful for professional use. In contrast, the Porter-Cable 7424XP is better for those who don't intend to use the polisher that often. Its more affordable price makes it better for amateurs and beginners.
Still, there is more to consider about these two polishers. To find out about the TORQ 10FX and Porter-Cable 7424XP in more detail, read on.

At a Glance
Let's look at the key points of each product.
TORQ 10FX
Gradual speed mechanism
Vibration reduction technology
Digital speed display
Speed control buttons
Balanced motor and design
Ergonomic design
Lightweight
Porter-Cable 7424XP
Affordable
Offers swirl-free sanding/polishing final results
Electronic variable-speed dial
Accepts 5/16 to 24 spindle thread accessories
2-position removable side handle
Suitable for right or left handed users
Overview of the TORQ 10FX
The TORQ 10FX is a high power but comfortable dual action polisher. It provides the precision and power required by professionals, but it also is comfortable and intuitive for enthusiasts or amateurs at the same time. This makes the TORQ 10FX a superior polisher for serious hobbyists and professionals on a budget.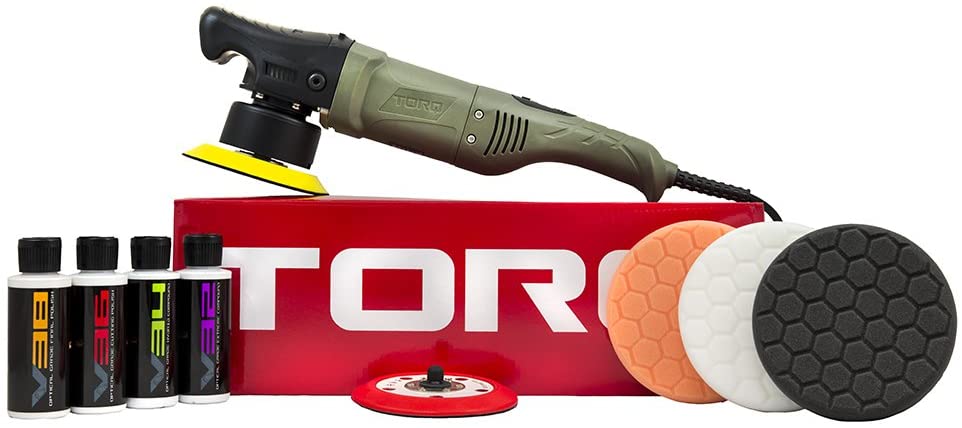 Features
The TORQ 10FX is equipped with intuitive and helpful technology. It uses a gradual speed mechanism. This means that the spinning mechanism starts at a slow speed, but it quickly speeds up toward the desired speed. This reduces the amount of product that is flung off the polisher, and it helps ensure that you can handle the tool so that you don't damage your car in the process of polishing it.
The TORQ 10FX also comes with a digital readout. This makes it easier to control the variable speed motor and provides higher precision. Not only that, but it helps you better understand the tool, meaning that you can better wield its power.
Design
Despite its power, the TORQ 10FX is lightweight and fatigue busting. It weighs about 7.3 pounds and includes vibration reduction technology. This makes it much easier to use this tool for long periods of time, especially if you are working on the door panels.
Best For
Because of the enhanced features and ease of use, the TORQ 10FX is best for professionals or more intense hobbyists. This model may be too intense and expensive for those just looking to polish their car once or twice a year, though.
Pros
Gradual speed mechanism
Digital readout
Speed control buttons
Lightweight
Vibration reduction technology
Cons
More expensive
Speed controls poorly placed

Overview of the Porter-Cable 7424XP
If you are a beginner or amateur, the Porter-Cable 7424XP will probably be the best selection for you. It is affordable, but it also provides great polishing power because of its electronic variable speed dial and left or right handed side handle.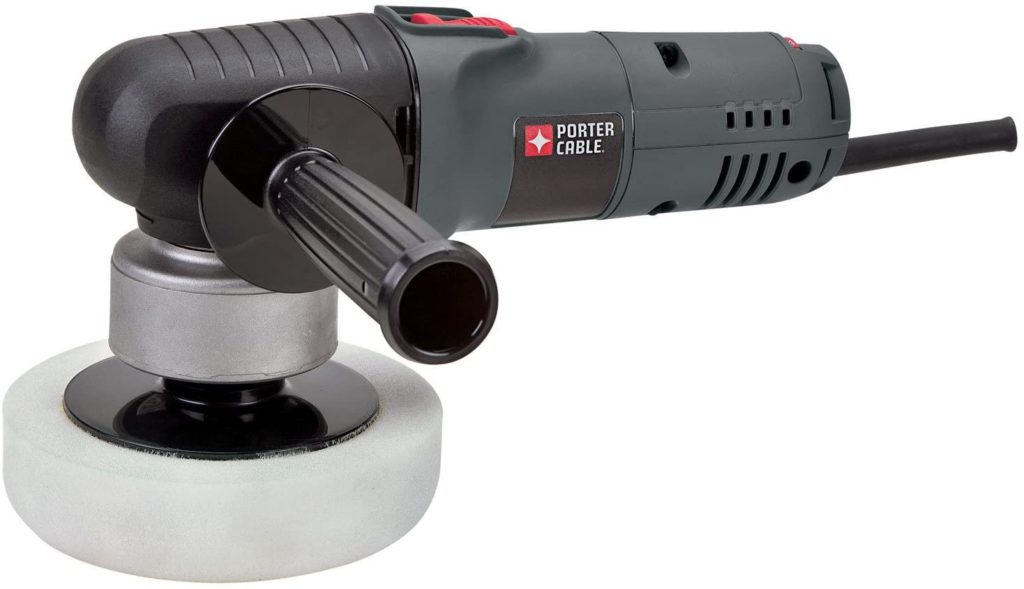 Features
The Porter-Cable 7424XP features a 4.5-amp motor, high overload protection, and electronic variable speed dial. You can change the speed on this polisher from 2,500 to 6,800 OPM. This allows you to adequately control the speed and strength of the polisher, ensuring you get the finish you want.
This model also includes a propriety counterbalance. This means that you can use 6 inch sanding or polishing pads, but it also accepts 5/16 to 24 spindle thread accessories. The polisher is designed so that the product does not leave any swirls on your vehicle.
Design
Although the Porter-Cable 7424XP is bulky and a bit old fashioned looking, it does come with some helpful features. For example, it features a two position removable side handle. This means that you can use this side handle on either the left or right side for versatile and more comfortable use. Left handed users will especially find this option helpful.
Best For
The Porter-Cable 7424XP is ideal for amateurs or beginners. Its more affordable price and straightforward design makes it the better choice for those who don't intend to use it very often. Professionals and more intense hobbyists may want to select a higher tech polisher.
Pros
Affordable
Suitable for left or right handed use
Variable speed control dial
Cons
Does not include a gradual speed mechanism
Does not include a digital readout
Bulky
Dated design
---
What are the differences between them?
Performance
Edge: TORQ 10FX, only slightly
In terms of performance, both the TORQ 10FX and Porter-Cable 7424XP perform really well, but the TORQ 10FX wins out just by a little. The gradual speed mechanism on the TORQ 10FX makes it perform better because it doesn't splatter the polish and it reduces the risk of damaging the car.
The Porter-Cable 7424XP still performs well, but it does not come with a gradual speed mechanism. This means that it is more likely to splatter the polish and potentially damage the car. Other than that, the Porter-Cable 7424XP performs just as well as the TORQ 10FX.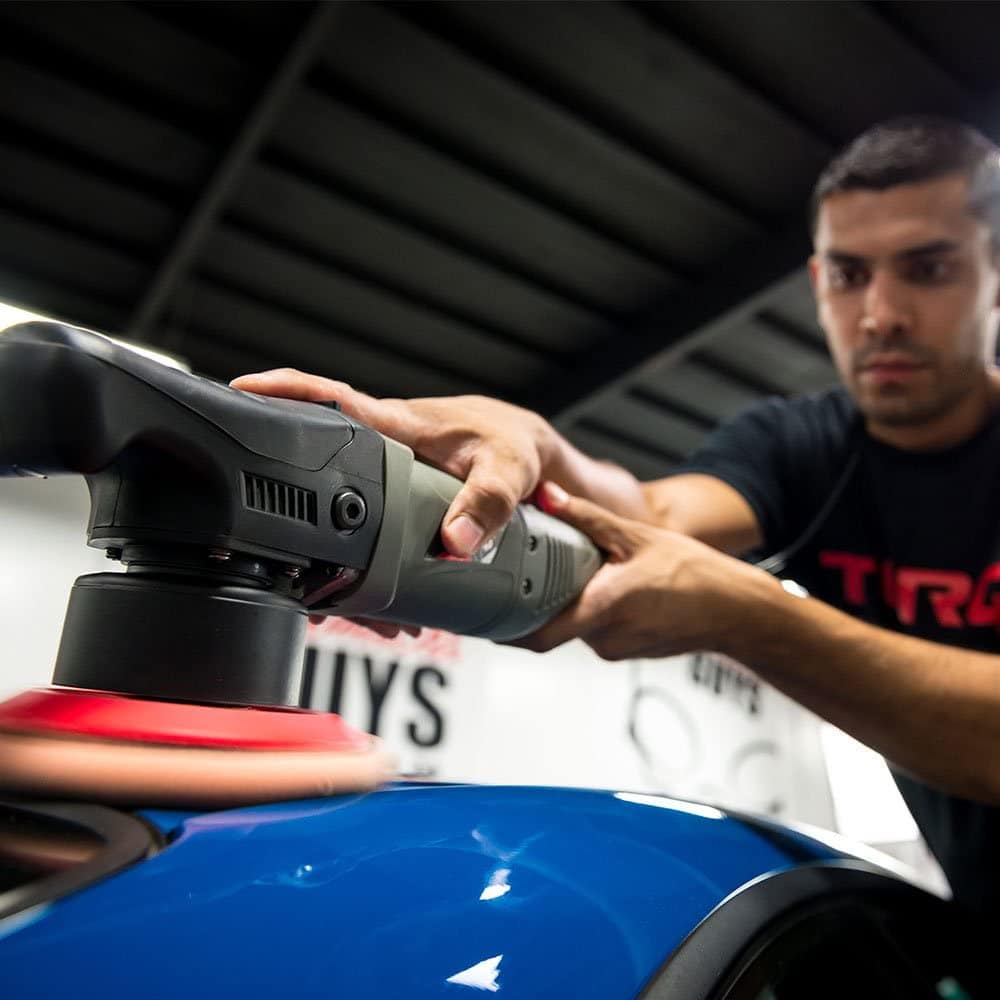 Design
Edge: TORQ 10FX
Design is one of the ways in which these two polishers differ dramatically. The TORQ 10FX is superior in terms of design. It is much more lightweight and compact, which makes it easier to use. In addition, the digital readout makes it much easier to control and use this model.
The Porter-Cable 7424XP, in contrast, has a much more dated and bulky design. Even though the two positioned handle is useful, the model as a whole is less intuitive when it comes to design. You will get fatigued much faster, and it does not offer as precise control of the model.
Technology
Edge: TORQ 10FX
Another area in which the TORQ 10FX stands out is technology. This model is specifically designed for professionals or those with more intense needs. So, it includes much more advanced technology. This includes the gradual speed mechanism, a digital readout, and advanced motor. Together, all of these features make the TORQ 10FX perform better and feel more comfortable during use.
Overall, the Porter-Cable 7424XP does not really have as much technology. It does include a variable speed dial, but other than that, the technology is pretty dated and standard for a polisher. Don't expect the technology within this model to make it more useful or comfortable.
Durability
Edge: Neither
Luckily, both the TORQ 10FX and Porter-Cable 7424XP will last you many years, regardless of how many times you use it. Both brands make it a point to only produce products that are durable and long lasting.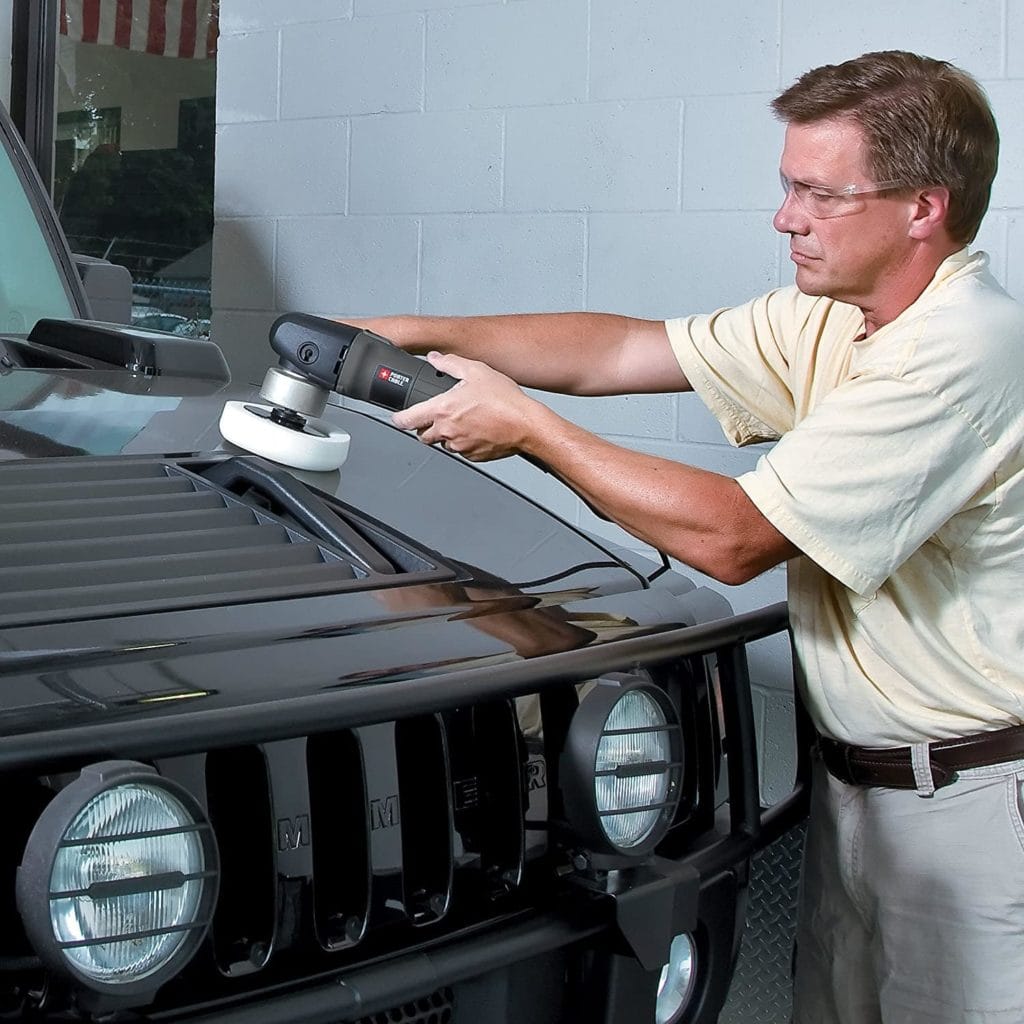 Price
Edge: Porter-Cable 7424XP
One area that the Porter-Cable 7424XP stands out is in price. This polisher is much more affordable because of its lacking features. This higher affordability makes it better for those on a budget or those who don't want to shell out a lot of money for a tool they won't use too often.
As for the TORQ 10FX, this polisher is more expensive than the Porter-Cable 7424XP, but that does not mean it is outrageously priced. The price is pretty fair, and it is more affordable than other polishers for professional use. Professionals on a budget may opt for the TORQ 10FX, but anyone else on a budget may want the Porter-Cable 7424XP instead.

What the Users Say
We wanted to see what other people thought about these polishers. So, we looked online and read the reviews. Overall, we found that more users were pleased with the TORQ 10FX, but the Porter-Cable 7424XP was still a hit among beginner users.
TORQ 10FX
The TORQ 10FX was met with many positive reviews, as we expected. Most of the users who reviewed this product noted that they had used other polishers in the past and were not new to using these types of tools. With that in mind, most reviewers thought that this was an incredibly affordable polisher for more intense or professional use.
At the same time, the TORQ 10FX was noted as being friendly enough for amateurs or beginners too. This is a positive that we saw coming, but we were shocked at how many new users selected this model because of its more expensive price.
One of the downsides of this model is that its instructions are not the most detailed. For example, the kit comes with different colored pads. The different colors denote different polishing purposes and abilities, but the instructions don't note this clearly.
Overall, most users agreed with our general findings of the TORQ 10FX. Other users agreed that this is a great tool for both hobbyists and professionals alike, despite its more expensive price. Even though the instructions are not as detailed as they could be, the device itself is intuitive and high powered thanks to its impressive technology.
Porter-Cable 7424XP
Most users agreed that this was a great polisher for its value. Beginners especially found that this polisher performed wonderfully at its low price, making it a great option for those on a budget. Better yet, most users believed that the Porter-Cable was a great option for its easy and intuitive design.
Users were especially pleased with the variable speed. Although they found it a little difficult to use at first, most users agreed that they quickly figured it out and were able to properly polish their automobile.
The main downside of this model is its noise. Most users claimed that it was rather loud, and they needed to wear ear protection during use. Additionally, most users found they had to buy separate pads because the ones that came with the polisher were of poor quality and cheap.
Users absolutely loved the Porter-Cable 7424XP. Just as we found, the product is highly impressive for its affordable price. Beginners were especially impressed by this product, although they needed to wear ear protection while using it.

Conclusion
Both of these polishers are impressive, but you should use the TORQ 10FX for professional or intense uses and the Porter-Cable 7424XP for beginner polishing. The technology and price of the TORQ 10FX make it ideal for professionals but a little too much and unnecessary for beginners. At the end of the day, deciding between these two models will depend on your exact polishing needs.
You might also be interested in: