18 Protein Smoothie Recipes | Healthy High Protein Shakes (with Pictures)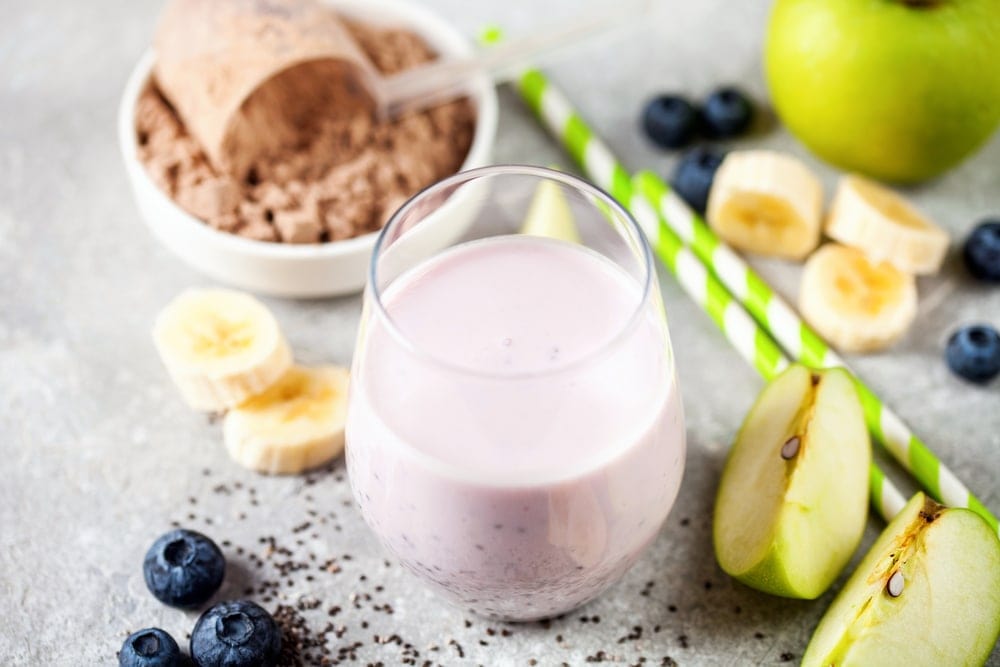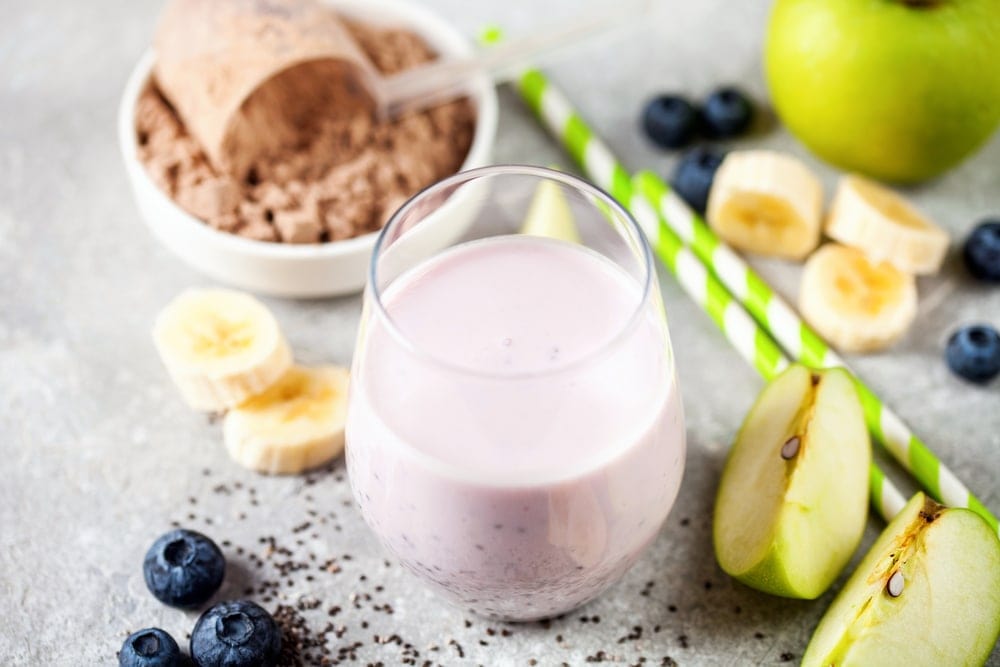 Protein is a key part of a balanced diet. In addition to restoring energy levels and maintain a healthy lifestyle, many individuals use it to facilitate weight loss or gain muscle. For some, protein sources might look like lean meat and eggs, while others reach for vegan and vegetarian options such as nuts, tofu, and beans. Whatever your protein source looks like, it's safe to say that there are a ton of people who appreciate a great protein shake or smoothie. We have outlined our favorite protein smoothie recipes below, and have also managed to squeak in a few amazing protein shake recipes. If you are looking to incorporate a little more protein into your day, you can use one of these recipes for inspiration! There are options appropriate for all ages, health targets, and fitness goals.


18 Protein Smoothie Recipes
---
Protein Powder Smoothie Recipes
The simplest way to add protein into your smoothie is by way of a whey powder! Each of the recipes noted below is supplemented with a  protein powder that you can purchase from any health food or supplement shop. The flavor may vary from recipe to recipe, but you can likely use whichever you have on hand – which is a way more cost-effective suggestion than restocking your pantry with all of the latest protein powders.
---
1.

Blueberry Vanilla Protein Smoothie- jaroflemons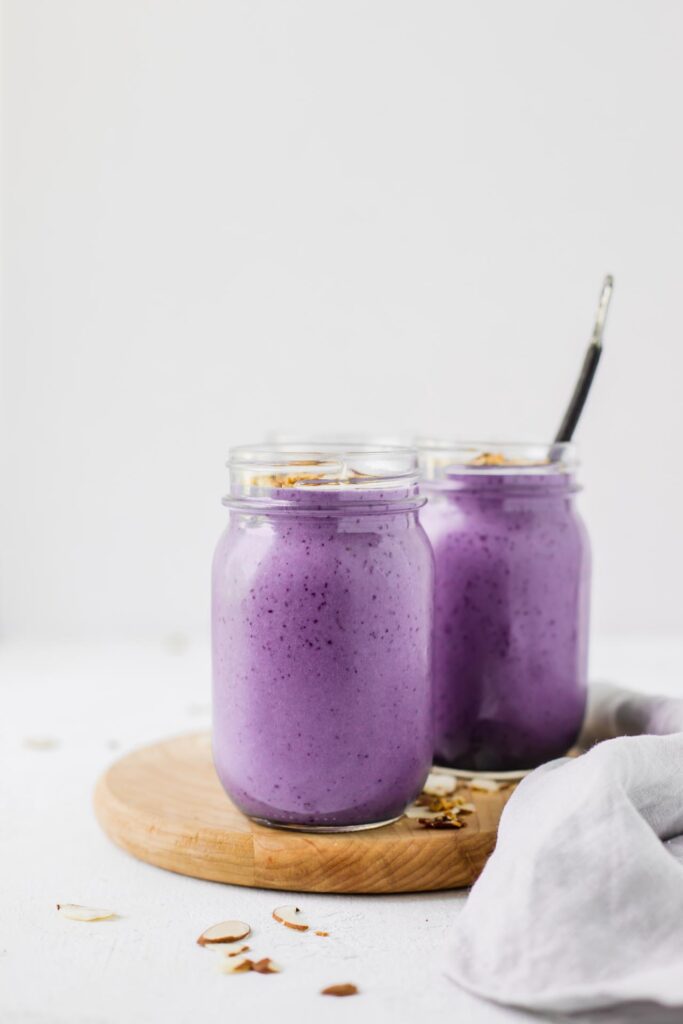 Blueberries and vanilla are a delightful combination. This protein shake is the perfect balance of sweet and tart, and to top it all off, is an electric shade of purple! Get the recipe here.
---
2.

Peanut Butter Protein Shake- jennifermeyering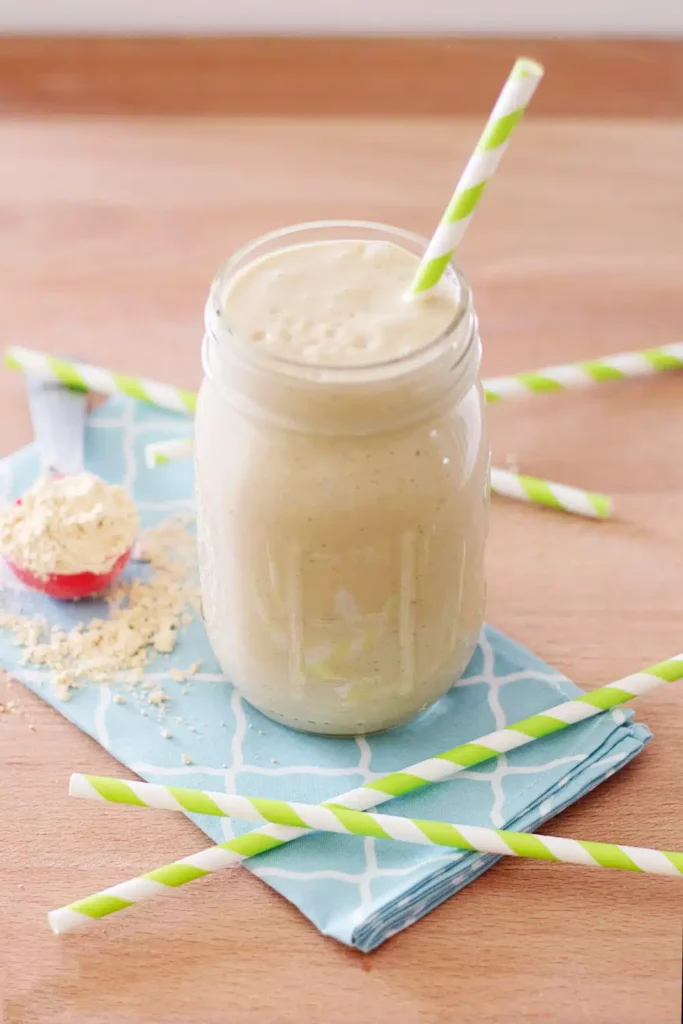 This recipes calls for peanut flour giving it a rich and nutty flavor. Nuts are an excellent source of protein. Throw a few chopped nuts on top of this smoothie and double up on your energy boost. Get the recipe here.
---
Nothing sounds quite as refreshing as a pink pineapple protein smoothie. This recipe includes two ways of blending up this smoothie – the first using  frozen fruit and the second using fresh. Each creating a different consistency depending on how you like to consume your smoothie. Get the recipe here.
---
4.

Mango Berry Protein Smoothie- garlicandzest
Mangos and berries are simple fruits that we can keep in the freezer so we have them when our tummy calls for a quick smoothie. This blog gives you a step by step recipe that includes helpful photos for each step!  Get the recipe here.

High Protein Smoothie Recipes Without Protein Powder
Protein powders are not necessarily an ideal option for everyone. Great news – your smoothie doesn't require supplements to be high in protein! This next batch of protein-packed smoothies are au-natural and oh so delicious.
---
5.

Chocolate Vegan Protein Shake- beamingbaker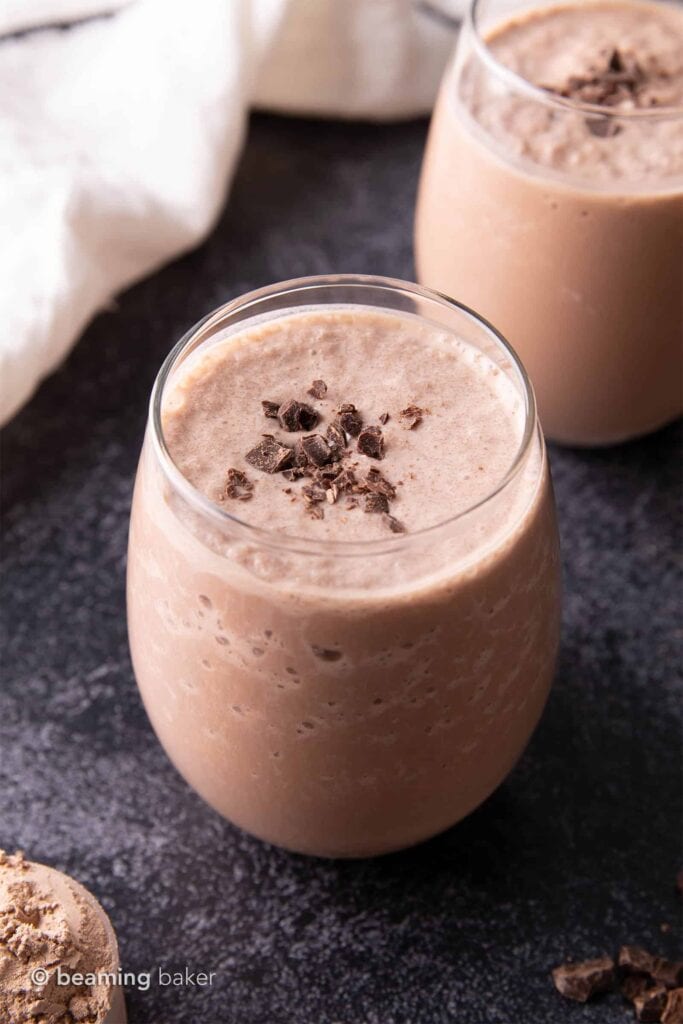 If you are a vegan and reach for recipes that only incorporate the most natural of ingredients, this recipe can't get much simpler. With only three ingredients, you are sure to add this protein smoothie into your diet! Get the recipe here.
---
6.

Vegan Green Apple Pie Protein Shake- lettucevegout
Again, another vegan recipe but with a few more elements. We can assure you the work is worth the result because who doesn't love an incredibly healthy recipe that tastes like dessert? Get the recipe here.
---
7.

Natural Protein Shake- flypeachpie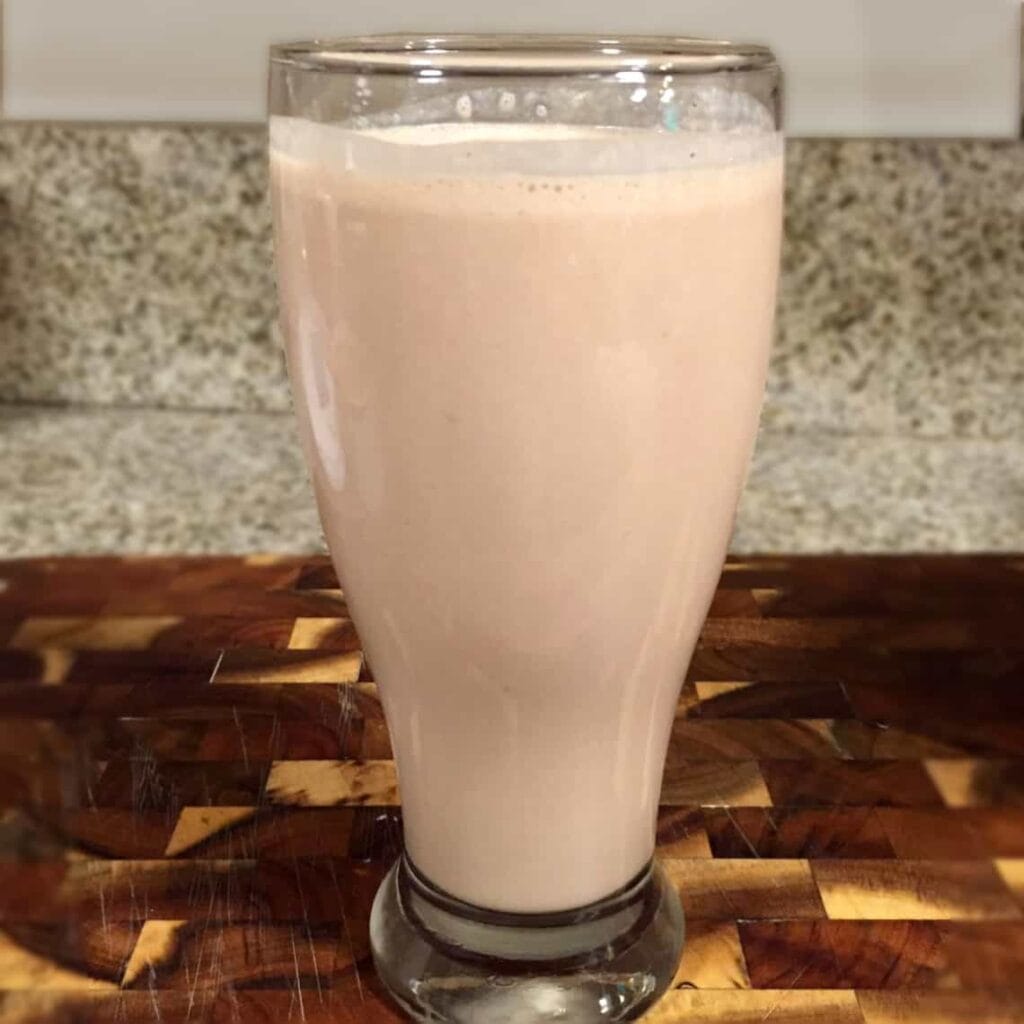 Not only is this recipe free of protein powder, the writer include options for those who require low sugar and dairy free options. Truly an all-in-one when it comes to the meeting the needs of different people in your household. Get the recipe here.
---
8.

Blueberry Muffin Smoothie- livelytable
Here, we have another bright and vibrate smoothie packed full of protein without the use of any powders. Get the recipe here. 

Healthy Protein Smoothies For All Ages
Whether you have littles who would prefer to drink their snack rather than eat it, or simply enjoy the convenience of a to-go energy booster. These healthy protein smoothie recipes are perfect for all ages.
---
9.

Strawberry Banana Smoothie- acleanbake
If you have a particularly choosy eater in your home, the classic combination of strawberry banana is a fan favorite and is usually enough to win over the toughest of picky eaters. Get the recipe here. 
---
10.

Chunky Monkey Protein Smoothie- theseasonedmom
Sometimes selling people on eating fruits and veggies is not a simple task – and to them we offer the healthy protein smoothie created by The Seasoned Mom. She swears by this recipe for her husband and children and so do we! Get the recipe here. 
---
11.

Oatmeal Breakfast Smoothie- kristineskitchenblog
Its easy for us to create a giant blender of smoothie that might be difficult for one or two people to drink in one sitting. Not only is this smoothie recipe delicious, the author conveniently included a serving calculator so you can adjust your recipe according to the number of people you will be feeding! Get the recipe here.
---
12.

  Blueberry Zucchini Protein Smoothie- nourisheveryday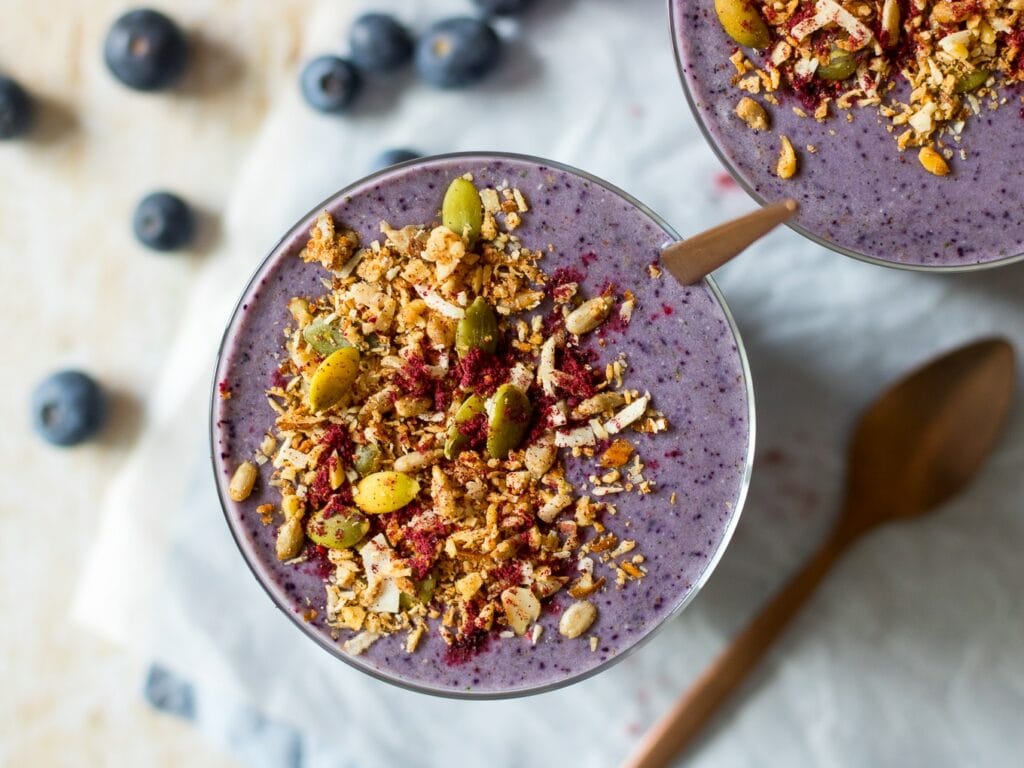 Zucchini might not be your first choice when it comes to smoothie ingredients, but don't overlook this recipe because of it! It is also a gluten free and paleo option if those are things you look for. Get the recipe here. 
---
13.

Blueberry Avocado Protein Smoothie- cooknourishbliss
Some people might shiver at the thought of a smoothie considering most include bananas. Usually once a banana has been added (no matter the amount) the flavor takes over. Which is great for banana lovers, for others, not so much. This recipe calls for ZERO bananas. We highly recommend this smoothie. Get the recipe here. 

Protein Smoothies Made Without Dairy
It seems that we are becoming more familiar with recipes that call for all natural ingredients, this includes dairy free options. Ideal for vegans of for individuals who are lactose intolerant, these are great protein smoothie recipes that won't have you scrambling for dairy substitutes.
---
14.

Vegan Protein Shake- everydayeasyeats
This recipes calls for an organic pea protein powder, but that can be substituted with whatever powder you may have at home. Just remember if you are looking to keep the recipe vegan, you must use the same powder listed by the author. Get the recipe here. 
---
15.

Vanilla Protein Milkshake- simplyjillicious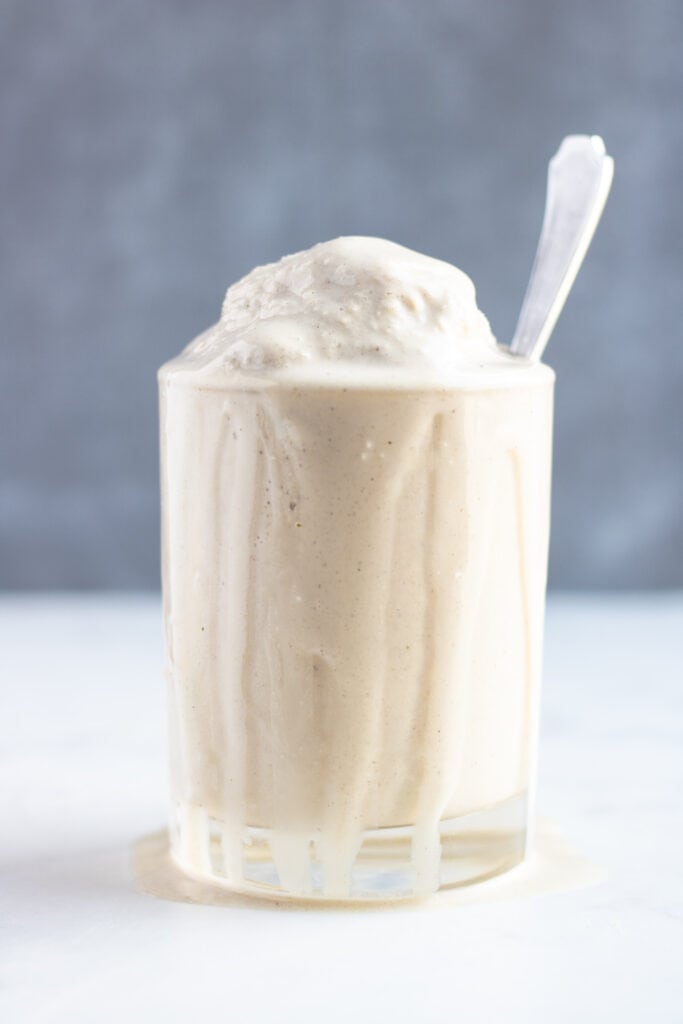 Many people would prefer the simple taste of a vanilla shake over a fruity smoothie, but with this recipe, you get to combine the best of both worlds. Dates are a light and simple flavor that compliments vanilla without over powering it, like other fruits might. Get the recipe here.
---
16.

Green Smoothie With Protein- eatingrichly
Although this recipe is great for anyone looking for a dairy free, gluten free and vegan protein smoothie, the author is a nursing mother who insists this is the simplest way to refuel her body during or after a feeding. If it can work overtime for a new mother, it can surely work for you! Get the recipe here.
---
17.

Healthy Chocolate Peanut Butter Smoothie- deliciousobsessions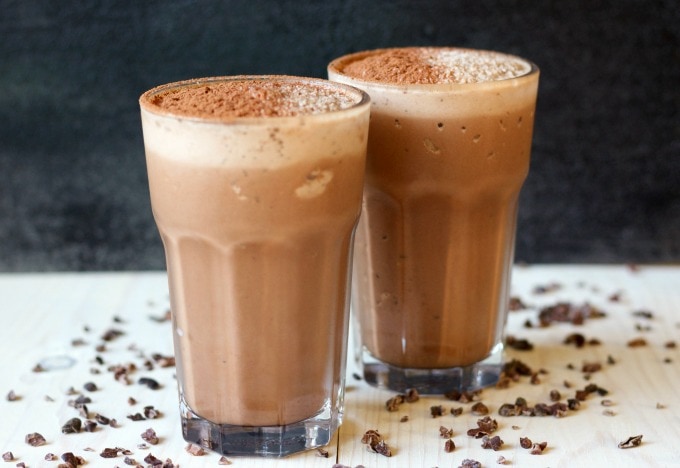 Chocolate is an irresistable flavor, and lends itself well to almost any type of recipe. Smoothies are no exception. This protein shake happens to be light and rich all in the same sip. Get the recipe here.
---
18.

Berry Coconut Protein Shake- go dairy free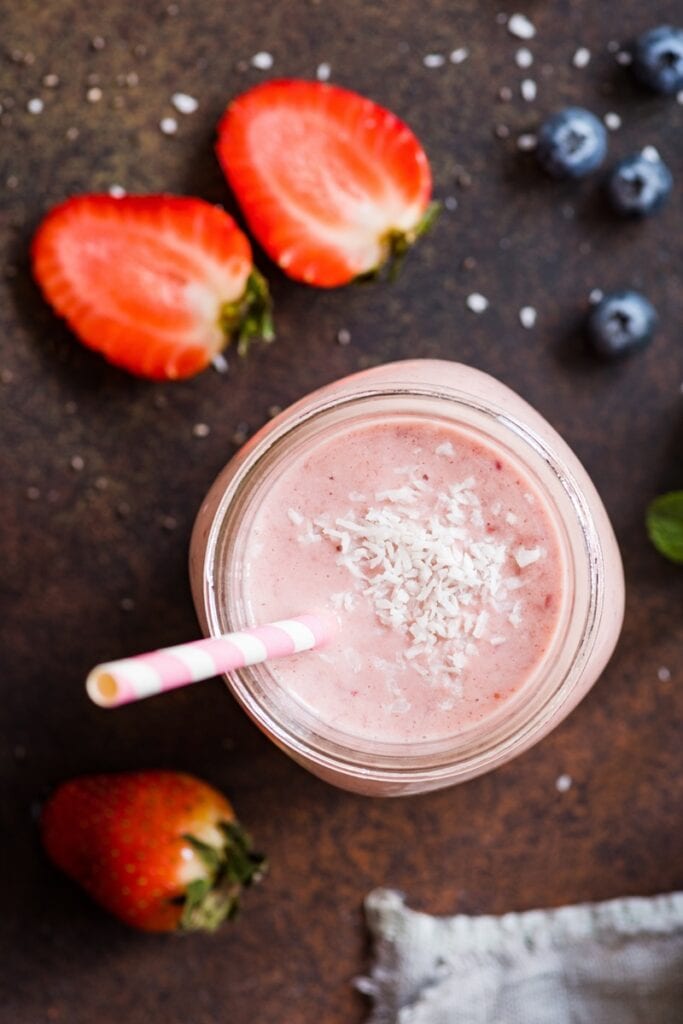 Our final recipe is purely plant based and offers a slight hint of the tropics with the additon of coconut. Get the recipe here.

Wrapping Up
Luckily we are able to boost our smoothies up with extra vitamins, minerals, fiber and now protein when our body needs them without sacrificing taste. We hope that you have enjoyed reading through out favorite high protein smoothie recipes. With vegan, paleo, dairy free, and child friendly options, surely there is one in here that will fit your diet and lifestyle.
Try a few other recipes:
---
Feature Image Credit: NatalyaBond, Shutterstock