20 Breakfast Smoothie Recipes (with Pictures)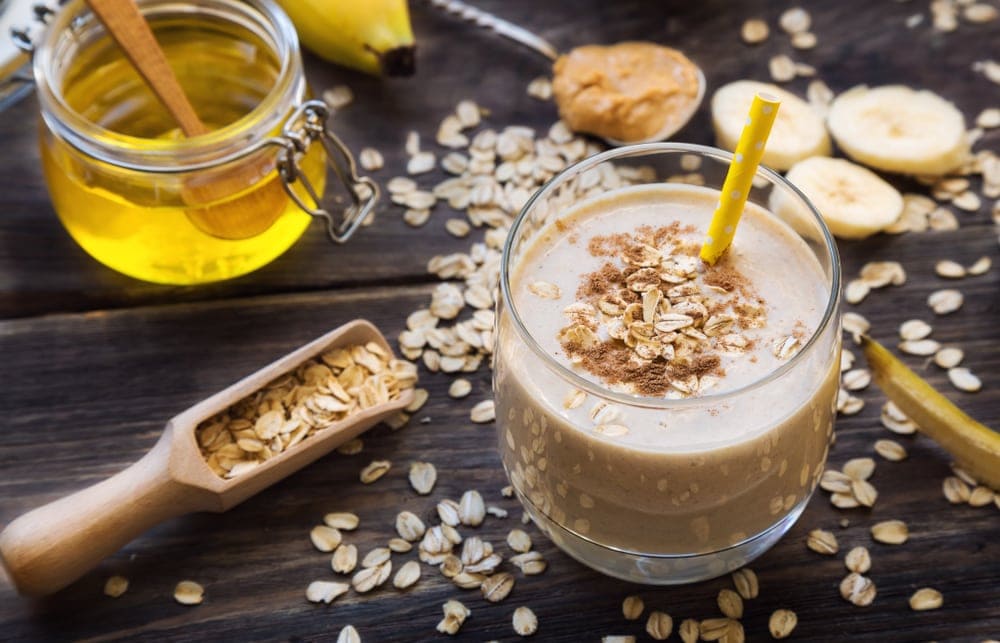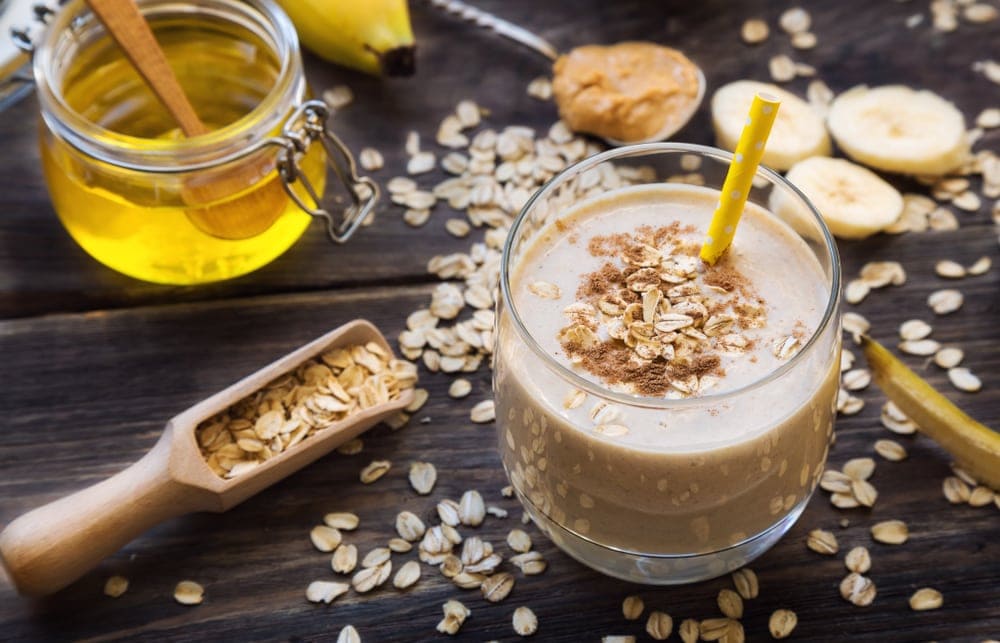 Starting your day with a well-balanced meal is key to promoting good health and a great metabolism all while nourishing your body and kick-starting your brain. Breakfast doesn't need to be complicated or time-consuming – throw a few simple ingredients into your blender and voila!

Adding Superfoods to Smoothies
Choosing the right ingredients will be revolutionary if you are looking to get the most out of your smoothie, especially as your first meal of the day. Here are a few great superfoods to include in your smoothies: 
Seeds & Nuts
Hemp Seeds | Source of Protein, Omega-3, Vitamin E, Provides Energy
Chia Seeds | Source of Protein, Omega-3, Fiber, Magnesium
Flax Seeds | Source of Protein, Omega-3, Fiber, Lignans, Provides Energy
Raw Walnuts | Anti-Inflammatory, Antioxidants, Vitamin E, Omega-3, Promotes Brain Health
Almonds | Vitamin E, Source of Protein, Fibre, Healthy Fats, Magnesium, Zinc, Calcium
Spices & Herbs
Tumeric | Anti-Inflammatory, Antioxidants 

Ginger | Immune Support, Anti-Inflammatory, Digestive Health

Cocoa | Antioxidants, Magnesium 

Matcha | Antioxidants, Provides Energy 

Mushroom Powder | Antioxidants, Immune-Boosting, Adaptogenic
Fruits
Camu Camu | Vitamin C, Antioxidants, Anti-Inflammatory 

Acai | Produces Energy, Heart Healthy, Great Source of Vitamins & Minerals 

Goji | Vitamins A & C, Antioxidants, Fibre, Promotes Healthy Skin & Eyes

Coconut | Provides Energy, Fatty Acids, Promotes Gut Health

Avocado | Folic Acid, Potassium, Fiber, Vitamin E, Omega-3, provides Energy
Vegetables
Kale | Vitamins, Minerals, Antioxidants, Fiber

Spinach | Vitamins K, A, B12 & C Magnesium, Iron, Folate 

Seaweed / Spirulina | Iron, Vitamin C

Cauliflower | Antioxidants, Fiber, Anti-Inflammatory, Detoxifies

20 Breakfast Smoothie Recipes
Add one of these simple yet nutritious breakfast smoothie recipes into your morning routine. You will be hard pressed to find one you won't enjoy!
Breakfast Smoothies Made with Oatmeal
Fruits and vegetables are staples when it comes to creating the perfect smoothie flavor, but oatmeal is the star ingredient if you are looking for an energy-packed and hunger-curbing shake! Here are our favorite recipes containing oatmeal.
---
1.

Pumpkin Oatmeal Smoothie
Tis' the season for fall favorites – so why not create a fun and delicious breakfast shake with pumpkin spice.
---
2.

Blueberry, Spinach & Oatmeal Smoothie
Berries are full of antioxidants, which make them the perfect pairing for an oatmeal blended smoothie. A treat you'll have to taste for yourself!
---
3.

Strawberry Oatmeal Smoothie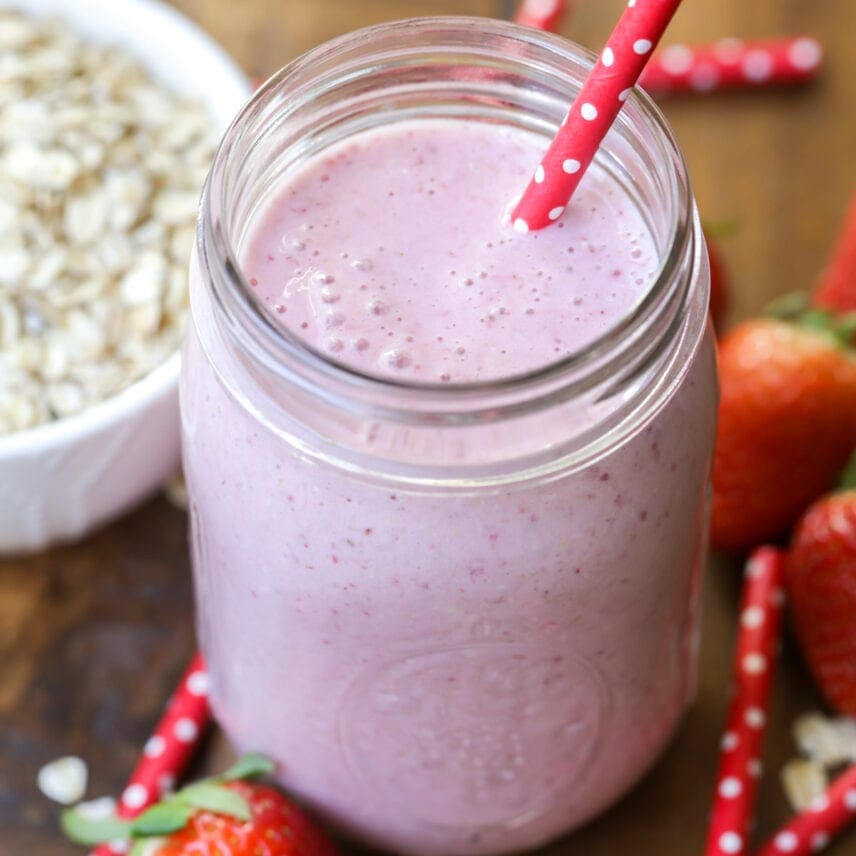 This simple recipe will leave you reminiscing about strawberry milkshakes! With this healthy smoothie, you won't have to sacrifice flavor.
---
4.

Banana Oatmeal Smoothie
Bananas are the true superhero ingredient of smoothies – put this potassium-packed fruit front and center and, let it shine!
---
5.

Peanut Butter & Oat Smoothie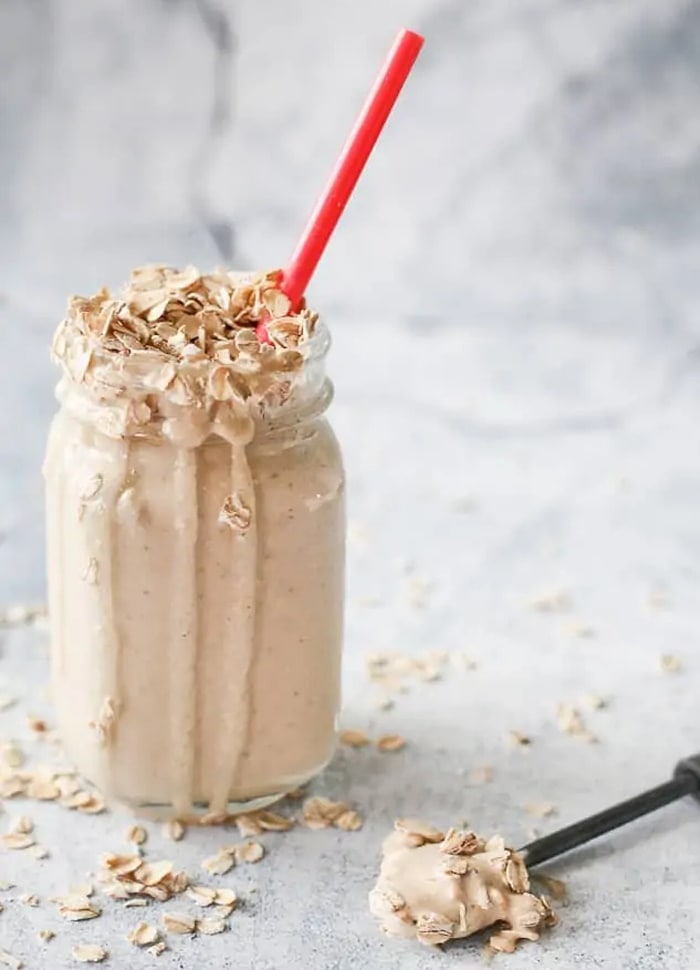 A breakfast classic of peanut butter transformed into a convenient drink you can take on the go and is sure not to leave a mess behind!

Breakfast Smoothies Made with Coffee
As each of these names suggests, you won't be overwhelmed with morning exhaustion after drinking one of these caffeine-infused smoothies. A smoothie is a great way to incorporate a little pep into your morning without reaching for an expensive and often unhealthy iced coffee.
---
6.

Wake Me Up Coffee Smoothie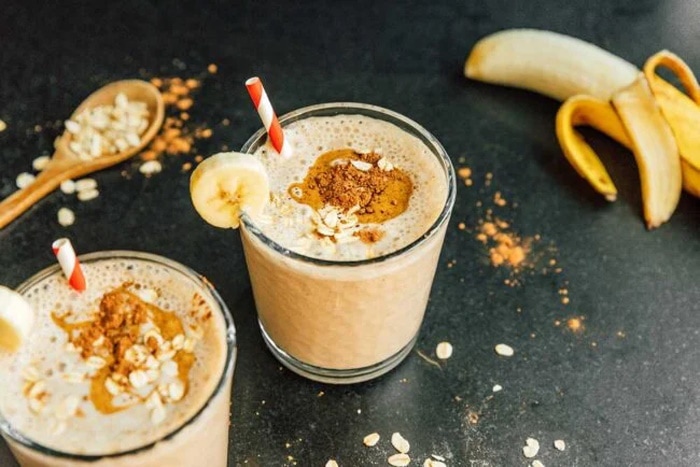 If caffeine encouragement is what you need to get your day started, this recipe will do the trick! It has everything you need in a breakfast – coffee, fruit, oats – and tastes delightful!
---
7.

Coffee Lovers Breakfast Smoothie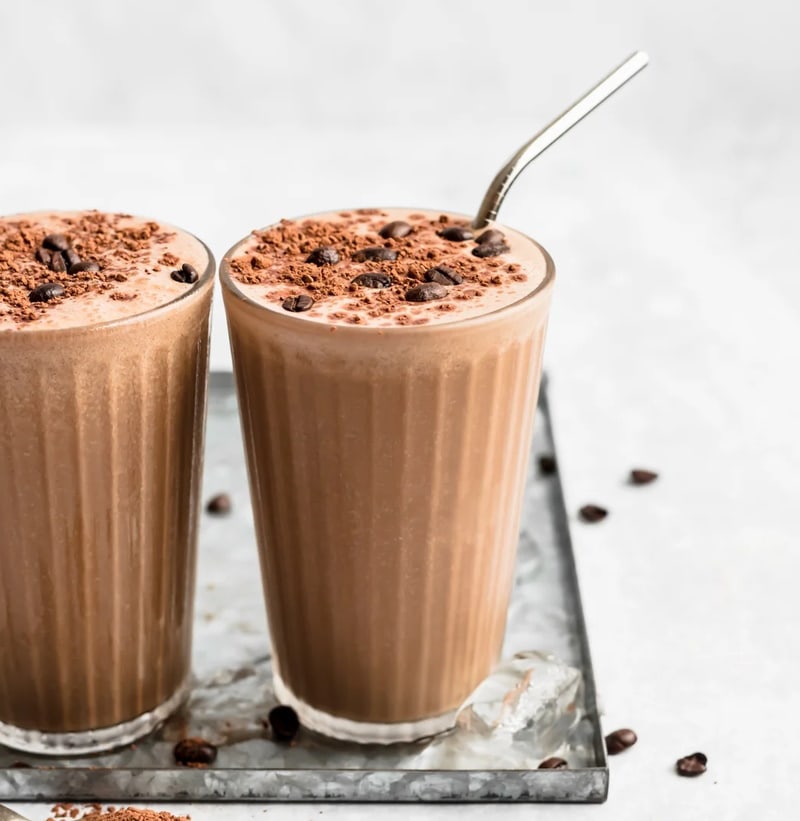 This Coffee Lover's Smoothie is extra creamy and it's all thanks to a secret (and odd) ingredient – cauliflower! For those who are not big on this vegetable, the rich flavors of the coffee, cacao, and nut butter do an excellent job of masking the taste.
---
8.

Caffeinated Breakfast Smoothie
This recipe looks a bit like a delicious cup of cookie dough rather than a nutritious breakfast smoothie. Not only is this caffeinated chocolate banana smoothie healthy, but the creator has also listed substitutes for anyone who is on the Paleo or Whole30 diets.
---
9.

Date Coffee Smoothie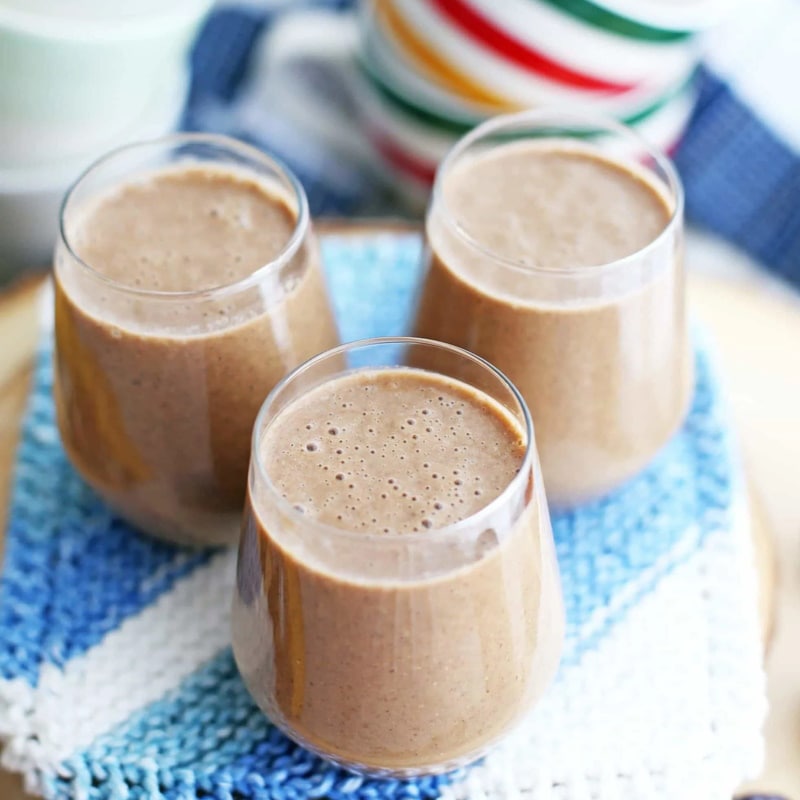 This vegan and gluten-free breakfast smoothie recipe is another great option for anyone with dietary restrictions. Naturally sweetened with the dates, this smoothie is one that will have you looking forward to waking up each morning.
---
10.

Coffee Breakfast Smoothie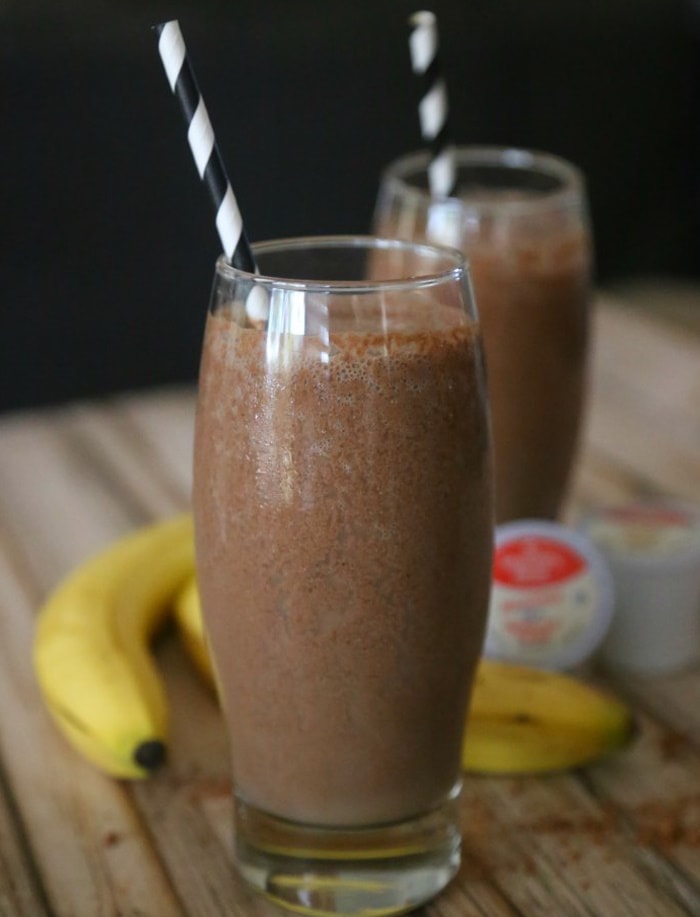 This delectable breakfast smoothie recipe includes one simple ingredient that sets it apart from all other coffee smoothie recipes, and that is honey! A classic and naturally invigorating combination!

Healthy Breakfast Smoothies
If you are on the hunt for a weight loss smoothie recipe, surely one of these healthy smoothies will pique your interest. Maintaining a healthy and consistent diet is an important part of a weight-loss journey and certainly, any of these will be a great addition to your nutritious meal plan!
---
11.

Beetroot Smoothie
Beets may seem like an unsuspecting smoothie ingredient but you'll be pleasantly surprised by the flavor punch this smoothie packs.
---
12.

Date Shake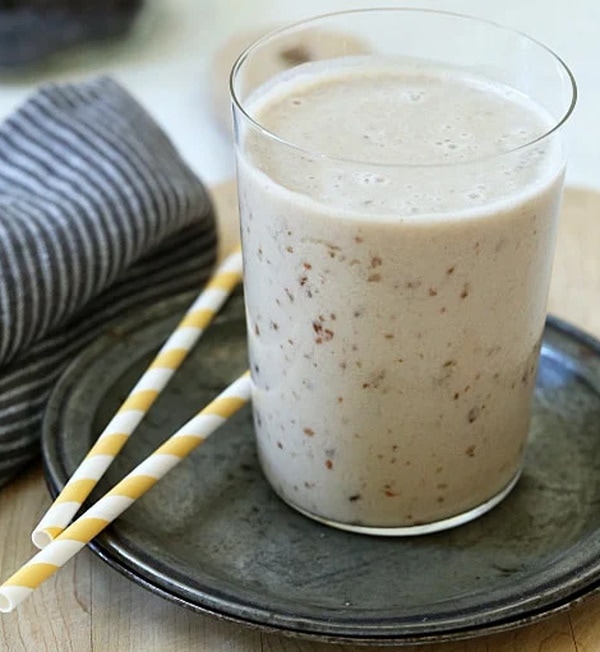 A 5 ingredient smoothie is likely one of the simplest on our list, making it one of the quickest to make! Dates are considered a super fruit, packed full of nutrients and fiber, and provide a ton of health benefits.
---
13.

Blueberry Power Breakfast Smoothie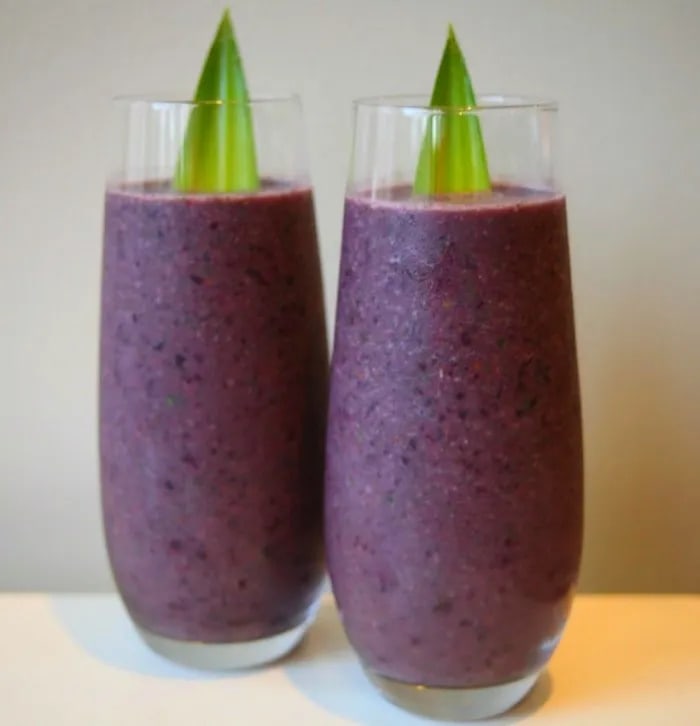 Another health-boosting smoothie containing dates, this healthy breakfast smoothie recipe also delivers a serving of fruit and vegetables with blueberries and spinach.
---
14.

Green Breakfast Smoothie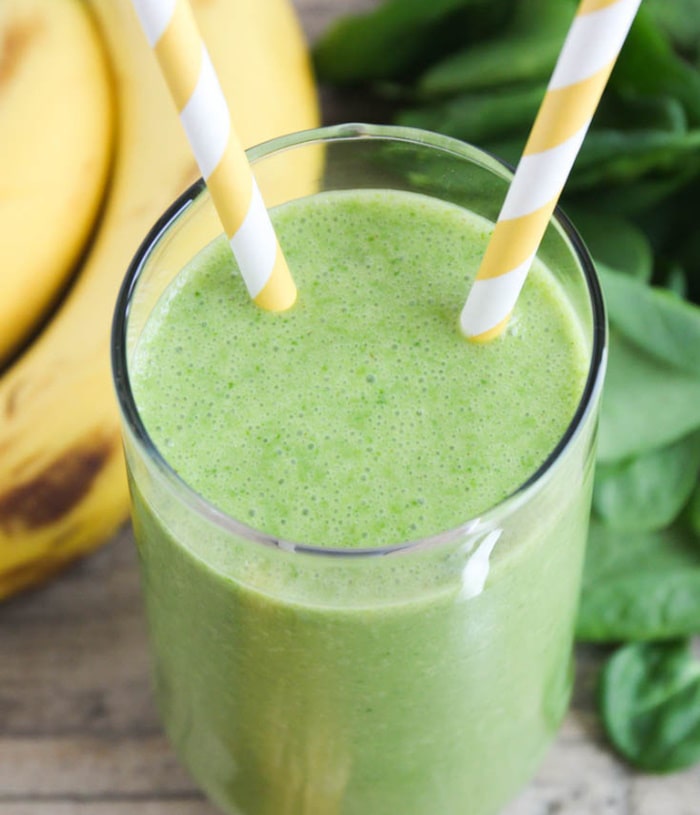 Although the color of this smoothie is green, banana and peanut butter are the star ingredients.
---
15.

Lemon Smoothie
When was the last time you seen a smoothie as bright and vibrant as this? This lemon smoothie is loaded with beneficial ingredients such as yogurt, ginger, and turmeric.

Simple & Delicious Breakfast Smoothies
If you have a sweet tooth, there are breakfast smoothie recipes that are guaranteed to curb your cravings. Each resembling the taste of a dessert or treat, but packed with ingredients that your body will love!
---
16.

Key Lime Pie Smoothie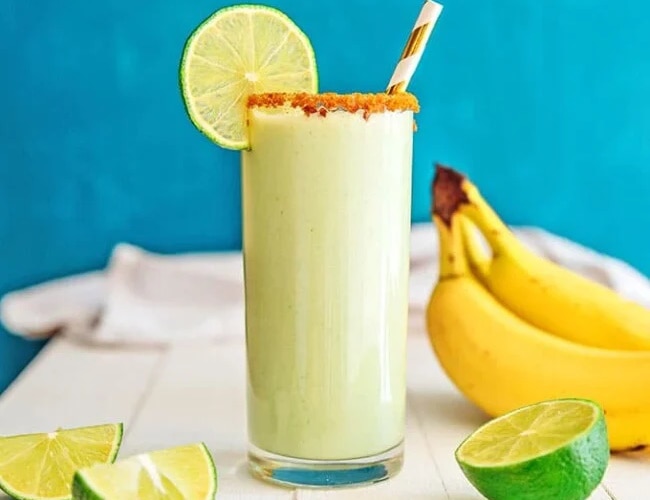 A pie may be an odd thing to serve up for breakfast, but not when it's presented as a creamy smoothie!
---
17.

Peanut Butter & Jelly Smoothie Bowl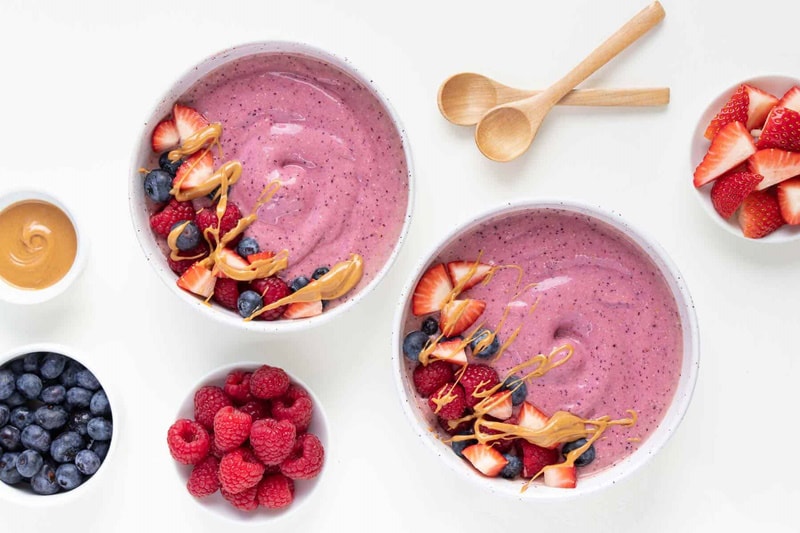 Nostalgia is strong with this recipe! Enjoy the timeless flavors of peanut butter and jelly with this fun breakfast smoothie recipe.
---
18.

Banana Nutella Smoothie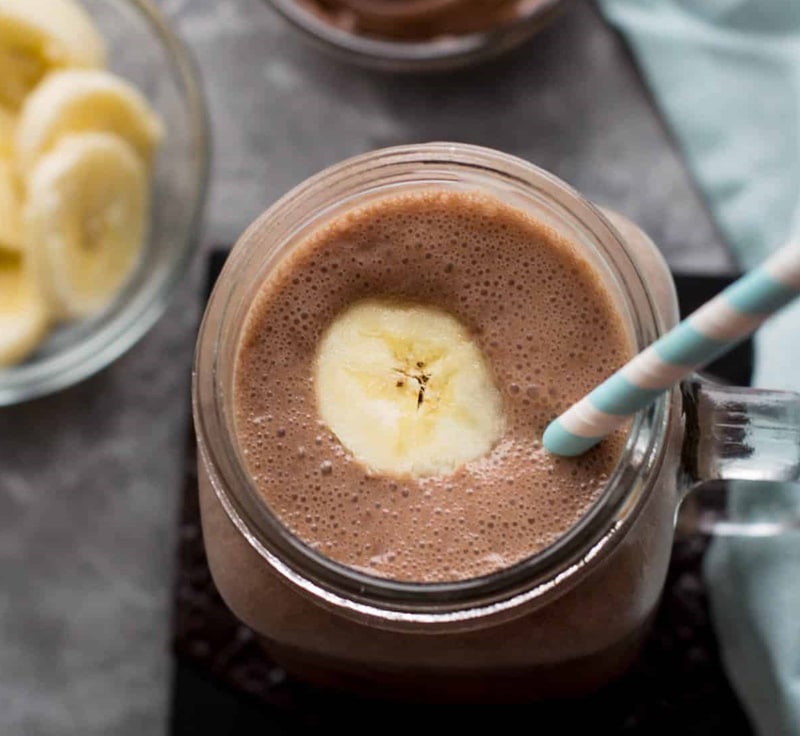 An irresistible combination of chocolate and nuts, this smoothie is one for the books! Nutella is a cherished breakfast spread, so why not add it to your favorite smoothie?
---
19.

Matcha Mango Smoothie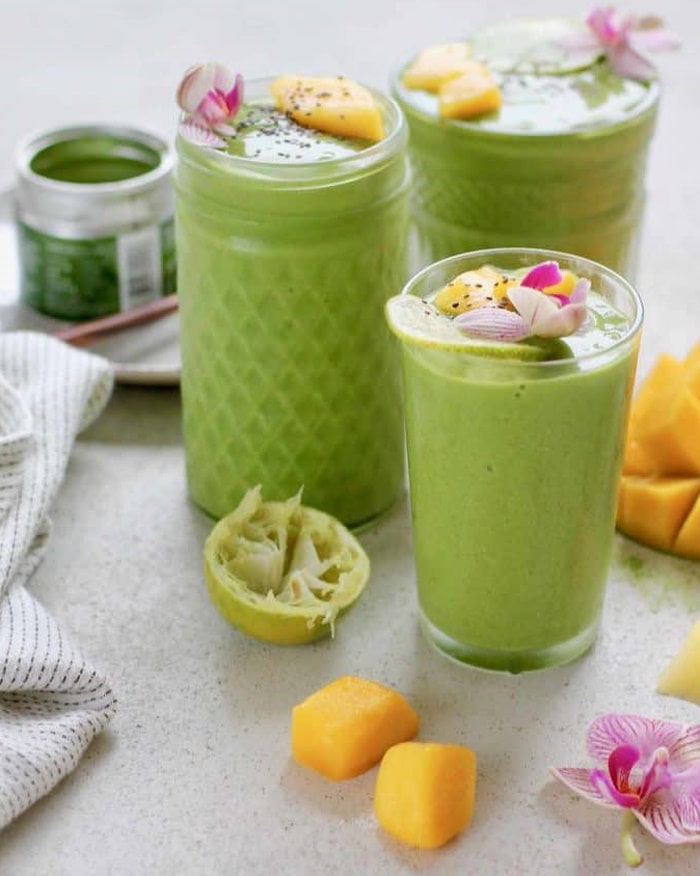 Green tea is known for its many health benefits such as reducing inflammation and promoting blood flow. This recipe is one to try if you need an extra push to get started in the morning.
---
20.

Cinnamon Roll Breakfast Smoothie
This cinnamon roll smoothie recipe is a great alternative to its baked counterpart and here, there is no need to sacrifice the flavors you enjoy the most in the morning!
---
Prepping Breakfast Smoothies for the Week
If you are someone who enjoys creating all of your meals for the week ahead of time for the sake of convenience, you might be wondering if it's possible to make a week's worth of smoothies in one day and have them still taste great by Friday. You betcha! Here are a few great tips to get you through the week hassle-free!
Perfecting Weekly Smoothies In One Day
Measure each individual daily portion so you can easily toss your ingredients together when blending. Your week's worth of smoothies may not fit in one blender so ensuring that appropriate daily proportions are maintained during the blending process will result in optimum smoothie results! 

Use glass containers for storage. This step is key because glass is the least likely to break in the freezer. We recommend shoulderless mason jars because they are among some of the most durable glass jars and also double as cool to-go containers.

Fill each jar, leaving 2-3 inches before the top of the jars (or shoulders, if your jars have them), this will prevent cracking! 

Place on the lids and set flat in the freezer, making sure to leave each jar in a standing position. 

Remove a jar from the freezer the night before you need it and let it defrost in the fridge overnight. 

Give your smoothie a good shake in the morning and enjoy!
However, there are a few things to consider when freezing your smoothies in advance, the main being that some of the nutritional value will be lost. But a shake with most of its nutritional value is better than no shake! Also, if you have the gusto to make your smoothie each morning then more power to you. Secondly, you might be concerned about separation – this will likely always happen during the defrost, but it is nothing a quick shake won't fix.
If this is not the route for you, you can easily freeze your fruit, powders, and other dry ingredients in individual portions so all you'll have to do is grab a pouch from the freezer, place in your blender with your preferred liquid or yogurt, and blend!

Wrapping Up
Never skip breakfast again! These incredibly easy recipes are sure to give you the motivation you seek in the morning and provide your body with the nutrients it needs to be productive! Hopefully, you found one (or more!) that you love and plan to incorporate them into your daily morning routine.
Try a few other smoothie recipes:
---
Feature Image Credit: Shutterstock, Anastasia Izofatova