RedMax EBZ8500 Backpack Blower Review 2023 – Pros, Cons, & Verdict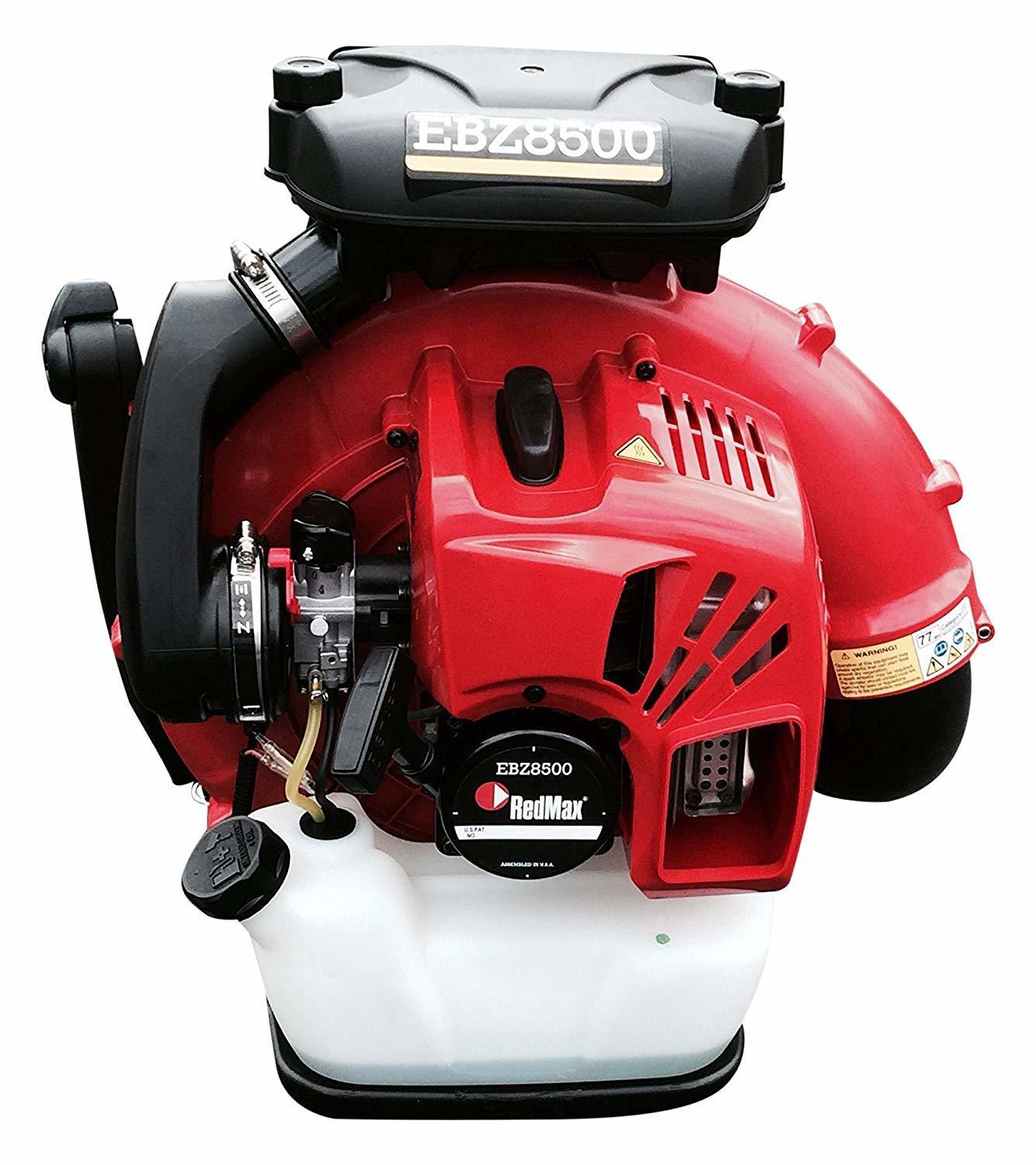 We give the RedMax EBZ8500 Backpack Blower a rating of 4.6 out of 5 stars. 
Build Quality: 4.8/5
Power: 4.9/5
Features: 4.7/5
Price: 4.2/5
Warranty: 4.5/5
Review Summary
RedMax has a reputation in the commercial grounds keeping industry for delivering the best backpack blowers with the most features. The RedMax EBZ8500 is a backpack blower designed for commercial operators who plan to use it all day long. Though this blower is not the lightest commercial blower, it is at the light end of the scale. The blower's ergonomic design, including straps and airflow back cooling, will make it easier to use all day.
As with all RedMax grounds care and maintenance products, this is a rugged unit designed to make quick work of clean up after mowing, trimming, etc. While it's not intended as a residential product, homeowners can buy this if they're interested in excellent power and capability. Realistically, the homeowner needs to have an extensive yard area to maintain to justify paying for this commercial product as RedMax typically sits at the top end of the price scale.
For the commercial and dedicated residential user, this model features several plusses. It provides excellent power, utilizes an air flow system that helps keep the user cool, and it produces an airspeed at the blower tip that—depending on nozzle style—can exceed 200 MPH. Typical homeowners will likely want to look at less expensive, lighter, and quieter offerings.
RedMax EBZ8500 – A Quick Look
Pros
Compact and powerful, producing 40 Newtons (N).
Frame-mounted throttle greatly reduces downtime from broken cables.
Wide straps and pads provide extra comfort, reduce vibration.
Air drawn in by fan passes between the operator's back and the blower to provide cooling on hot days.
Cons
As with all vibrating equipment, issues from prolonged use can develop.
Hearing protection required with a sound level of 103 dB(A).
Uses a lot of fuel, providing a little over an hour of run time with a wide open throttle (WOT).
Specifications
Brand name: RedMax
Model: EBZ8500
Product size without hose and nozzle (L x W x H): 1" x 21.1" x 21.3"
Product dry weight: 24.7 lbs.
Engine: 75.6 cc, 4.43 hp, two-cycle, CARB & EPA compliant
Fuel: Regular unleaded, max ethanol content 10%
Idle RPM: 2,000
Operating RPM: 7,250 Max
Speed at nozzle tip: 206 MPH (round), 209 MPH (flat)
Sound level at operator: 103 dB(A)
Great power
This blower provides excellent power. According to some users, it reduces the amount of time necessary to move leaves and debris by as much as 50%.
Lighter than other models
The EBZ8500 is heavy, but there are even heavier brands on the market. Designed with excellent ergonomics and attention to user comfort, this blower is easier to use (compared to many others) for extended periods.
Throttle cables protected
With its frame-mounted throttle controls, the EBZ8500 practically eliminates cable breakage. This is especially important to consider if you're working in areas with lots of chances for exposed cables to catch on bushes and other landscaping elements.
FAQ
How does the EBZ8500 stack up against other brands?
RedMax has a reputation for producing excellent products. When it comes to backpack blowers, they set the standard that other companies try to match.
How good is the warranty that comes with this model?
Given the fact that this is a commercial product that will receive rough use every day, the EBZ8500's 2-year warranty is reasonable. The warranty period begins when the product is delivered to the customer, and it also allows for transfer to a subsequent user. Keeping maintenance receipts is not a requirement of warranty service, but it speeds up the warranty claim process.
How durable is the EBZ8500?
As a result of the product's design, the quality of materials used in manufacturing, and the quality of the manufacturing itself, durability ranks high with the EBZ8500. Being used in a commercial environment will test every aspect of a product and this model fares very well.
Is this model good for homeowners?
This depends entirely upon the needs of the homeowner. There's no reason a homeowner shouldn't buy this product, especially if they have a large area to maintain, keep horses or other livestock on their property, etc. However, the EBZ8500 is expensive and may prove to be overkill for the majority of homeowners.
General user impressions
Generally speaking, users are extremely satisfied with the RedMax EBZ8500 backpack blower. The straps are wider than other models, and the padding feels more comfortable, resulting in less fatigue during extended use.
The power is more than adequate. It's among the best in the industry—if not the best. MPH ratings may be slightly lower than those produced by competitors' offerings, but the real test lies in moving mass, not producing wind. This is where the 40 Newtons of force makes the difference, putting this blower near the top.
Users do comment on the blower's loudness. Hearing protection should be the norm, so this is more of a concern for neighboring homes and businesses than for the operator, especially in areas with noise ordinances that dictate the time of day operating equipment above certain sound levels is allowed.
The EBZ is a bit of a gas hog, so users need to expect to stop more often to refill the gas tank if they consistently run with a WOT.
Conclusion
If you want power, the RedMax EBZ8500 is going to make your day. Among the most powerful backpack blowers currently available, this model can reduce the time needed to move leaves and debris by nearly 50%. It may be near the top regarding cost but, in the end, it's all about reliability and performance, especially for commercial operations. RedMax has been the champ in these categories for many years.
Fora typical homeowner, the EBZ8500 is likely overkill, particularly for the typical residential landscape. Unless the homeowner prefers commercial products, the price will also prove a deterrent.
You might also be interested in: 5 Best 4-Cycle Leaf Blowers – Reviews & Top Picks