Porter-Cable vs. DeWalt: Which Power Tool Brand Is Better in 2023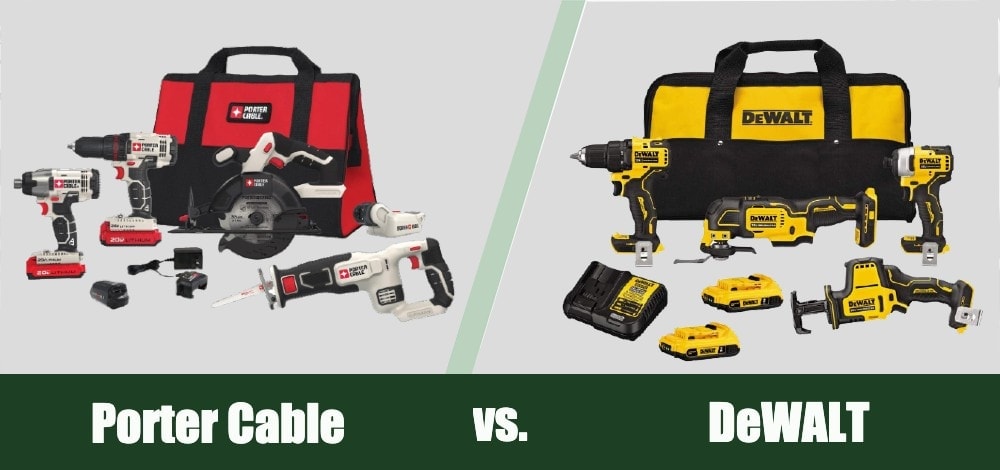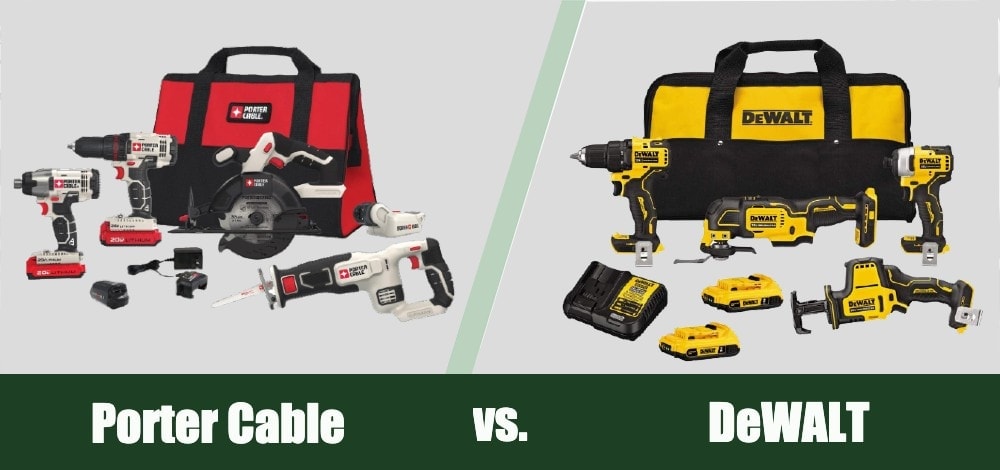 Both Porter-Cable and DeWalt are popular power tool brands. However, they are incredibly different. Porter-Cable is substantially less expensive. But they aren't nearly as popular among professionals. You likely wouldn't be able to find a company that uses Porter-Cable tools extensively.
On the other hand, DeWalt is renowned for its pervasive list of professional tools. DIYers that are looking for professional-level tools are also very prone to choose a DeWalt. They have a trusted brand name.
In this article, we'll compare both of these brands to help you choose which one to go with.

A Quick Comparison
Image
Product
Details

Porter-Cable

Established: 1906
Headquarters: Jackson
TN
Product Line: Power tools and pneumatic tools
Parent company/ major Subsidiaries: Stanley Black & Decker
CHECK PRICE

DeWalt

Established: 1924
Headquarters: Baltimore
MD
Product Line: Professional-level power tools
Parent company/ major Subsidiaries: Stanley Black & Decker
CHECK PRICE
---
Brief History of Porter-Cable
Porter-Cable was founded in 1906 in Syracuse, New York. In 1914, the company shifted focus to power tools, which is where their focus has stayed since then. The began by developing niche power tools in 1926. They invented many different tools like the helical drive circular saw.
In 1960, the company was sold to Rockwell International, who made many different changes to the companies. They relocated the operations to Jackson, Tennessee. This was when the focus shifted to cheaper power tools to compete with Black & Decker.
In 1989, they began concentrating almost solely on consumer tools, instead of tools for professionals.
---
Brief History of DeWalt
DeWalt was founded by 1923 by Raymond E. DeWalt. This man invented the radial arm saw, which drove him to found the company. The company was sold many times. Eventually, they were sold in 1960 to Black & Decker.
In 1992, the company began focusing on professional-quality tools. This was when their image as a high-quality tool crafter was first brought forth. Most of their tools started around this time, though many have changed considerably over the years. DeWalt new sells hundreds of tools.
In 2004, Stanley Black & Decker bought Porter-Cable as well. DeWalt is their high-quality tool line, while Porter-Cable is their cheaper alternative.

Porter-Cable vs. DeWalt: Manufacturing
Porter-Cable
Once upon a time, most Porter-Cable tools were made in the United States. However, they have mostly ceased all production in the United States. Today, most of their tools are made in Mexico and China. The parts for their tools may come from elsewhere, but the large majority are put together in Mexico and China.
If you're looking for a company that makes their tools in the United States, this is not the company for you.
DeWalt
In the beginning, DeWalt made all of their tools in the United States. They still have seven different factories in the US, and they make many of their most popular tools in these facilities. However, they also make their tools in other companies.
They have recently started making smaller parts in other companies, shipping them to the United States, and then putting them together. Therefore, they are "made in the U.S.," but many of the parts were first crafted elsewhere. You can expect that they continue to do this in the future.
You will need to check to see where the individual tool is crafted if you're looking for tools that are made solely in the United States.
---
Porter-Cable vs. DeWalt: Product Lines
Porter-Cable
Porter-Cable mostly makes power tools. These power tools are generally inexpensive and designed to be for the average homeowner. They are not tools for professional use but instead designed to be the best option for those that are looking for a budget-option that are used occasionally.
They also make pneumatic tools similar to power tools but use compressed air instead of electricity.
DeWalt
DeWalt focuses mostly on power tools. However, their line up is much more diverse than Porter-Cable. They make high-end options for professionals and very niche tools that may be difficult to find elsewhere.
With that said, they do make things like contractors' hand tools, air compressors, and other tools that professionals might need. The general over-arching idea is that they make tools for professionals. They tend to be expensive with lots of features.
Currently, they have 68 different tools listed on their website. However, this includes combos and similar tools.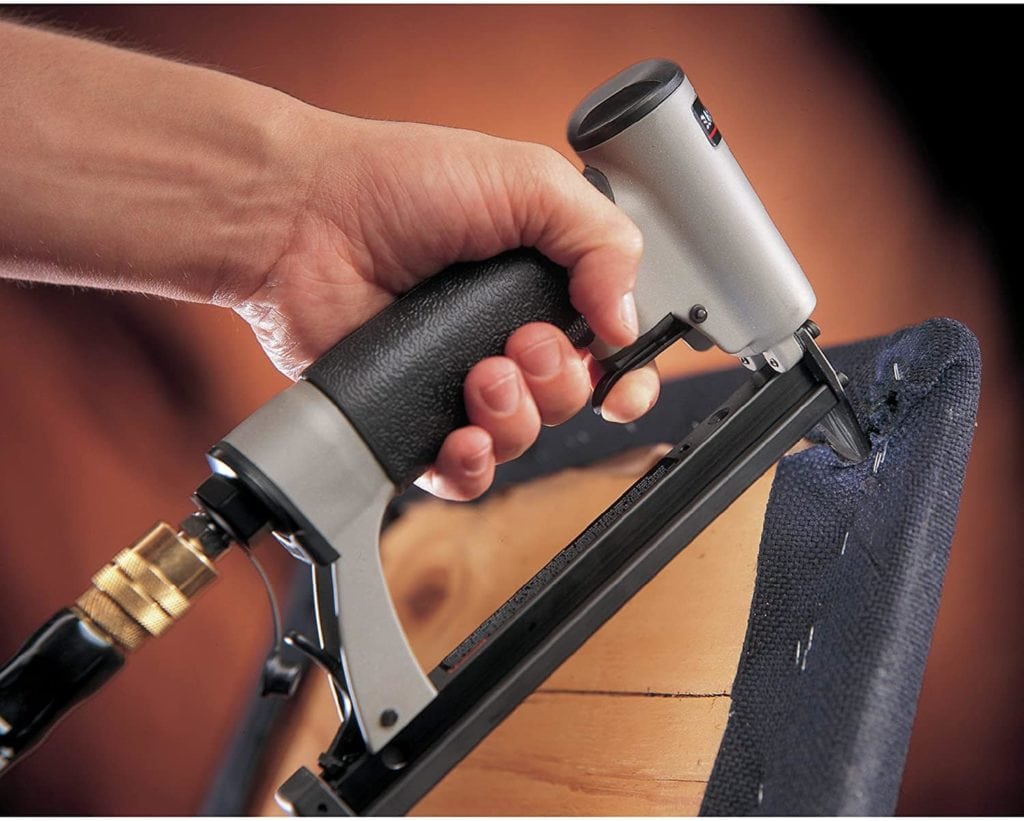 Porter-Cable vs. DeWalt: Price
DeWalt is more expensive than Porter-Cable. DeWalt produces high-quality, high-end tools, while Porter-Cable is far more focused on budget.
Porter-Cable
Porter-Cable is the much cheaper brand out of the two. In fact, in most instances, Porter-Cable is cheaper than most brands. They have many budget options, but even their more expensive lines aren't that expensive. If you're looking for a budget option, Porter-Cable is the obvious answer.
DeWalt
DeWalt is a premium tool brand. It is designed for professionals and home DIYers who want professional-level tools. Most of their tools are high-end. For their tool kits, you can expect to spend hundreds of dollars.
They don't have many budget options. When their tools are cheaper, they aren't anywhere nearly as cheap as Porter-Cable.
---
Porter-Cable vs. DeWalt: Warranty
Both of these brands have similar warranties. However, their warranties do differ a bit. You'll probably find more similarities than differences, as the same company technically owns these companies.
Porter-Cable
Most Porter-Cable tools are warrantied for up to one year. They will repair tools that are caused due to defects in materials or quality. However, they do not cover wear-and-tear or damage caused by you attempting to repair the tool.
Some tools are covered under a three-year warranty. The same general guidelines apply to this warranty. They will not cover failure that is caused by abuse or normal wear and tear. This only covers defects or problems they caused.
DeWalt
The DeWalt warranty is three years long, which is about the same as the Porter-Cable warranty. This warranty does not cover wear-and-tear use, only faults and defects caused by the manufacturer. Most tools also have a one-year service contract, which does cover wear and tear. Under this contract, DeWalt will help you with maintenance and the replacement of worn parts.
Most tools are covered under a 90-day money-back guarantee. If you don't like the tool for whatever reason, you can return it for your money back.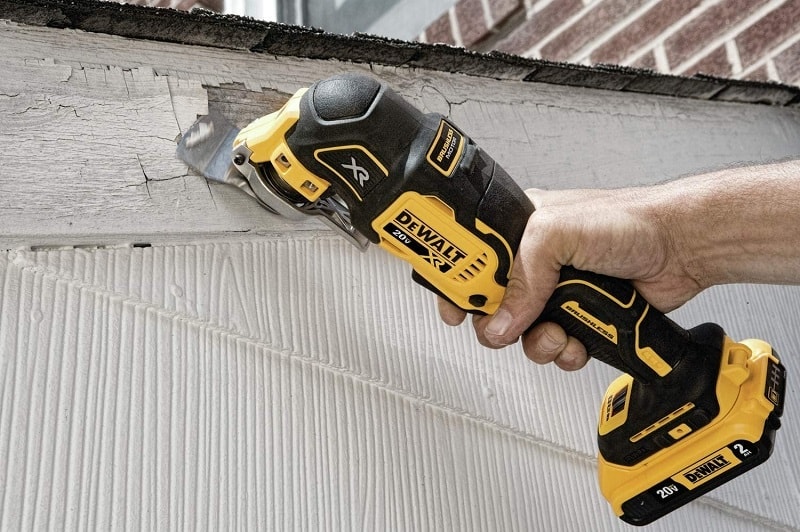 Porter-Cable vs. DeWalt: Customer Service
You are going to find customer service complaints about any tool company. Not every customer will be happy with their service, especially when it comes to the fulfillment of warranties.
Porter-Cable
Porter-Cable customer service seems to be decently high quality. While there were some complaints, they were not comparable to the amount that other companies received. Most complaints seemed to be about using the warranty or false advertising.
Some customers claimed that they had a hard time reaching Porter-Cable. This was mainly a problem when it came to fulfilling the warranty, as there is often a time limit involved.
There were other complaints involving the Porter-Cable warranty not being upheld. For example, one customer claimed that the company did not replace or repair their tool after a tool's engine broke.
DeWalt
There are several complaints involving DeWalt as well. They seem to be very picky about what their warranty covers. If there is any sign that you damaged your tool (aka "abused" it), then they will not cover it as the warranty stated. Since most tools will get dropped at some point, this makes using the warranty reasonably tricky.
When the warranty is covered, they also take a long time to repair the tool. It usually takes months, which is a long time not to have a necessary tool, especially if you are a professional. Most people do not use their warranty for this reason.

Head-to-Head:
Porter-Cable vs. DeWalt Tool Combo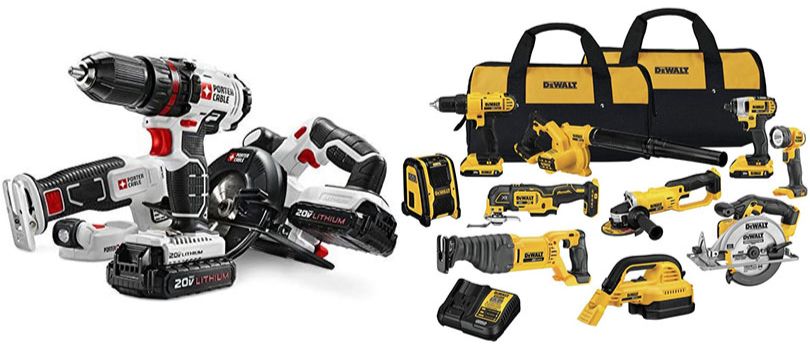 Both of these companies have a power tool kit. The DeWalt kit comes with six tools, while the DeWalt kit comes with five tools.
Generally speaking, DeWalt is of higher quality than Porter-Cable. However, Porter-Cable is also much cheaper. If you just use tools occasionally, you probably don't need to shell out hundreds of dollars on a DeWalt toolset. This is a matter of "you get what you pay for."
If you want the best-of-the-best, it is an obvious decision to get the DeWalt. However, if you're concerned about cost-effectiveness, then you may want the Porter-Cable instead. The Porter-Cable comes with six tools, but it is still cheaper.
With that said, the DeWalt tools are generally the better overall. Out of all the tools in the kit, not one is lower quality than the similar tool in the Porter-Cable kit.
Our Verdict: DeWalt
---
Head-to-Head:
Porter-Cable vs. DeWalt Cordless Drill Driver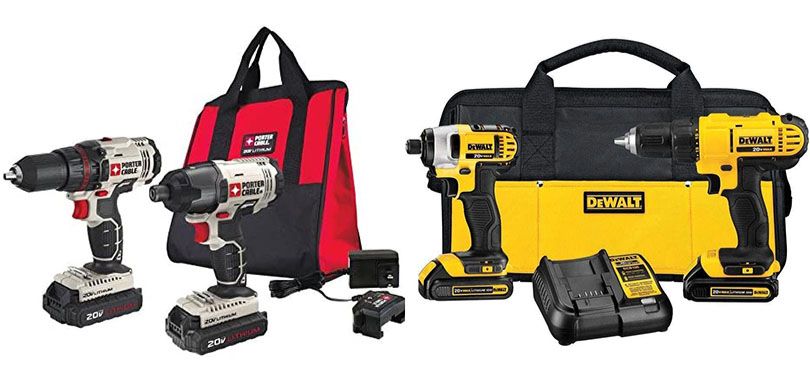 Once again, DeWalt is generally the better option if you're looking at only quality. However, if you're concerned about the price, you may want to go for the Porter-Cable. For the price, the Porter-Cable is a solid tool. It's a great value, especially if you won't be using it very much. However, if you're planning on using a drill driver nearly every day, you should likely buy the DeWalt. The Porter-Cable simply isn't made for that kind of use.
The DeWalt driver is made with high-quality materials, which helps it last longer. The Porter-Cable tool is lighter weight, but that's mostly because the materials just aren't as good. Porter-Cable generally just uses nylons and high-grade plastics. On the other hand, DeWalt uses metal and other high-quality options.
The DeWalt battery lasts much longer than the Porter-Cable, though they are both 20V. Both batteries can be used with tools of the same brand. If you already have a whole bunch of cordless tools from either brand, that may be something considerable to keep in mind.
Our Verdict: DeWalt
---
Head-to-Head:
Porter-Cable vs. DeWalt Hammer Drills
The Porter-Cable PCC601 and DeWalt DCD950 are pretty similar. Both tools are made with comparable features. However, the DeWalt is much more expensive. Typically, you get something extra for the higher DeWalt price. But we didn't find this to be the case with this tool. Instead, you're just paying for the DeWalt name.
The only considerable add-on to the DeWalt drills is that it has more variable speed options. If you work on many projects and need many different speeds, this is likely an excellent feature to consider. However, it really isn't worth the higher price alone.
If versatility is at the top of your list, then you may want to consider the DeWalt. However, we really wouldn't recommend it for any other reason.
Our Verdict: Porter-Cable

Overall Brand Reputation
Performance
Edge: DeWalt
In general, DeWalt is better. They create better tools, have better warranties, and produce better accessories. For this reason, we highly recommend them for professionals and those that want the best-of-the-best. Generally, Porter-Cable produces lower-quality options, which brings us to our next point…
---
Price
Edge: Porter-Cable
At the same time, Porter-Cable is much cheaper. If you need a tool to use occasionally on easy household repairs or DIY projects, like hanging a picture, you do not need a DeWalt machine. You can save a lot of money by purchasing a Porter-Cable instead.
---
Durability
Edge: DeWalt
DeWalt uses better quality materials, which makes their tools last longer. This is also one reason their price is so high. Their materials cost more in the beginning, so the end result is more expensive as well. But, again, if you don't need tools that will withstand daily use, you may not need a DeWalt.
---
Design
Edge: DeWalt
DeWalt tools usually have more features. It is also evident that more design energy went into them. They tend to be a bit more ergonomic. However, Porter-Cable tools are usually lighter weight because they use lower-quality materials like plastic.

Conclusion
In general, DeWalt makes higher-quality tools. They are made of better materials, have more features, and are great for professionals and contractors. However, this also makes them more expensive. You're getting what you pay for. However, you may not need the durability and versatility of DeWalt.
Porter-Cable makes great budget tools. They have a lot of value and are great for homeowners who want tools for simple repairs or putting furniture together. They are not suitable for professionals, but they aren't designed to be. They're a budget option for homeowners.
As long as you purchase the right tool for your purposes, you're probably going to be happy with your purchase.