14 Incredible RV Accident Statistics and Facts in Australia: 2023 Update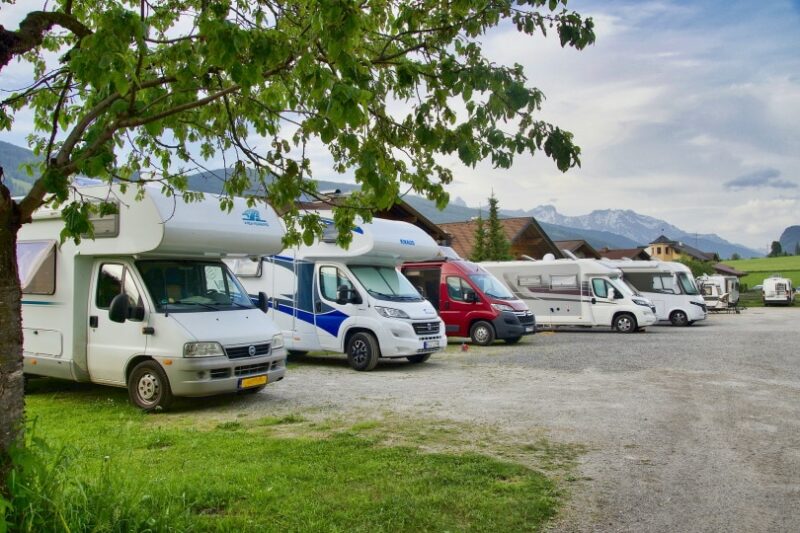 Note: This article's statistics come from third-party sources and do not represent the opinions of this website.
RVs have been in use for many years now. They are the perfect vehicle to enjoy time away from the daily work tedium. Initially, these travel trailers were popular among retired seniors. However, their popularity among young people has been growing, increasing the number of RVs on the road. Unfortunately, this has also increased the number of RV-related accidents on Australian roads.
Clearly, there is a lot of misinformation and unfounded fear of RV vehicles. In this article, we will look at statistics related to RV accidents. This information should help you avoid common mistakes that lead to RV accidents as well as sensitize you on the current trajectory of RV accidents, mortality rates, and the ownership and usage of RVs in Australia in the last few years.
These statistics have been organized into the following categories:

The 14 Incredible RV Accident Statistics and Facts in Australia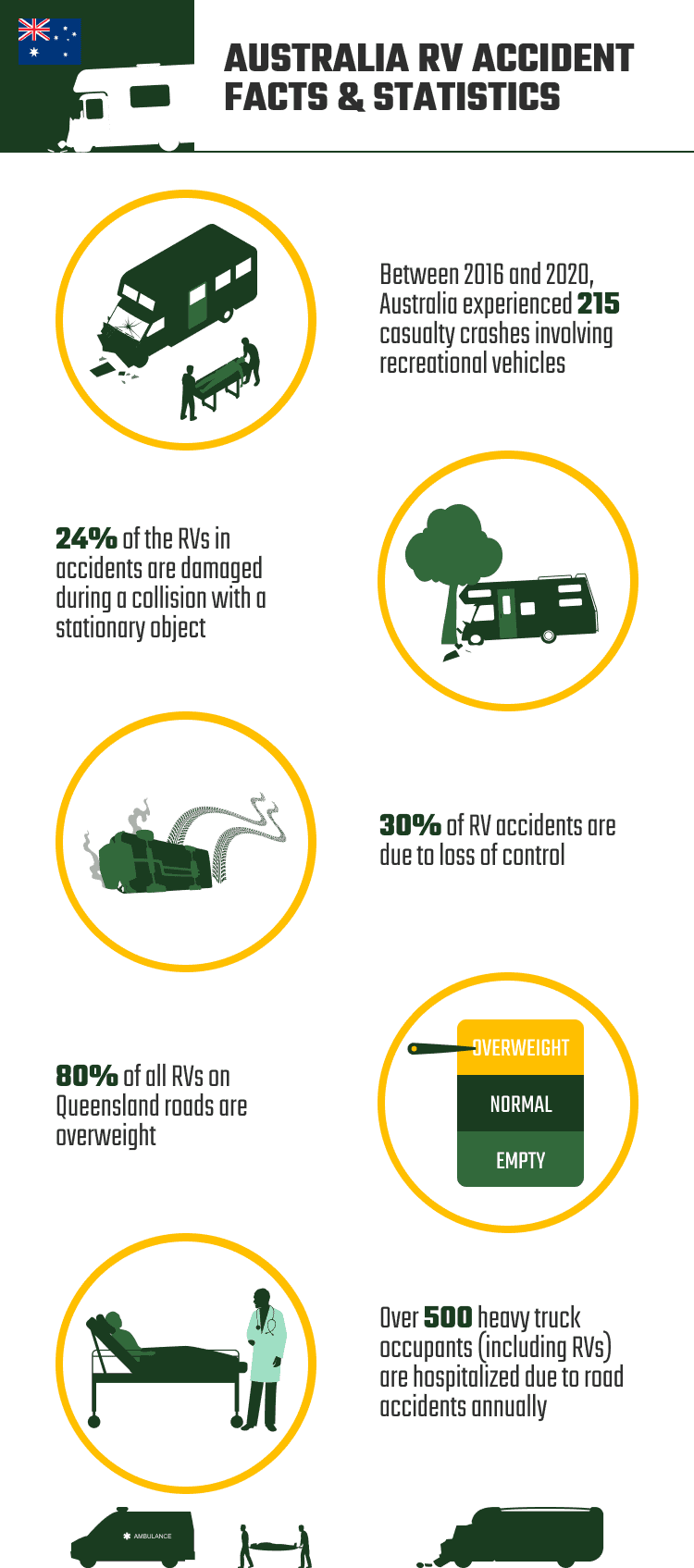 RV Accident Casualties, Injuries, and Causes of the Accident
1.

Between 2016 and 2020, Australia experienced 215 casualty crashes involving recreational vehicles.
(NSW Center for Road Safety)
In the years between 2016 and 2020, approximately 215 casualty cases were reported by the NSW Center for Road Safety. These accidents involved vehicles towing a recreational vehicle on NSW roads.
Among the 215 casualty cases, there were 116 serious accident-related injuries and 17 fatalities.
Since RVs are generally large vehicles, the number of casualties can be higher with more fatalities. However, this depends on the safety measures taken by an RV driver, such as driving with the stipulated weight limit and slowing down at corners.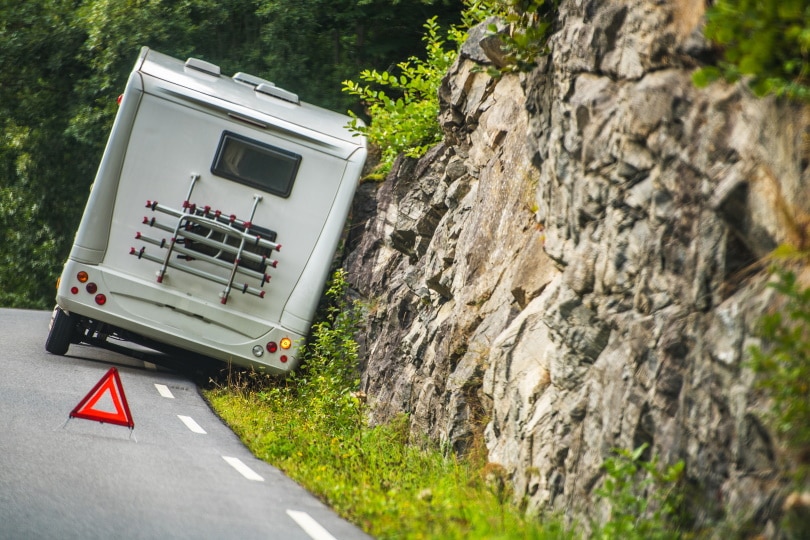 ---
2.

Over 500 heavy truck occupants (including RVs) are hospitalized due to road accidents annually.
(State of Industry by CIAA)
According to the latest report by the Caravan Industry Association of Australia, about 510 heavy truck occupants (including RVs) were hospitalized annually due to road accidents. 34% of the casualties sustained major threats to life injuries.
As scary as this statistic may be, such high casualties are common when driving heavy vehicles like Campers and trucks.
---
3.

24% of caravans involved in accidents were damaged during a collision against a stationary object.
(Crash Statistics)
In general, most accidents happen when a vehicle driver gets distracted while on the road.
As reported, 24% of RV accidents are a result of a driver hitting a stationary object like a tree or trash bin. This can be attributed to distractions on the road, such as using mobile phones (while checking for directions on the GPS) or simply fatigue.
Other factors contributing to RV accidents apart from hitting stationary objects include overworked schedules, lack of sleep, and the generally relaxed atmosphere of driving on a country road.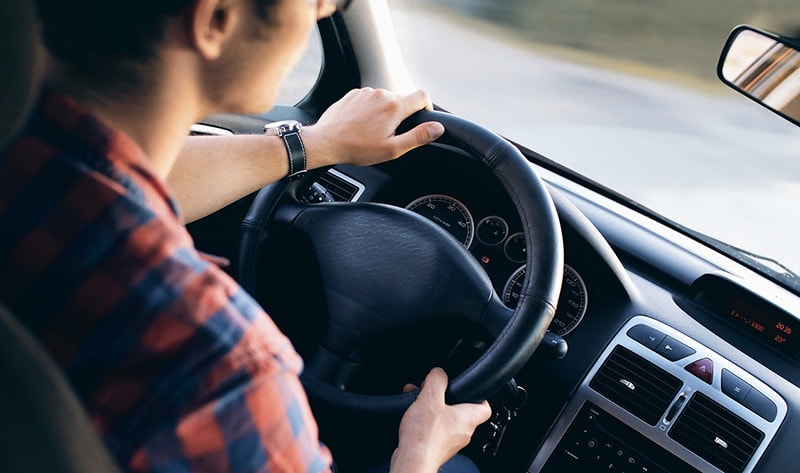 ---
4.

30% of RV accidents are due to loss of control
(dinggo)
Whether you are distracted or overspeeding on the road, losing control of your RV can result in a serious accident with major casualties. In 2016, 30% of all reported RV accidents resulted in the loss of control brought on by overspeeding (above 96.5 kph).
At such speeds, any slight force on the RV will force it to sway one way or another and cause an accident. Young drivers, especially those within the 18–24 age group, are the top culprits for RV accidents due to loss of control.
---
5.

80% of all caravans on Queensland roads are overweight
(The RACQ)
Most caravan accidents on Australian roads are a result of overloading. In fact, data from research conducted by the RACQ in 2017 estimates about 70% of the caravans on the Queensland highway are overweight. Sadly, only 4% of the owners know the exact weight of their vehicles.
Overloaded RVs are not only unroadworthy but also increase the chances of RV accidents because the brakes can easily get overwhelmed. This will consequently make towing the trailer increasingly difficult. To prevent caravan accidents due to weight issues, only pack essentials for your camping excursions.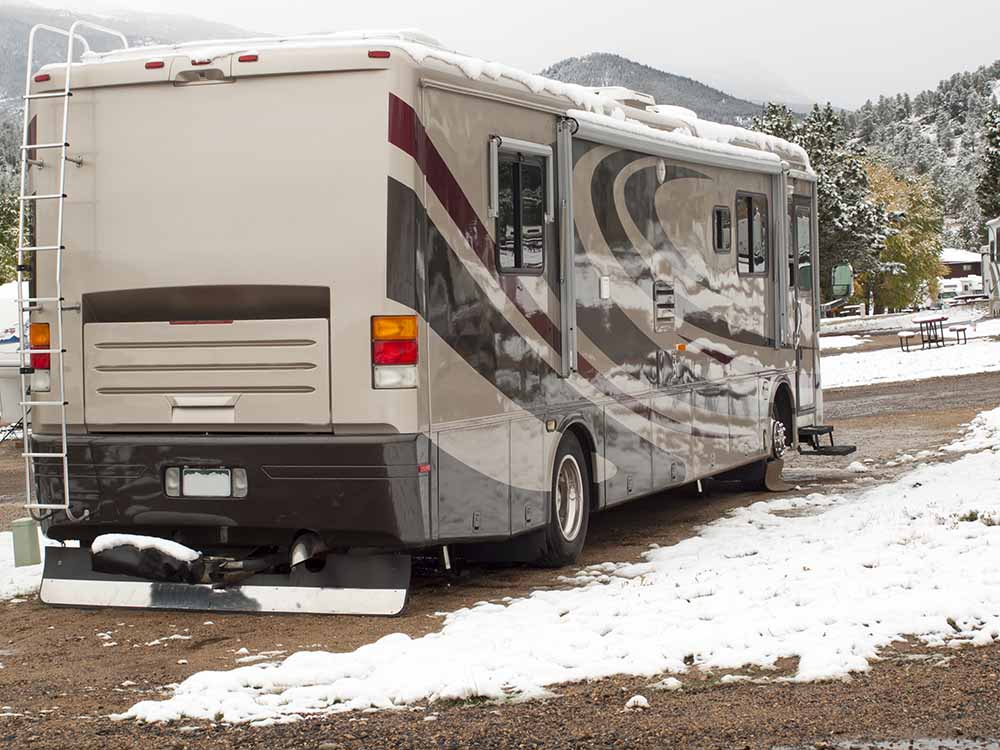 How RV Ownership and Production Contribute to or Mitigate RV Accidents
6.

One out of 13 homes in Australia own a registered recreational vehicle.
(RV Industry Association)
According to the latest data from the Caravan Industry Association of Australia, the ownership of recreational vehicles in Australia is at record high levels. In 2018, there were 679,378 total registered RVs in the country. This translates to about one RV per every 13 homes. In fact, caravans and campers are the fastest-growing RV vehicles in Australia in terms of registration for the last several years.
In 2020, there was an increase in RV registration statewide. States like South Australia, the Australian Capital Territory, and Queensland reported a 2.3% increase in sales. Data from CIAAs research shows that the increase in popularity of RVs in Australia is due to an increased preference for outdoor excursions and the need to create a memorable childhood experience.
Unfortunately, an increase in RV sales means more RVs will be on the road, increasing the chances of accidents in the future.
---
7.

Local production of RVs has gone up by 5% between 2018 and 2019 accounting for 55% of all total production in 2018
(The Caravan Industry Association of Australia in conjunction with BDO)
Despite the issues surrounding the local RV manufacturing industry in Australia, local production of RV trailers is still thriving with over 23,070 RVs manufactured in 2018 alone. The production frequency even increased by 5% within the first two months of 2019.
In 2020, the number increased by 4.2%. This has helped the country come up with RVs that are better equipped to handle the Australian landscape, thus reducing the number of RV accidents.
Sure, there was a surge in importing caravans and campers from China, which accounted for about 10,000 RVs sold in Australia every year. However, locally manufactured RVs still account for 70% of the overall RV market share in Australia.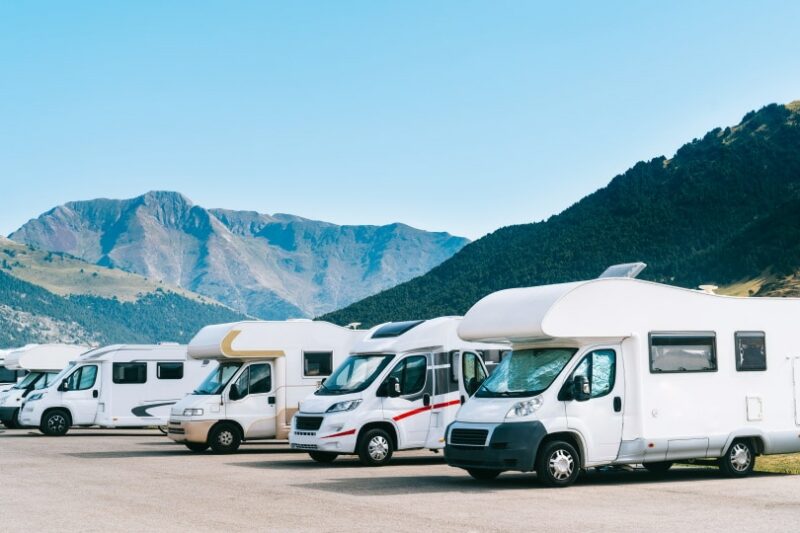 ---
8.

Caravans are the most popular RV choice for Australians, with 93% of recreational vehicles being towable.
(CIAA, State of Industry 2019)
Caravans make up 64% of the towable market and this RV choice has been consistent within the past ten years. While there are different types and varieties of recreational vehicles retailing in the market, caravans are the most popular variety in Australia.
About 55% of all RV vehicles produced in 2018 were caravans. However, the vast majority of imported RVs in Australia are tent trailers.
Unfortunately, towable vehicles are prone to accidents from swaying, usually caused by wind gusts.
---
9.

Jayco Brand is the main manufacturer of RVs in Australia, with over 40% of all local production.
(CIAA)
Every year, the CIAA releases reports for different market segments; however, they do not break down segments for individual brands. This is perhaps why RV manufacturers are reluctant to publicize their sales numbers and current production protection.
Be that as it may, Jayco is still the most popular RV brand in the country, accounting for 40% of the total production. The company produces RVs for sale and rental purposes. Approximately 9,000 RV units are manufactured at Jayco's Dandenong, Victoria Factory.
The New Age and Avan companies follow closely in production with 2,000 annual RV productions.
These locally manufactured RVs are built tough, and can handle the tough Australian terrain with ease. This has also contributed to a decline in RV crashes.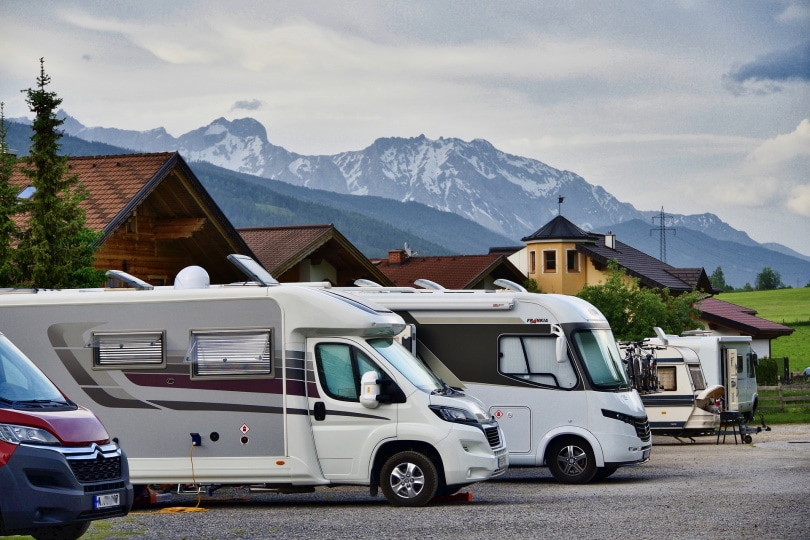 ---
10.

The average age of RV owners is 33 years
(The Inaugural RV Consumer Report 2018)
It is a popular misconception that recreational vehicles are popular among the elderly generation only. However, according to the Inaugural Consumer report, most RV owners average at age of 33. At this age, the customers have an average income of $48,000–$72,000.
This means that people at 33 have enough disposable income to contemplate buying an RV for weekend and holiday expeditions. Therefore, it's not just the elderly who get into RV accidents but also thrill seeking thirty year olds.
---
11.

Millennials are now more prone to RV accidents; they make up 38% of RV drivers in Australia
(RV Industry Association)
Initially, retired senior citizens, usually above age 55 were the most likely to purchase RVs for outdoor excursions for their sunset years. Unfortunately, due to weakened eyesight and delayed response, they increased the chances of RV accidents.
Today, however, the popularity of RVs among millennials (aged 21 to 25) has been steadily on the rise, with 38% of drivers on Australian roads being millennials. This number is significantly higher than the number of senior drivers on the road, which has seen an increase in RV accidents among millennials.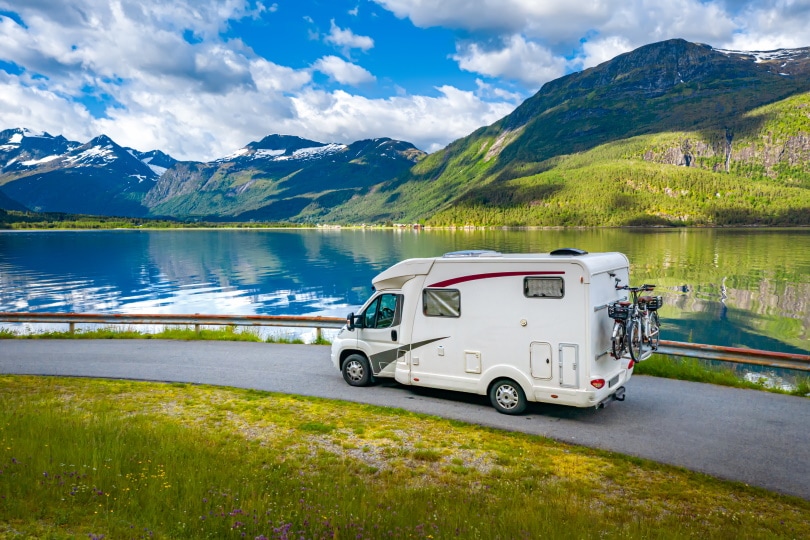 RV Purchase Preferences
12.

80% of RV owners claim price is the most important aspect when buying a recreational vehicle.
(Global Market Insights)
When purchasing a recreational vehicle, some of the most important considerations are functionality and aesthetics. However, about 80% of Australians take price as the most important consideration.
The price of the camper will have an impact on the safety features installed in the vehicle. Premium retailing vehicles are likely to be installed with features such as safety chains to prevent RV accidents on the road.
---
13.

Only 1 in 7 RV owners in Australia are willing to compromise on road handling for a lower purchase price.
(Caravan Industry)
Before purchasing an RV, you need to ensure it is well-designed to handle different kinds of roads while driving at different speeds. About 40% of RV owners in Australia consider road handling to be the most important RV aspect.
Out of every seven RV owners, only one is willing to buy an RV with poor road handling for a lower purchase price. If RV owners continue compromising safety over price, RV accidents are likely to increase in the future on Australian roads.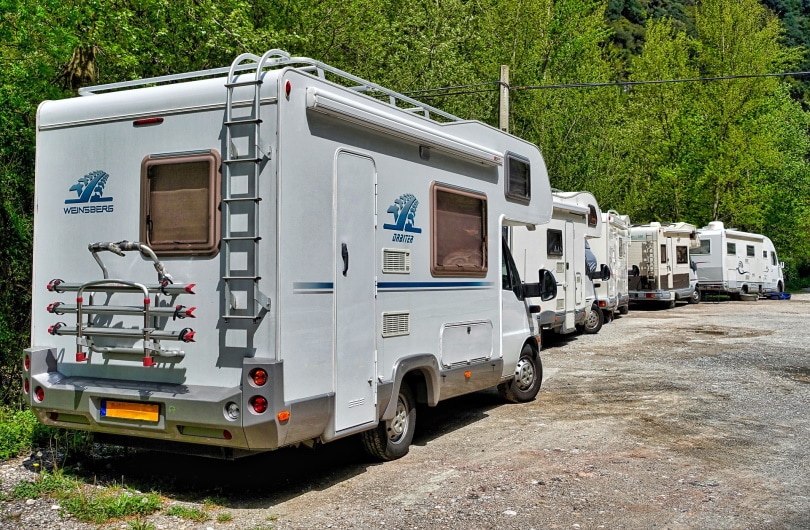 ---
14.

47% of new Australian RV customers would rather rent a recreational vehicle than buy one.
(RV Industry Association)
Modern RV consumer trends indicate that 47% of new RV market consumers would prefer to rent an RV to try it out before making a purchase. This is a trend developing among young RV drivers under age 40. This trend will help reduce accidents in the future because people are more careful driving rental vehicles than one of their own.
Frequently Asked Questions (FAQs)
1.

Are RVs safer when involved in an accident?
One popular misconception about RVs is the idea that they are safer than other types of vehicles in an accident. In fact, data from research indicates that RVs experience about 33.3% of the fatality rate of all vehicles on the road. This seems to suggest they are safer.
Unfortunately, these recreational vehicles are unsafe in case of a crash, just like every other car on the road. People can still perish in a caravan; however, the fatalities are less frequent when compared to other vehicles.
The homely RV design may give you a false sense of security, but no vehicle is 100% safe on the road, especially big vehicles like caravans and trucks.
(Just Down Size)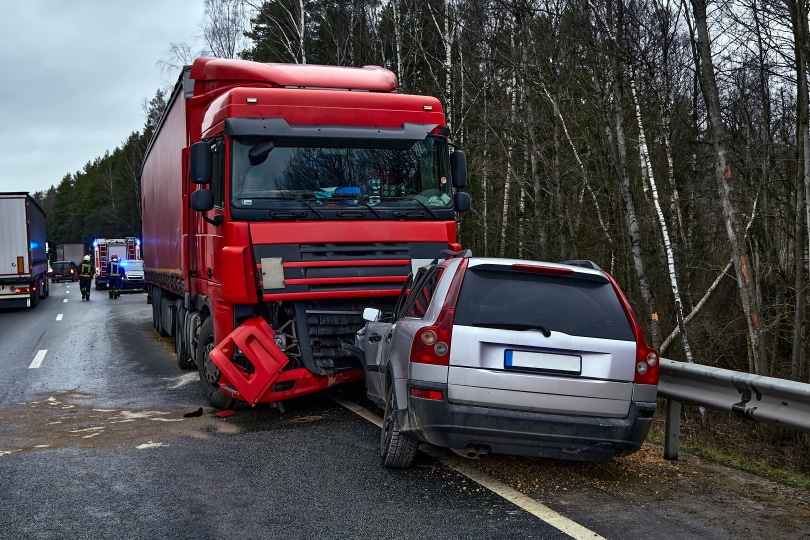 ---
2.

Are there safe RVs?
There are different types and brands of recreational vehicles retailing in today's market. However, class B trailers are considered the safest choice. These motorhomes come equipped with frontal airbags and stability control options that help the vehicle remain safe in the event of a crash.
Some RVs are even equipped with premium features such as lane-keeping assistance and blind spot warnings to further increase the safety of the vehicle while driving. However, all RVs are relatively safe to travel in.
(Consumer Reports)
---
3.

Are RVs safer than cars?
Yes, they are. Recent statistics indicate there are fewer fatalities in RVs than in cars because there aren't many RV owners compared to car owners. The death rate per 100 million cars is 1.48, while RV fatalities range at 0.44 deaths for every 100 million vehicles.
As you can see from this information, RVs are a much safer means of travel when compared to even passenger cars.
(Fifth Wheel St.)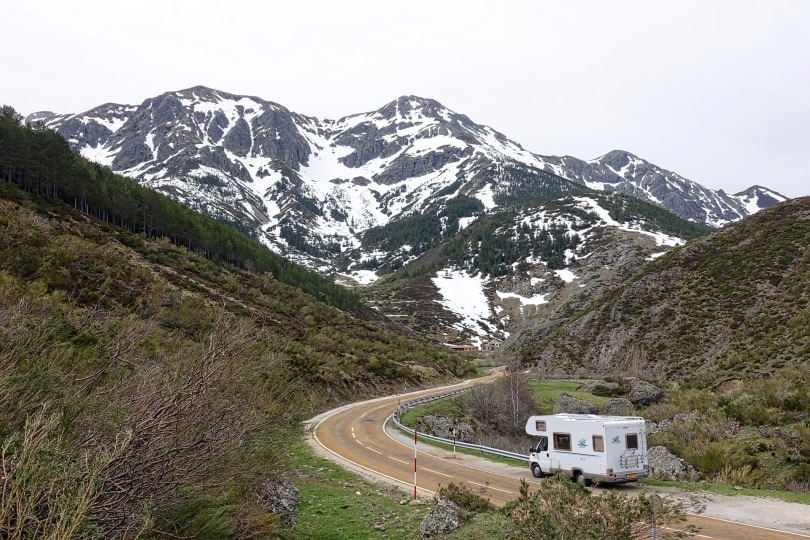 Conclusion
Despite popular belief, RV accidents are not as dangerous and calamitous as most people make them out to be. According to statistics, RV driving is much safer than driving in a passenger car. Therefore, you are less likely to get involved in a road accident driving an RV than in a passenger car.
Another common misconception is that RVs get into road accidents because they are popular among retirees and the elderly. Sure, about 10% of vehicles may be driven by senior citizens, but today, chances are three times higher than a millennial is behind the wheel. Unfortunately, millennials are prone to overspeeding, getting distracted by mobile phones while on the road, and overloading.
In a bid to reduce the number of RV road accidents in Australia, the government has been working tirelessly to enforce harsher road safety laws and policies. However, if the statistics above are any indication, there is still a lot that needs to be done to reduce road accident casualties. Be that as it may, every time you get behind the recreational vehicle, you need to be alert to the risks you pose to yourself and other road users.
See also:
---
Featured Image Credit: Pixabay