Ryobi P102 Lithium-ion Battery Review 2023 – Pros, Cons, & Verdict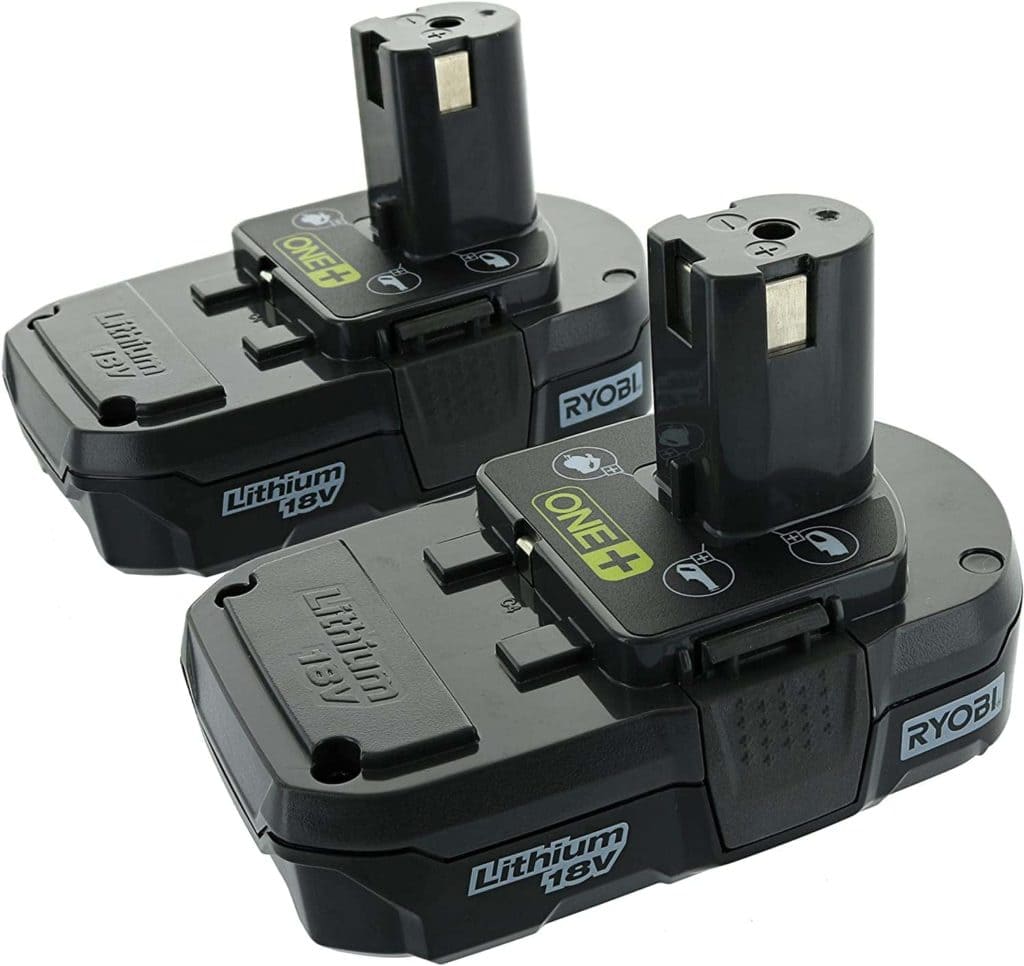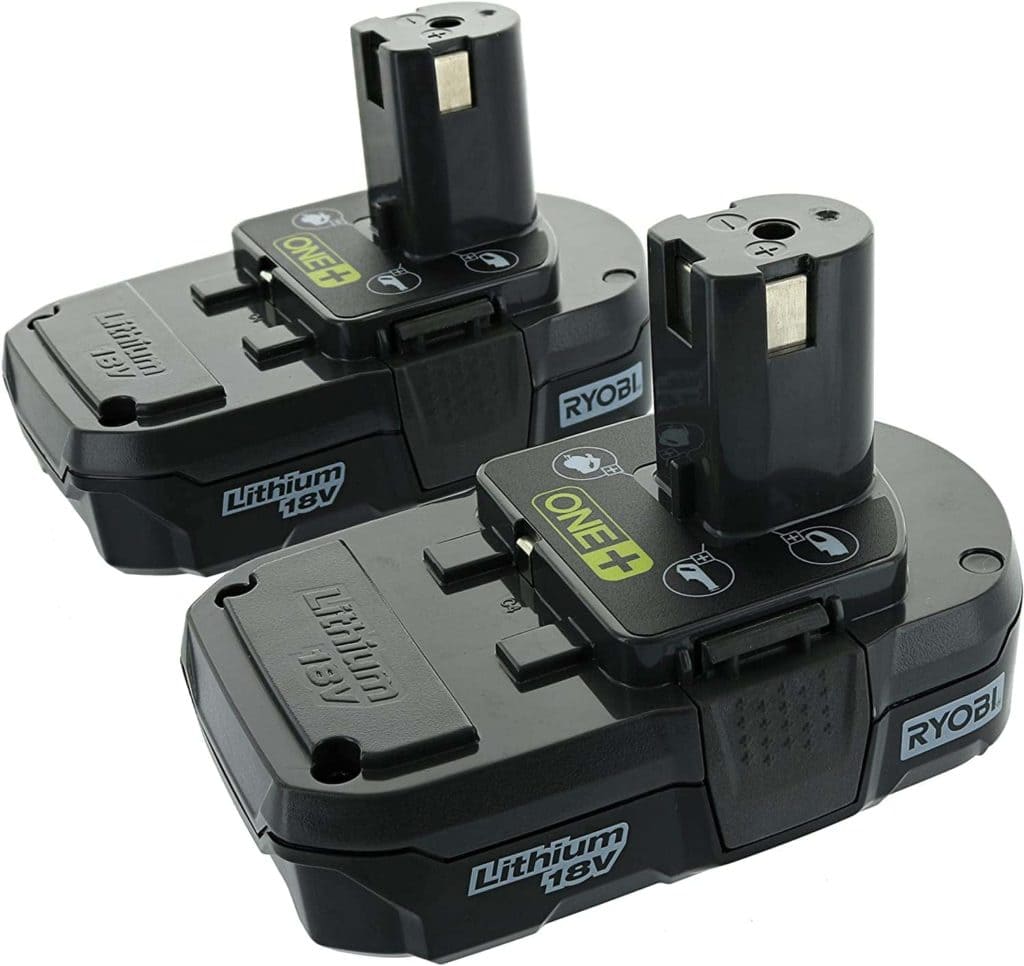 We give the Ryobi P102 Lithium-ion Battery a rating of 4.7 out of 5 stars. 
Build Quality: 4.8/5
Power: 4.8/5
Features: 4.8/5
Price: 4.5/5
Review Summary
Ryobi is a leader in power tools and outdoor products. Many Ryobi tools are designed so that way they offer professional features at an affordable price. One cool aspect of most Ryobi products is that they are Ryobi One+ compatible, meaning that they all use the same battery.
The battery used for most Ryobi products is the Ryobi P102 Lithium-Ion battery. This battery holds charge impressively well and does not sacrifice efficiency as it starts dying. At the same time, it saves you money since you don't have to buy multiple batteries for all of your tools. When using the battery, it also combats fatigue because of its compact and lightweight design.
Although it does cost a bit more than other lithium-ion batteries and won't withstand the cold, the Ryobi P102 battery is pretty impressive and is a leader for effective battery operation.
To find out more about the Ryobi P102, read on. This extensive review covers the features, benefits, drawbacks, and other reviewers' experiences with the Ryobi P102.
Ryobi P102 Lithium-Ion Battery – A Quick Look
Pros
Saves you money
Compact and lightweight
Holds charge well
Fade-free power
Compatible with all Ryobi One+ tools
Cons
More expensive upfront
No way to gauge power
Does not work well in cold weather
Specifications
Specifications
Brand Name: Ryobi
Model: P102
Type: Lithium-ion Battery
Output: 18V
Dimensions: 5 x 4 x 4 inches
Weight: 1 lb.
Warranty: 2-tear warranty
Improved Battery Life with Fade-Free Power
Complete with 18V power, the Ryobi P102 provides optimum battery life. This battery is so impressive that it lasts four times longer than older nickel-cadmium models. This means that you won't have to replace or charge up the batteries near as frequently, making them much more productive.
Even at the end of the Ryobi P102's battery life, the battery will perform at maximum power. That is because it comes with a fade-free design. Most batteries perform inefficiently as their power starts to drain. This makes them less effective at charging your tools. Because of the fade-free design of the Ryobi P102, this battery will work maximally efficiently right up until it dies, when it is completely drained.
Compact
Many high-power batteries are bulky and heavy, adding strain to your hand when using the power tool. The same cannot be said for the Ryobi P102. Weighing in at only about 1 pound, this battery is much lighter than other batteries of its caliber.
Not only that, but the battery itself is designed with a compact design. This means that the battery itself takes up way less space within the tool, which in part contributes to its lightweight design. All around, this compact design helps combat and prevent user fatigue when using Ryobi tools.
Versatile
The Ryobi P102 is compatible with all Ryobi One+ products. This means that you can use the battery with a whole lot of tools within the Ryobi One+ line. In fact, hundreds of tools can use this battery. This makes this battery type highly versatile and money saving.
You don't have to worry about buying multiple battery chargers or different battery types when you use Ryobi One+ tools. Instead, this battery and its charger are good for nearly all Ryobi products.
No Way to Measure the Power
Probably the most notable drawback of the Ryobi P102 is that there is no way to measure the power. The tool works, and then it dies once its power has been completely drained, without any warning. Since there is no way to monitor the power level, this can be extremely aggravating when it dies in the middle of a job.
Be Wary of Cold Weather
One thing to keep in mind when using the Ryobi P102 is that you must be careful when it is cold outside. No lithium-ion batteries work properly in cold temperatures, and this includes the Ryobi P102. Just make sure to keep the battery in mild to warmer temperatures for it to work efficiently.
Price
As for the price, the Ryobi P102 is a bit more expensive than other lithium-ion batteries. We assume some people will find it expensive and overpriced for what it offers. Still, you have to keep in mind that it does save you money since you don't have to worry about buying other batteries or chargers when using Ryobi products.

FAQ
How long can the P102 run before dying?
The Ryobi P102 can hold around 1.3 amp/hours of charge. It is impossible to say how long this charge will last in terms of minutes or hours. The length of a charge will depend on the power demands of the tool. For example, some tools will require more power than others.
Environmental factors can also affect the lifespan of the battery. If your Ryobi P102 is exposed to cold weather, the battery will drain much faster than if it were kept in a mild or warm climate.
Can you use a nickel-cadmium battery charger with the P102?
No. Do not use a nickel-cadmium battery charger for the Ryobi P102. Only use the Ryobi charger or chargers for lithium-ion batteries specifically. Using a charger designed for nickel-cadmium batteries can easily warp or damage the battery. It also poses a fire hazard to your home. Do not ever use a nickel-cadmium battery charger to charge the Ryobi P102, or any other lithium-ion battery for that matter.
Can you use the P102 in place of nickel-cadmium batteries?
Yes. You can use the Ryobi P102 in place of nickel-cadmium batteries in other Ryobi 18V tools. You will need to buy a new lithium-ion battery charger, though, as described above.
Does the P102 come with a warranty?
The Ryobi P102, as well as all other Ryobi products, is protected with a 2-year manufacturers' warranty.
What the Users Say
We read online reviews to learn about what other people thought about the Ryobi P102. Overall, reviews for the P102 were overwhelmingly positive, but many people thought it was just an overpriced battery, despite its more impressive performance. Many people also noted that the Ryobi P102 doesn't last very long. Here's a closer look at what the users said:
Benefits
On every site we looked at, the Ryobi P102 easily gained over 4 stars. This high overall rating was reflected in countless positive reviews.
Most users noted that the battery works better than other lithium-ion options, and that the fade-free design was extremely helpful. In comparison to nickel-cadmium batteries, users noted that the Ryobi P102 lasted way longer and kept their juice more effectively.
Another thing that reviewers loved about the Ryobi P102 was how fats it charged. Users found that this Ryobi battery charges much faster than other options. We found this to be try from our own testing as well.
Drawbacks
There were some drawbacks and negative reviews of the Ryobi P102, as there are with any product. Many reviewers thought that the battery worked well, but that it was, after all, just a battery. This caused these reviewers to feel like the Ryobi P102 was overhyped and overpriced for what it offered.
In our opinion, this negative review doesn't make much sense. Of course, it is just a battery, but what else do you want from a battery? Still, the overpriced aspect of the Ryobi P102 is valid and warrants consideration if you are on a budget.
Another drawback of this battery is that many users had trouble with its durability and lifespan. Several reviews mentioned that their battery worked really well, until it didn't. It seems that about after the three-month mark or so, the battery stops working correctly.
Not all users had this experience, some said their Ryobi P102 has lasted for years, but there were enough people to mention this criticism that it should be considered heavily.

Conclusion
The Ryobi P102 is an impressive battery for Ryobi products. It will save you time and money since you don't have to buy multiple chargers or different batteries for your Ryobi products. Though it may be a little expensive in comparison to other batteries, the fact that it works so well and saves you money in other ways makes the price worth it in our opinion.
You might also be interested in these Ryobi reviews: