Ryobi P261 Impact Wrench Review 2023 – Pros, Cons, & Verdict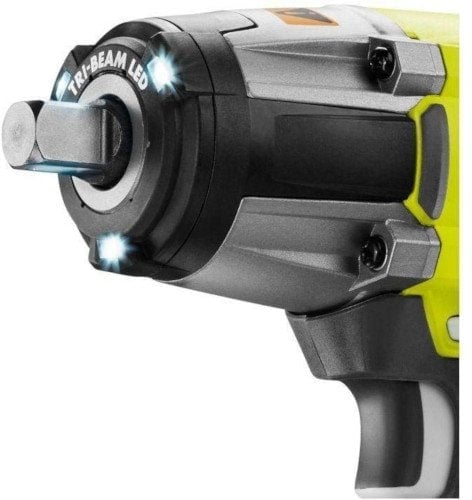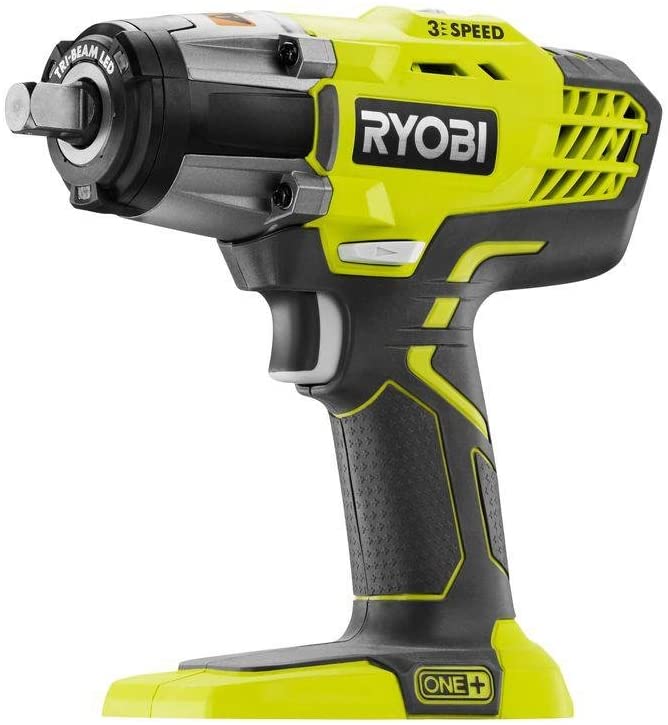 We give the Ryobi P261 Impact Wrench a rating of 4.6 out of 5 stars. 
Build Quality: 4.5/5
Power: 4.5/5
Battery Life: 4.5/5
Features: 4.8/5
Price: 4.5/5
Review Summary
Ryobi is a leading manufacturer of tools for personal use. Users love their products for being durable, efficient, and relatively affordable. The Ryobi P261 is an impact wrench that lives up to its Ryobi name.
Overall, the Ryobi P261 Impact Wrench is cordless, making it highly convenient and lightweight, but not as powerful as other tools. This cordless wrench is a great option for small to medium-sized jobs that require flexibility and ease of movement.
It's 300 ft-lb. torque and 3,200 impacts for minute speed means that the impact wrench is versatile and powerful enough for most jobs. Factor in the lightweight, convenience, and LED lights, this device is super handy to have around the house and garage.
Still, it will not be powerful enough for all jobs. Since it is battery operated, it simply cannot provide the same power as some power tools. More so, the battery does not last very long and dies quickly, requiring you to charge the batteries or buy new ones frequently.
With this in mind, the Ryobi P261 is a really impressive cordless impact wrench because of its power and weight in comparison to other tools of the same kind. Obviously, its design does come with some limitations, but you will fall in love with this model's convenience and lightweight.
To find out more about the Ryobi P261, read on.
Ryobi P261 Impact Wrench – A Quick Look
Pros
65 lbs.
300 ft-lb. torque
3,200 impacts per minute
3-speed selector switch
ONE+ suitable
3 LED lights for increased visibility
Affordable
Great for woodworking
Cons
Not as powerful as other tools
Batteries die quickly
Not suitable for all automobile jobs
Specifications
Specifications
Manufacturer: Ryobi
Weight: 1.65 lbs.
Power Source: Batteries, Lithium-Ion
Voltage: 18V
Torque: 300 ft-lb.
Speed: 3,200 impacts per minute
Warranty: 2-year manufacturer's warranty
Power and Speed
Many cordless impact wrenches do not offer the power required to get super heavy-duty jobs done. Still, the Ryobi P261 provides a substantial amount of power and force that other cordless wrenches simply cannot touch.
This impact wrench has an impact mechanism that produces 300 ft-lb. torque and up to 3,200 impacts per minute. This makes the impact wrench suitable for lightweight or more heavy-duty jobs. Work related to woodworking and dense wood materials will benefit the most from this impact wrench.
Additionally, some auto work will benefit from this power as well. However, other auto work may require a much more powerful impact wrench, especially if you don't want to be charging it up frequently.
Despite its power, the Ryobi P261 also offers great control. It includes a 3-speed selector switch. This makes it suitable for many fastening applications to tailor the power to the specific job you are working on.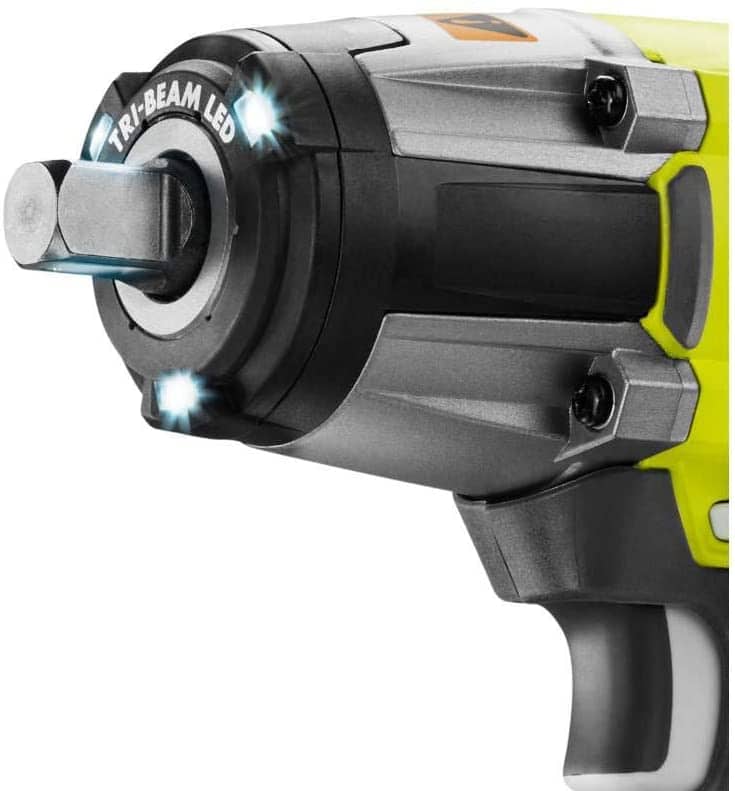 Size
The benefit of any cordless impact wrench is its size. The Ryobi P261 is an incredibly compact and lightweight model to choose. This makes it great for on-the-go use or users with a little less muscle. Altogether, this cordless ½-inch wrench is a little over 1½ lbs., making it lightweight and compact for just about anyone.
Obviously, this weight does make it less powerful than other power tools, but it is great if you have an on the go job, nonetheless.
Battery
Since the Ryobi P261 is cordless, it is energized by 18 Volt lithium-ion batteries. The system is suitable for the Ryobi ONE+ system. So, these batteries can be charged with a dual chemistry charger. This charger can charge any ONE+ batteries in as little as one hour.
This power source's main drawback is that the batteries die very quickly, especially if you are using them for more heavy-duty jobs. Expect to change or charge the batteries frequently if you use this at high power for long amounts of time.
Extra Features
In addition to the power and light weight, the Ryobi P261 comes with three LED work lights. These work lights can illuminate the area or job you are working on. Whether you are working in poorly lit areas or trying to work with small parts, the LED lights help you see what you are doing for enhanced performance.

FAQ
Can this impact wrench remove lug nuts?
This impact wrench can remove lug nuts with a torque requirement of 300 ft-lb. or less. This torque will be strong enough for small to medium-sized jobs, but certain lug nuts require more torque and power. Consult the user manual of your automobile to see if it requires more torque than the Ryobi P261 offers.
If your automobile requires more torque than 300 ft-lb., then the Ryobi P261 will not remove the lug nuts.
What size socket fits this impact wrench?
The Ryobi P261 is an ½-inch drive impact. It is designed so that any ½-inch socket works with it.
What is the warranty like for this kit?
All Ryobi products come with a 2-year manufacturer's warranty, and this includes the Ryobi P261 Impact Wrench. This warranty is relatively impressive for the product you get. Since cordless wrench kits are less powerful and more susceptible to damage, a 2-year warranty is very fair for this product.
What the Users Say
We wanted to know what other people thought about this tool as well. We looked online to hear what other people had to say. Most reviews were positive, but there were some negatives as well, just as we expected.
In general, people agreed with our overall assessment of the tool's convenience, luxury, and lacking power. Here's what people thought in more detail:
Pros
Generally speaking, the cordless design and light weight made the Ryobi P261 highly sought over. Many people noted that it was a great tool for easy to medium jobs on a crunch. People found that it was incredibly useful around the house and at a work station.
Additionally, most users were pleased with the overall power. Although most people did admit that it wasn't as powerful as other tools, it is one of the more powerful cordless options. People used it for woodworking, removing lug nuts from tractors, and more.
Finally, users are really pleased with the price of this product. They believed that the quality and functionality were accurate to the pricing they paid for it.
Cons
As we expected, many people complained about the battery of the Ryobi P261. They claim that the battery dies very quickly and that you will need to replace the battery regularly. Users also noted that putting too much pressure on the device will cause the batteries to overheat.
Other users complained about the power of the tool. They claimed that it was simply not powerful enough for their jobs and that it was basically useless. We did see this complaint coming since almost all cordless impact wrenches are simply not powerful enough for extremely heavy-duty jobs.

Conclusion
Overall, the Ryobi P261 Impact Wrench is an impressive cordless impact wrench. It's lightweight and compact design makes it a great option for those on the go or far away from the outlet. It also has really good power considering its size and weight. Still, it is not powerful enough for all jobs.
If you carefully consider how much torque you need per job, you should make a good decision on this model. If your jobs require less than 300 ft-lb. torque, then this product is a great choice.