How to Decorate a Slanted Wall Bedroom — 8 Amazing Ideas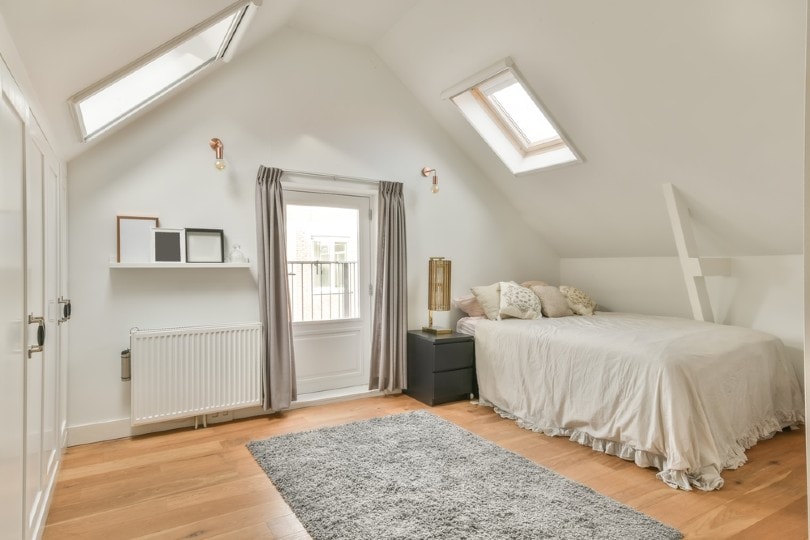 A bedroom is more than a place to sleep. It is your personal sanctuary. When you are in your bedroom, you should surround yourself with the things you love, your special and favorite things. The bedroom décor should be an expression of your personality. It's a private place where you can hide away to think, read a book, or just relax.
Decorating your bedroom should be fun and exciting. It is one of those projects that invokes creativity, a place that surrounds you with calm and peace. Sometimes decorating a bedroom pulls together quite easily. Other times it may take outside ideas to get the creative juices flowing.
Take a bedroom with slanted walls, for instance. Left untouched, slanted walls can become a boring eye sore. We have compiled eight amazing ideas to motivate you to make it into an interesting and special space.

8 Amazing Ideas to Decorate a Slanted Bedroom Wall
1.

Hang Pictures on a Slanted Bedroom Wall
It's amazing what a little effort and creativity can do to an awkwardly positioned wall. Rather than leaving the wall bare, try hanging some pictures. Get your favorite family photos or colorful paintings and arrange them on the slanted wall. It will require a little effort to apply additional keyhole hangers, but it will be worth it.
If you prefer, you can hang the photos in standard matching frames with varying sizes. Another option is to get unique frames to add to the interest of the wall. Maybe mix one or two paintings with an array of family photos and use coordinating colors and frames.
Once you have the paintings and photos framed, play with the placement until you find something that works.
---
2.

Hanging Plants on a Slanted Wall
Hanging plants can make any space look warm and inviting. Arrange a few hooks down the wall and hang two or three plants.
Use the pots, plants, and hangers to get creative. Mix up the shapes of the greenery. Hang a spider plant and a vine with variegated leaves. You may want to add a colorful cactus to the mix. Take a trip to your local nursery and look around. You may be surprised by what you will find.
To add interest, use pots made from varying materials like glass, wicker, and wood. The pot hangers can range from one neutral color to assorted colors. You can purchase them in unusual colors and a variety of textures. It will depend on your decor and the type of look you are going for.
---
3.

Pendant Lighting on a Slanted Wall
This one will require a bit of creativity. You can use a variety of things for the wall mounting plates. Whether they are round, square, or oddly shaped, be sure to get something you like. Once you find something, you can use it for the plate, customize the color to your décor.
Pendant lighting varies in shape, size, and color. You can vary the size and color of the lights or use all the same kind. The number of lights will depend on the size and placement of the wall.
This can be a fun and creative decorating project. Take your time and look around at thrift stores and flea markets. You may come across one or two shades with unusual patterns or designs. If you're lucky, you may come across a vintage glass that you can use for a light cover.
If you are artistic, buy a few jars of glass paint and a clear cover to create your own design. This one has unique possibilities, have fun with it.
---
4.

Cover the Slanted Wall with Lights
String lights can be attached to the wall straight up and down, zigzag, or in a random design. You can choose to do the wall in varying colors and attach some flowers, butterflies, or greenery to the wire. Use your creativity. What is your favorite plant or animal?
Create a patriotic wall with a string of red, white, and blue lights.
For the child in your life, stagger blue string lights to create the look of twinkling stars. Add some decorative plants to the wall and let them enjoy themselves.
---
5.

Cover the Wall with Fabric to Create a Headboard
There are so many colors, prints, and textures of fabric to choose from. A piece of sheer white fabric can create a romantic atmosphere. A white lace fabric is delicate and will add softness to a Victorian-style décor.
A jewel-toned satin fabric can create a regal feel to a bedroom. Hang it with a top and bottom curtain rod with large ornate finials. Cover the bed with a coordinating satin comforter and two or three throw pillows. It might make you feel like a queen.
To create a boho look in a bedroom with a slanted wall, add a colorful, bohemian-inspired fabric and a dream catcher. Maybe add string lights and a tassel or two. Create a Zen atmosphere, a place to reflect and meditate.
---
6.

Make a Slanted Wall into a Chalkboard
If the slanted wall is in a child's bedroom, apply the peel and stick chalkboard. It will provide your child with a large area for drawing or doodling.
Kids have busy schedules. Having a chalkboard wall will allow them to personalize a calendar for sports meetings or dance recitals. With reminders on a large wall, they surely won't forget important assignments and invites.
You can apply chalkboard wallpaper and use it as a canvas for a night sky theme on the wall. Use your imagination and creativity to see what you can do.
---
7.

Apply Decals to a Slanted Wall
Decals are extremely versatile. The choices range from trees to planets. A decal project will give you a chance to use your artistic abilities and creativity. Apply a tree decal and incorporate some artificial leaves. Give it dimension and color.
If you love flowers and plants, there are endless possibilities. The colors of the decals can be neutral and muted for a softer décor. There are themed decals with jewel tones and bright colors. Surely, there is one for the look you are aiming to achieve.
---
8.

Make the Slanted Wall into a Coat Hanger
This is a unique and creative idea. Take a real or artificial tree branch and apply several hooks. Attach it to the slanted wall with eye-hooks and a chain. It will give your children a place to hang their coats and looks amazing too. If you like the look of string lights, wrap one around the branch to create warmth in the space.
Attaching a branch to the slanted wall (use your imagination) would also make a great jewelry rack or scarf hanger.
This is one of those special decorating ideas. It is a creative and appealing way to save closet space and keep things tidy too.
This idea is not limited to a tree branch. You may have something else in mind. Try it—you may be surprised at the ideas you can come up with.

Conclusion
So, there you have it—few simple ideas for decorating a slanted bedroom wall without doing major construction. See what you can do with a little time, patience, and creativity. Take these suggestions and build on them. Add your own ideas. You may create a decorating trend that transforms a slanted wall into a beautiful or interesting focal point in any bedroom.
See also:
---
Featured Image Credit: Procreators, Shutterstock