5 Stair Railing Trends in 2023 (With 18 Ideas)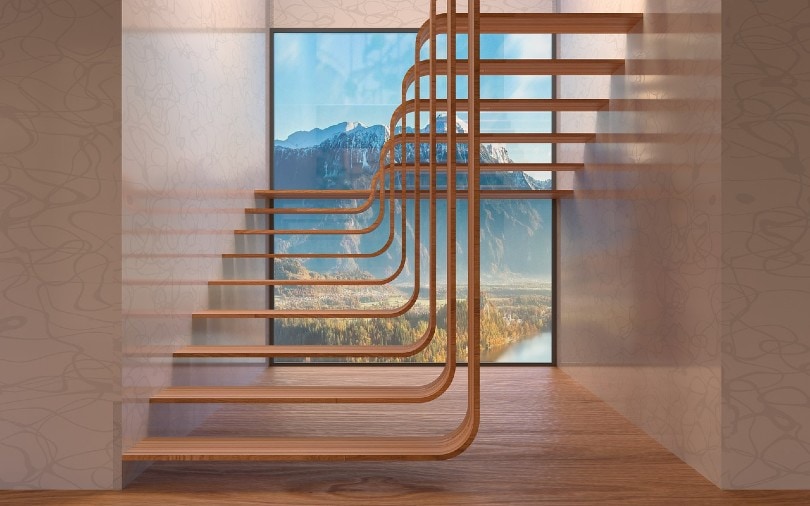 Stair rails are an essential part of any home. Even though these devices are highly functional and have been in houses for generations, you can easily transform your stale stair railing into modern accents that pop in your home.
In this article, we will cover five stair railing trends. For convenience, we have separated these trends into five different categories. Let's get started.

The 5 Stair Railing Trends for 2023
Five types of stair railing trends shine this year: wooden finishes, metal detailing, exposed metal finishes, light features, and statement rails. These trends are super modern and beautiful, but they still allow your stair rails to serve the same functional purposes.
1.

Wooden Finishes
Wood has been one of the most popular materials for handrails for decades. After all, wood is lightweight, durable, and aesthetically pleasing. More than ever, wooden finishes have become highly popular for handrails.
If you have an open staircase, unfinished wood can be the primary handrail for your staircase. Then, complement the wooden staircases with metal rods. These metal rods look very modern and classic while adding a lot of structure to the staircases.
You can also opt for a much more classic-looking wooden handrail. These sorts of handrails are primarily wood, but their metal accents add a crisp and modern addition, especially if the wood matches the hardwood in your home.
For those in favor of super modern designs, wood is a fantastic choice as well. You can use wood to form geometric shapes in your banister and handrail, or you can use wooden slats to form the entire wall beside the staircase.
---
3.
---
4,
---
Floor to Ceiling Balustrades
---
2.

Metal Detailing
Metal has been an important part of modern handrail trends. Even though the handrails themselves do not include a lot of metal detailing, the balusters attached to the handrail do. By opting for a handrail that matches a baluster with metal details, your entire staircase will look gorgeous.
Most importantly, you want the handrail to match your baluster. This can be in color and material or design. You can easily match color and material by selecting geometric shapes, such as squares or rectangles.
Something else to consider is metal detailing on the baluster that matches the handrail in theme. For example, balusters shaped into twigs will look beautiful with wooden handrails. That's because the balusters and handrail match in theme, but not necessarily in color or material.
---
---
---
3.

Exposed Metal Finishes
Exposed metal finishes have been all the rage for this year. What makes exposed metal finishes fantastic materials is that they are easy to find, durable, and super easy to care for. They also match just about any home.
The most popular exposed metal finish handrail design looks much like a pipe. This pipe look makes my handrail look very industrial and modern. These handrails are often black or dark-colored since they are unfinished metal.
If you want a handrail trend that is easy to emulate, the exposed metal finish is the choice for you. You just have to choose your handrail and install it. There is very little effort that goes into the selection process or installation.
---
---
---
---
4.

Light Features
Many individuals are deciding to add light features to the bottom of the handrails. Not only does this make your staircase look more modern, but it increases the safety of the stairwell as well. If you are worried about you or your guests slipping down the stairs, these light features are a great choice.
For the chicest look, opt for handrails with light features built into them. That way, the light features cannot be seen, only the light itself. If you are on a budget, you can even attach LED lights to the handrail yourself, but make sure to select a handrail that can easily hide the LED casing.
---
---
---
5.

Statement Rails
Finally, the last stair railing trend is statement rails. Statement rails are practically any rails that truly add to the home's decor and draw your eye immediately. The best time to choose statement rails is whenever the staircase is the room's focal point. If you have very few decorations in your home, certainly consider giving your handrails a boost.
Most often, statement rails are designed by using contrasting colors. For example, homes that are primarily white or lighter colored look beautiful with dark stair rails and balusters. The contrasting colors make the stair rails pop. Conversely, light handrails look fantastic against dark-colored walls.
Statement rails can even use unique materials, such as polished stainless steel. Polished stainless steel might not be that groundbreaking in industrial locations, but the material is truly spectacular in homes since it isn't used often.
---
---
---
Unique Industrial Designs

How Do You Modernize Stairs?
Modernizing your staircase is easier than modernizing the rest of your home. It doesn't need a lot of decorations or additions. Instead, modernizing your stairs can be as simple as a fresh coat of paint and new handrails.
If you are modernizing your staircase, make sure the colors are up to date. Most modern staircases look best with white or light colors. This makes the space feel less cramped.
Compliment this new coat paint with new handrails and new balusters. Any one of the trends mentioned above will look beautiful in a staircase newly painted white. Just by adding some paints and new handrails, your stairs will look completely transformed.
How Much Does a New Staircase Railing Cost?
Estimating how much a new staircase railing will cost can be difficult because numerous factors impact its ultimate price. Factors such as the length of the railing, material, and installation will all impact the price. As a result, the price for a 25-foot staircase railing can run anywhere from $700 to $6,000.
Wooden railings are the most affordable. These railings are typically between $700 and $1,200. In comparison, installing aluminum stair railings can cost between $3,000 and $6,000. This goes to show just how much material can impact the final cost of your staircase railing.

Final Thoughts
At the end of the day, updating your stair rail is a great way to modernize your stairway. Something as simple as using wood or unfinished metal can truly make your stair rail looks super modern, but you can add lights or other more advanced features as well.
What matters most when selecting a new staircase rail is to select one that matches the rest of your home. It's important for your home to have a cohesive look, which means the stair rails should match. Even though the stair rails are easy to forget, they can easily make or break the decor of your home.
---
Featured Image Credit: motionstock, Pixabay