15 Surprising Staircase Accident Statistics (2023 Update)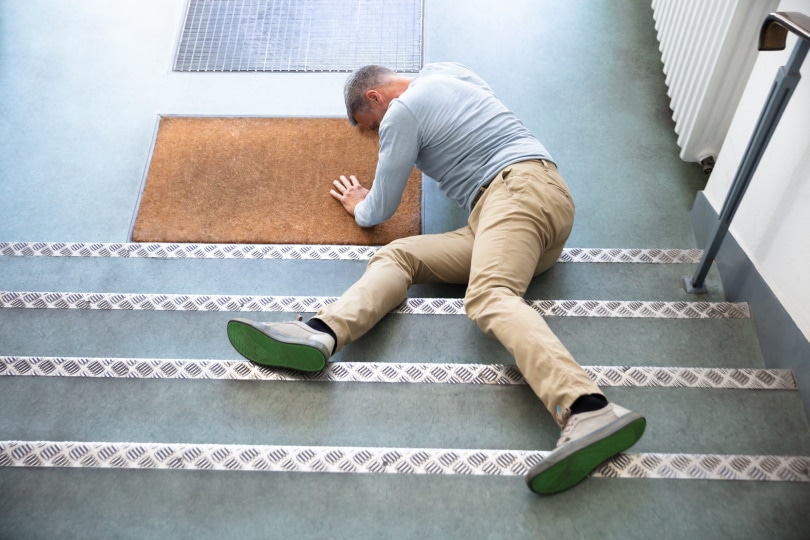 Note: This article's statistics come from third-party sources and do not represent the opinions of this website.
No matter how safe they are, staircases can certainly cause accidents in homes. They are especially dangerous for kids and seniors, and people can get seriously hurt and even die from injuries caused by a fall on a staircase.
It's essential to be familiar with injuries caused by staircases so you can prevent them as much as possible. To show you how dangerous staircases can be, we found 15 staircase accident statistics to raise awareness about some of the problems staircases can create.

Top 15 Surprising Staircase Accident Statistics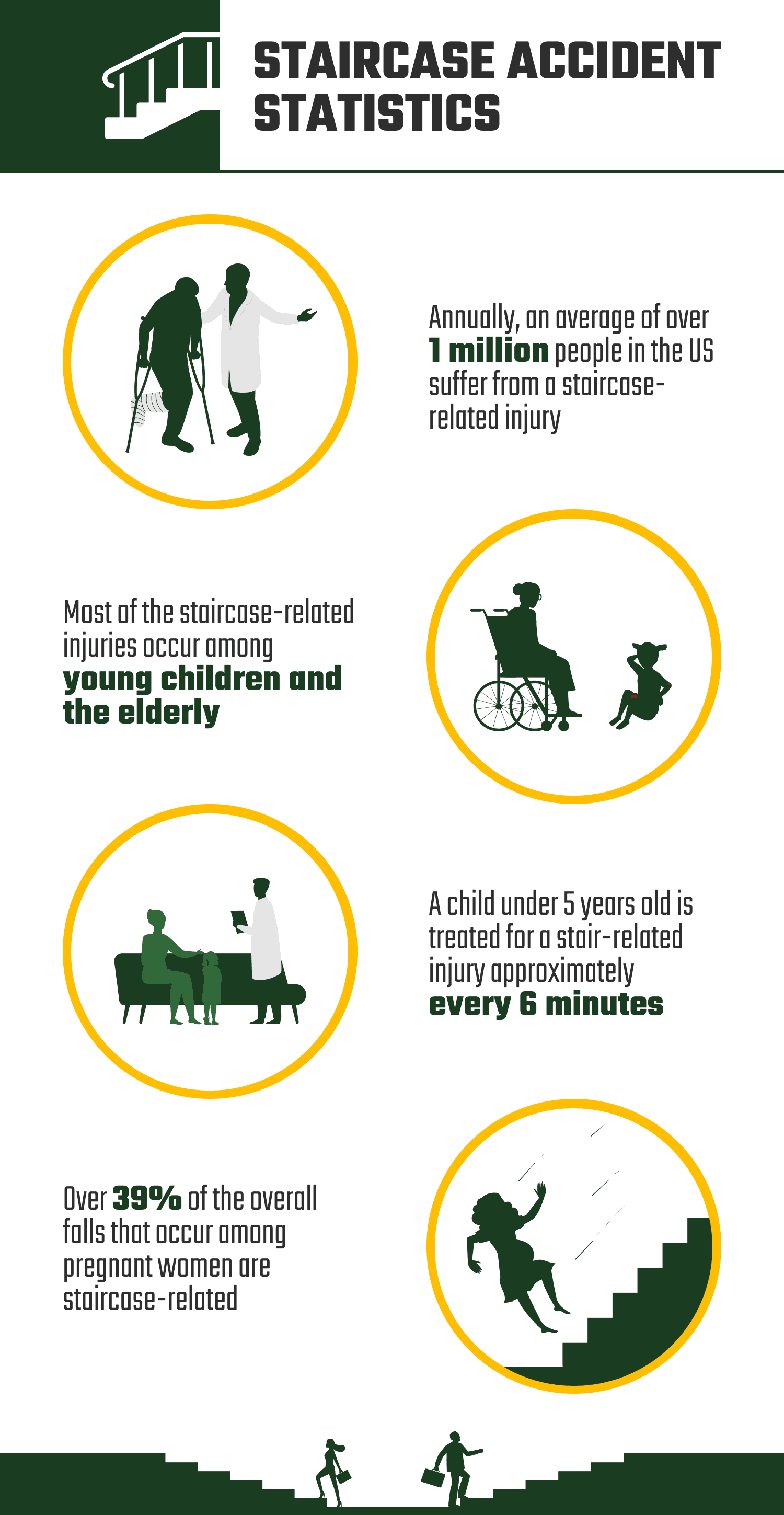 Staircase Accidents Frequency and Demography
(AJEMJOURNAL)
As you can see, staircase accidents are widespread. During the 23-year study conducted by NEISS, there have been over 24,760,843 patients admitted to emergency departments due to staircase-related injuries. Those numbers are surprisingly high compared to other injuries that occur in the United States every year.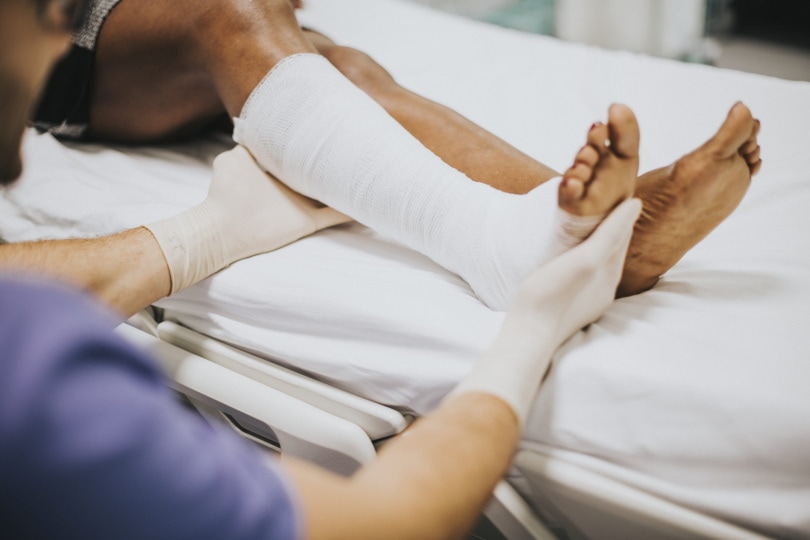 ---
(AJEMJOURNAL)
Annually, around 1,076,558 people in the USA suffer from a staircase-related injury. These injuries may happen due to stairs not adhering to regular staircase guidelines, although there are a lot of general staircase accidents too.
---
3.

Most of the injury rates occur among young children and elderly people.
(RESEARCHGATE)
Typically, staircase injuries occur primarily in young children and older adults. Children are most prone to falls as they are not aware of possible injuries that can happen. Elderly people don't usually have the motor skills they used to and can easily get disoriented.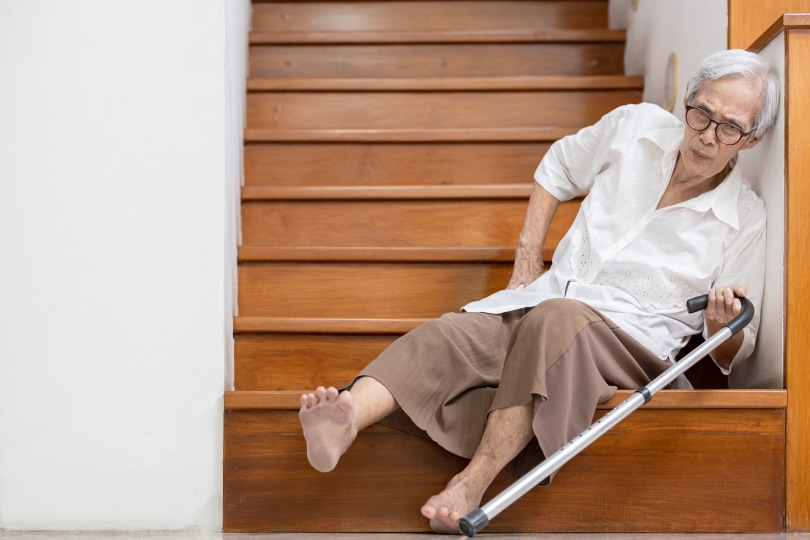 ---
(SEMANTICSCOLAR)
A study showed that between 1990 and 2012, more females suffered from stair-related injuries and had a higher injury rate than males. Men have a higher muscle mass than women and are less prone to potential injuries. Also, female bone structure and overall body shape are generally more fragile than males, which can lead to more injuries.
---
5.

The most common types of injuries caused by staircase accidents were sprains, strains, soft tissue injuries, and fractures.
(RESEARCHGATE)
Among staircase-related injuries, the most common ones were sprains, strains, soft tissue injuries, and fractures. Sprains, strains, and other soft tissue injuries are very painful, but they can heal a lot faster than fractures. Fractures can be very severe, and depending on which body part you fractured, it can take months for it to heal completely.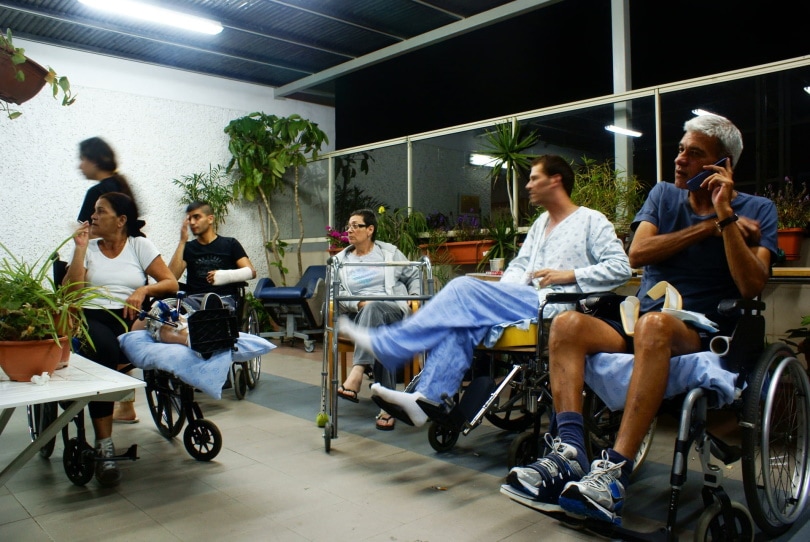 Children Staircase Accidents
(CHILDINJURYPREVENTION)
Children love to play, explore, and just be children. On average, a child under five years old is treated in the emergency department almost every 6 minutes due to falling down the stairs. That's why it's important to pay careful attention to your child if you've got stairs in your home.
---
7.

Head trauma has occurred mostly in children younger than four.
(PUBMED)
Children under four have suffered from head trauma more than older children due to stairs. Toddlers and infants are small, fragile, and still in development, and can thus experience more head trauma than older kids. A child shouldn't be left alone in dangerous areas like staircases.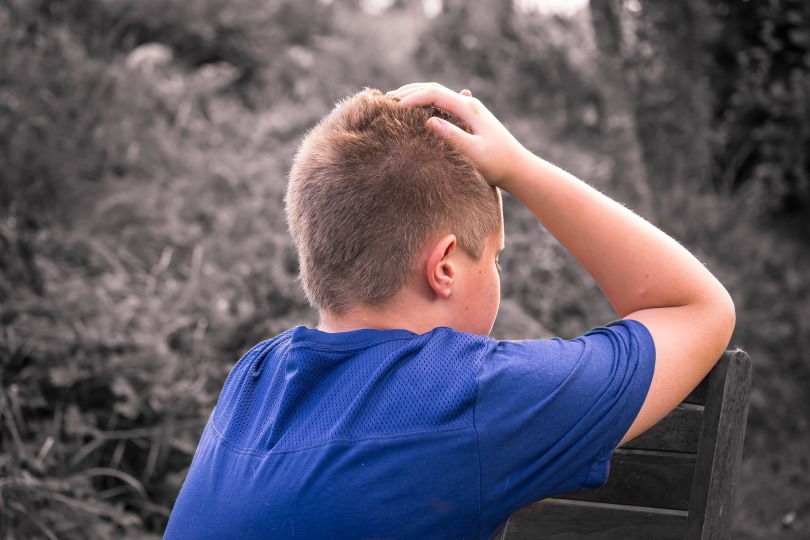 ---
8.

In staircase accidents, infants have sustained more fractures than toddlers
(NCBI)
Injuries can be severe when a staircase accident occurs to a toddler or an infant. Of course, infants are not as developed as toddlers and injuries can be pretty serious or even fatal.

Staircase Accidents – Pregnant Women and Elderly People
(PUBMED)
Over 39% of falls in pregnant women are staircase-related. When you're pregnant, your body's gravity center is constantly changing and shifting, potentially leading to poor balance that causes falls to happen.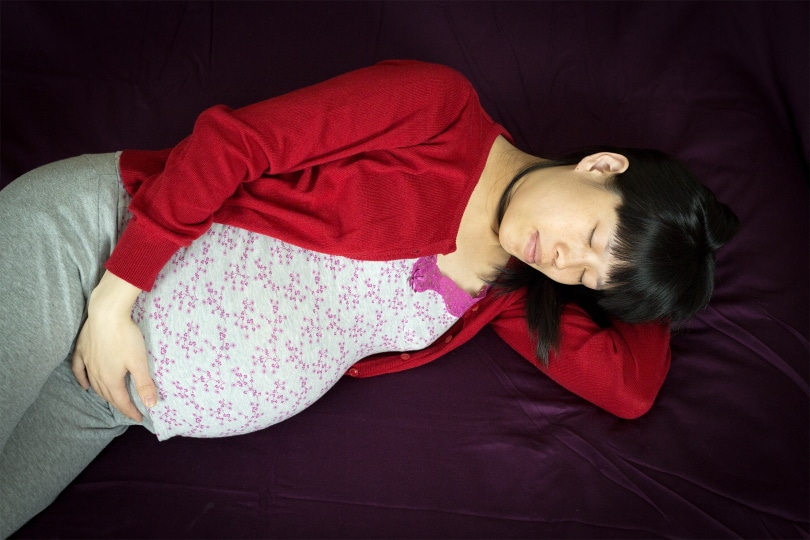 ---
10.

Between 2008 and 2017, there were over 1466 reported cases of pregnant women falling down the stairs.
(PUBMED)
There were over 1466 reported cases of pregnant women falling down the stairs between 2008 and 2017. While most of these falls in pregnant women didn't cause extreme injuries, make sure to visit a doctor to avoid any possible complications if it happens to you or your loved one while pregnant.
---
(HEALTHINAGING)
People over 65 suffer daily from falls, and many of them are staircase-related. Aging brings on many changes like bad hearing, damaged vision, and compromised balance. Elderly people commonly suffer from physical conditions that make the use of stairs very difficult and dangerous.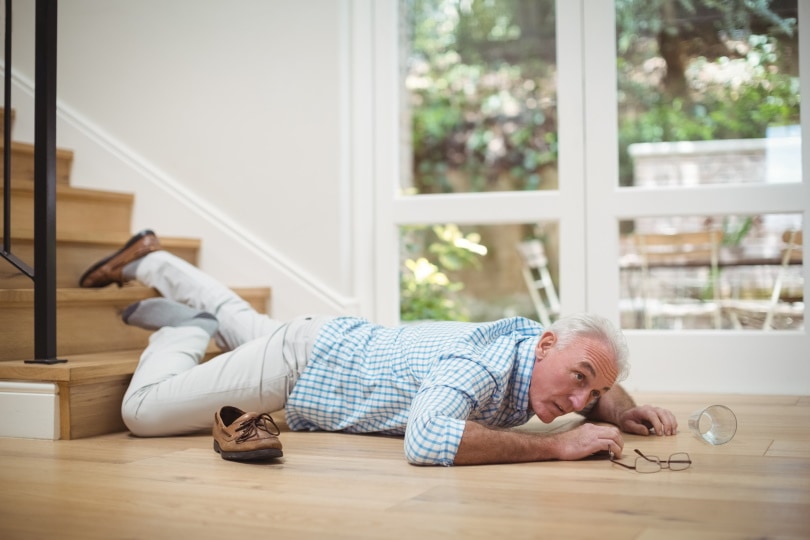 ---
12.

Seniors who suffer from a staircase fall are more likely to have rib and lower extremity fractures than younger patients.
(PUBMED)
Seniors who suffer from a staircase fall will more likely have rib fractures and lower extremity fractures. As we age, our bone structure becomes more delicate and is more prone to injuries than younger people. That's why older patients might easily fracture their ribs, hips, or even legs.

Staircase Accidents Prevention
13.

Staircases need to be built according to strict guidelines, with the stair slope maximum range being from 30 to 50 degrees.
(OSHA)
OSHA has released a safe staircase guide with exact measurements and parameters for safe stairs. A lot of falls happen due to the staircases being made with inappropriate dimensions, so even cautious people can easily get injured. That's why all staircase guidelines must be strictly followed with a stair slope maximum range of 30 to 50 degrees.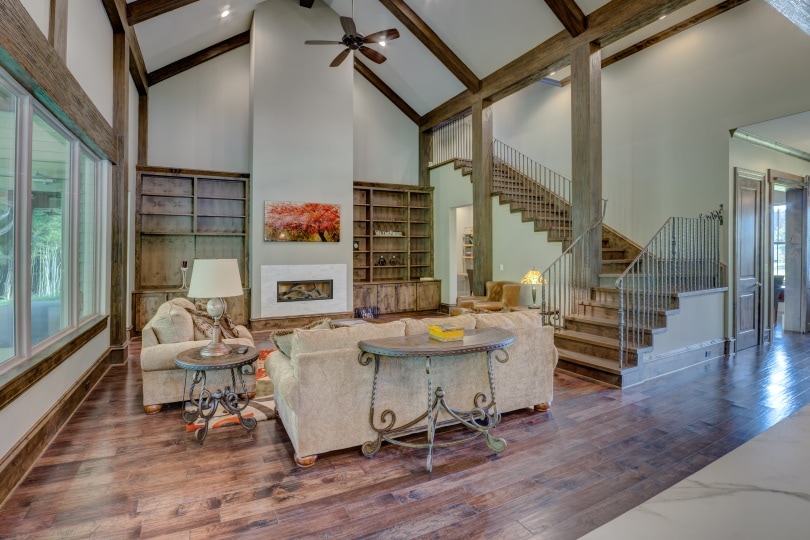 ---
14.

A staircase handrail height should be set above 30 inches.
(OSHA)
OSHA also states that the staircase handrail height should be set above 30 inches. Anything lower than that is not ideal for the average-sized person.
---
15.

Stair landings need to be at least 20 inches deep.
(OSHA)
Another stipulation from OSHA is that stair landings need to be at least 20 inches deep. Stair landings are usually used to change directions in a staircase and are an excellent place for older adults to rest while climbing the stairs.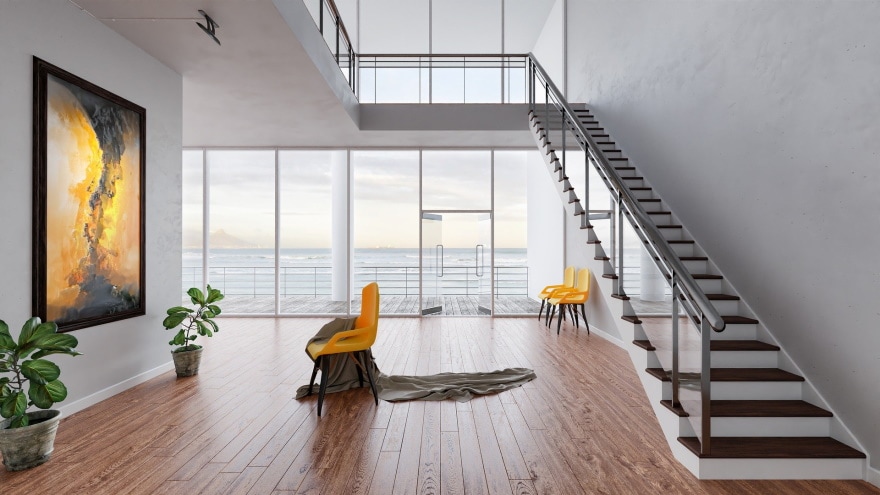 Frequently Asked Questions About Staircase Accidents
What are the risks of stairs?
Staircases are standard in most houses and buildings and most people don't pay a lot of attention to them. They can be extremely dangerous, though, and even lead to severe injuries. Unlike regular falling, your body can tumble down steps causing injuries that can take months to heal, while some might never heal entirely.
What is the most common cause of stair accidents?
There are plenty of reasons why a fall down the stairs happens. There may be an issue with the staircase, including damaged, loose, or incorrectly installed steps, which can lead to falling. Slippery staircases and lack of handrails also commonly cause stair accidents. Other factors include insufficient lighting and not paying enough attention to where you're stepping.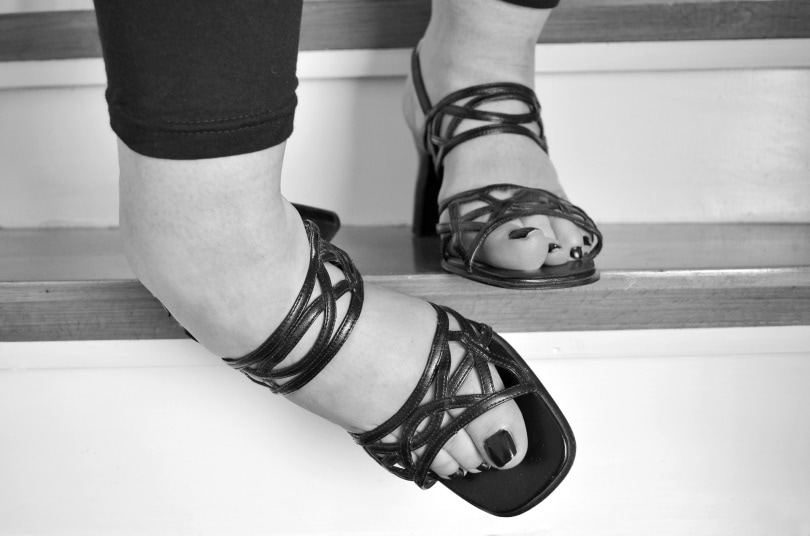 How common are staircase accidents?
Staircase accidents are very common and happen daily worldwide. As mentioned above, there are over 1,076,558 staircase-related injuries in the US annually. They are common in all age groups, genders, and ethnicities. Still, certain groups suffer from this type of injury more than others, like kids and older people, and some studies show that it occurs more to women than men. The damages can be serious, so if you or your loved ones get hurt by falling down the stairs, visit a doctor or emergency room as soon as possible to ensure everything is okay.
How can you prevent staircase accidents?
You can prevent staircase accidents or lower the chances of them happening by doing a couple of simple things. First of all, when going down the stairs, take your time and don't rush. Try to inspect your staircase regularly and fix or replace any damaged areas. Always make sure that your staircase is dried adequately after cleaning to avoid slipping. Also, try and have good lighting near staircases to prevent falls during the night. If you live in a household with children, safety gates are a must to avoid them climbing while they're not under your watch.
What kind of injuries can you get from falling down the stairs?
There are loads of different injuries that can happen from falling down the stairs. Injuries depend on how severe your fall is, and there have even been reported death cases due to falling down the stairs. Typical non-fatal injuries that occur are fractures, sprains, strains, head, and neck injuries, and broken bones. The most severe injuries are internal bleeding, organ damage, and traumatic brain injuries, which can be fatal in some instances.

Conclusion
Staircase accidents are pretty frequent, and although they're usually not serious, they can still be fairly traumatic. Be aware of your surroundings, be cautious, and don't leave your children alone in areas with staircases. As long as you follow all the necessary prevention guidelines, there's much less need to worry about staircase accidents.
---
Featured Image Credit: Andrey_Popov, Shutterstock