Timber Frame vs. Post and Beam: Pros, Cons, & Differences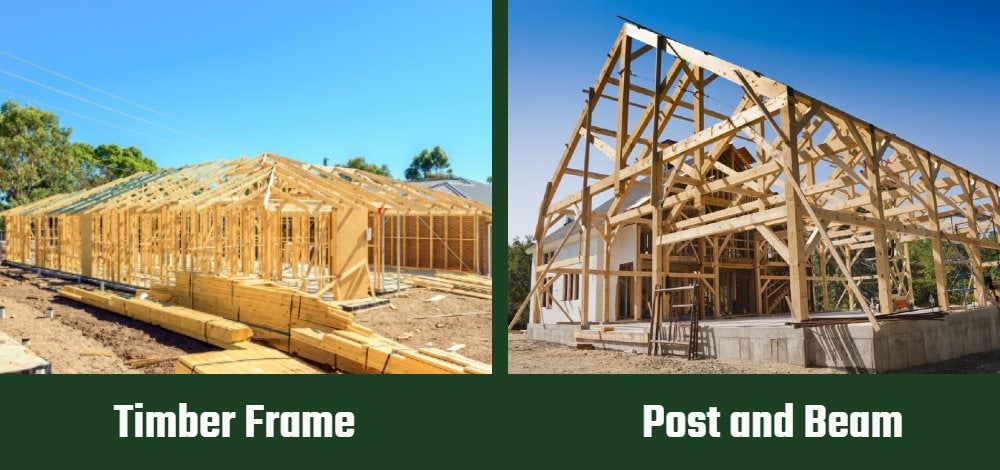 As stick-frame houses continue to fill cookie-cutter communities around the country, it's easier to appreciate the luxuries of a custom home. Skillfully built timber framing allows for grand spaces and open elements exuding unmatched elegance. It's efficient, fashionable, durable, and an all-around joy that carries lasting value.
You can't go wrong with a custom timber build, but you'll still have critical decisions to make in framing your house. Though similar in many ways, timber frame and post and beam styles boast distinct benefits that could affect the home's look, feel, and comfort.
When spending up to 20% more for a higher-quality timber build, these minor nuances become all the more meaningful. We'll help you find the perfect style for your home with this breakdown of the differences between timber frame and post and beam.

Timber Frame Overview
Timber frame construction employs heavy timbers about 5–10 inches thick that make up a self-supporting structure of upright posts and horizontal beams. The style offers several benefits over stick-built homes using dimensional lumber like 2x4s.
Stick frame houses use studs running 16 or 24 inches on center and load-bearing interior walls. These extra supports create unavoidable divisions in the home, limiting room scale and layout. The framing wood is unattractive and stays hidden behind a layer of painted drywall.
By contrast, a timber frame holds itself up with only the outer skeleton. Large posts sit 10–16 feet apart, holding beams, braces, trusses, and other structural connectors. The components almost always lie exposed on the inside of the walls and roof for a look of quality craftsmanship.
The style allows for soaring ceilings and spacious open areas connecting rooms. The lack of interior load-bearing walls creates limitless design possibilities. With heavier wood, timber frames are also more durable and fire-resistant than stick-frame homes, generally lasting at least 2–3 times longer.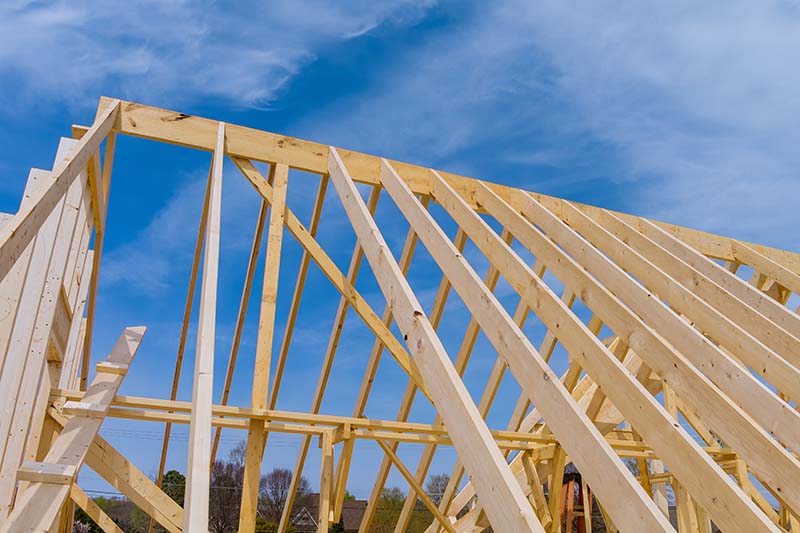 Timber Frame Construction
Timber frame and post and beam structures have the same general build benefits. The primary difference is in the joinery. Components in a timber frame fit together with various interlocking joints; the most common is the mortise and tenon, which is the strongest woodworking joint by consensus. A tenon tongue on the end of one timber fits snugly into the mortise hole on another, locking them together. Once connected, wooden pegs drive through the joint to bind the two pieces.
The wood-on-wood construction with peg fastening allows for a gorgeous rustic aesthetic and superior sturdiness. The fasteners can flex without pressing on or damaging surrounding wood, allowing it to absorb various loads and avoid breaking down the joints. When kept dry, timber frames can last hundreds of years.
The timber frame style has been around since at least 500 B.C. The stick-frame method simplified construction in the mid-1800s and eventually became the most common building approach, but it can't match the longevity of traditional timber frames. Ancient structures such as the Horyuji Temple in Japan have withstood extreme weather and earthquakes for over 1,000 years thanks to the incredible resilience of their hand-crafted joinery.
Today's timber frames are fashioned and assembled off-site. Builders do a dry run for fitting before transporting them. They reassemble the pieces at the site on the ground and raise them into place with cranes or rigs. Although it doesn't allow for as many on-the-fly design changes as a site-built home, the process cuts down on final construction time and transportation.
Timber Frame Costs
Timber frames are expensive and challenging to build compared to other framing methods. The joinery is complex, requiring careful engineering and precise fitting. Trained craftsmen were traditionally needed to hand-carve and complete these builds. More recent Computer Numerical Control (CNC) technology lets builders use automated milling machines to make rapid and accurate cuts for quicker timber frame construction.
Timber frame houses are generally more expensive than stick-frame houses, and the mortise and tenon method is typically pricier than post and beam due to the skill and equipment needed for a quality build. The construction cost with sheathing is roughly $100–$150 per square foot. The final turnkey cost, covering everything from design to construction, can range from $200 to $400.
Aside from the size of the home, multiple variables can affect the cost of a timber frame home, including:
Wood species
Frame and truss complexity
Roofline complexity
Window, door, and stair constructions
Framing finishing
Site features and accessibility
Location
Timber frame houses cost up to 20% more than a stick-built equivalent. But with long-term savings from an energy-efficient build and a lasting quality that can span several generations, the investment is easy to justify. Many homes and buildings also integrate timber and dimensional lumber elements in hybrid designs. By positioning exposed wood in common areas, builders save on costs while gaining the unique beauty and spatial benefits of heavy framing.
Pros
Attractive, sophisticated look
Highly resilient and long-lasting when kept dry
Eco-friendly and energy efficient
Cons
More expensive than post and beam

Post and Beam Overview
Post and beam construction also uses thick, spaced-out timber features for the structural skeleton. Interiors can be open, tall, and flexibly designed, and the exposed beams add a luxury appeal. Exterior sheathing and cladding options are equally versatile. You can enjoy the same aesthetic and energy-efficient qualities that timber frames offer.
Post and beam frames use metal mechanical fasteners to fix pieces together at simpler connections. Half-lap joints are common. Builders may use hidden screws to join pieces for a cleaner look closer to a timber frame. They can also accomplish a more modern, industrial effect by using exterior metal brackets. Exterior or interior fasteners are almost always a decorative decision.
While they offer more straightforward construction, post and beam steel features are susceptible to rusting. Metal and wood also don't have the tight grip of the wood-on-wood fastening style that timber frames provide, and they can potentially loosen over time.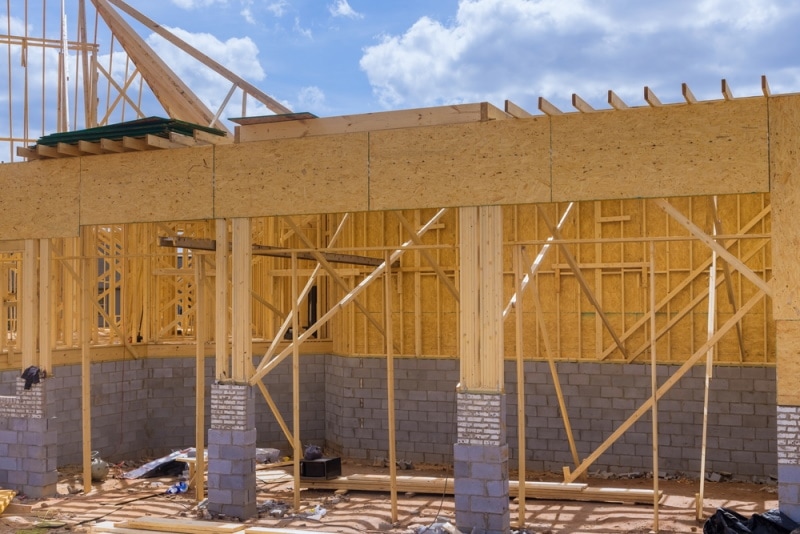 Post and Beam Construction
Post and beam construction often requires added structural elements such as infill frames and shear components that are unnecessary with most timber frames. The finished product still has the same general look as a timber frame, albeit with glaring differences in the fasteners at the joints.
Unlike traditional timber frames, where builders create bents on the ground and raise them into place, post and beam components rise in succession. Depending on the size of the project, it may take cranes, forklifts, or several workers to lift the beams and roof supports.
Post and Beam Frame Costs
The design and construction of post and beam frames are much less complex than timber frames, and the price will generally reflect that. Although it will often be more expensive than a stick-built structure, a post and beam build usually costs 10–15% less than a wood-joined frame. Various factors such as size and layout, materials, and location will play a substantial role in the final price.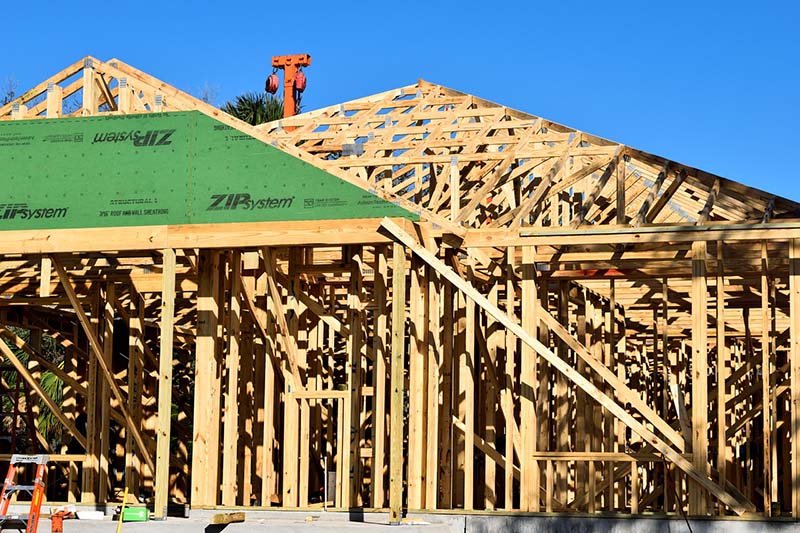 Pros
Design and construction are less complex than timber frame
Typically cheaper than timber frame
Decorative plating adds a modern style
Offers excellent fire resistance
Cons
Not as authentic as timber frame joinery
Metal and wood joints can loosen over time
Steel fasteners may develop rust
Types of Wood Used in Timber Frames
The thick wood components in timber frame and post and beam builds have several environmental and energy-saving benefits over traditional stick frame houses. The massive beams produce much less waste during milling than dimensional lumber, and the completed structure incorporates up to 30% less wood than a stick frame. Thick lumber provides enhanced thermal resistance in the frame. With more room for wide open walls, you can add large windows to let in the light and save on heating.
Aesthetics play heavily into the choice of wood. Along with decay and thermal resistance, the timber's grain pattern, color, and size could be crucial for the design. While spruce, pine, and fir are economical routes for a stick-built home, timber frame options are much more diverse.
Common types of wood for timber frames include:
Douglas fir
Hemlock
Oak
Eastern white pine
Red cedar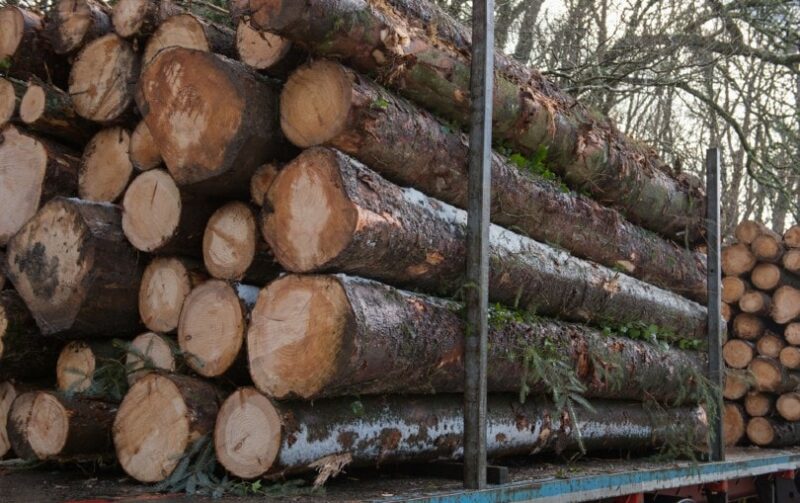 Reclaimed lumber is a popular cost-cutting, eco-friendly option. Old timbers are already dried out and stable, making them perfect for immediate use. Repurposed wood may need remilling and refinishing, and hidden metal pieces like old nails can be problematic during construction.
Many post and beam structures also incorporate glulams, which are engineered timbers consisting of glued laminated pieces of wood. Though often pricier than other wood varieties, glulams offer exceptional mechanical strength and fire and rot resistance. They bend easily for more organic shapes without losing strength and provide an aesthetic appeal matching many solid wood options.
Timber Frame Sheathing
Conventional stick frame builds typically consist of external sheathing wrapping the home, insulation between the frame, and drywall covering the interior. In most modern timber frames, all of the insulation and interior and exterior paneling consist of a single component, a structural insulated panel (SIP).
A SIP is a piece of EPS or XPS foam sandwiched between two sheets of plywood or OSB. Thicknesses vary from 2 to 12 inches, while dimensions range from 4×8 to 8×24. Panels form the walls and roof to seal the building envelope. Cladding completes the exterior look, and the timber frame remains exposed on the inside of the walls.
SIPs revolutionized timber frame construction due to their advantages in strength and efficiency, installation speed, and reduced labor demands. They can be load-bearing, and a single piece simultaneously provides shear strength, structural rigidity, sound-proofing, and thermal resistance that is up to 60% more efficient than standard stick frame insulation.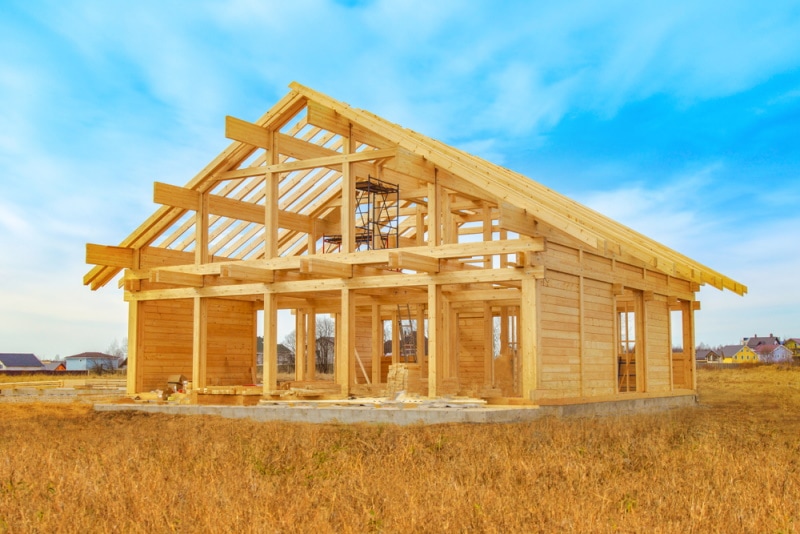 Conclusion
The choice between a timber frame and a post and beam design can center on aesthetics or cost-effectiveness. You might want to pay a little extra for the remarkable resilience and authenticity of a timber frame. Or, you can cut costs and labor with the bold look of metal post and beam joinery. No matter your preference, a timber build offers a substantial upgrade in comfort, looks, and performance that will be sure to delight several generations of owners.
See Also: 2×4 vs. 2×6 Framing: Which Is Better?
---
Featured Image Credit: (L) myphotobank.com.au, Shutterstock | (R) Christian Delbert, Shutterstock