6 Essential Toilet Cleaning Supplies (Updated in 2023)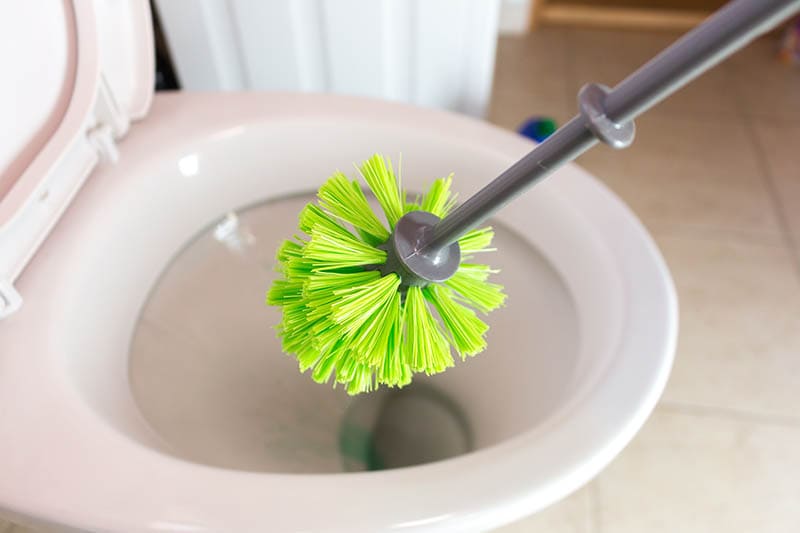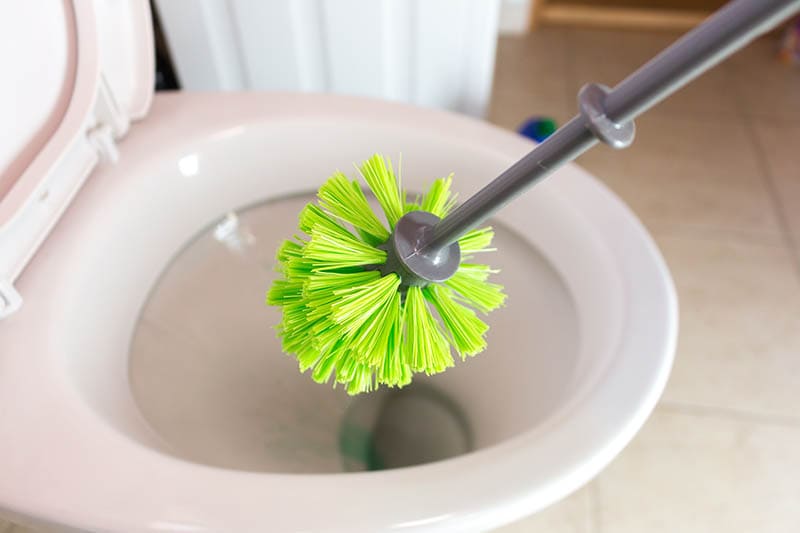 Cleaning the toilet is everyone's least favorite chore, and low-quality cleaning supplies make the job that much harder. To make the job easier, it's well worth investing in some basic cleaning supplies. Work smarter, not harder.
In this article, we've compiled and reviewed the best toilet cleaning supplies you can order today. Let's check out where to buy them and why you might want them in your bathroom.

The 6 Toilet Cleaning Supplies
1.

Clorox ToiletWand Disposable Toilet Cleaning System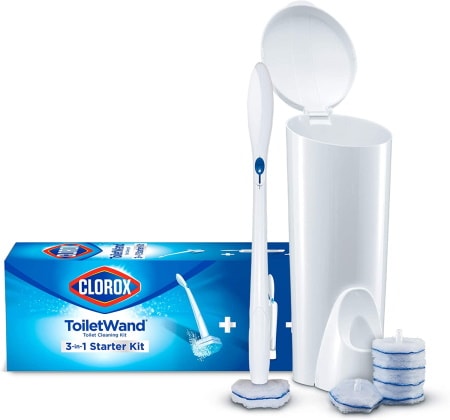 | | |
| --- | --- |
| Type: | Cleaning wand |
| Effective ingredients: | Glycolic acid |
Our favorite toilet cleaning kit is this disposable ToiletWand system from Clorox, which includes everything you need to get started cleaning your toilet. The ToiletWand comes with 16 refills, which are hexagonal cleaning pads pre-loaded with Clorox toilet bowl cleaner. Lastly, the compact plastic storage caddy easily holds the wand and all your refills.
When you're done cleaning the toilet, you can easily eject the pad directly into the trash with the touch of a button. There's no eye-burning bleach involved, but it still manages to kill 99.9% of bacteria and scrub away most common toilet stains. Rust, hard water circles, calcium, and lime buildup are all fair game for this heavy-duty cleaning kit.
---
2.

Lysol Toilet Bowl Cleaner Gel
| | |
| --- | --- |
| Type: | Gel cleaner |
| Effective ingredients: | Ammonium chloride |
If you're tired of weak toilet cleaners, look no further. This gel cleaning formula from Lysol cuts right through hard water, lime, rust, and other common stains without scrubbing. Of course, some tough stains might still take a bit of elbow grease.
The bottle's nozzle is angled so you can easily apply it under the rim, where it spreads and coats the whole bowl. The cleaner kills 99.9% of germs and leaves behind a pleasant fresh scent, but nothing too overpowering. If you want to minimize toilet scrubbing but still disinfect your toilet, this is the product for you.
---
3.

Vacplus Automatic Toilet Bowl Cleaner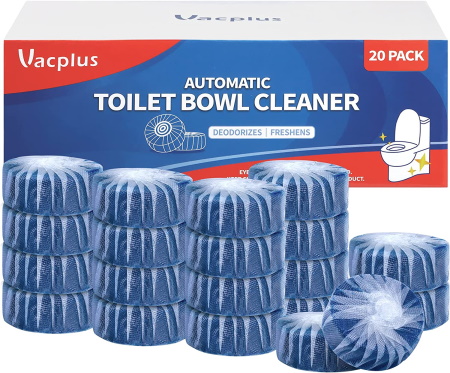 | | |
| --- | --- |
| Type: | Tablet cleaner |
| Effective ingredients: | Bleach |
Tablet toilet bowl cleaners are the best way to passively clean your toilet and prevent stains from appearing in the future. A single tablet of Vacplus lasts up to 15 days or 20 days in your toilet tank, and it's septic-safe to boot. The tablet slowly releases cleaner into the bowl with each flush but can't replace a traditional cleaner and scrub brush for established stains.
If you want to get ahead of toilet bowl gunk before it has time to form, Vacplus is perfect for you. If you need something to clean a heavily soiled toilet, though, look elsewhere. Better yet, use Vacplus as a preventative measure and keep a conventional cleaner for particularly pernicious stains.
---
4.

Scrubbing Bubbles Fresh Brush Starter Kit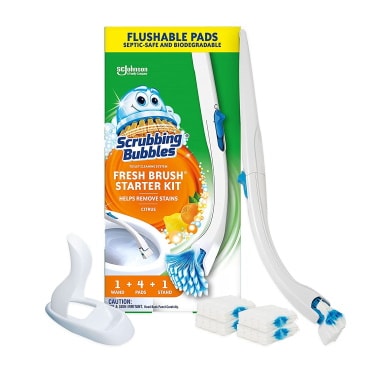 | | |
| --- | --- |
| Type: | Toilet cleaning kit |
| Effective ingredients: | Lactic acid |
If you need a deeper clean, Scrubbing Bubbles put together a kit with everything you need to clean tough hard water, rust, and calcium buildup. It's also the only kit with flushable pads, which are loaded with a heavy-duty lactic acid-based cleaning solution.
After you're finished cleaning the bowl, just eject the pad right into the toilet and flush. A useful stand is also included so you can easily store and retrieve the wand when the need arises.
---
5.

Lemi Shine Toilet Bowl Cleaner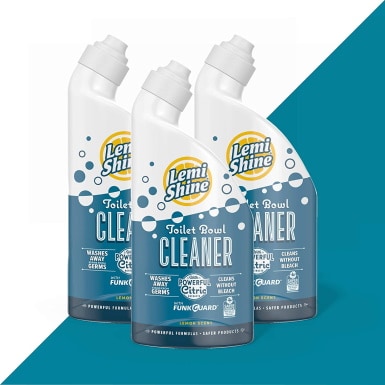 | | |
| --- | --- |
| Type: | Liquid toilet bowl cleaner |
| Effective ingredients: | Citric acid |
If you have hard water, you know exactly how hard it is on your toilet—no pun intended. This natural cleaning solution from Lemi uses aromatic citric acid to eat away limescale, grime, and hard water stains. The cleverly angled nozzle lets you apply it right under the toilet rim, too, where it washes over the whole bowl and gets to work cleaning.
Best of all, the formula is biodegradable and EPA-certified, which means no harsh chemicals washing into the groundwater. The biggest caveat is that this product does not disinfect, so you'll need another cleaner to accomplish that.
---
6.

Clorox Toilet Bowl Cleaner with Bleach
| | |
| --- | --- |
| Type: | Liquid toilet bowl cleaner |
| Effective ingredients: | Bleach |
If you don't need a whole cleaning kit but have a tough time finding cleaners strong enough to combat heavy stains, Clorox never fails. As you'd expect, the formula is largely bleach, but deodorizing agents help mask it.
To use, you simply point the angled nozzle up into the toilet bowl rim and squirt a generous amount. The cleaner will coat the bowl and start breaking down grime and stains immediately, but Clorox recommends waiting exactly 6 minutes. After, you can break out the scrub brush and wipe away the debris.

Conclusion
If you're spending too much time cleaning your toilet bowl, it might be time to upgrade your cleaning arsenal. Clorox offers both a heavy-duty liquid cleaner and a cleaning kit, but every cleaner listed above has its merits. For instance, Vacplus is a great preventative toilet bowl cleaner. Mix and match as necessary but be careful to watch out for dangerous chemical reactions!
---
Featured Image Credit: wasilisa, Shutterstock