TOTO Aquia One Piece Toilet Review 2023 – Pros, Cons, & Verdict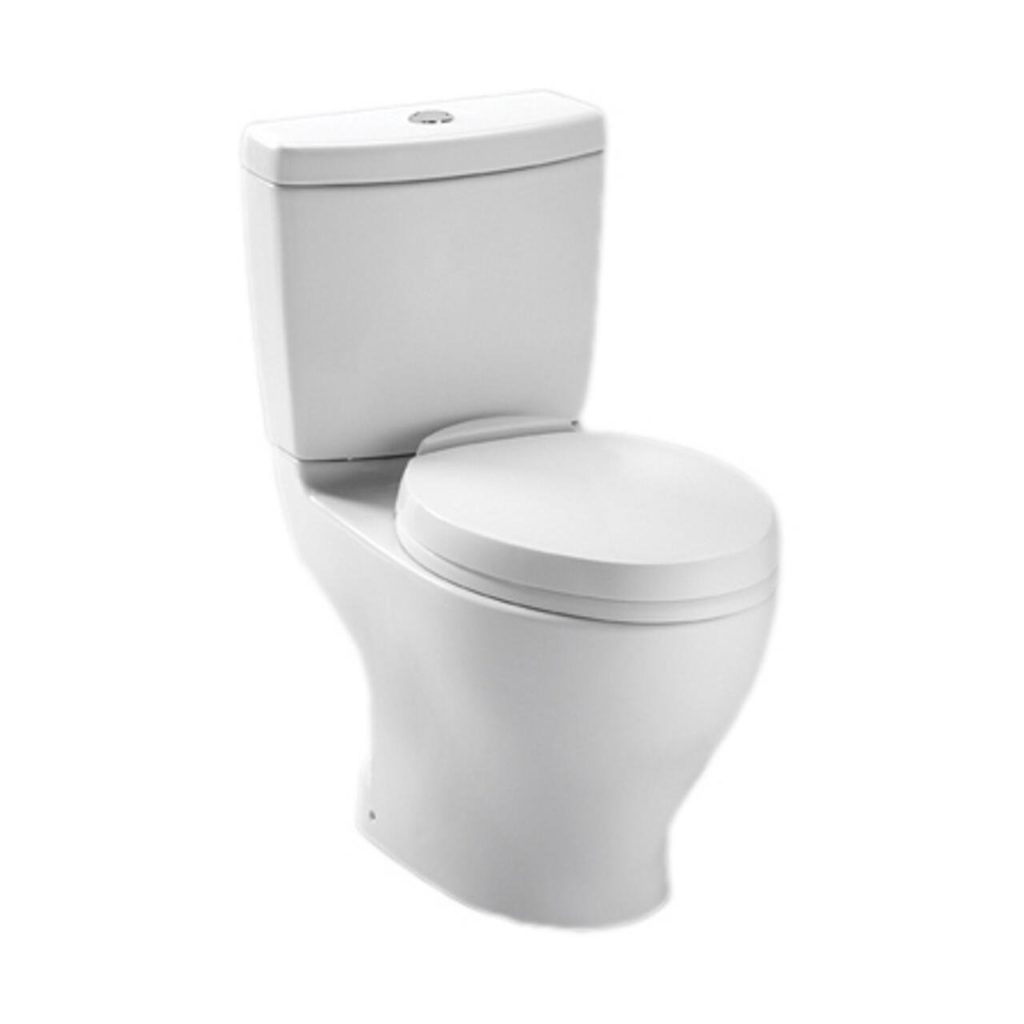 We give the TOTO Aquia One Piece Toilet a rating of 3.9 out of 5 stars. 
Appearance: 4.5/5
Cleanliness: 3.5/5
Features: 4.5/5
Price: 3/5
Toto is known for designing and producing high-end, elegant bathroom fixtures that look, feel, and operate luxuriously. The Aquia line of toilets embodies this completely, with clean aesthetics that can enhance any bathroom. If you're budget shopping or trying to save money, you'll want to look elsewhere as these aren't cheap toilets. But if you want a toilet that feels like a throne and sets off the look of your bathroom, then the Aquia is worth considering.
There's plenty to like about this toilet, even beyond its visually pleasing appearance. The skirted traps aren't just attractive, they're also functional, providing fewer areas for dirt and bacteria to get trapped.
This toilet features a dual-flush mechanism that's incredibly economical, using as little as 0.8 gallons of water with each flush. The Dynamax Tornado flush makes the best use of this water possible, though sometimes waste does stick to the sides of the bowl and becomes quite difficult to remove.
You can purchase the Aquia with a washlet bidet seat. Alternatively, you can get it with a soft-close seat, though most models don't include any seat. Additionally, installation hardware and a wax ring will need to be purchased separately.
---
Toto Aquia – A Quick Look
Specifications
Brand Name: Toto
Model: Aquia
Length: 28"
Width: 16"
Height: 30"
Weight: 119 lbs
Material: Ceramic
Dual Flush: Yes
Water Usage: 1.28 or 0.8 GPF
Warranty: 1 year limited
Pros
Economical flush
Elegant looks
Dual flush
Skirted trap-ways
Dynamax Tornado Flush
Available with a washlet bidet seat
Cons
More expensive than other toilets
Waste sticks to the bowl
Doesn't include hardware or wax ring
Luxurious Looks
The first thing you're likely to notice when looking at the Toto Aquia is its luxurious appearance. It's a very cleanly designed two-piece toilet that looks like a one-piece. The traps are skirted, giving it very beautiful aesthetics compared to traditional toilets with visible trap-ways.
This clean aesthetic will be right at home in any bathroom, particularly expensive, high-end bathrooms with other premium fixtures. The exterior features a ceramic glaze that gives it a glossy appearance.
Keeping it Clean
That ceramic glaze serves another function too though; preventing dirt and bacteria from sticking. This makes it very easy to clean the outside of this toilet since none of the nastiness will adhere to the surface.
The skirted trap-ways help even more by reducing the number of places that dirt and grime can get trapped. Since the sides are smooth, there's nowhere for urine, bacteria, dirt, and other mess to accumulate.
However, it's a different story when it comes to the bowl. Although the Dynamax Tornado flush does seem to reach the entire bowl, the low amount of water used with each flush means that sometimes solid waste sticks to the bowl. You'll likely be scrubbing the bowl of the Aquia more often than you would with other models.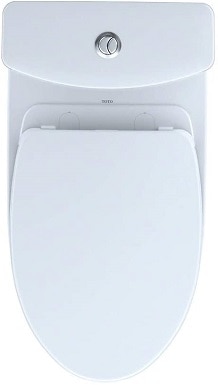 Conserving Water
But the tradeoff is that this toilet uses very little water with each flush. As mentioned, this can result in a messier bowl, but it's also got some advantages. You'll probably notice a reduction in your water bill when switching to this toilet.
The Aquia features a dual-flush mechanism, and both flushes are very economical. There is some variance between Aquia models though. Some of these toilets feature flushes of 0.8 and 1.28 gallons per flush. Other models use 0.8 and 1.0 gallons per flush. However, we find that these models have an even harder time getting all of the waste off the sides of the bowl.
Weak Warranty Period
The Toto Aquia is not a cheap toilet. If you're looking for something that's priced affordably, you'll probably want to skip the entire Toto lineup. But for such a pricey toilet, the included warranty is quite weak. You only get a one-year warranty period with this toilet. That's for the internals and the china. We're sure that these toilets generally last much longer without issue, but a longer warranty period would certainly help to provide some peace of mind on such an expensive toilet.
Adaptable Rough-In
This toilet comes ready to fit a 12-inch rough-in. However, there are adapters you can order that will convert the toilet to fit either a 10-inch rough-in or a 14-inch. You don't need to order a different toilet to fit these different needs, you only need the applicable adapter.
---
FAQ
Is the Aquia ADA Compliant?
No, the Toto Aquia is not ADA compliant. This toilet features a push-button flush mechanism on top of the tank that's not ADA accessible. However, this model is available at a height that meets ADA guidelines. There are also many other Toto toilets that are ADA compliant.
Is the seat included with the toilet?
Several Toto Aquia models are available with a washlet bidet seat. You can also get the Aquia with a soft-close seat that won't slam. However, most Aquia models do not include a seat.
Is there a model with a taller seat height for those who have trouble getting up and down?
The Toto Aquia is available in two Heights; universal and standard. Universal height is 16-1/8" from the floor to the rim, while the standard is approximately 15 inches. For individuals with trouble getting on and off the toilet, the universal size is taller and will be about 17 inches once you add a seat.
Is all the mounting hardware included with the toilet?
Unfortunately, you'll need to purchase mounting hardware separately. The Toto Aquia does not include mounting hardware or the wax ring.
What the Users Say
We do our best to bring you a thorough breakdown of every product when reviewing it. But we're not the only users of the Toto Aquia, and it's possible that other users have different experiences. So, to provide you with the complete picture, we've scoured the internet to find what other users of the Toto Aquia thought about it.
There were quite a few users who had chosen the Aquia because of the adaptable rough-in. Many found this to be incredibly useful since they could fit this toilet into just about any opening, rather than purchasing the toilet to fit a specific rough-in size.
The most common praise for this toilet is its flush. Many were thankful that the flush is so economical, citing reductions in their water bill, and therefore, their overall environmental impact as well. Users were also pleased that this toilet flushes and fills very quietly and quickly.
However, not everyone was thrilled with the low-water flush. Many users seemed frustrated at the mess that was often left behind on the sides of the bowl, saying they had to clean this toilet more often than what they're used to.
Overall, users seemed pleased with the Aquia, though it seems that most picked it specifically for its attractive looks.
---
Conclusion
The Toto Aquia is a luxurious looking toilet that will compliment just about any bathroom. It's a bit pricey, but also has some great features like skirted trap-ways and an extremely economical dual flush that uses very little water. Expect to clean the bowl more often than other toilets though, as that small amount of water has a hard time evacuating all the waste. Still, the toilet is easy to keep clean overall and offers clean aesthetics that will attract many, despite the high price.