Toto Vespin II Review: Pros, Cons, & Verdict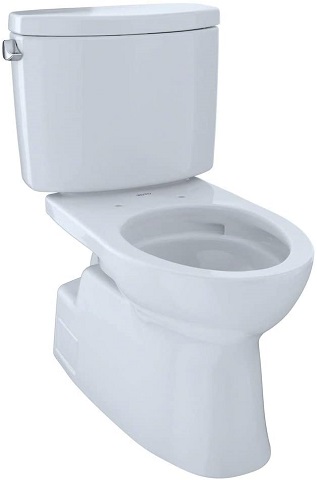 We give the Toto Vespin II Toilet a rating of 3.5 out of 5 stars. 
Appearance: 3/5
Cleanliness: 4/5
Features: 4/5
Price: 3/5
Toto is one of the most well-known names in bathroom fixtures. While they produce things like bathtubs, sinks, and more, one of their biggest sellers is toilets. There are many great toilets in the Toto lineup, including the Vespin II; a two-piece toilet with skirted traps and a powerful, yet economical flush.
Overall, we like this toilet and think it performs well. However, it's pretty pricey and there are plenty of other excellent options that offer great performance at a lower price. That said, the Vespin II offers some worthwhile features like the CEFIONTECT finish that prevents waste and bacteria from adhering.
This is a hygienic, if not terribly attractive, toilet. The skirted trap-ways improve its cleanliness and reduce your cleanup while the tornado flush helps prevent messes in the bowl.
Let's take a look at some of the best features and drawbacks of the Toto Vespin II. Along the way, we'll even see what other users had to say about this popular toilet.
---
Toto Vespin II – A Quick Look
Specifications
Brand Name: Toto
Model: Vespin II
Water usage: 1.0 GPF or 1.28 GPF
Rough-In: 10", 12", or 14"
Design: Two-piece
Trap-ways: Skirted
Seat Height: Universal
Finish: CEFIONTECT
Pros
Conservative water usage
CEFIONTECT prevents waste from sticking
Tornado flush system
Comfortable universal-height seat
Cons
No dual flush option
It's pretty pricey
Two-piece only
Tornado Flush Technology
Today, most toilets offer a very economical flush that doesn't use much water, including the Toto Vespin II. This toilet is available with either a one-gallon flush or a 1.28 gallon flush, depending on which version you opt for. So far, that's par for the course.
Where the Vespin II sets itself apart is the tornado flush technology that's implemented into it. The tornado flush employs two nozzles, one on each die of the bowl, that create a high-pressure tornado of water, clearing the sides of the bowl and evacuating your waste.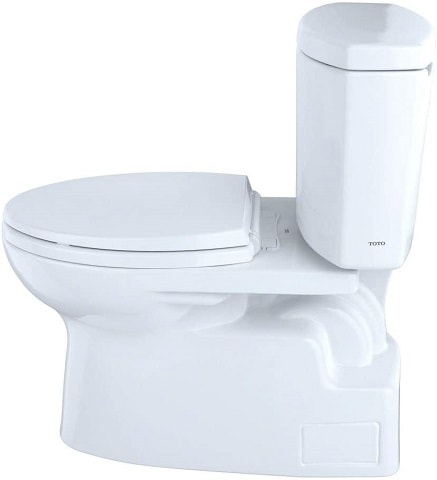 Compared to other toilets that use a similar volume of water per flush, the Vespin II does a great job of truly removing your waste. Particularly large loads might still have a hard time making it down the drain and may require a second flush. But most of the time, the powerful tornado flush is more than adequate to clear the bowl and prevent skid marks.
Skirted Traps and CEFIONTECT
Let's talk hygiene. On most toilets, the trap-ways offer tons of nooks, crannies, and ledges where bacteria, urine, mess, and odor can accumulate, making the toilet a messy and nasty item. But the Vespin II has skirted traps, so there are very few places for the mess to buildup.
Granted, the way these skirted traps are designed, there are still a few crannies for bacteria to crawl into, but they're out of the way, which reduces the likelihood of urine and other mess-making it there in the first place.
Additionally, this toilet features a CEFIONTECT coating. This special coating has a high-gloss finish that prevents waste and bacteria from sticking to the bowl or the exterior of the toilet. This means you'll have far less mess to clean; both inside and outside of the toilet.
No Dual Flush Option
We like that the Vespin II provides such an economical flush, but we prefer the dual-flush toilets that allow you to be even more conservative with your water usage while still having the power you need to evacuate larger messes. Especially considering the price of the Vespin II, which is higher than many other options on the market, we would expect to at least see a dual-flush mechanism available as an option.
Installation Requires Extra Holes in the Floor
Due to the difficulty of installing the Vespin II, it might be pertinent to hire a professional. This toilet requires a special mounting bracket to be installed on the floor, which means two holes will need to be drilled into the floor. This isn't particularly complicated, but if you're worried about drilling into your floor, it might be a good idea to let someone more qualified take on the job.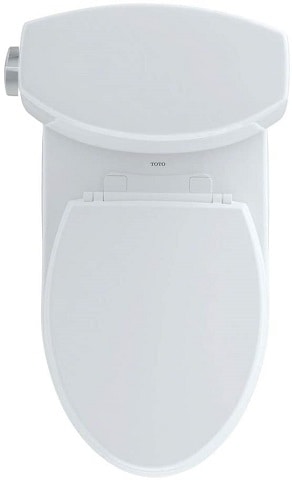 ---
FAQ
Is the Vespin II ADA compliant? How about WaterSense?
Yes, the Vespin II is 100% ADA compliant. This model is also WaterSense, CALGreen, and CEC compliant as well.
Is there enough water in the bowl to prevent skid marks on the sides?
In most situations, there is plenty of water in the bowl to hold a standard load without waste sticking to the sides of the bowls. But when the mess is extreme, it can definitely leave some residue on the sides of the bowl.
Is the flush powerful enough to evacuate solid waste in a single flush?
Most of the time, the flush is powerful enough to evacuate all solid waste, thanks to the tornado flushing system. However, there are sometimes when a second flush might be necessary.
Do you need a special component to install on a 12-inch rough-in?
Yes. The Vespin II is set up from the factory for a 12-inch rough-in. You can purchase the piece you need to make it work with a 10-inch or 14-inch rough-in from Toto.
What the Users Say
We're confident in our opinions of the Vespin II, but we're not the only people who have used this toilet. Since thousands of people have used this toilet, there are plenty of opinions out there, and we want to make sure that we're providing you with the whole picture. To that end, we scoured the internet searching through reviews and comments about this toilet to bring you the opinions of other real-world users.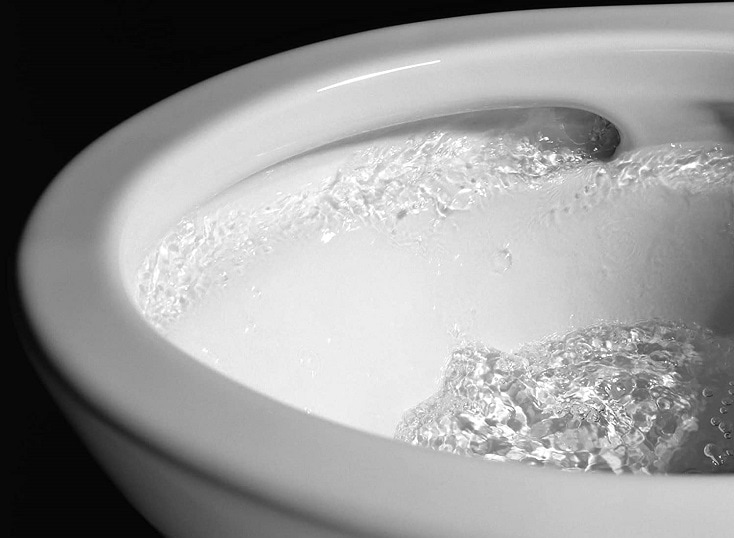 Many users were very pleased with the low water usage of this toilet. For people concerned about the environment and their footprint, this toilet seems to be a good choice. Moreover, many were happy about the powerful tornado flush, which was receiving many compliments on how well it uses the small volume of water that each flush gets.
But there were also quite a few people who had issues with leaks. Some users seemed to have leaks from the time they installed the toilet, while others had leaks beginning at different times within the first year of use. Considering the price they paid for this toilet, these users were far from pleased.
Another common complaint regarded the installation. First, many were displeased at the requirement of adding a floor mount that requires additional holes to be drilled in the floor. Many reviewers were also upset at the lack of hardware, wax ring, and a seat, though some users reported receiving these items, depending on where the toilet was purchased.
Across the board, most users seemed happy with the skirted trap-ways and how much easier they made it to keep the toilet clean and hygienic. Along similar lines, most users of this toilet were very pleased with the function of the CEFIONTECT coating, commenting that it did an excellent job of preventing most waste from sticking to the sides of the bowl, while also making it easier to keep the exterior of the toilet clean.
---
Conclusion
The Toto Vespin II is a popular toilet with some great features. We loved the CEFIONTECT finish and tornado flush that work together to prevent a messy toilet. Furthermore, the skirted trap-ways add to the cleanliness of this device. It's a bit expensive and you'll need to install a special floor mount bracket for it, but it's a solid toilet with a strong flush that doesn't waste water and won't have you spending all your time cleaning.