Review Summary
Editor Rating: 4.6/5
Build Quality: 4.6/5
Power: 4.7/5
Features: 4.7/5
Price: 4.6/5
The Toto Drake is a two-piece toilet with a traditional design and attractive lines. It also has some good features, such as the dual flush system and the more powerful 1.6 gallons per flush (GPF), but it is lacking in some areas. It doesn't, for example, include a seat.
The G-Max flushing system is powerful and clears most waste out easily, especially thanks to its wider valve.
The Toto Drake is more expensive than a lot of similar models, but it is a well-respected brand and the Toto Drake toilet range keeps improving. In the most recent iteration of the Drake, you get vitreous China that is easy to clean and long-lasting. With proper care, your Drake will last for several years.
The 1.6 GPF dual-flush means that this model of toilet is suitable for those that believe the 1.28 GPF flush is too weak, and for those that want the added water efficiency that a dual flush has to offer.
There are several variants of the Toto Drake, including standard-height and comfort-height toilets. Comfort-height seats are ADA compliant and are 16.5 inches from the floor to the top of the seat. This makes it easier to sit and stand, and it reduces the pressure placed on the joints.
---
Toto Drake – A Quick Look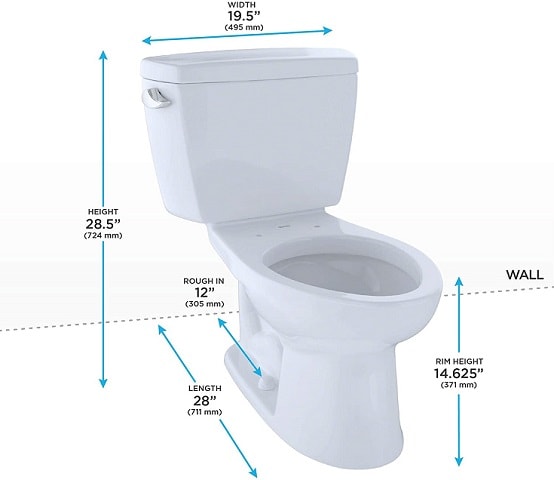 Specifications
Brand Name: Toto
Model: Drake
Toilet Style: Two-piece
Height: 28.5"
Depth: 28"
Bowl Style: Elongated
Flush Type: Dual gravity
Flush Power: 1.6 GPF
Seat Included: No
Flush Mechanism: Lever
Flush Side: Left
WaterSense: No
Pros
Dual flush
6 GPF flush system
Quiet flush system
Elongated bowl
Cons
Seat not included
Ridge can look like staining
Powerful Dual Flush System
The Drake uses Toto's G-Max Flush Technology. This has a 125% wider valve than a standard system. The siphon jet, combined with the increased valve, means more flush power. The water is siphoned into the bowl sooner and in greater quantity, which means that it flushes the toilet with greater force. It has a greater chance of removing solids from the bowl.
The trap way, which is fully glazed and computer designed, operates quietly despite its power. While a lot of modern flushes use 1.28 GPF, the Drake flush is a more powerful 1.6 GPF unit. While the 1.28 GPF system is considered more energy-efficient, the dual flush nature of this toilet makes up for the fact that it has a more powerful full flush that will do a better job of getting rid of difficult stains and mess.
CeFIONtect Ceramic Glaze
CeFIONtect Ceramic is a very smooth surface, which means that waste is more likely to run straight down and off the bowl. Flushing creates an effective barrier that not only washes waste away but keeps the toilet cleaner for longer and will require the use of less chemical cleaning agents. This ceramic glaze also has fewer microscopic gaps, which can hide waste and make the inside of the toilet more difficult to clean.
Concealed Design
Toilets obviously serve an important function. They are an essential component in the modern bathroom and in the home, but they also need to look good. An ugly or dirty toilet is very uninviting. The Toto Drake is a two-piece toilet. These are cheaper than one-piece units, although they can be harder to clean and they tend to have a more traditional look. Although the Drake is a two-piece unit, it has a concealed design. There are fewer hidden surfaces that need cleaning, and this also means that the toilet has a sleek and modern finish. It will not look out of place in a modern or traditionally-designed bathroom.

Seat Not Included
Although the Toto Drake is an affordable, high-quality toilet, one of the main gripes with this model is that it does not include a toilet seat. Although a lot of toilets do include seats and lids, some manufacturers choose not to sell them with the toilet itself. Manufacturers tell consumers that this is so that they can opt for comfort seats, bidet seats, heated seats, and other luxury seats. But, it can be misleading when the documentation and advertisements show a toilet with a seat.
The Range
There are a number of specific models that make up the Toto Drake range, including 1.6 GPF and 1.28 GPF models. Most of the models are a standard 14.5-inch height, but you can also find ADA compliant comfort-height seating. These are 16.5 inches from the floor to the top of the seat. They are more comfortable and place less pressure on the knees and other joints when sitting down and standing up. Other differences include 10- or 12-inch rough-in lengths, round or elongated bowl shape, and 1.6 as well as 1.28 GPF flushes.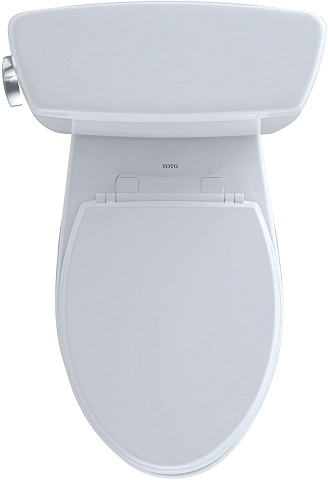 ---
FAQ
Does the Toto Drake come with a toilet seat?
The Toto Drake is one of a large number of toilets that do not come with an included toilet seat. This allegedly enables you to choose your own seat, including heated and bidet style, seats, but it means that you need to choose a seat carefully to ensure that it sits correctly on the top of the bowl.
Is it WaterSense rated?
The 1.6 GPF Toto Drake is not WaterSense rated. Toilet flushes must have a 1.28 GPF or lower flush to be certified with the WaterSense mark, of which there are a few in this line.
Is the Toto Drake ADA certified?
Most of the models of Drake toilet are standard toilet height, which means that the top of the seat is 14.5 inches off the ground, too short to be ADA compliant. However, you can find ADA certified toilets as part of this range. These are 16.5 inches from the ground to the top of the seat.
What the Users Say
We have read other reviews and ratings from buyers and users. This helps ensure that we can review the toilet ourselves based on a wider range of uses.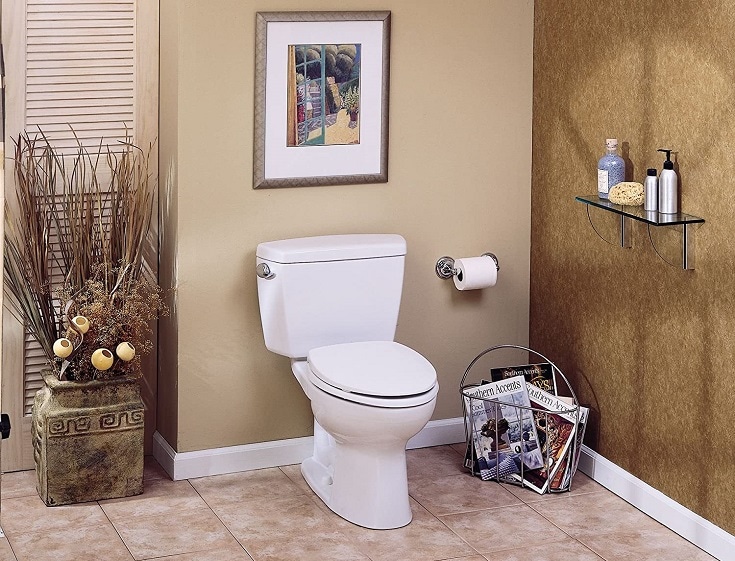 Most users praise the toilet for its quiet flush and for its dual flush technology. There are also a lot of users that appreciate the fact that it is a more powerful 1.6 GPF flush that does a good job of removing liquid and solid waste.
However, there are some complaints about the fact that there is no seat included, and a number of owners have commented that the ridge inside the toilet makes it look like there is a permanent stain, despite the fact that they regularly wash the inside of the bowl.
---
Conclusion
The Toto Drake is a good quality, mid-priced toilet. It utilizes a modern design and traditional style, allowing it to work in any style of bathroom. It is quiet, praised for its flush power, and it is a good choice for your bathroom.

Pete has been working in the trades since high school, where he first developed a passion for woodworking. Over the years, he has developed a keen interest in a wide variety of DIY projects around the home. Fascinated by all sort of tools, Pete loves reading and writing about all the latest gadgets and accessories that hit the market. His other interests include astronomy, hiking, and fishing.
As the founder of House Grail, David's primary goal is to help consumers make educated decisions about DIY projects at home, in the garage, and in the garden.