Ryobi P731 vs P737: Which One's Best?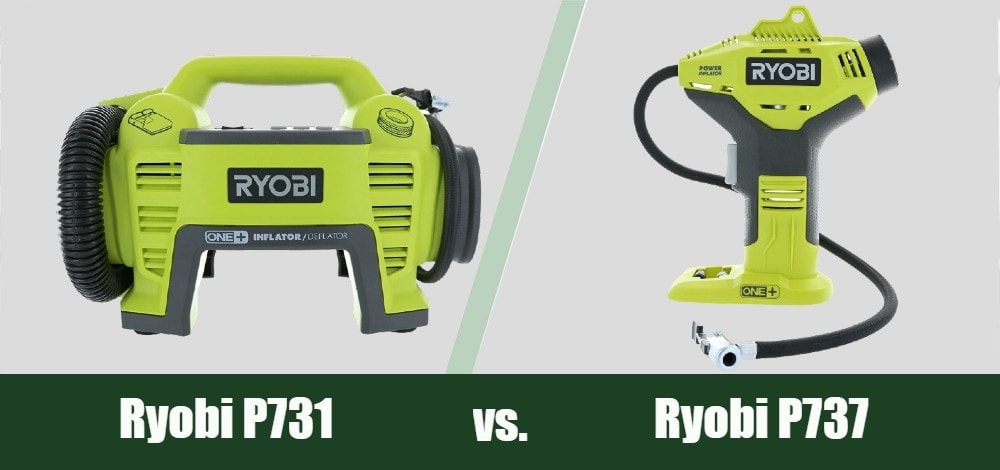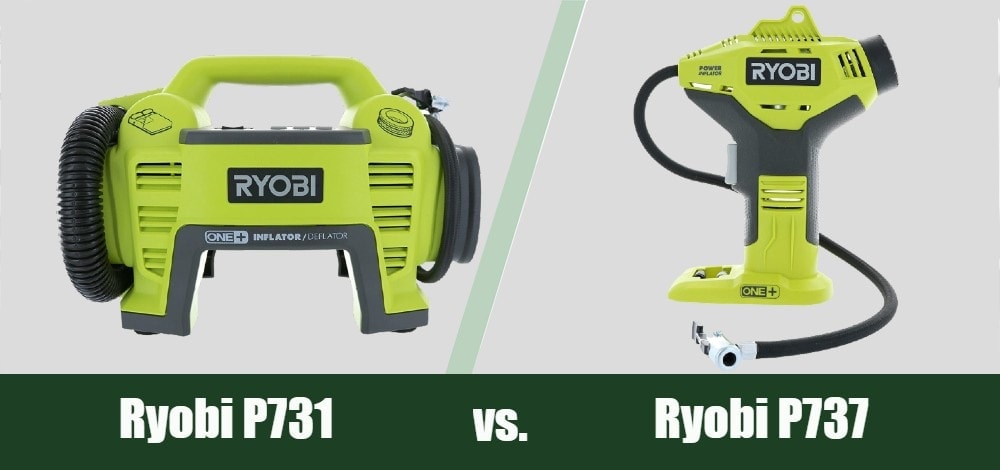 | Rating | Image | Product | Details | |
| --- | --- | --- | --- | --- |
| The Winner | | Ryobi P731 | More affordable,Great for inflating tires | CHECK PRICE |
| The Runner up | | Ryobi P737 | Better design,Digital readout screen | CHECK PRICE |
Review Summary
Both the Ryobi P731 and P737 are impressive air compressors that are powerful, lightweight, and affordable. For the most part, you will be pleased with either air compressors for their durability and power, but you might choose one over the other for their features and price.
With that being said, the Ryobi P731 is the more impressive compressor between the two options. It features an inflate/deflate mode and has a hands-free operation, whereas the P737 only inflates and does not come with hands-free operation features.
Still, the P737 is an impressive compressor, especially considering its affordable price. If you are on a tight budget, then you might want to select the P737. Even though it doesn't have the same features as the P731, it is still impressive and will not disappoint.
Read on for a complete roundup of the P731 and P737. In this article, we offer overviews of each product, describe how they are different, and provide summaries of other users' experiences with the compressors. Let's get right to it.

At a Glance
Let's look at the key points of each product.
Ryobi P731
Inflation/deflation mode switch
0 to 150 PSI pressure range
Digital pressure control
Hands-free automatic turn off
2 hoses
28-inch high pressure hose
Battery-operated
Ryobi P737
Inflation mode
0 to 150 pressure range
Analog pressure reader
20-inch hose
Rubberized grip
Affordable
Battery-operated
---
Overview of the Ryobi P731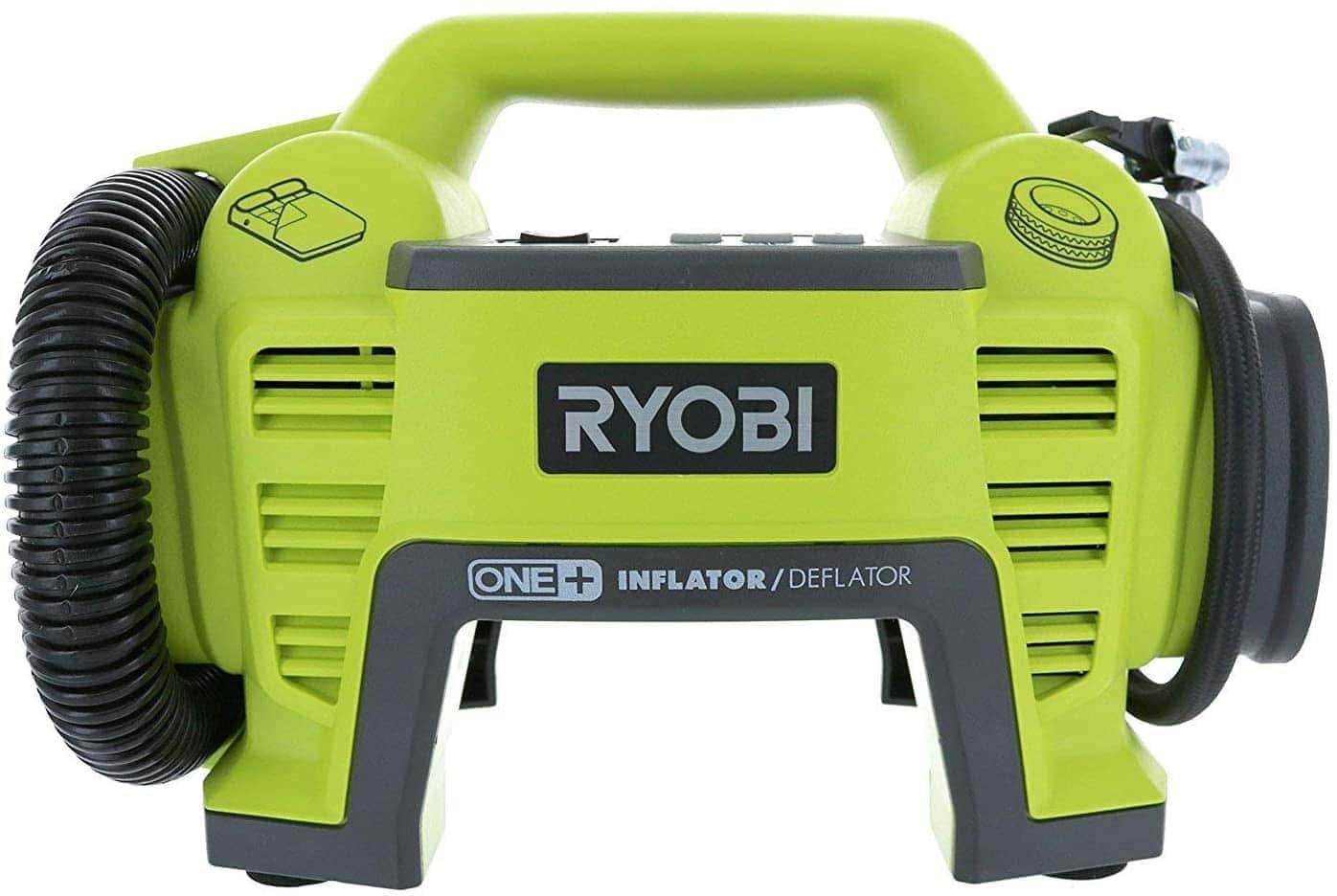 The Ryobi P731 is a lightweight and powerful air compressor. It provides both inflation and deflation powers, making it easily one of the most efficient and useful air compressors. Better yet, it is highly affordable, making it an excellent option for those on a budget.
The P731 features an inflator/deflator mode. This allows you to inflate or deflate your items with little hassle. To ensure that you provide just the right amount of pressure, the P731 also features pressure control. This allows the air pressure to range from 0 to 150 PSI.
You will need to switch the hose if you go from low pressure to high pressure, though. Though this may be slightly inconvenient, it makes the air compressor more effective. Additionally, the high-pressure hose is a whopping 28 inches, allowing you to reach almost anywhere.
Though many air compressors can be difficult to use, the Ryobi P371 is different. It includes an ergonomic design that is easy and portable. It features a digitalized backlit display with an automatic turnoff. This makes the device hands free and easy to use. The portability is also enhanced due to its cordless, battery-operated design.
Pros
Inflates and deflates
Pressure control included
Digital pressure reader
Hands-free design
Cons
More expensive than the P737
Handle not as comfortable

Overview of the Ryobi P737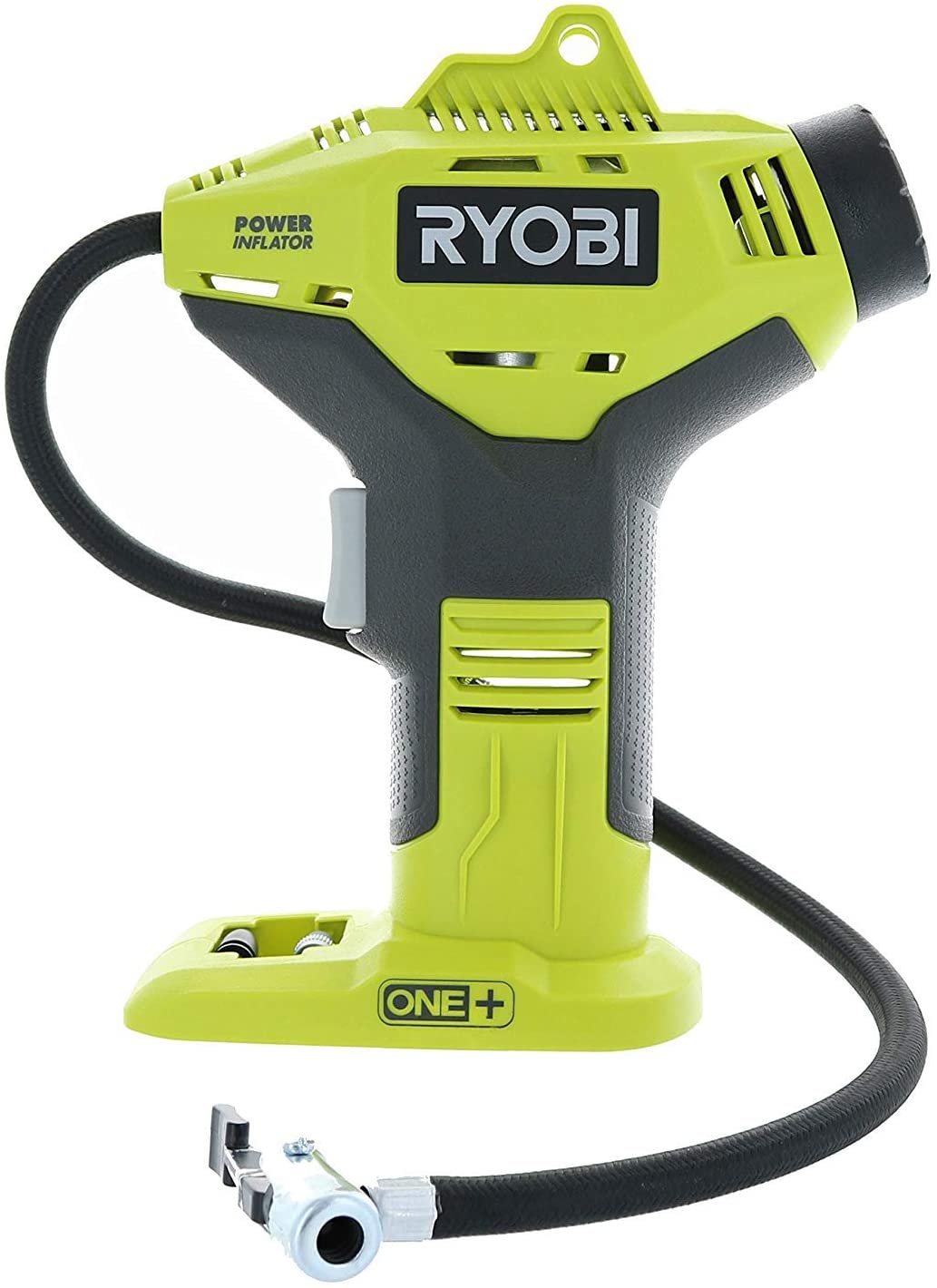 The Ryobi P737 is similar to the P731, but it comes with a few notable differences. Although it is the more affordable choice between the two, it still offers incredible powers. It inflates a range of materials since it has an inflation device ranging from 0 to 150 PSI. This makes the air compressor highly powerful and efficient.
To make sure that you pump the right amount of air into your designated object, the P737 comes with a 2-inch pressure gauge. It ranges from 0 to 150 PSI, allowing you to know exactly how much pressure is going into the material.
This model is also highly portable and the lighter of the two options. Like the P731, it is battery-operated. This allows you to get into tighter places since a cord length doesn't inhibit you. The grip is also rubberized, which means it is more comfortable on your hand to carry around. The on/off switch is located right by the grip for convenience.
Pros
Highly affordable
Rubberized grip handle
Cons
Cannot deflate
No hands-free design
Pressure reader is analog
---
What Are the Differences Between Them?
Performance
Edge: Ryobi P731
The Ryobi P731 performs better than the P737 due to its more versatile and professional features. Since it includes an inflation/deflation mode, you can put air into a tire then easily take the air right out. This makes the compressor perform well in a variety of scenarios.
You can even better control the air pressure due to the digital air pressure reader. The two hoses that come with the air compressor make the job get done easier since they allow the air pressure to be delivered precisely for the intended object.
The P737 performs well, too. It offers great inflation powers and includes an analog reader. Though these features are highly functional and efficient, they aren't as impressive as the P731, and they won't be able to be used as often. Still, you shouldn't be let down by the P737's performance abilities so long as you don't need a deflator.
Ease of Use
Edge: Ryobi P731
Between the two options, the P731 has an edge in terms of ease of use. The automatic turnoff allows for hands-free operation. When working with air compressors, this can be a highly useful feature that the P737 lacks.
Although the P737 is easy to use since it is cordless, it does not include a hands-free operation. This means you will need to manually turn off the air compressor, which can be difficult at times. Overall, the P731 is easier to use for this reason.
Price
Edge: Ryobi P737
The one way that the P737 beats the P731 is in price. Given that the P737 has a more basic design and fewer professional features, it is more cost-efficient. This is especially true since the P737 performs better than many other air compressors with the same price. You will certainly get your money's worth with this product.
What the Users Say
Even when we conduct our own research, we believe it's important to listen to other people too. To see if our reviews match what other users are saying, we looked online for countless reviews. Here's what we found:
Ryobi P731
Most reviewers speak highly of the P731. The power and compact design were praised frequently by online users. More specifically, most users noted that the cost was worth it for the P731 due to its user-friendly design and powerful inflating/deflating capabilities.
There were very few negative reviews about the P731, but there were a few. A couple of people noted that the compressor died eventually and wished they had invested in an option with a longer lifespan.
Ryobi P737
The Ryobi P737 also had a lot of positive reviews. Several users noted that it was powerful and ideal for ATV tires. The compactness and lightweight were frequently praised as well.
As for negative reviews, more users noted that the p737 has a short shelf life. Several reviews specifically listed that their compressor stopped working after 6 months. People also commented that the analog reader is difficult and not entirely accurate.

Conclusion
You really can't go wrong with either the Ryobi P731 or the P737. Both compressors provide great inflation powers at an affordable price. Select the model you want based on your preferences and needs.
However, we recommend the P731 over the P737 because it includes an inflate/deflate mode and hands-free operation. This makes the P731 more versatile and user-friendly than the P737. With that being said, you might want to opt for the P737 if you are on a budget since it is more budget-friendly.
Ultimately, the choice is up to you. As we have said multiple times, both products are great. Go with whichever feels right to you. Your preference is what matters most in this discussion.
You might also be interested in these Ryobi reviews: