8 DIY Pool Ladders You Can Build Today (with Pictures)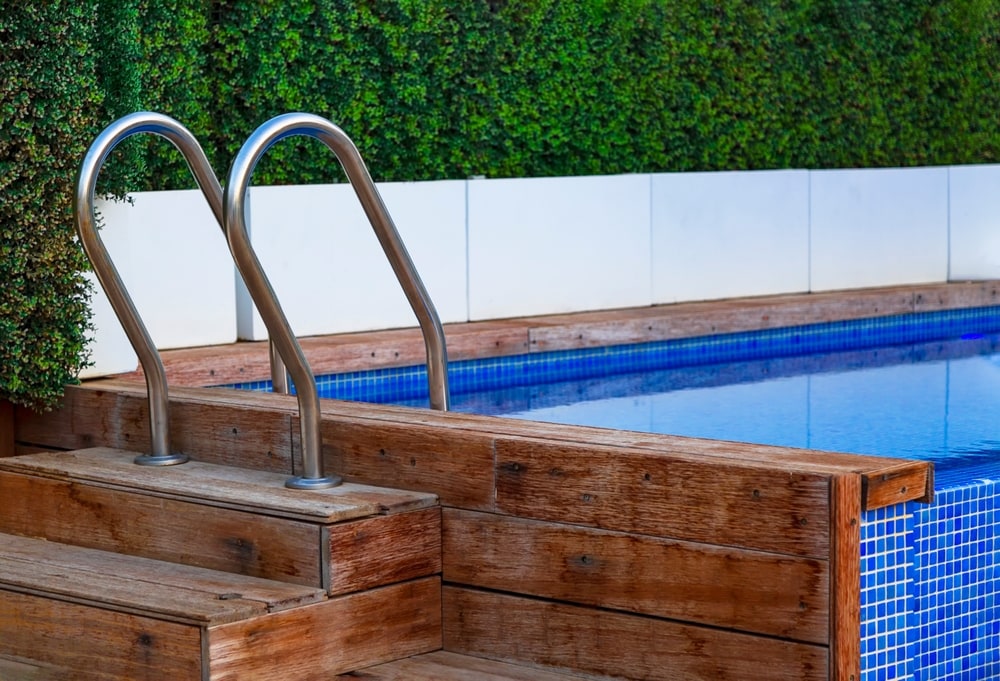 If you have enough space in the backyard, a pool is a must-have. First, it's an excellent remedy against summer heat. Second, the kids really love to play in the pool. Pets are big fans of taking a quick dip as well. However, you can't just jump into the pool. For easy access, it needs to be equipped with a ladder. But what if the package doesn't include the stairs? Do you have to pay extra for that?
Not quite! With the right mindset, some basic tools, and cheap materials, we can put a ladder together manually. The following list includes the eight best DIY ladders for an outside pool. We specifically hand-picked projects that are equally user-friendly, take little time and effort to build, and don't cost a pretty penny. Let's check them out!

The Top 8 DIY Pool Ladders
1.

Quick-To-Build PVC Pool Ladder by Budget 101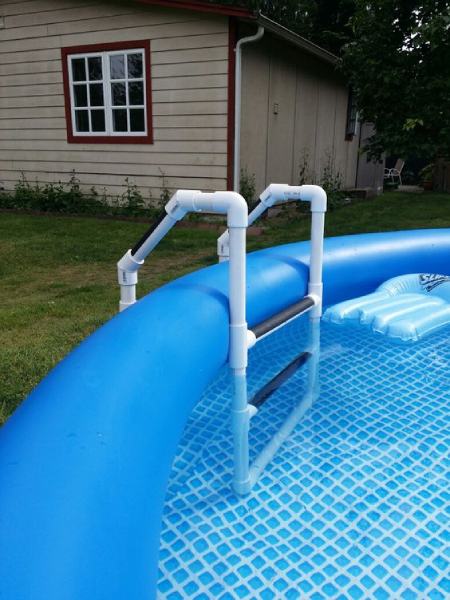 | | |
| --- | --- |
| Materials Needed: | PVC pipe, 90-degree PVC elbows (6), 45-degree elbows (4), Tee joints (2), a set of screws |
| Tools Needed: | Hand saw, skateboard tape, PVC glue, PVC primer, spray foam insulation |
| Difficulty Level: | Easy |
If you have little experience with DIY projects, you can try your hands with this quick-to-build PVC pool ladder plan. It's affordable, looks great, and shouldn't be hard to build for a novice. The important part here is to make sure you've ordered the right sizes for the PVC pipes. Got that covered? Then go ahead and measure the swimming pool. The most common size is 48–52 inches, so the ladder needs to match that.
So, start by cutting the pipes. Next, spray a healthy amount of foam insulation into the pipes for extra durability. To put everything together, use standard PVC glue. After that, all you'll have to do is use the elbows and Tee joints to connect the pipes and form the ladders. Be gentle with the 45-degree elbows. Finishing up, apply some waterproof tape to make the steps slip-resistant.
---
2.

Above-Ground Heavy-Duty Ladder by 100 Things 2 Do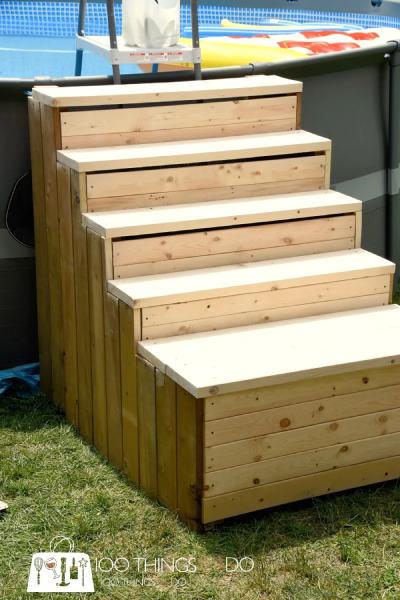 | | |
| --- | --- |
| Materials Needed: | Wood planks (25), four-step deck stringers (2), deck + constructions screws, exterior stain |
| Tools Needed: | Hand saw, jigsaw, electric drill, screwdriver, 3M anti-slip tape, level tool |
| Difficulty Level: | Moderate |
Ready to kick things up a notch? Then this above-ground heavy-duty ladder will be a great pick. It's bigger and wider than most standard ladders and can serve as a bench for the kids. For this project, you'll need a lot of wood planks cut into different sizes, two stringers, and a small pack of screws. Begin by building the foundations. Once it's in place, it will be much easier to handle the stringers and the boards.
If you don't want to deal with the risers (they can be a bit tricky), just skip them: they're there for aesthetic reasons. To close the sides, just screw your wood boards to the main structure; cut them into the right size with a jigsaw. The steps are the final stage. To make the ladder last longer, use exterior stain; the tape will protect you from falling.
---
3.

DIY Pool Ladder with Storage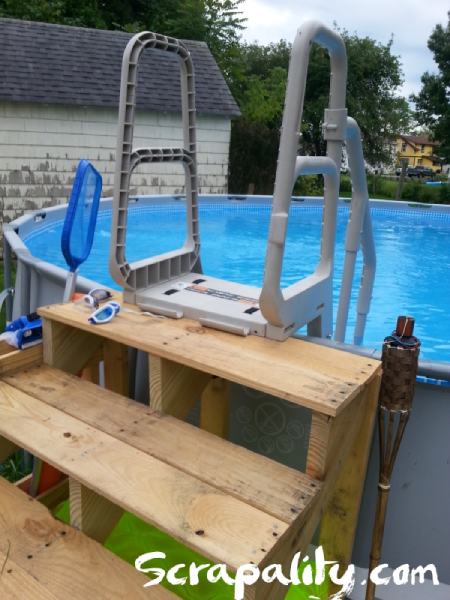 | | |
| --- | --- |
| Materials Needed: | Pallet boards, stringers, stainless steel screws, screws or nails, stain/paint (optional) |
| Tools Needed: | Table saw, cordless drill/hammer, marker, level, paint brush (optional) |
| Difficulty Level: | Easy/Moderate |
In some ways, this DIY pool ladder with storage is similar to the previous plan. Only this time around, we'll be using pallet boards, and there's no foundation. The main concept is the same, though: the stringers come first (you might have to cut them). Next, we lay the wood boards over and use screws or nails to secure the ladder.
The one thing that makes this project stand out is that it has storage capacity. If your kids spend a lot of time in the swimming pool, you can keep the noodles and life rings in there. The storage area is very easy to make: put one full-size pallet on each side, screw it to the main structure, and that's it! You can put some stuff beneath the ladder as well.
---
4.

Backyard Pool Ladder with a Deck
| | |
| --- | --- |
| Materials Needed: | Pressure-treated posts (6), cement (2–3 bags), 4×4 wood planks, stringers, Trex decks, stain, lights (optional) |
| Tools Needed: | Table saw, hand saw, level tool, measuring tape, work gloves, electric drill/screwdriver, paint brush/roller |
| Difficulty Level: | Moderate/Hard |
This is the most advanced and most expensive DIY plan on the list. Essentially, we'll be building an entire deck right next to the pool. For the foundation, use six pressure-treated wood posts and lots of cement to make them sturdy. They will serve as the base for our backyard pool ladder with a deck. For the ladder, Trex decking and a pair of stringers should get the job done.
For the floor, 4×4 wood planks are a cheap and easy solution. The balusters are not necessary yet highly recommended, especially if you'll have kids playing up there. If you're up for it, use some of those 4×4 boards to build a bench inside the deck. Stain the wood, add some lights on the deck (optional), and give the ladder a try!
---
5.

DIY Pool Ladder/Ramp for a Dog by Budget 101
| | |
| --- | --- |
| Materials Needed: | Rubber mat (36"x36"), pool noodles (2), zip ties (extra-long), rope/bungee cords |
| Tools Needed: | Utility knife, serrated knife, electric drill, lighter, protective gloves |
| Difficulty Level: | Easy/Moderate |
Humans aren't the only ones that like to play in the pool! If you have a pup in the family, this DIY pool ladder/ramp for a dog will be a great project to work on. It's the least expensive plan on the list because you'll only need a rubber mat, a pair of noodles, and some zip ties, along with a piece of rope to attach the ramp to the pool. As for the tools, a utility knife to cut the rubber into several parts, an electric drill, and a lighter (to melt the sharp edges of the cut zip ties) will do.
The idea is simple yet effective: the noodles keep the rubber mat afloat, allowing the dog to gently step into the water instead of jumping into it.
---
6.

Universal Wood Trampoline Ladder by The Project Lady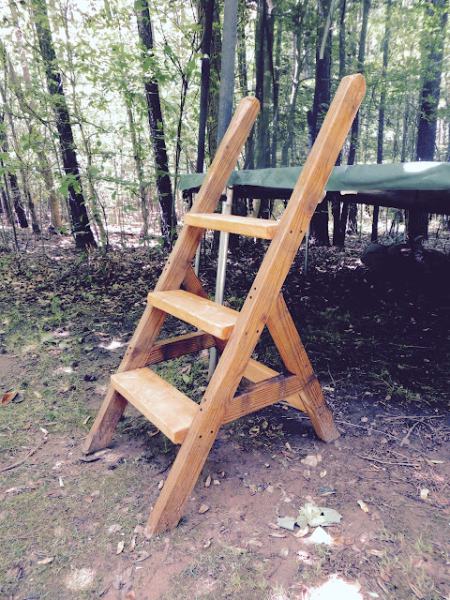 | | |
| --- | --- |
| Materials Needed: | Lumber (2"x6"x12 feet), screws (28), sandpaper, wood clamps, wood finish (optional) |
| Tools Needed: | Miter saw, table saw for ripping, angle tool, electric drill + bits, gloves |
| Difficulty Level: | Easy |
And what does this universal wood trampoline ladder have to offer if you have a pool? It's simple in design, requires very few materials to build, and can be easily moved around. Mobility is its biggest selling point: you don't have to only use it to get in or out of the pool. Speaking of the required materials, the ladder only has three steps.
You can, of course, add more, but the concept won't change much. Put on a pair of gloves, use an electric drill to "make room" for the screws, and cut the lumber into the right size with a combination of miter and table saws. To get the proportions and the measurements right, use the angle tool.
---
7.

Cheap Painted Ground Pool Ladder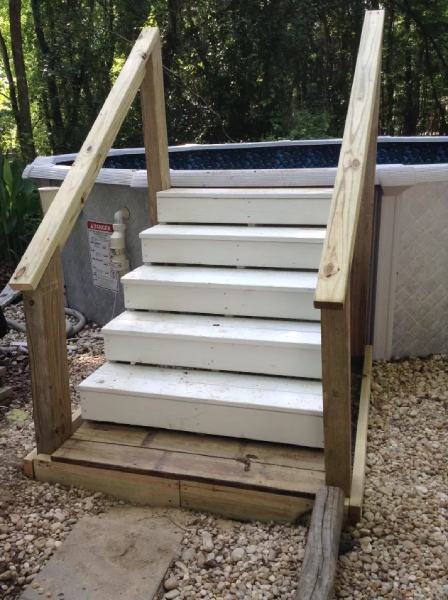 | | |
| --- | --- |
| Materials Needed: | Decking board, 2x4s, 4x6s, 1/2-inch screws, paint |
| Tools Needed: | Circular saw, saw horse, level tool, paintbrush |
| Difficulty Level: | Easy |
Fancy pool ladders do look great, but they also take a lot of effort, materials, and investments to build. If you're more into something less sophisticated, go with this cheap painted ground pool ladder. It will be an excellent replacement for a standard set of steps that aren't always easy to climb. The most important parts here are the steps and the stringers.
Put the screws in using a cordless drill and use a level to make sure everything's nice and even. To make the ladder look cohesive and last longer, add two layers of paint or stain. It doesn't have to be an expensive can of paint: just whatever they have at local stores. Got some boards left? Use them to build the posts.
---
8.

Pool Ladder from Stacked Pallets
| | |
| --- | --- |
| Materials Needed: | Wood pallets (6), plywood (3 sheets), carpet (4×10), paint, waterproof sealant, screws, staples |
| Tools Needed: | Hand saw, cordless drill + bits, measuring tape, paint brush/roller, staple gun, scissors |
| Difficulty Level: | Moderate |
For this DIY project, we'll need lots of wood pallets. You can either buy them for cheap at a lumber yard or get them for free from a neighbor/local store. In any case, this pool ladder from stacked pallets can be built in just a couple of hours. So, start by putting the pallets on top of each other to form a ladder.
Next, cover the rough pallets with sheets of plywood. For a smooth surface, sand the wood a bit. Ok, now grab some exterior carpet and attach it to the steps with staples. To cut the carpet, use heavy-duty scissors. If it's longer than the ladder, you might want to use it as an improvised walkway.

What's the Best Material for Pool Ladders?
If you're looking for the golden middle, opt for wood. It's equally affordable, easy to work with, and durable. Now, wood isn't very strong against weather elements. This is especially true for high humidity levels1, which the ladder is going to be constantly exposed to since you'll be using it for the swimming pool. But, if you add a layer or two of stain/sealer, that will make it more resistant to moisture and prevent the development of mold/mildew.
What about PVC pipes—are they worth it? Each year, facilities around the globe produce 40 million tons of PVC1. It's cheaper than wood and a lot more flexible. More importantly, polyvinyl chloride is very strong against fire, water, and impact1. Lastly, aluminum and stainless steel are naturally resistant to elements, but they're more expensive. You can cut steel with a regular saw, but you will need metal-cutting blades1.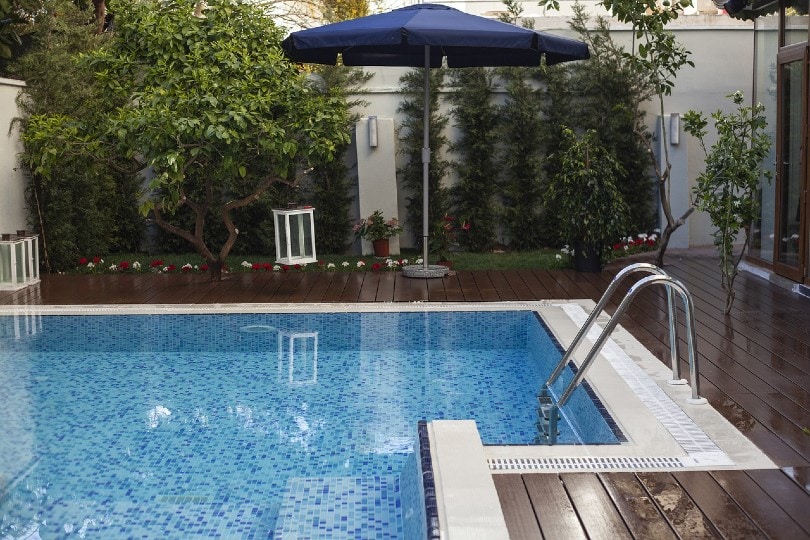 How Long Does It Take to Build One?
Ultimately, it depends on how sophisticated the project is. If you're looking for a simple, quick-to-build DIY plan, go with PVC pipes. It will only take an hour or two to cut them and put the whole thing together. Wood, in contrast, takes a lot more time to shape using a miter or table saw. And then, you'll have to make sure everything's level and secure the steps and risers with a cordless drill. That can take the better half of the weekend.
Painting and staining are also time-consuming. But, with a bunch of pallets or a set of stringers1, it will be much easier to get things done. Still, if you want to build a deck for the swimming pool, that will take the longest to complete. You'll need to buy more lumber, plus invest in cement and maybe an extra tool or two. Summing up, a short PVC ladder can be built in 2–3 hours; wooden ladders with rails, storage, and a deck, in contrast, may very well keep you busy for 3–4 days or more.
How Much Do Pool Ladders Cost To Buy?
Since this piece of equipment isn't very sophisticated, you can get a decent-quality ladder for around $130. It will come with all the necessary hardware and be quick to assemble. But, depending on the size, material quality, and design, the price can reach $200–400 or even more. Swimming pool ladders last for many years, if not decades. So, make sure it's heavy-duty, yet lightweight, corrosion-resistant, slip-resistant, and provides comfortable footing.
Aluminum ladders are leading the market right now. And, as long as they fit the pool in size and can hold your weight, it will be money well spent. However, if you follow our lead and make a DIY swimming pool ladder with your own hands, that will save you $100–150. The joy of building something manually (and maybe with the help of your kids) will be a nice bonus!

Conclusion
There's nothing quite like having a pool party in the backyard! The drinks, music, barbeque, and kids playing in the swimming pool create just the right vibes for a chill Sunday afternoon. Now, finding a decent-quality pool for the right price isn't a hard task—there are lots of offers out there. The ladders, in turn, are a different story.
They either cost too much or take too long to arrive. Well, why not go for a DIY project? Depending on your carpeting skills and toolset, it's very well possible to build a ladder in 3–4 hours. All you have to do is pick one of the tried-and-true plans from our list, get the tools and materials ready, and get to work!
---
Featured Image Credit: Lady_Luck, Shutterstock