6 Different Types of Air Compressors & Their Uses – Which is Right for You?
Whether you are a backyard hobbyist or professional, air compressors are a tool that you really can't live without. These versatile contraptions can help you power an air-tool or put air in a tire. The versatility of these tools means that anyone, even those who aren't very handy, will find use of the air compressor.
One thing a lot of people don't know is that there are actually different types of air compressors. Each type of air compressor has a different use, which can make it tricky to know which air compressor is right for your needs.
For this reason, we have come up with a guide to the 6 different types of air compressors. We detail the design and function of each air compressor and help you pick the right one based on your needs. Let's get to it.

The 6 Types of Air Compressors
1.

Inflators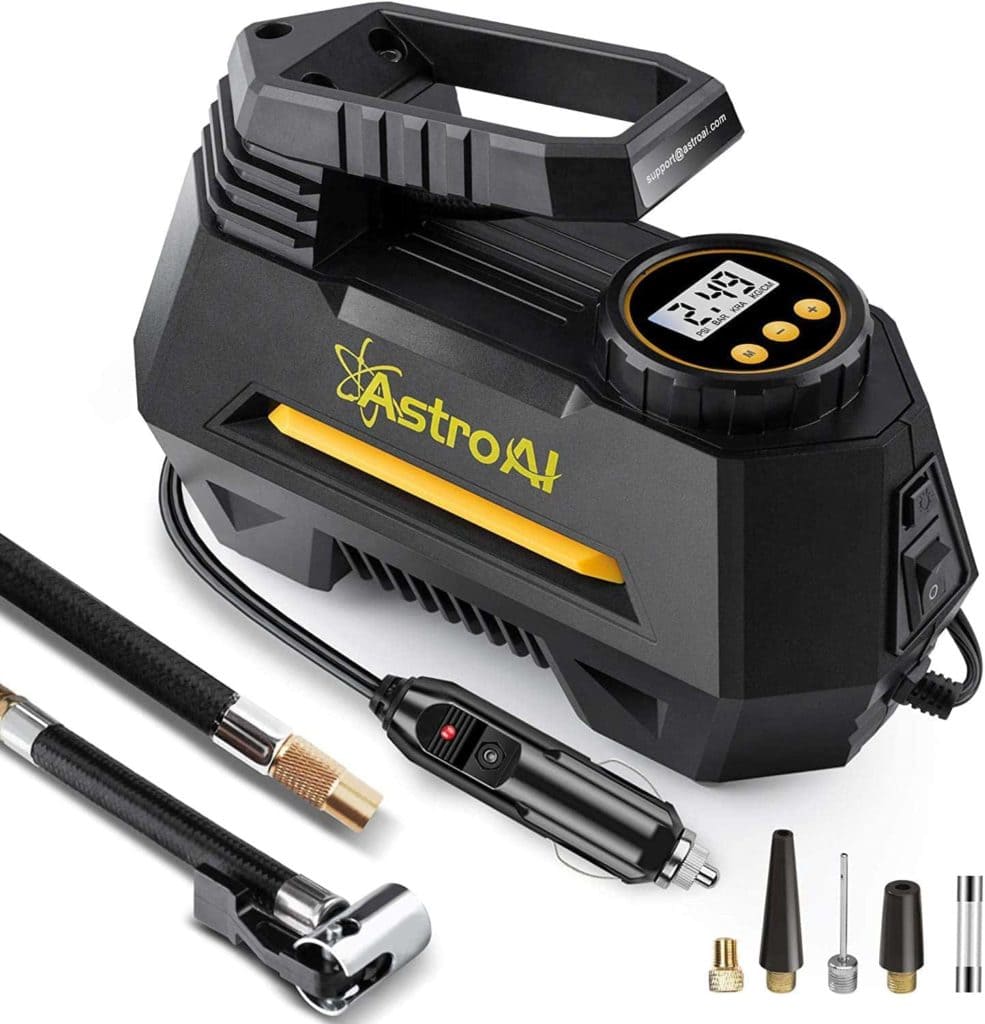 If you need a compressor for pretty light jobs around the house, like inflating pool floats, then you'll probably want an inflator. This option has limited pressure output, making them great for inflating objects like a ball. An inflator does not provide enough power for many intense uses, such as powering an air-tool or inflating a tire.
Best For
Inflators are best for people with small-time needs. For example, it is a great addition for beach or pool trips, but it should not be used for professional purposes. Anyone who needs an air compressor for more intense needs should skip the inflator and go with something more powerful.
For a pretty strong inflator, we recommend the AstroAl Air Compressor. This air compressor is portable and strong enough to inflate most car tires. It comes with a digital pressure gauge and can work up to 100 PSI.
Pros
Portable
Inexpensive
Great for small inflations
Cons
Not very powerful
Not suitable for professional use
Not very durable
---
2.

Pancake Air Compressors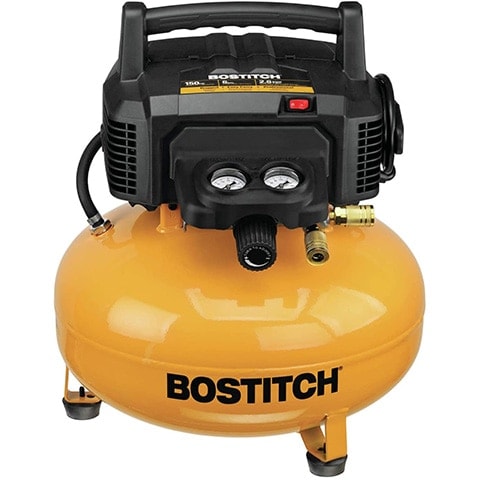 A pancake compressor is going to be similar to an inflator, but it typically will have different sizes to choose from. Given the name, these compressors are typically designed for portability and inflating, making them great for potential on-the-go use.
One reason you might opt for a pancake compressor over an inflator is that these tools tend to be more powerful. They are better at inflating a bit more difficult materials, such as big tires. Still, pancake compressors won't be as powerful as other compressors on this list. They don't pack enough pressure for air-tools, for example.
Since pancake air compressors are more powerful than inflators, they are generally more versatile. They are the better option for those who might need both low power and moderate power.
Best For
Pancake compressors are best for people who don't use air-tools, but that need a bit more power than regular inflators can provide. For example, if you need a compressor to fill up any car tire, then you should select the pancake compressor.
The BOSTITCH Pancake Air Compressor is easily one of the best options. It has a capacity of 6 gallons and can produce a maximum of 150 PSI. It includes a high-efficiency motor, making it easy to start the air compressor even in cold weather.
Pros
Versatile
Portable
Strong enough for most personal uses
Affordable
Cons
More difficult to use
Not suitable for professional use
---
3.

Reciprocating Air Compressor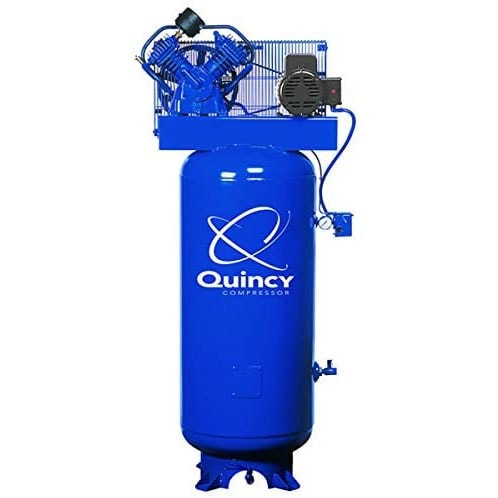 Reciprocating compressors are easily the most expensive type for personal use, but they are expensive with good reason. These air compressors offer a lot of power, making them popular in commercial or industrial settings. Despite the high power, reciprocating compressors are normally easy to use.
How these air compressors work is that they store a lot of air in a tight space. Using a piston, the air is then pressurized. Once the air is pressurized, it is cooled, usually with a water system, though the cooling mechanism may differ from model to model. This design creates a whole lot of power in one tool.
Best For
Because of the power that reciprocating compressors offer, they are best for professional settings. They perform best for jobs that require 150 PSI pressure. Most everyday users won't need that much pressure.
Reciprocating compressors are also great in professional settings because they are more versatile. Commercial users will need a compressor that can do a lot, not just one thing. The reciprocating compressor adds enough versatility that it can get many jobs done.
The Quincy QT-54 Splash Lubricated Reciprocating Air Compressor is a great model for small businesses. It includes a capacitor start motor with a built-in thermal overload protection. The compressor has a pump RPM of 1310 and a working PSI that ranges between 145 to 175.
Pros
High power
Versatile
Easy to use
Durable
---
4.

Single Stage Air Compressors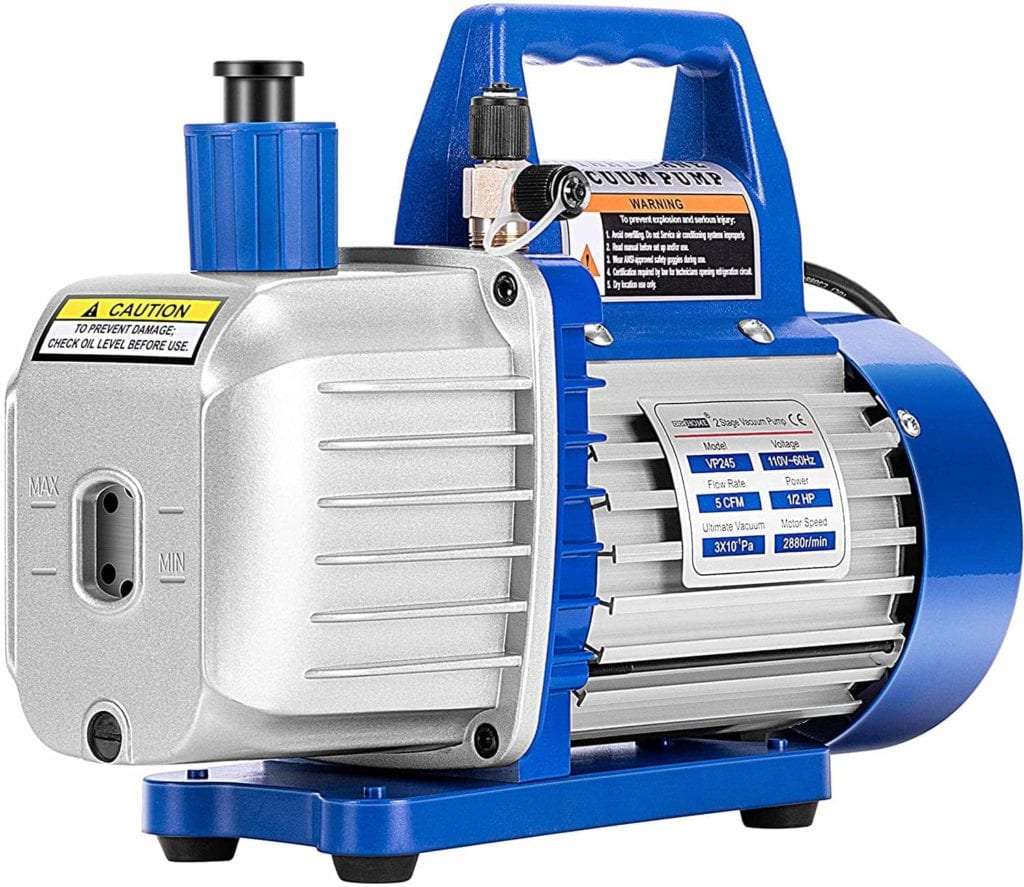 If you have air-tools, then you need to look at something a bit more serious than a pancake air compressor or inflator. Single stage air compressors provide enough power for air-tools, making them a popular air compressor option for hobbyists and professionals alike.
These models are guaranteed to be pricey, so they are not ideal for someone on a budget. Still, single stage air compressors almost always are suitable to operate a nail or paint gun. For this reason, this makes them a desirable option for handymen, professionals, or amateurs.
Best For
Single stage air compressors are best for people who need a lower output compressor for air-tools. We say lower output because there are other air compressors, which we will look at next, that are more powerful for air-tools. With this in mind, this may be a better option if you are using the air compressor for personal use, not commercial. Still, professionals will find this highly valuable.
The VIVOHOME 110C ½ HP CFM Dual Stage Rotary Valve HVAC Air Vacuum Pump is the perfect single stage air compressor for those who need a powerful but easy to use tool. It is strong enough to diagnose and recharge an AC system, yet it is also comfortable thanks to its ergonomic grip handle.
Pros
Highly powerful
Strong enough to use with air-tools
Durable
Suitable for personal and professional use
Cons
More difficult to use
Expensive
---
5.

Two-Stage Air Compressors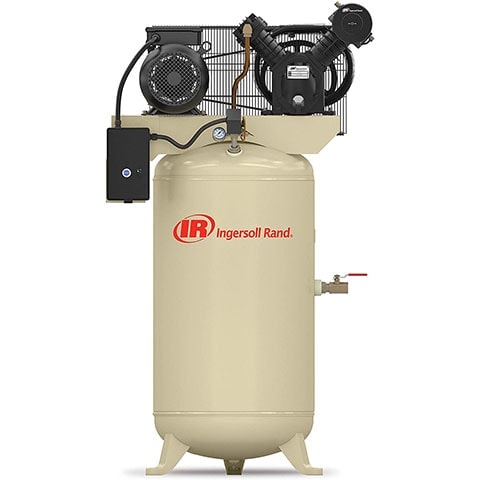 The two-stage air compressor gives twice as much power as the single stage one. This makes it way more powerful, making it a great option for contractors and professionals. Homeowners may find this tool simply too powerful for their needs.
What makes the two-stage air compressor so impressive is that it can actually power more than one tool at once. This allows you to hook up multiple air-tools, allowing you to maximize your time and efficiency on the job.
Best For
The sheer power of the two-stage air compressor makes it best for professional use. Professionals will prefer the two-stage air compressor over the single stage air compressor due to its enhanced power. Most people will find two-stage air compressors too powerful for personal use.
This Ingersoll Rand air compressor is great for commercial use. It is an 80 gallon two-stage compressor with a 7.5 horsepower motor. It has a pump life of over 15,000 hours air and can deliver over 175 psig. this is a great option for professionals and those with intense air compressor needs.
Pros
Highly powerful
Ideal for commercial use
Can power more than one air-tool at one time
Highly durable
Cons
Expensive
Difficult to use
Not suitable for personal use
---
6.

Truck Mount Air Compressors
Finally, the last air compressor on our list is the truck mount compressor. As you probably gathered from its name, these air compressors can be mounted on a truck. This gives them really high air capacities, making them suitable for on-site work conditions.
Like with the two-stage air compressor, this can power more than one tool at one time. However, this sort of a tool, given the way it is designed, will likely to be seen on a worksite, not just in someone's garage or work station.
Best For
Truck mount compressors are best for on-site commercial use. Their sheer power and size make them ideal for powering multiple tools for many hours. This tool will be way too powerful for personal or sporadic use.
This ICT Billet LS Truck A/C Compressor is a good air compressor for smaller work sites. It is compatible with 7176 AC compressors and made from billet aluminum. It is compatible with trucks or SUVs.
Pros
Highly powerful
Suitable for job sites and commercial use
Can power many air-tools at one time for many hours
Durable
Cons
Not suitable for personal use
Expensive
Difficult to use

Which Air Compressor Is Right for You?
Even after reviewing all of the air compressor types, it can still be difficult to know which one is right for you. Here, we are going to discuss how to find the best type for your needs. We have separated the types into personal use and professional use. Skip to whichever section best describes your intended needs.
Personal Use
Personal use means that you will use the air compressor around your home. You will likely keep it in a garage or some other work station at your house. Anything from inflating a ball to inflating a tire can count as personal use.
Inflator: Select this air compressor if you need to inflate small items like floats or bicycle tires.
Pancake Compressor: Select a pancake compressor if you have light to moderate needs. You can use this compressor to inflate a ball, float, or car tire.
Reciprocating Compressor: The reciprocating compressor is best if you have more intense needs around your house. This includes frequently filling up tires or some other more intense personal use.
Single Stage Air Compressor: Select a single stage air compressor to power air-tools in your home work station.
Generally, two-stage and truck mount air compressors will be completely too difficult to use and too powerful for personal use.
Commercial Use
If you are looking for an air compressor for your business, you will need a bit more power and durability.
Reciprocating Compressor: Select this reciprocating compressor for general or versatile use at your workstation.
Two-Stage Air Compressor: The two-stage compressor is best for powering multiple air-tools at once in your workstation.
Truck Mount Air Compressor: Select the truck mount compressor if you need to power air-tools at on-site jobs.

Conclusion
Air compressors are super useful tools, but you need to get the right type for your needs. Generally, we recommend the more advanced fix-it-yourself man to get the single-stage air compressor. For commercial use, the two-stage air compressor will be best.
Even if you opt for one of the other air compressor types, just think about the tank size, power, and portability. These factors will ensure that you get the right air compressor for your exact needs, leaving you happier with your purchase!
See Also: 
---
Featured Image Credit: Pixabay