7 Common Types of Bed Frames (With Pictures)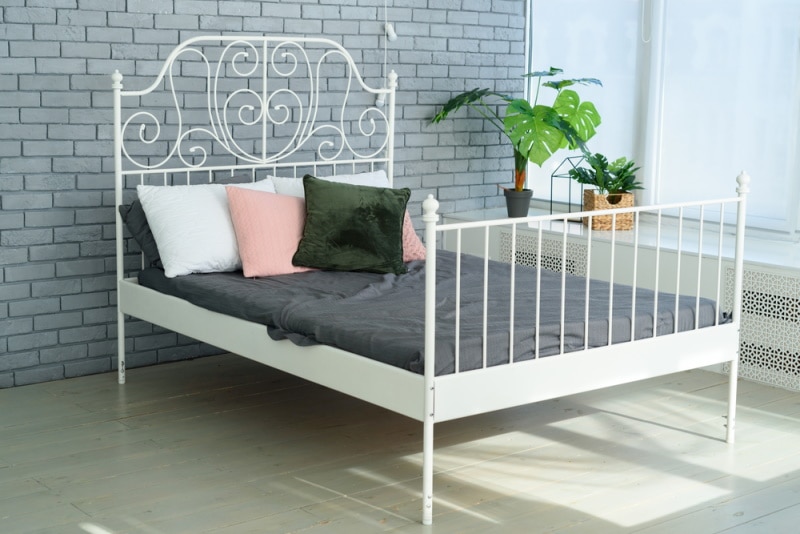 The best bed frames set the stage for a beautiful bedroom and a goodnight's sleep. Not only does the bed frame act as a supportive platform for the mattress, but it also is a worthy investment that will last for years. As a matter of fact, bed frames are among the longest-serving assets in any home. Wooden bed frames last for at least 10 years, while metallic ones can serve you for 20 years or more.
Here are seven of the most common types of bed frames.

The 7 Common Types of Bed Frames
1.

Trundle Bed Frame
A trundle or truckle is a wheeled, low-lying bed frame that is usually hidden under a twin or single bed and is pulled out (similar to how you pull out a drawer) to create more space. In short, it is a bed within a bed.
The primary purpose of the ingeniously designed twin bed frame is to minimize the space occupied by the bed and maximize the sleeping area. The frame is only pulled out when needed.
Normally, a simple trundle bed frame is a few inches from the ground and lower than the main bed's frame. But in pop-up design, the frame can be raised to meet the other bed's height. This effectively creates a wider sleeping surface.
The main disadvantage of a trundle bed frame is it sacrifices mattress thickness with space maximization. In addition, the attachments may break easily when used by heavy people. Restrict the bed to the kid's bedroom to increase its lifespan.
---
2.

TV Bed Frames
The TV bed frame has all the comfort you need before and when sleeping. For most parts, the bed frame is upholstered with soft materials with higher-than-usual footboards to provide a stand for the TV.
On modern beds, buyers can raise, lower, or tilt the TV with a remote. But when the TV is not in use, it can stay hidden behind the footboard.
The TV bed frame has various advantages. First, the upholstered headboard is beautiful and comfortable to lean on. Another reason is the bed has hooks to keep wires in place, and lastly, you will not invest more in other assets like TV stands after buying the bed.
On the downside, the thought of sleeping with live wires on the bed frame and electronics is not appealing.
---
3.

Ottoman Bed Frames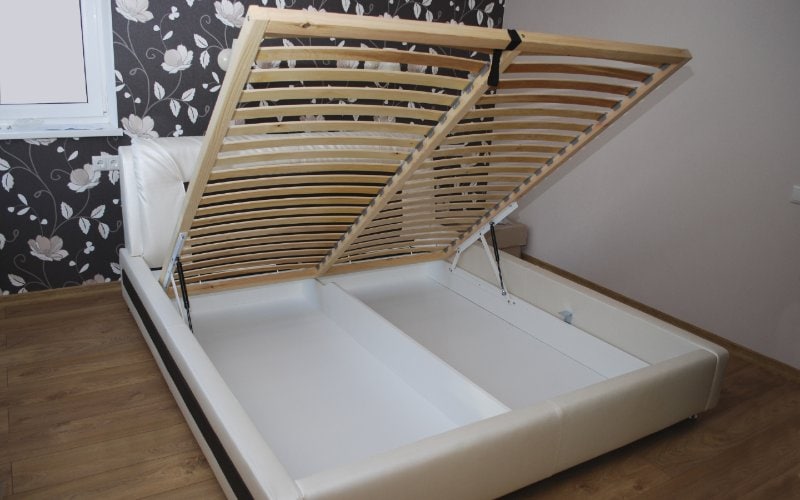 Ottoman bed frames are a practical solution for small bedrooms with limited space. They have a discreet compartment under the mattress to double up the storage area. Unfortunately, unlike most bed frames in which customers use drawers to access the storage area, in ottoman beds, it can only be accessed by lifting the mattress. This means when someone is sleeping on the bed, the storage area is out of reach until they wake up.
Despite the naming, ottoman frames don't share intricate wood carvings, regal colors, and red gold ascents designs of the Ottoman empire. Instead, the frame is a straightforward structure, and the choice of design depends on your tastes and preferences.
---
4.

Divan Bed Frame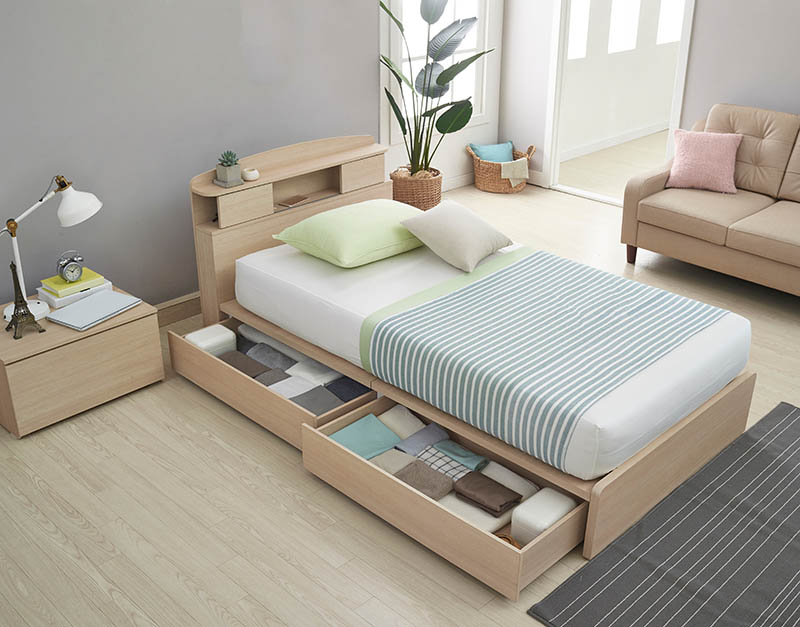 Divan bed frames are great if you enjoy keeping stuff under your bed. These frames are characterized by a traditional platform base that supports the mattress and comes with storage spaces accessible by drawers. Castor wheels are also a staple on most Divan beds, making it simple to move around.
---
5.

Sleigh Bed Frame
A sleigh bed is a distinctive type of bed with a curved footboard and headboard that resemble a sleigh. These beds are significantly longer than regular bed frames and might occupy more space due to their peculiar shape. Their side panels are wider, leaving less room for cleaning and storing stuff underneath the bed. Besides, sleigh bed frames tend to be heavier than other frames and may be more difficult to move.
Sleigh bed frames come in a variety of materials, including leather, metal, fabric, and wood. They can be beneficial in modern and traditional settings.
---
6.

Day Bed Frame
A day bed frame is a multifunctional bed that fits well in a guest room, living room, or home office. Day bed frames function as both a bed and a sofa, and most of them have two sides that function as a footboard and a headboard.
A day bed frame is an excellent option if you want to maximize the use of a tiny space. A twin-size daybed can be used as a sofa in the home office and easily converted into a sleeping space for overnight visitors.
---
7.

Platform Bed Frame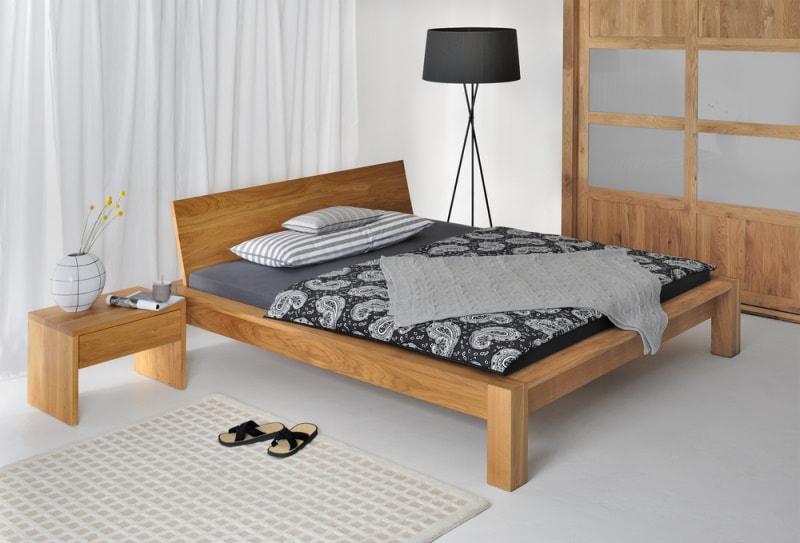 A platform bed frame is a simple low-profile frame that obtains support from an in-built foundation. The foundation consists of four short legs and sturdy sideboards. What makes the bed frame attractive is the storage space underneath. Once bought, there is no need for extra accessories.
There are three types of platform bed frames; solid, slatted, and metal.

Conclusion
Bed frames are the second most important asset in the bedroom after the mattress. They form a sturdy platform for the mattress, have secret storage compartments, and are interior design statements. Choose a bed frame according to your needs. A TV bed frame is good when you love spending more time in the bedroom, while Divan and Ottoman seek to maximize space. For minimalism, a daybed frame will suffice.
---
Featured Image Credit: Mirage_studio, Shutterstock