8 Types of Lathe Chuck (With Pictures)
If you're looking for the best lathe chucks, you have come to the right place! The lathe chuck is a crucial part of a lathe machine. It secures your workpiece in place while the lathe machine rotates, allowing you to make cuts and shape your workpiece. A suitable lathe chuck can also improve your work surface and performance.
When looking for a lathe chuck, figuring out what type to get can be confusing, as there are many different lathe chucks to choose from. It takes time and effort to figure out the best lathe chuck for your needs. But, with help from this list of eight types of lathe chucks, you'll have no problem doing just that. So, let's get right into it!

The 8 Types of Lathe Chuck
1.

Four Jaw Independent Chuck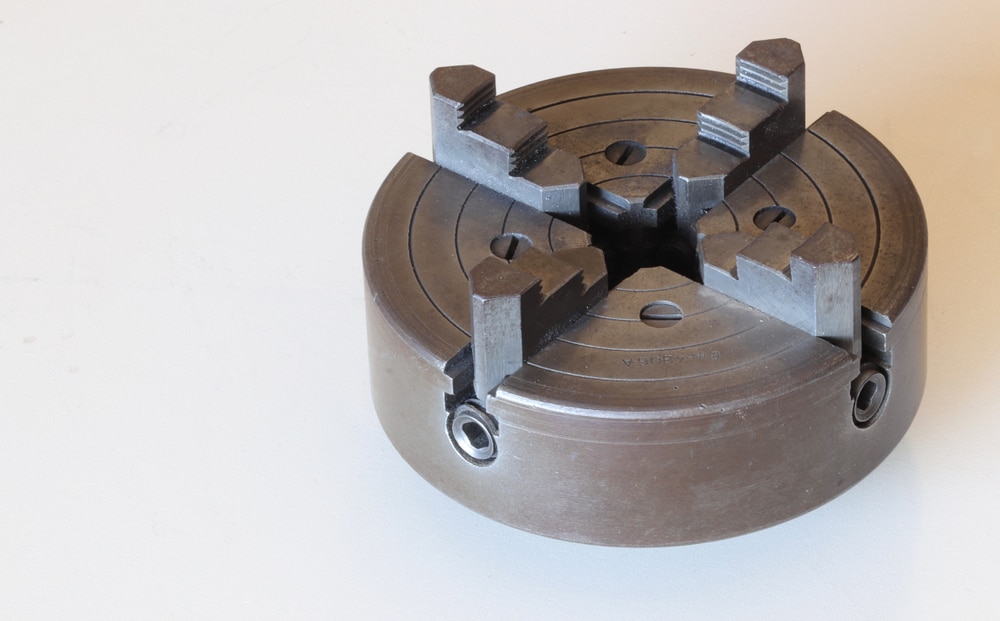 | | |
| --- | --- |
| Number of Jaws | 4 |
| Jaw Material | Tough steel |
| Angle Between Jaws | 90° |
The four jaws chuck is a versatile lathe chuck used in woodworking projects, metalworking, and even electronics. Also, it's ideal for working with different materials and workpiece sizes. You can also use this lathe chuck for turning wood and other materials with low-tension forces.
It has a base, four jaws, and a gear system. The jaws are mounted on an arbor that connects to the gear system. You can also operate the jaws of this lathe chuck independently. Each of the four jaws has three inner and one outer gripping surface. It allows you to use one or more jaws without affecting the other ones.
Some four-jaw lathe chucks have an adjustable length screw that allows you to change the position of your workpiece between each operation. With other lathe chucks, you can adjust the depth of the cut.
Usually, you should use the four-jaw lathe chuck with a ½-inch arbor, but if you're using a larger size, you may need to use another type of lathe chuck.
Pros
You can use the jaws for inner and outer work
More accurate grip
It can hold a workpiece with a rough surface
You can use it for large workpieces
Cons
Tightening all four jaws takes time
---
2.

Universal or Three Jaws Independent Chuck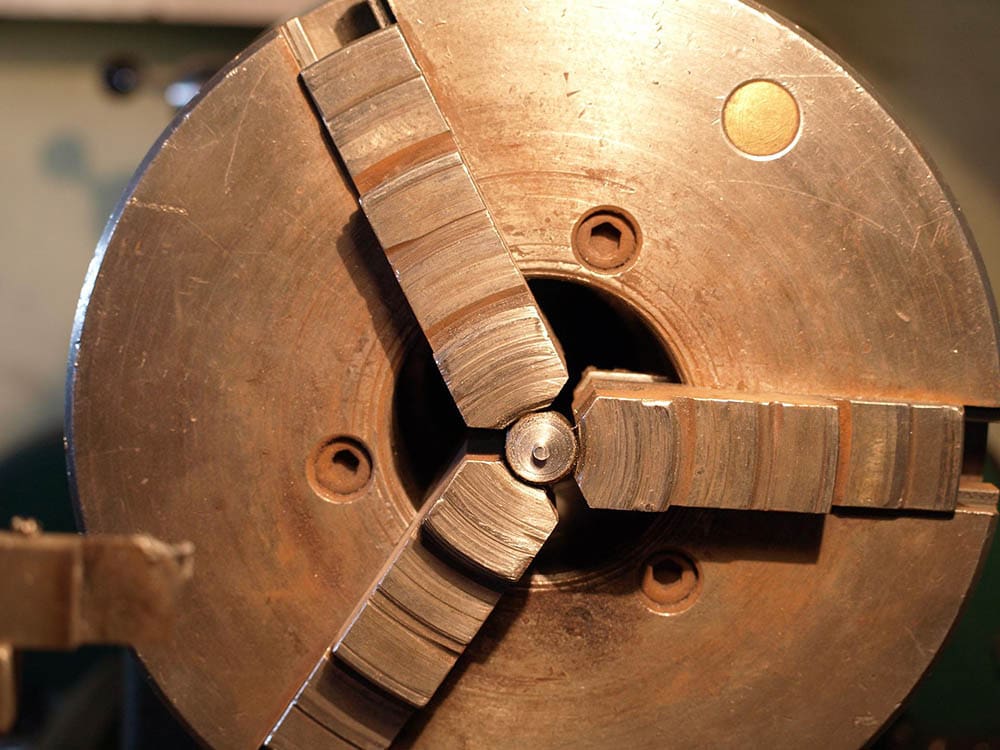 | | |
| --- | --- |
| Number of Jaws | 3 |
| Jaw Material | High-quality steel |
| Angle Between Jaws | 120° |
The three jaws independent lathe chuck is the most common type of chuck. As the name suggests, it has three independent jaws. You can use it to hold differently sized work pieces simultaneously. Usually, the three jaws are fixed in position. But you can also adjust them to accommodate the various sizes of workpieces.
It's crucial to note that this lathe chuck doesn't allow for easy removal of the workpiece from the machine. So, take care when removing items from this lathe chuck.
The jaws are mounted on a spindle, allowing you to change the size of your workpiece. Each jaw has three different inner gripping surfaces.
You can use the three jaws independent chuck to handle small, medium, and large workpieces.
Pros
Fast and easy to use
Can grip a hexagonal bar-stock
It's self-centering
Cons
The holding capacity is less
The centering precision is lost because of wear and tear
---
3.

Combination Type Chuck
| | |
| --- | --- |
| Number of Jaws | 4 |
| Jaw Material | Steel |
| Angle Between Jaws | 90° |
The Combination Type Chuck is also known as a screw-type chuck. It is a combination of the two lathe chucks: self-centering and independent chucks. This chuck clamps two parts together. Also, the jaws can be locked in place.
You can use it to hold several different workpieces. It also has a headstock that drives the workpiece using a spindle shaft. You can use this lathe chuck with a lathe or milling machine.
The chuck is mounted on the spindle and has a crosshead that engages with the jaws. The jaws are fixed to the crosshead, and you can position them accurately. This chuck is suitable for machining small parts and produces high-quality results.
When using this chuck, it's crucial to have a spindle with a diameter that matches the outer diameter of the tool you're using. The combination type chuck can also work in reverse applications, such as turning down drill bits or boring bar shapes.
Pros
Versatile
Holds both small and large workpieces
Easy to mount
Works well with various workpieces
Cons
Needs frequent maintenance
---
4.

Collet Chuck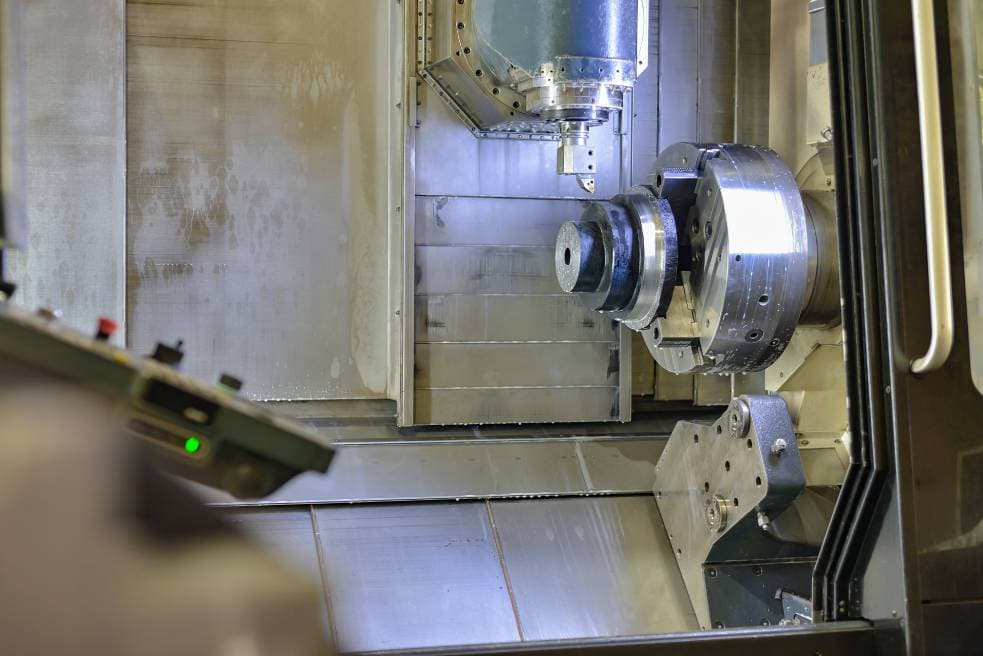 | | |
| --- | --- |
| Number of Jaws | 3 |
| Jaw Material | Hardened steel |
| Angle Between Jaws | 120° |
A collet chuck is a precision tool-holding device. It grips workpieces by a collet or a ring-shaped piece. You can use it to hold different types of tools. The most common are drill chucks and reamers. Usually, you can use collets with turning tools and drills. They include a series of notches that provide clearance for the workpiece held by the chuck, allowing it to be held securely in place.
Collet chucks come in many sizes including 1/8, 5/32, 3/16, and 1/4-inch sizes. It has an internal diameter that matches the inside diameter of your lathe's spindle. The jaws can open and close owing to the hydraulic actuator's piston axial motion.
Collets are available with various degrees of taper. Besides, the inner diameter gets smaller as it approaches the outer surface. Some types of collet chucks have a threaded portion on their bottom. You can attach them to your milling machine for fine work.
Pros
Its low-profile design offers better tool clearance
Operates at higher speeds
Reduced setup time
Distributes gripping force uniformly
Cons
Best suited for small workpieces
Large axial dimension
---
5.

Drill Chuck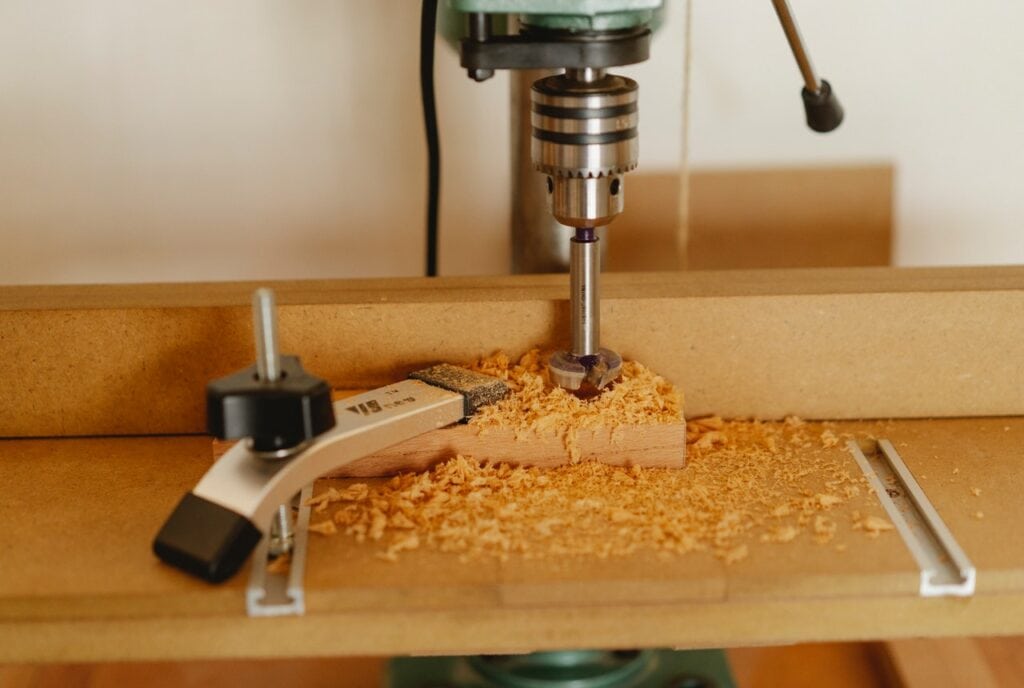 | | |
| --- | --- |
| Number of Jaws | 3 |
| Jaw Material | Hardened steel |
| Angle Between Jaws | None |
The drill chuck is also called a spindle-chuck or drill chucking. It holds the drill and secures the spindle to a drill bit. You can use it with a drill press. You can adjust it to secure the spindle in any position. It doesn't come standard on most lathes.
It allows you to drill holes into wood, plastic, and metal. The drill chuck holds the tool you are using to drill a hole in your workpiece. This way, you can rotate it in the direction you want.
Drill chucks are made of hardened steel and are usually equipped with a built-in indexing system. You can attach this lathe chuck to the headstock or the tailstock spindle. The drill chuck has centering jaws that operate when you rotate a key.
Pros
You can use it to hold a linear shank drill, reamer, or tap for drilling
Easy to use
It's helpful when switching between a lathe and a drill press
Cons
The arbors can slip or fall out of the lathe chuck
---
6.

Magnetic Type Chuck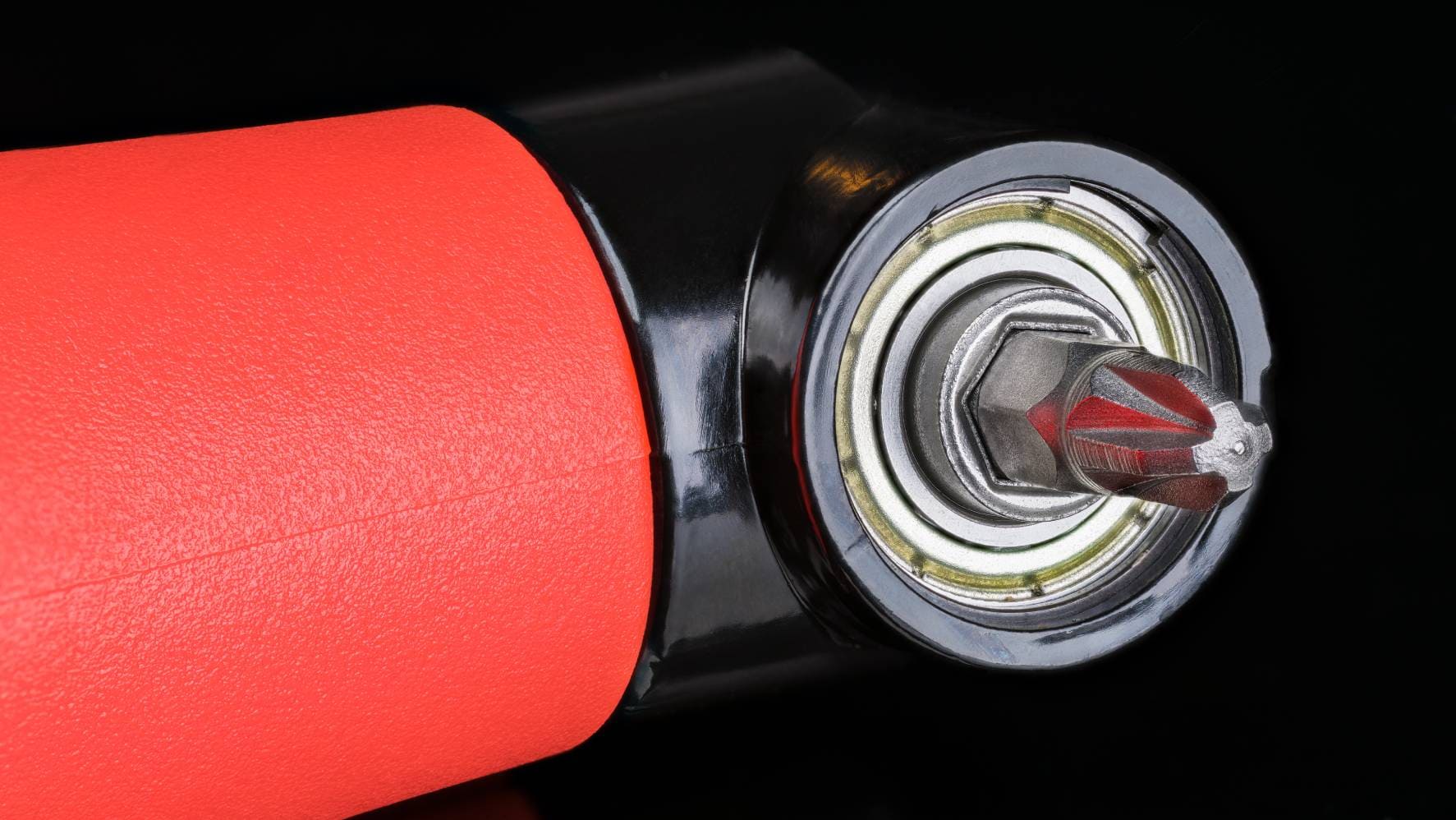 | | |
| --- | --- |
| Number of Jaws | 3 |
| Jaw Material | No jaws |
| Angle Between Jaws | None |
The magnetic chuck is more complicated than other lathe chucks, but you can use it for almost any lathe. It has an electromagnet that attaches to the spindle and holds it in place. It's also known as an electromagnetic chuck.
You can use a magnetic-type lathe chuck in all kinds of lathes including small lathes and large industrial machines. The magnet attached to it can hold small objects in place.
Also, some magnetic chucks have two magnets. One holds the workpiece, and another holds it in place when turning. The magnets are permanent.
Additionally, this lathe chuck has a detachable steel bar on the other side. You can use it to hold the workpiece. The main body of this lathe chuck is made of cast iron. You can use the magnetic chuck for light cuts. Also, you can use it to hold thin workpieces that you cannot hold using other lathe chucks.
Pros
Easy to use
It doesn't generate heat
It needs minimal maintenance
You don't need to connect it to electrical power
Cons
Not ideal for heavy workpieces
The moving parts may wear and tear
---
7.

Air Chuck or Hydraulic Operated Chuck
| | |
| --- | --- |
| Number of Jaws | 3 |
| Jaw Material | High-quality steel |
| Angle Between Jaws | 120° |
The air chuck or hydraulic operated chuck uses hydraulics to secure the workpiece. The machine operates using high-pressure air or water. Usually, this lathe chuck is used for large diameter workpieces, and it requires a lot of power to operate.
It is used in mass production due to its efficient gripping capacity and high speed. It has an air cylinder or a hydraulic attached at the rear end of the headstock spindle that spins with it.
What's more, it's a simple, inexpensive, and easy-to-use piece of equipment you can mount on any lathe machine. It has various applications, from small turning tasks to large production runs.
A crucial advantage of this lathe chuck is that it has a larger working area than its counterparts, making it more efficient in handling operations such as drilling, reaming, and turning.
Pros
It's easy to tighten and loosen your workpiece
It facilitates tool change
Precise tool clamping
Cons
You can only use chuck for one tool diameter
---
8.

Pneumatic Power Lathe Chuck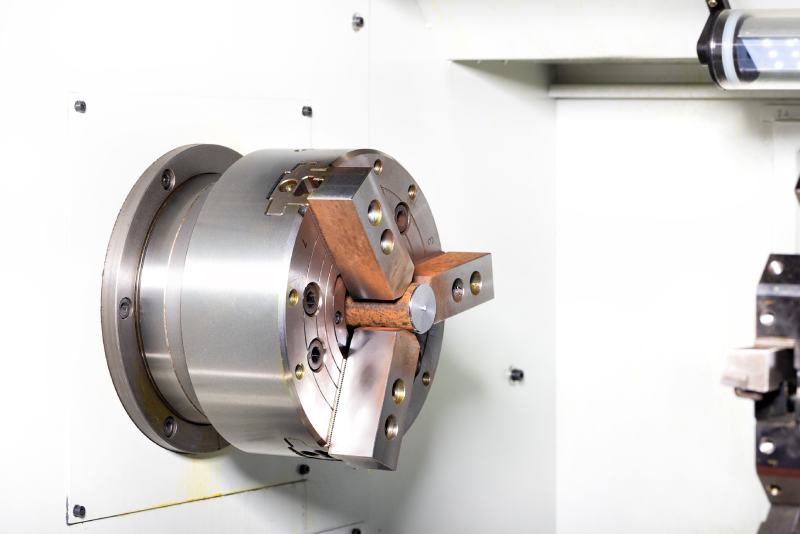 | | |
| --- | --- |
| Number of Jaws | 3 |
| Jaw Material | Aluminum or mild steel |
| Angle Between Jaws | 120° |
The pneumatic power chuck has become a standard feature on modern lathes. It is used in machine shops. You can operate the chuck by air pressure from either a compressor or from compressed air in the lathe spindle. It eliminates the need for a separate air supply unit.
The pneumatic chuck is also available with a hydraulic fluid system. It also allows for faster operation and greater versatility. You can also operate it manually or automatically. It has a chuck key with a handle that enables users to change the position of the chuck.
This lathe chuck has been used for many years and it's still widely used today. It is also more versatile than a manual lathe chuck. It can accommodate different sizes and types of workpieces without adjustments or modifications.
Pros
Long service life
Convenient low-pressure adjustment
Low energy consumption
High clamping accuracy
Cons
Mounting it is challenging
Differences Between Three-Jaw and Four-Jaw Lathe Chucks
There are several differences between lathe chucks with three and four jaws. Take a look at some of them below.
Construction and Motion
The primary difference between these two lathe chucks is in movement. Three-jaw lathe chucks are connected using scroll gears. It's a self-centering chuck and the jaws move simultaneously.
On the flipside, jaws move independently in four-jaw chucks, and you have to center the workpiece.
Uses
Four-jaw chucks hold a workpiece in the form of a hexagon or a circle. On the other hand, the three-jaw chuck holds a workpiece in the form of an octagon or a square.
Number of Holes
In the three-jaw chuck, the chuck wrench has only one hole or key. It loosens or tightens the grip. On the flipside, four-jaw lathe chucks come with four holes. They regulate every jaw.
Setting Time
Setting time is the time it takes to rotate a tool or spindle in a drill chuck. Setting up four-jaw chucks takes longer than three-jaw chucks. But a four-jaw chuck can do more than three-jaw lathe chucks.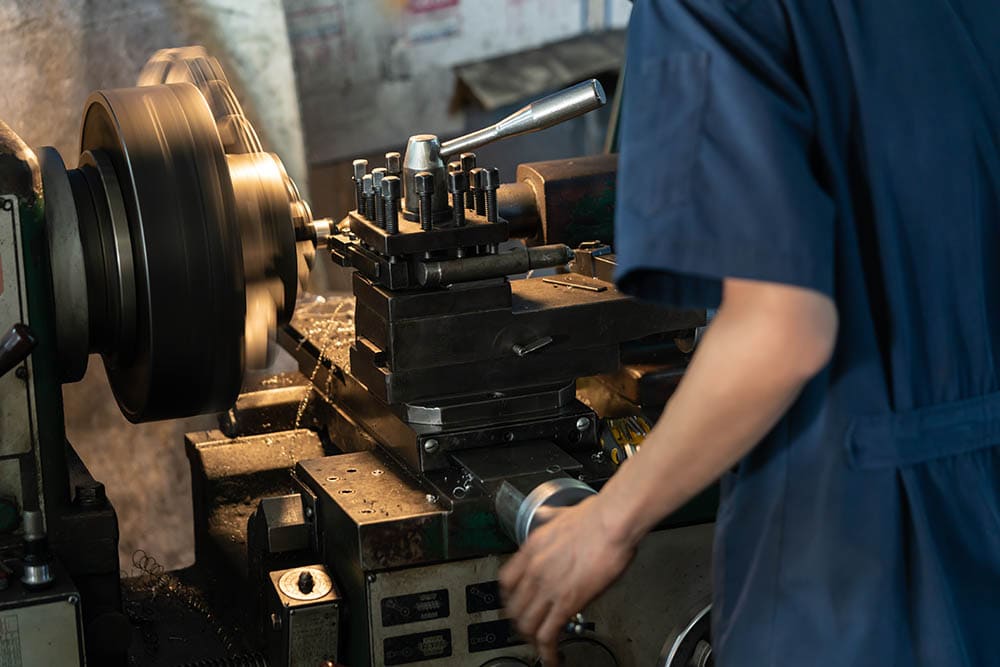 Gripping Power
Another primary difference between the two lathe chucks is the gripping power. Four-jaw lathe chucks have higher gripping power than three-jaw lathe chucks.
Weight of the Workpiece
The workpiece weight is crucial for the lathe chuck design. A heavier workpiece needs a heavier chuck to ensure it has enough support.
The three-jaw chuck holds small workpieces such as nuts, bolts, and screws. It also has a smaller capacity than the four-jaw chuck. The four-jaw chuck grips large items such as drill bits and chisels.
Here is a summary of the differences between three-jaw and four-jaw lathe chucks:
Three Jaw Lathe Chucks
Jaws are connected
Grips square and octagonal workpieces
One hole
Short setting time
Less gripping power
Supports light and small workpieces
Four Jaw Lathe Chucks
Jaws move independently
Grips hexagonal and circular workpieces
Four holes
Long setting time
High gripping power
Supports heavy and large workpieces

Final Thoughts
When it comes to the lathe chuck, you can use many different types for various applications. Understanding their differences will help optimize your use of this handy tool. Make sure you're well equipped for all your turning and shaping needs.
Now that you've seen each type of lathe chuck, what's your best choice? There isn't a one-size-fits-all answer. Each lathe chuck has its benefits and drawbacks, as discussed above. It depends on your preferences and working environment.
But now you have some background information on each option. So, you'll have an easier time deciding which is suitable for you.
---
Featured Image Credit: tima-miroshnichenko, Pexels