4 Different Types of Mosquitos in Ohio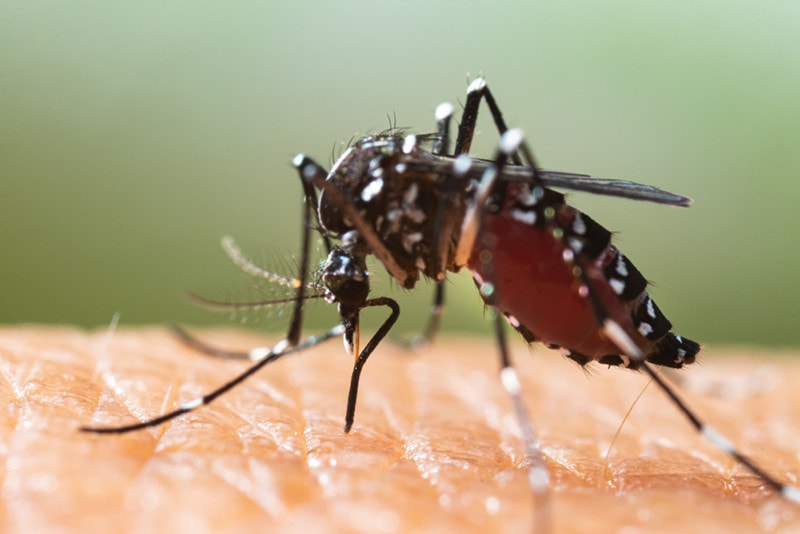 Mosquitoes are unfortunate but abundant insects in most environments. If you live in Ohio, you're more than familiar with being eaten alive on warm summer nights. These parasites strike when you're just trying to enjoy yourself, causing you to spray a pound of bug spray on your body just to ward off these pesky pests.
But did you know that there are different types of mosquitoes? That's right. There's not just one mosquito species that invades the state. Here we're going to go over the four different kinds of mosquitoes in Ohio and the potential dangers of each one.

The 4 Different Types of Mosquitos in Ohio
1.

Eastern Treehole Mosquito
| | |
| --- | --- |
| Scientific Name | Aedes triseriatus |
| Lifespan | 40 days |
| Transmitted Diseases | La Crosse, Encephalitis |
The Eastern tree hole mosquito gets its name honestly, as that's where it dwells. It isn't the most common Ohio mosquito breed, but it's definitely among them.
Life Cycle
The Eastern treehole mosquito is unique in its own right. It overwinters, meaning its lifecycle takes quite a while to complete. As it goes through each stage, it does not matter the season as it can thrive just as well in cold temperatures but not in the same way that you would think.
These mosquitoes are not active in the colder months but they do live. Closer to winter months, the mature adult will lay eggs in a spot that will remain completely dry over the winter months. That same spot in the springtime will flood, hatching the eggs that exist.
Preferred Habitats
As the name might give away, the Eastern tree hill mosquito loves to be in enclosed spaces such as tree holes, old tires, and similar objects. These are areas where water can accumulate, which makes their lifecycle flourish.
You can find these critters on tree lines, in meadows, and in other natural spaces. But they can also infiltrate metropolitan areas since they have just as many opportunities to flourish.
Disease
These mosquitoes, in particular, carry a disease called La Crosse and encephalitis. These two diseases can be very detrimental to a person causing major effects on the body.
Encephalitis symptoms include:
Flu-like symptoms
Muscle weakness
Fever
Fatigue
Loss of appetite
Disorientation
Unsteady gait
Muscle contractions
La Crosse symptoms include:
Fever
Nausea
Vomiting
Fatigue
Lethargy
---
2.

Asian Tiger Mosquito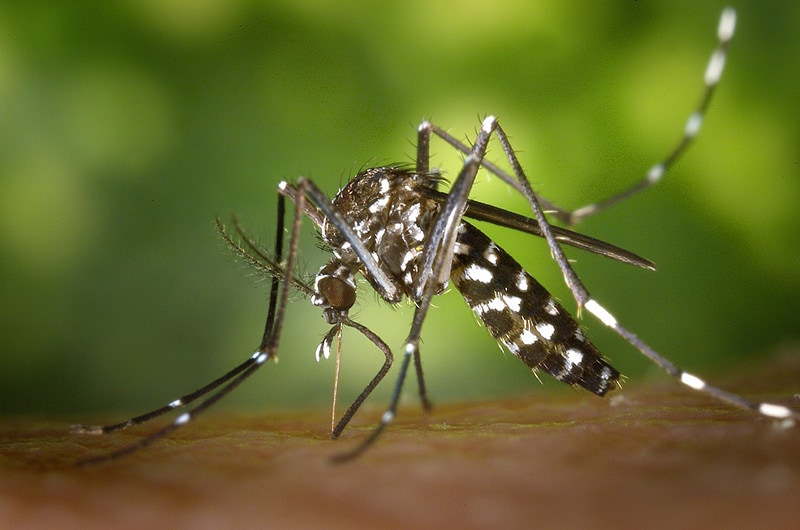 | | |
| --- | --- |
| Scientific Name | Aedes albopictus |
| Lifespan | 20 days |
| Transmitted Diseases | Eastern Equine Encephalitis, West Nile Virus, Dengue Fever |
As the name implies, the Asian tiger mosquito did not originate in the United States. This invasive species was introduced to North America and has become a significant problem in states like Ohio. Well, it's up to speculation on how exactly this mosquito was introduced to the US. Many speculate that it was from the tire trade.
The mosquitoes love to hide in tires as they are a prime point for sitting moisture. Once they were introduced into the United States, they took over and are almost impossible to eradicate from the population.
Life Cycle
What's interesting about the Asian tiger mosquito as they can lay eggs once a week. So they're very heavily populated in warmer months. They have relatively short lifespans and are not active in the winter.
Preferred Habitats
Interestingly and unlike some of the native species of mosquito in Ohio, the Asian tiger mosquito prefers urban and suburban locations. Even though they thrive in moist, humid environments, dry weather can significantly reduce their lifespan.
These mosquitoes live just a few short weeks before their lifecycle ends, but they lay enough eggs to compensate for that.
Disease
Like almost all mosquitoes, these guys are very capable of distributing disease. These particular mosquitoes are prime carriers of Eastern equine encephalitis, west Nile virus, and dengue fever.
These three illnesses are considered extremely dangerous, with equine encephalitis being the most dangerous mosquito-borne disease in the United States.
Eastern equine encephalitis symptoms include:
Fever
Chills
Muscle aches
Disorientation
Seizures
Coma
West Nile virus symptoms include:
Meningitis
Neck stiffness
Stupor
Tremors
Seizures
Paralysis
Disorientation
Coma
Dengue fever symptoms include:
Abdominal pain
Back pain
Pain behind eyes
Chills
Muscle weakness
Fever
Fatigue
Nausea
Vomiting
Bleeding
Headache
Sore throat
---
3.

Northern House Mosquito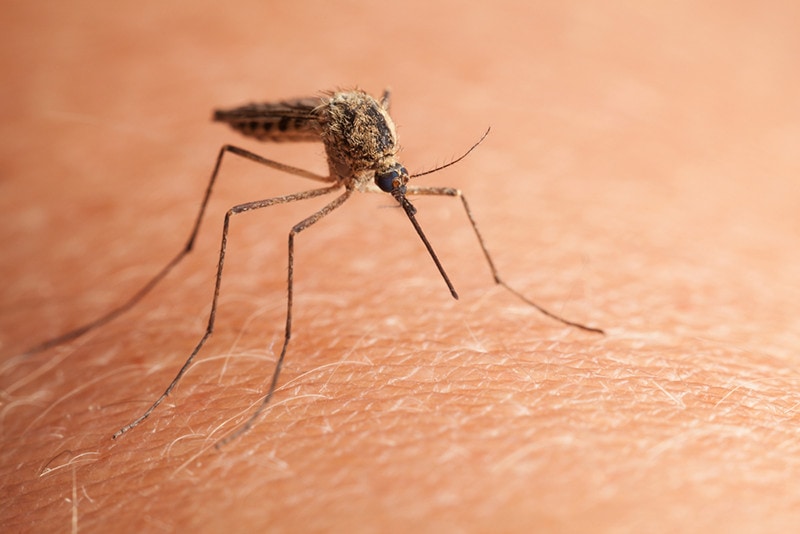 | | |
| --- | --- |
| Scientific Name | Culex pipes |
| Lifespan | 132 days |
| Transmitted Diseases | West Nile Virus, Eastern Equine Encephalitis, Western Equine Encephalitis, Saint Louis Encephalitis |
The northern house mosquito is among the most common mosquitoes in Ohio and in other parts of the United States. These mosquitoes love populated urban areas with a continuous food source and many places to reproduce.
Life Cycle
These light to golden brown mosquitoes lay eggs in clutches of up to 400. These medium-sized mosquitoes love sewers, pools, ditches, marshes, clogged gutters, and other forms of standing water to lay their eggs. What's interesting about the life cycle of these mosquitoes is that they can overwinter, remaining active throughout the year.
Preferred Habitats
Even though the Asian tiger mosquito above loves urban areas, the northern house mosquito might give them a run for their money. This type of mosquito is known to infiltrate urban areas where populations are dense.
In fact the majority of these mosquitoes thrive in man-made buildings and industrialized areas to overwinter, ensuring the survival of the species the following spring.
Disease
This mosquito is responsible for four major diseases. These include Eastern equine encephalitis, west Nile virus, Saint Louis encephalitis, and western equine encephalitis. So because they are the most prevalent mosquito species in the United States, the disease is definitely a risk factor.
We have described the symptoms of west Nile and eastern equine encephalitis above, but we will discuss the other two diseases in detail.
Western equine encephalitis symptoms include:
Can be asymptomatic
Delirium
Disorientation
Coma
Paralysis
Death
Saint Louis encephalitis symptoms include:
Headache
Dizziness
Nausea
Malaise
Confusion
Disorientation
Dizziness
Tremors
Coma
Death
---
4.

Malaria Mosquito
| | |
| --- | --- |
| Scientific Name | Anopheles quadrimaculatus |
| Lifespan | 20 days |
| Transmitted Diseases | Malaria |
The malaria mosquito, otherwise known as the marsh mosquito, is another common species in Ohio. What is really dangerous about this particular kind of mosquito is that they do carry the risk of malaria. Like most others, only females are capable of biting and are, therefore, the ones who transmit the disease.
Life Cycle
Like most mosquitoes, these guys require standing water to reproduce. The first three stages – egg, larva, and pupa – last 7 to 14 days. Once they are mature, the females will begin to blood feed and prepare to mate.
Preferred Habitats
Because the malaria mosquito depends on bodies of water to hatch their eggs, you will see most of them hanging around ponds, marshes, ditches, and other standing water.
Disease
As the name implies, the malaria mosquito is a notorious carrier of the dreaded malaria disease. While it is not a common thing in Ohio, the risks are still very much possible.
Symptoms of malaria include:
abdominal pain
muscle pain
chills
fever
sweating
diarrhea
nausea
vomiting
fast heart rate
headache
mental confusion
pallor
If you are affected by malaria, doctors will give you a series of treatments depending on the severity of your illness. The likelihood of you contracting malaria in Ohio is very small but not impossible.

Ohio Mosquitoes: Positives and Negatives
We all know mosquitoes to be pesky blood-sucking parasites that we have to deal with in the warmer months. But we're going to say positive before we say negative. Mosquitoes serve as a primary food source for many different animals, including birds.
They are an abundant food source in the warm months, ensuring that insect eaters have plenty of food. On the flip side, mosquitoes are notorious for carrying diseases. They can carry many detrimental and deadly diseases to humans and animals alike.
That's not to mention that their bites are just quite frankly annoying to deal with. When you get bitten by a mosquito, you have that bite for several weeks and it itches you endlessly. So not only do they carry disease, but their bites just cause general discomfort.
It is essential to wear natural or store-bought bug repellent in the summer months to protect yourself from these ailments. Mosquitoes can be very dangerous, but we can do our part to prevent disease transmission.
Suppose you know you were bitten by mosquitoes recently and are suddenly developing symptoms that we mentioned in this article. In that case, it is important to see your doctor immediately for further evaluation.
Early detection and treatment of these issues could lessen the severity of the illness and get you the medical help that you require through the process.

Conclusion
So now you know all about the four different kinds of mosquitoes to expect in the summer months of Ohio. For your protection and safety, it's best to follow certain guidelines to make your home and yard space unattractive to these insects.
Mosquitoes might be a nuisance, but they deserve their spot in the ecosystem. Even though they can be downright irritating and very dangerous, they play a vital role in life. As long as you learn how to navigate around their feeding habits and protect yourself and your family, you should remain relatively safe.
---
Featured Image Credit: frank60, Shutterstock