18 Types of Red Roses (With Pictures)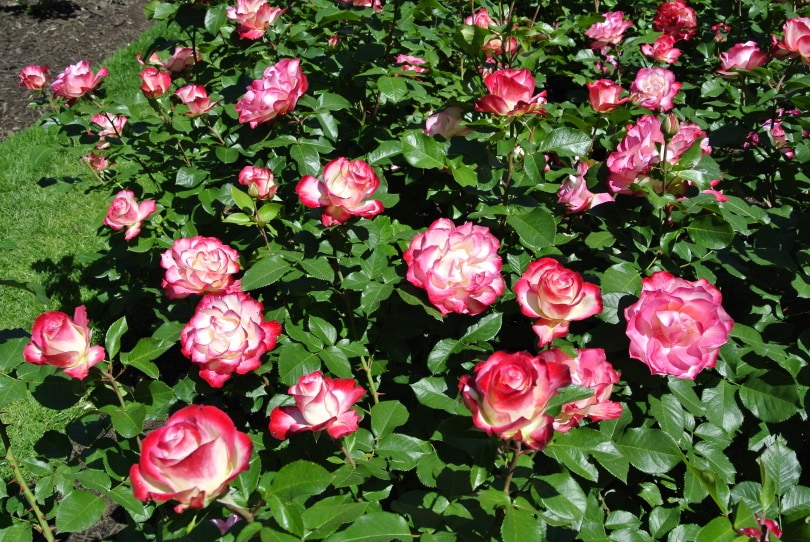 Anyone who loves flowers will tell you that red roses have a classic beauty that can't be copied by any other flower. Roses that are red have long been a symbol of people in love. Not only that, but they also make great additions to any garden and are loved by florists everywhere.
You might be surprised to find out there are many different types and varieties of red roses out there to choose from. So, whether you're giving them to your cherished loved one on Valentine's or looking to plant them in your garden, it helps to know the different types.
In this list, we'll talk about a few of the most gorgeous types of red roses and what they might mean to you.

The 18 Types of Red Roses
1.

George Vancouver Rose
The George Vancouver Rose is actually a shrub that produces quite a mass of flowers. The foliage on this shrub is pretty hardy, a vibrant green, and resists diseases quite well also. However, you do need to keep an eye on this shrub, as it loves to climb and can get out of hand if you don't keep an eye on it and keep it pruned.
The flowers are gorgeous, and the shrub throws off a mildly sweet aroma.
---
2.

Darcy Bussell Rose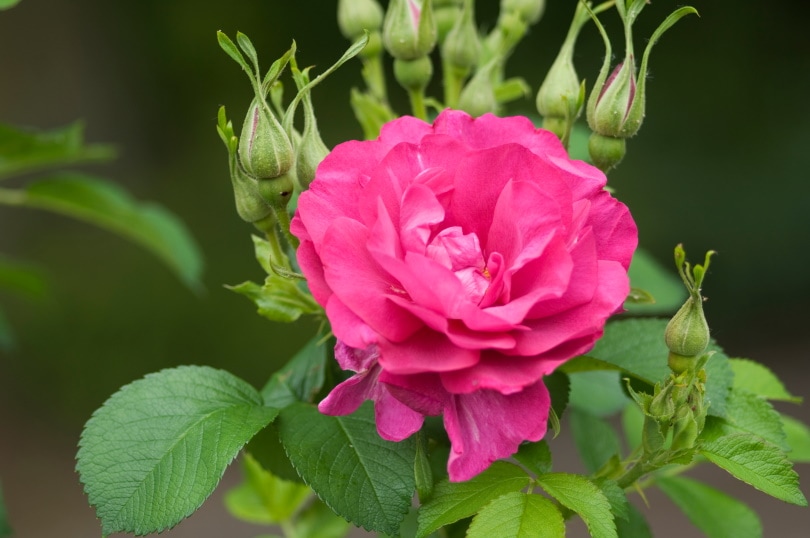 This rose bush features deep red roses and is a great repeat bloomer. You'll find it in bloom from the end of spring until the end of the summer. This fragrant rose ends up being around three feet tall, with a spread in width of around two feet.
It's best to grow this rose where it can take advantage of the full sun. It grows best in well-drained soils that are fertile and rich. It's important to know as well that this rose bush is pretty good at resisting diseases that affect many rose bushes.
---
3.

Chrysler Imperial Rose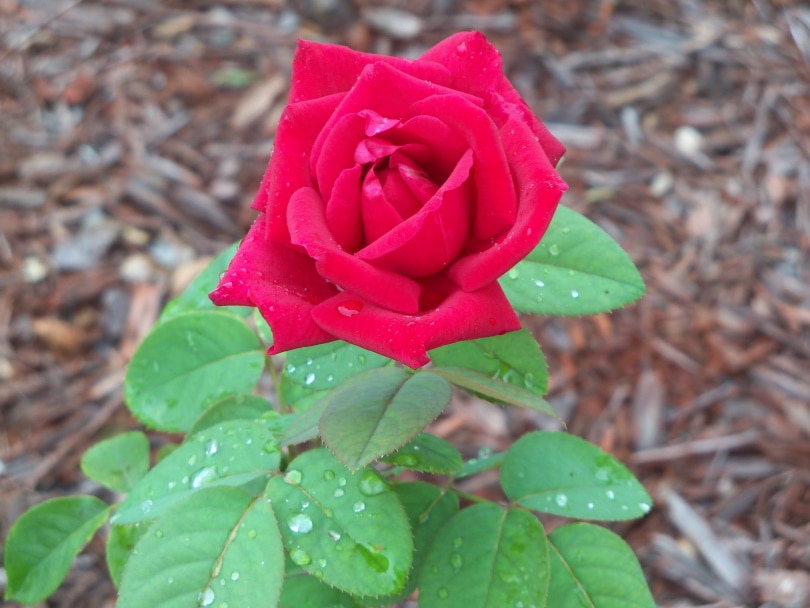 The Chrysler Imperial Rose is a hybrid tea rose that's well-known for its bold, superior fragrance. This rose is large, reaching five inches across. It features deep red velvet-like flowers, with 45 to 50 petals to each flower. Standing on long stems, this durable rose is an upright shrub that even works well in warmer climates.
This rose shrub grows best in fertile, rich soil that's well-drained and will top out at around six feet tall. However, it is essential to note that this rose shrub is prone to develop some mildew if not taken care of properly.
---
4.

Adrenalin Rose
The Adrenalin Rose is a hybrid tea rose that is dark red in color and grows best in zones 4 through 8. Their blooms have a semi-double shape, though not much is known about their fragrance. This rose bush blooms in spring, summer, and fall. So, if you're looking for roses for someone you love, you can't go wrong with a bouquet of these dark red flowers.
---
5.

Amalia Rose
The Amalia Rose is a variety of the Alba rose and is short growing. The rose itself opens up to a bloom that's shaped like a cup. The petals are a deep red, and the flower itself has a delightful smell and far-reaching fragrance. However, you do want to watch out for plant diseases and certain types of pests with this plant, as the Amalia Rose is quite susceptible to each of these things.
---
6.

Eternity Red Rose
The Eternity Red Rose is a shrub that requires full sun to thrive. It typically stands six feet in an upright position at full growth and is good when it comes to reblooming. The spread of this shrub is around three feet, and it is an attractant for bees, so be careful when pruning or working with these roses. This bold red rose is used often in wedding bouquets.
Related Read: 23 Roses That Grow in Shade (With Pictures)
---
7.

Samurai Rose
The Samurai Rose is a very red, very big-headed rose by description. The flowers have no thorns, which makes them perfect for bouquets. Disease and pest resistant, these roses have a delicate, mild fragrance that isn't noticeable unless you're really smelling the flowers.
---
8.

Red Meidiland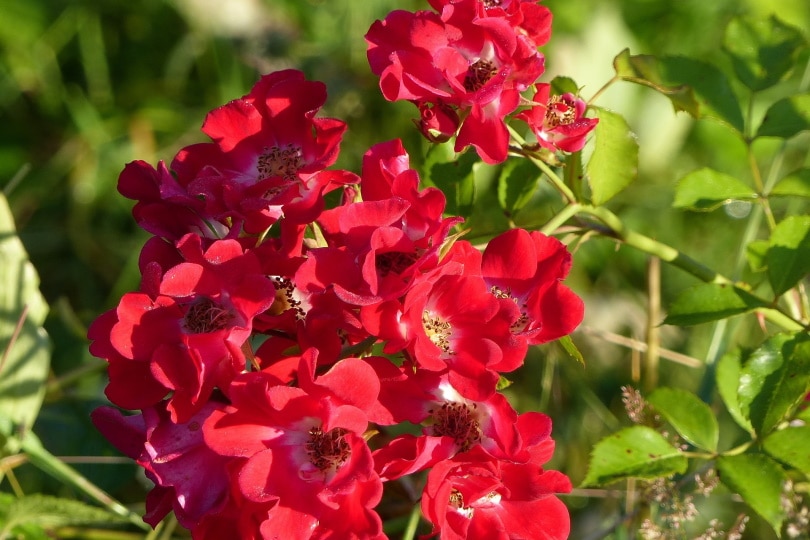 The Red Meidiland is a shrub rose that grows best in zones four through nine. It needs full sun to thrive and attracts butterflies to your garden and lawn. This shrub works better in medium soil and is more tolerant of air pollution than some other rose shrubs. The blooms of this shrub are red with a white center. Although this shrub doesn't give off any fragrance, it is resistant to black spots and diseases.
---
9.

Kashmir Easy Elegance Rose
The Kashmir Easy Elegance Rose is a shrub with petals that feel like satin. This shrub needs full sunlight to thrive, reaches three to four feet in height and does best in sandy, well-drained soil. It also grows best in zones four through nine. It also requires very little maintenance when compared to other rose bushes.
---
10.

Super Hero Rose
The Super Hero Rose grows best in full sun and reaches a height of between three and six feet. Not only is this rose disease resistant, but it also blooms throughout the spring season and is easy to maintain as well, making it perfect for someone who wants rose bushes but doesn't have time to spend caring for them a whole lot.
---
11.

Morden Fireglow
The Modern Fireglow is a rose shrub that has a unique orange-reddish color. It features a spreading growth habit and grows to between two and four feet in height at maturity. The shrub is disease-resistant, healthy, and has a semi-sweet fragrance that isn't overpowering.
---
12.

Champlain Rose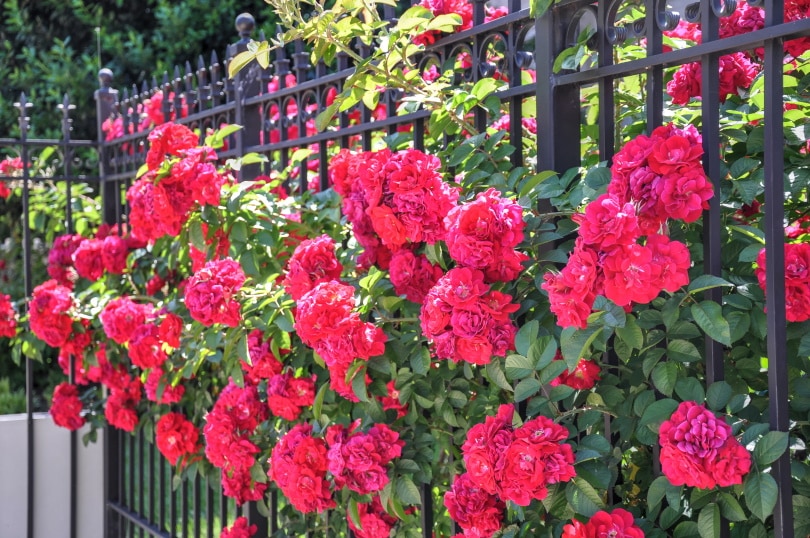 The Champlain Rose is a hardy, lightly fragranced rose shrub that anyone would love to have graced their garden. It's a repeat bloomer that works well in zones four through 10. The petals of this flower are a velvety red, that turns to an even deeper red the further you get from the tips of the petals.
---
13.

Hope for Humanity Rose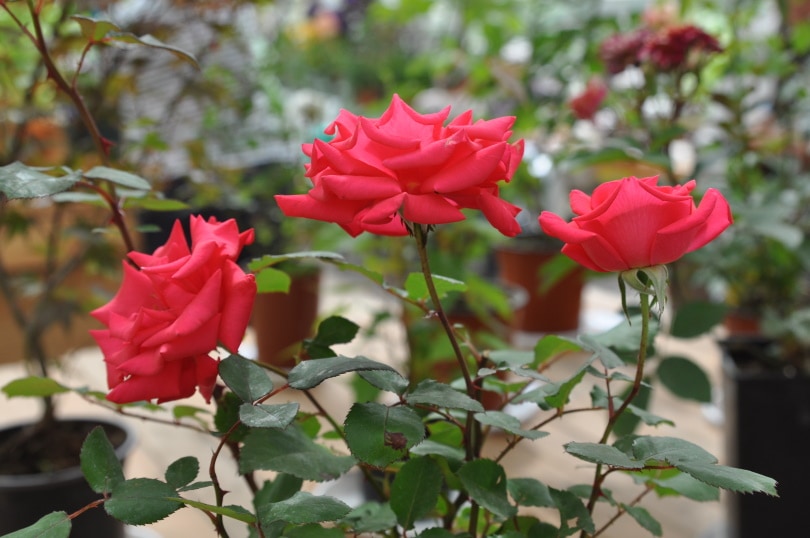 The Hope for Humanity Rose is the perfect choice to grow in zones three through nine because it's the perfect winter rose. The petals are lightly scented and are a light blood color in appearance.
---
14.

Crimson Glory
The Crimson Glory Rose is a climbing hybrid tea rose. The flowers are a deep crimson color and are very large. They have a strong scent of damask that is far-reaching and can grow to between 10 and 12 feet tall at maturity. You'll want to plant these fragrant roses in well-drained, rich soil that's extremely fertile. They also thrive best in full sunlight. There's nothing more gorgeous than Crimson Glory that's been trained on a trellis or fence.
---
15.

Cherry Parfait Rose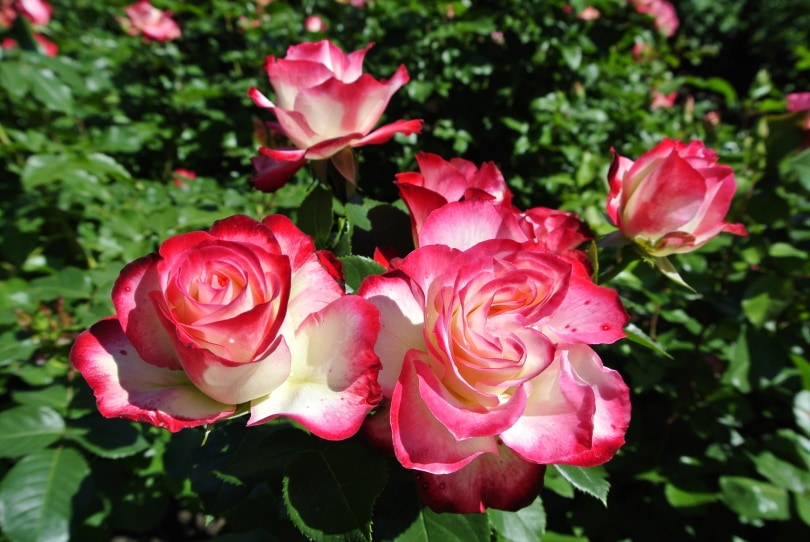 The Cherry Parfait Rose is a two-toned flower that is mostly red, especially if you're seeing it from far away. A type of Meilland Rose, this rose features clusters of flowers. It grows between four and five feet tall and thrives best in a place where it can get the effect of the full sun. Make sure to plant the shrub in well-drained soil that provides enough moisture for the best results. Make sure the soil is rich and fertile also.
---
16.

Thomas a Becket Rose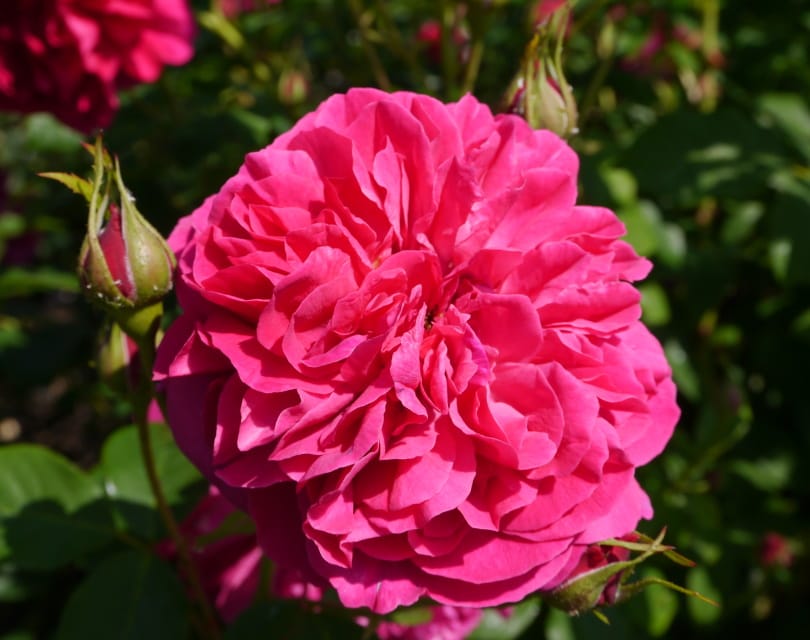 The Thomas a Becket Rose gives you light to deep red roses and grows in a shrubby type of growth habit. This is a repeat bloomer with large blooms and grows well in all soil types. You can plant this shrub where there is partial or full sun, and it'll thrive just fine. It has around 63 petals and works best in zones five through 11.
---
17.

Falstaff Rose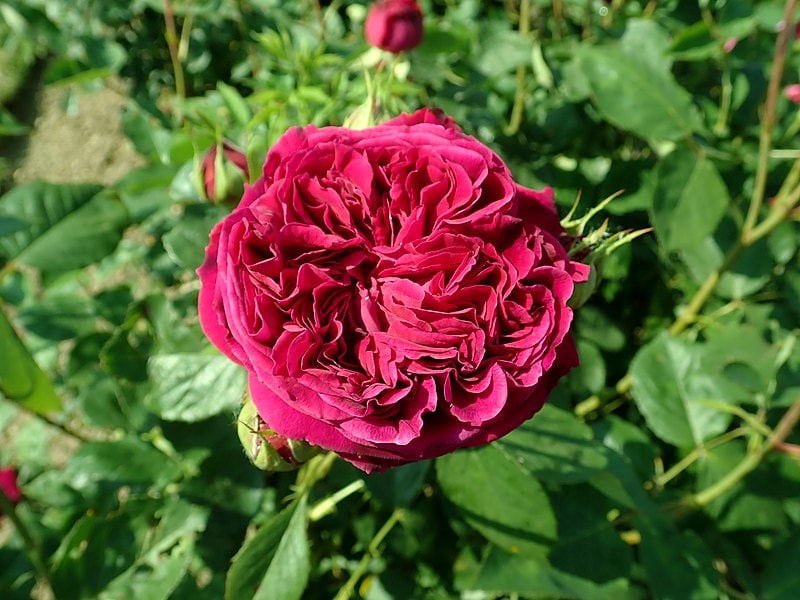 The Falstaff Rose has a deep purple and red color that is embedded in a double bloom. It's a repeat flower and has large blooms. It grows best in zones five through 11 and stands about four feet tall at maturity. It has around a 110-petal count and needs full sunlight to thrive but can thrive well in any soil type.
---
18.

Munstead Wood Roses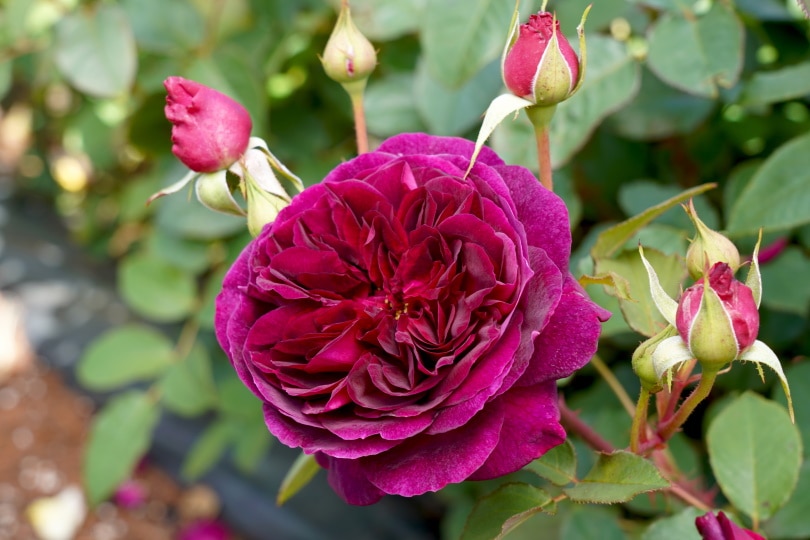 Munstead Wood Roses are repeat-flowering roses that grow to about three feet tall in maturity. They have a medium bloom size and a strong fruity fragrance that's far-reaching. While they do work well in any soil type, they do need full sunlight to thrive and grow best in zones five through 10.

Final Thoughts
These are a few of the most gorgeous red roses you might want to plant in your garden or give to someone you care about deeply. Remember, it's important to check the best zone for the roses you decide to grow and make sure that you keep up with the ones that are great climbers.
Roses have been around for centuries, and whether they are climbing roses, Munstead Wood Roses, or Crimson Roses, someone you know will love them. Just make sure that you check for flower allergies before handing a bouquet to someone new or planting them close to your house for the best results.
---
Featured Image Credit: MOTOKO, Shutterstock