USAA Renters Insurance Review 2023: Pros, Cons, & Verdict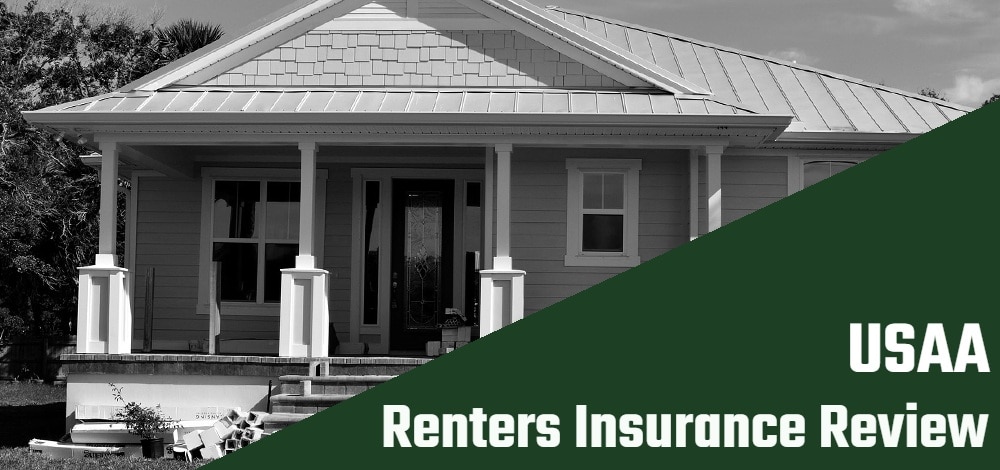 In This Review: Our Review | Pricing | Coverage | Limits & Claims | FAQ | Conclusion
For several decades, the United Services Automobile Association (USAA) has been one of the leading insurance providers in the country. This company was founded way back in 1922 when a group of 25 Army officers felt it would be a great idea to insure each other's vehicles. Little did they know that one day, the company would grow to serve more than 13 million Americans.
One of the premium products that the firm is currently selling is renters' insurance. It's the type of coverage that financially protects an individual against property damage or loss. The victims also get to be compensated in the event of an accident, but only if the incident took place at their place of residence.
Learn more about USAA renter's insurance below.
Our Final Verdict
We give USAA Renters Insurance a rating of 4.5 out of 5 stars.
---
USAA Renters Insurance Review
Pros
Earthquake and flood coverage doesn't draw any extra charge
Impeccable 24/7 customer service
Covers families of military personnel
Great discounts
Has a user-friendly online app
Offers coverage to servicemen and veterans who live overseas
Cons
Only accessible to active military members, veterans, and their immediate families
---
About USAA Renters Insurance
USAA products mostly appeal to military service members. The company normally offers several benefits to the brave men and women that serve (or have served) our country, and the same perks are extended to their spouses and children. Sadly though, non-military members of the public and those who were dishonorably discharged are not eligible and thus cannot sign up with the company for insurance.
Their discounts and impeccable customer service are the two things that have significantly contributed to their exponential growth. As a policyholder, you'll get to enjoy three types of discounts: Claims-Free Discount, Multi-Policy Discount, and Protective Device Discount.
The Multi-Policy Discount is a 10% discount on the policyholder's total premium. It takes effect the minute they decide to merge their auto insurance with renters' insurance. Unfortunately, this discount has not yet been made available in all states.
To lure in more members, the company reached out to ADT home security providers, with a proposal. USAA was seeking a partnership that would allow them to give their current members an additional discount, should they decide to subscribe to ADT security services. That's what the Protective Device Discount is.
Last but certainly not least, we have the Claims-Free Discount. One that's automatically awarded to the policyholder if they remain claim-free. Not all USAA members get to enjoy this benefit, as its availability is contingent on the renter's location.
---
Pricing & Plans (Updated in 2023)
Renters Insurance Cost Comparison
Base Policy
It's not unusual for property owners to request tenants to purchase a renter's policy. The good thing is that they usually don't care if it's one with a minimum amount of liability insurance. As long as they'll be fairly compensated should anything happen to their property.
If you decide to sign up for the USAA policy, these are the four types of coverage that will be included in your renters' policy:
Medical Payments
Covers the costs of medical expenses accrued, while treating the injuries suffered by anyone who was at the holder's residence at the time of the incident.
Personal Liability
If there has been an incident at your place of residence, and you're compelled to cater to some legal fees, it will be covered here.
It also includes payouts in cases of property damage.
Loss of Use
Covers all the different expenses accrued, while the policyholder was displaced from their residence due to a covered event.
For example, restaurant meals, food delivery, temporary housing, hotel stays, and several other expenses.
Personal Property
Any sort of damage to the policyholder's personal possessions will be covered. So, it takes care of repairs or replacements of electronics, pieces of furniture, clothing, etc.
---
Additional Coverage
Most of the insurance companies in the country charge their members extra fees for any additional coverage. But that's not the case with USAA, as they usually offer the following types of coverage free of charge:
Replacement Cost Coverage
This coverage is different from your typical Replacement Cost Coverage because it pays as per the current market value of the item damaged.
For instance, if the initial price of your leather couch was $220, but rose to $300 due to inflation, USAA will pay you $300.
Earthquake Coverage
Property damage due to tremors or earthquakes will be compensated
Flood Insurance
The company has always worked side by side with the National Flood Insurance Program to protect its members against any loss caused by flooding
---
Coverage Limits & Claims
The USAA offers range of coverage depending on its type. For Personal Property it is $25,000–$750,000, for Liability $100,000–$1,000,000 and for Medical Payments to Others the $5,000.
USAA policyholders are never charged deductibles if any of their military pieces of equipment or uniform gets damaged in one of the covered claims. And if they decide to relocate outside the country, or when they are deployed overseas, their personal belongings are still protected.
The only additional coverages that you need to pay extra for, as a policyholder, are Valuable Personal Property and Electronics. If you own an expensive musical instrument or jewelry, and you wish to be fully covered should anything happen to them, you have to sign up for the Valuable Personal Property Coverage.
Damage to electronics is often covered by the standard policy, but there are a few limitations. Limitations that you don't have to worry about if you're under the Electronics Coverage. For example, losing your mobile phone at the grocery store.
---
State Availability
You can subscribe to USAA renter's insurance anywhere in the country. It's accessible in all 50 states, including Washington DC. All veterans living outside the country or servicemen stationed overseas also have the option of signing up for coverage, by directly getting in contact with any one of the company's branches within the borders.
---
Get a Quote from USAA Insurance
To get a quote from USAA insurance, you'll first have to prove that you're a US citizen. And to prove that you'll have to key in the following information online:
Full Name
Home Address
Date Of Birth
Zip Code
Service Number
---
Reviews from Customers
If you get the chance to go through the data collected by the National Association of Insurance Commissioners, you'll note that USAA is one of the insurance providers with the highest rating in customer satisfaction. They rarely receive complaints, and when they do, they reach out immediately to resolve the issue.
Most of their online reviews are positive, from clients who were happy with the company's remarkable customer service and affordable rates. Of course, we have a couple of negative reviews, but that's expected.
---
FAQ
How Do Members File Their Renters Insurance Claims?
USAA has a user-friendly app that makes the whole process seamless. So, if your property has been damaged or your possessions stolen, get in touch with them through the app as soon as possible.
---
How Can One Bolster Their USAA Insurance Claim?
Through documentation. We understand that most of the time it's virtually impossible to document the incidents as they are happening, but if you see an opportunity to take photos or to film what's happening, don't let it slip away.
Document what you can, get a police report, and then send everything to your insurer. They'll then be happy to reimburse you without any questions asked.
---
Our Verdict
The low index in customer complaints and positive reviews are both indications that USAA is a great option. Their discounts have enabled members to sleep peacefully at night, knowing they have fewer things to worry about. The discounts also help them save more and put more food on their family's table.
We also love the fact that they thought about including spouses and kids in their cover, and that those serving abroad are also covered.