Wallside Windows vs Hansons Windows: Pros, Cons, and Differences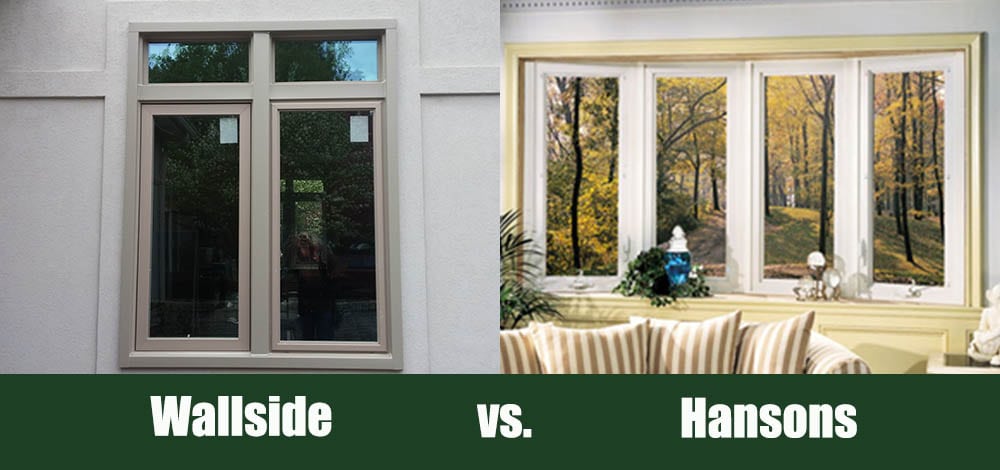 Wallside Windows and Hansons Windows are both based in Michigan and both manufacture and supply replacement vinyl windows. They also both have a good customer reputation and are highly rated and, as such, they are seen as direct competitors. However, one company offers triple-paned windows while the other claims to offer triple-paned performance but only double panes, and one company offers a lifetime, transferrable guarantee, while the other includes a 35-year guarantee.
Although similar, there are differences between the two window brands, and you can only choose one for your next window replacement. Read on for more information on both companies, including the pros and cons of each, to help you determine which is best for your home.

A Quick Comparison – Wallside Windows vs Hansons Windows
Brand name
Wallside Windows
Hansons Windows
Established
1944
1988
Headquarters
Taylor, MI
Holt, MI
Product lines
Vinyl Windows
Vinyl Windows

Roofing

Siding

Parent company/ major Subsidiaries
N/A
Parent: Huron Capital

Brief History of Wallside Windows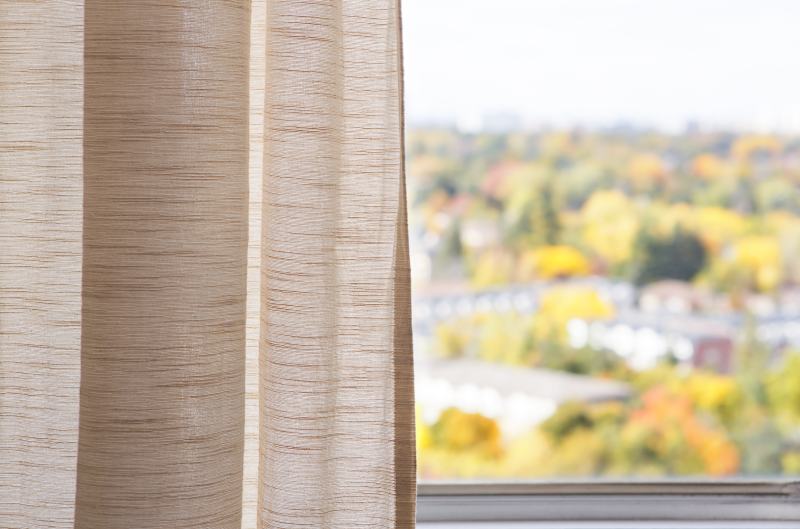 Wallside Windows was established in 1944 by Martin Blanck, a former fruit vendor. He established the company with a limited budget and effectively acted as a broker, serving as the middleman between homeowners and contractors. He demanded high quality work from the contractors he recommended and sent them regular work, in exchange for this commitment to quality.
Having been drawn by the emergence of vinyl window technology in the 1970s, Blanck established Martin Blanck's Wallside Windows on Schaefer Road, Detroit. He continued to operate as salesman for the business, including becoming the face of Wallside's TV adverts. So beloved by his employees was Martin Blanck that, following his death in 2001, they commissioned a portrait of the founder, which still hangs outside his office.
Following the death of Martin, Wallside Windows is run by his sons and grandson and the company is one of the largest employers in the area, with more than 140 staff. The company's tagline, "We Are The Factory" shows that even though they have extensive experience and a strong reputation, they have remained a local business. It also means that every window purchased by homeowners is custom made to order.

Brief History of Hansons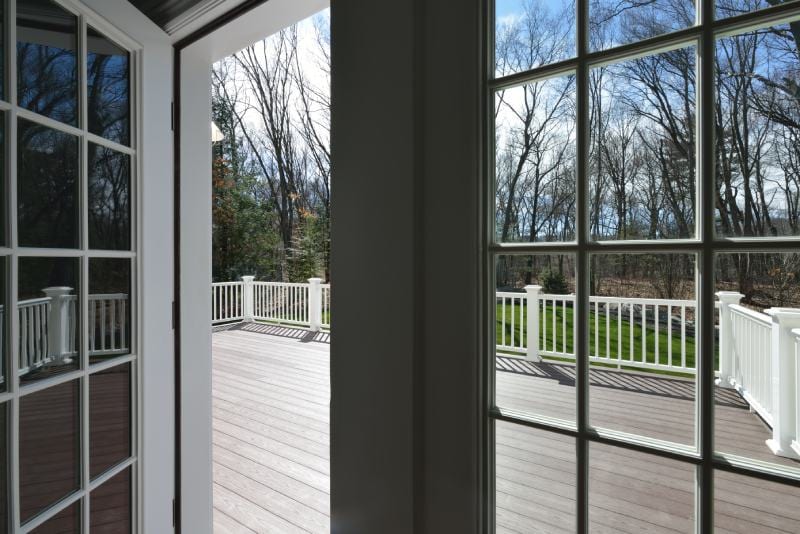 Although a relative newcomer to the local replacement window industry, having formed in 1988, Hansons Windows is also respected and well-known around Michigan. Founder Brian Elias introduced the Lifetime Guarantee that still accompanies Hanson's products, and this helped the company become one of the ten largest home remodelling companies in the U.S.
The company's success meant that, in 2017, local investment company, Huron Capital, bought Hansons and took the brand national. Hansons now operates throughout the U.S. but still aims to live by its "Get It Done" ethos. They have 13 locations across the country, although most of their sites are still found in Michigan. They boast more than 180,000 satisfied customers, to date, which also matches the company's official name "1-800 Hansons".

Wallside Windows Manufacturing
Wallside Windows is a Michigan based company that has its primary manufacturing plant in Michigan. All the company's products are manufactured in the factory, and they also claim to source and receive parts locally from Michigan and Eastern United States, to make the windows.
Their vinyl extrusions are sourced from Pennsylvania, glass from Indiana, hardware from Connecticut, and screens from Michigan. Wallside states that sourcing materials from American suppliers minimizes turnaround times, ensures high quality, and helps other American businesses.
Hansons Manufacturing
Unlike Wallside, Hansons is, effectively, a middleman, which means that they do not manufacture their own windows. With that said, they do choose suppliers that are U.S. based and all windows and sidings are manufactured in America. No details of suppliers or exactly where the products are manufactured is provided.
---
Wallside Windows Product Line
Wallside Windows produces and sells replacement vinyl windows with an aluminum trim. Their products are also available through resellers and other renovation companies. They do not sell wood, fiberglass, or windows made from other materials at this time and they specialize in windows so do not provide other products like gutter or sidings. Their windows are double paned, although Wallside claims that they offer triple-paned performance.
They have 9 styles of window: Awning, Bay, Bow, Casement, Double Hung, Double Sliding, Picture, Speciality and Vent windows.
All products come in a selection of styles and colors that should match the exterior décor of your home.
Hansons Windows Product Line
Hansons has a more expansive product line, although they too only provide vinyl replacements so no fiberglass or all-aluminum frames. All windows are triple-paned windows, potentially providing better soundproofing and insulation properties compared to double.
Window types are Bay, Bow, Casement, Double Hung, Garden, and Slider windows.
Hansons also supplies roofing. Their roofing products are made up of rubberized shingles and they also conduct storm damage consultation and emergency replacement.
Their other products are vinyl siding and aluminum gutter guards.
Like Wallside Windows, Hansons offers a good selection of colors and styles to help you achieve the look you want.
---
Wallside Windows vs Hansons: Price
All Wallside Windows' products are made to order, which means that they don't publish prices. However, their estimated tend to be among the cheapest that homeowners receive. This is partially because they only offer vinyl windows, so there are no premium products available, as such. It is also because their windows are double paned, while those of some competitors are triple paned, and the extra layer does add cost to the price.
Because these companies also install the windows, and they do not sell the windows without installation, they do not carry specific price lists.
Wallside Windows
Wallside Windows doesn't have a published price list, and because the windows are custom made to order, you need to get an estimate to determine the exact price. However, single hung and casement windows tend to be the cheapest replacement windows while bay windows are among the most expensive.
Hansons
Similarly, Hansons does not publish a price list but does give a rough guide to window prices. According to this guide, their single-hung windows and casement windows are the least expensive while sliding windows and double-hung windows are at the premium end of the scale.
---
Wallside Windows vs Hansons: Warranty
Warranties are extremely important when buying windows. Most of us hope to get an absolutely minimum of 25 years out of new windows and doors, and the warranty that we receive should match this. Always check warranty details, ask about extended warranties, and if you're comparing prices and quotes, but are unable to separate two quotes, don't be afraid to use the warranty as your deciding factor.
Wallside Windows
Wallside Windows offers a 35-year guarantee across its window products, and this is transferrable, which means that if you sell your property, you can transfer the warranty to the new owners as long as you do so within a certain amount of time after the sale. The warranty protects against seal failure and includes an in-home service.
Hansons
Hansons actually promises a lifetime guarantee on their products and their workmanship. This includes screen meshes and covers glass breakage, too.
---
Wallside Windows vs Hansons: Customer Service
With a 35 year and a lifetime guarantee respectively, it is important that the companies offer good customer service because there is a chance that you will have to speak to them at some point. Although both companies do maintain a good customer service rating and both have a similar rating according to the Better Business Bureau.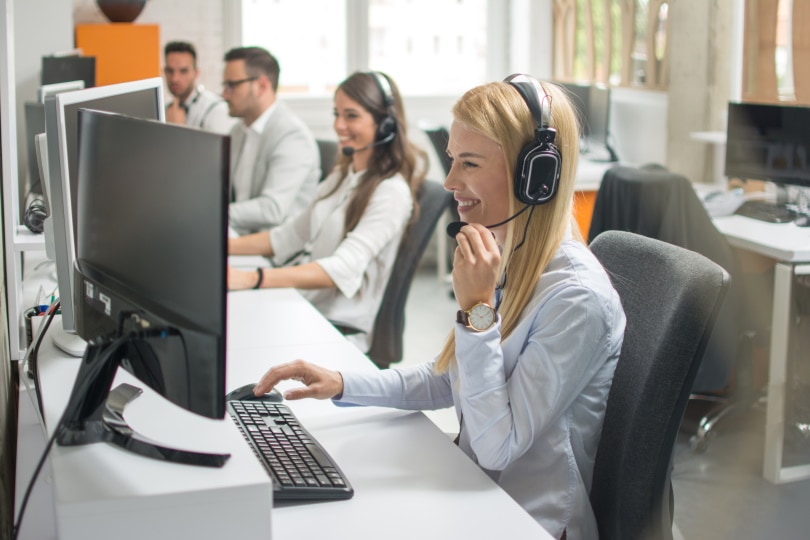 Wallside Windows
Wallside Windows has a good reputation and has achieved an A+ rating on the BBB. They have received 40 complaints in three years on the BBB site, and 12 of 17 complaints in the last 12 months were resolved.
Hansons
Hansons also has an A+ rating with the BBB but they have received 326 complaints over three years 135 have been resolved or closed in the past 12 months.
---
Head-to-Head: Wallside Casement Window vs Hansons Casement Window
Casement windows are basic windows. They connect to the frame by one or more hinges at the side. A single casement window has a single opening window, and a double casement has two that open in the middle of the frame. Although basic, these are efficient windows that offer light and allow air into a room. Most houses have several casement windows and will need them replacing eventually. Hansons and Wallside both sell double casement windows.
Wallside's windows include an interior screen as standard. The handle conveniently folds flat, too, which means that it won't ruffle blinds or drapes. They have low-E glass and are argon gas filled to offer energy efficiency and warmth to a home.
The Hansons casement window has multi-point locking mechanisms and a beveled frame designed to enhance the aesthetic appeal.
Although pricing varies according to many factors, Wallside Windows tends to work out marginally cheaper and the design of their windows looks slightly cleaner. Features like double weather stripping also make their window more appealing.
Our Verdict: Wallside Casement Windows
---
Head-to-Head: Wallside Double Slider vs Hansons Double Sliding Window
Sliding windows slide along a horizontal track. Double sliders have two panes, both of which can usually be slid along separate tracks. This makes it possible to open either side or to open both sides halfway. Sliders are low maintenance, although you do need to keep the track clean and free from debris, and double sliders offer plenty of ventilation options so that you can determine how much fresh air gets in the room. Because they feature two windows, these double sliding windows also allow a lot of light in.
As well as being slightly cheaper, Wallside Windows' Double Sliders have child safety latches that can be used to limit how far the window can be opened and they feature low-E glass and argon filled gas. They also have double weatherstripping to further prevent draughts getting in.
Hansons Windows do have brass rollers that offer a smooth glide when opening and closing the windows.
Our Verdict: Wallside Windows
---
Head-to-Head: Wallside Bay Window vs Hansons Bay Window
Bay windows are large windows that project out from the wall and essentially create a bay inside the room. The windows are multi-panel windows, usually glazed on three surfaces of the wall, and they have a sill wall underneath them. The bay window is large, allowing a lot of natural light in and letting residents see out. Depending on the owners' preference, they can have different configurations and different styles of window opening but it is common to have at least two opening sections to the window.
Wallside Window's bay windows are custom made, like all of the company's windows, which means that you can choose exactly the configuration you desire. They are covered in a pine or oak veneer for a classic look and they have stainless steel cables for support. They can even feature an inner seat up to 19 inches deep and have the same low-E glass and argon filled glazing to provide energy efficient windows for your home.
Hansons bay windows use stainless steel rod for their support and offer oak or birch framing material that can be stained and painted because it is true wood. Their bay windows are more expensive, and they can't be customized quite as extensively as Wallside Windows, but they are still good quality and attractive, and they do have that lifetime guarantee.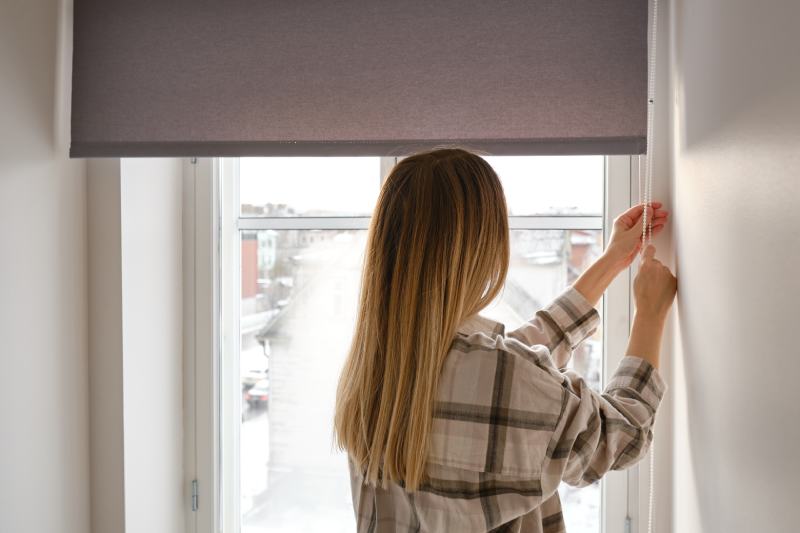 Our Verdict: Wallside Windows
Overall Brand Reputation
Performance
The two companies' products perform similarly but Wallside Windows have a reputation for greater longevity, which means that they are considered to have better performance.
Price
Although neither company publishes price lists, because they do both install the windows and because Wallside Windows creates windows to custom orders, Wallside Windows's quotes do tend to be lower than those of Hansons, so they are considered the cheaper of the two companies.
Durability
Although both companies offer windows that seem to last for two or three decades, and there is very little to split them in this regard, Hansons offers a slightly better lifetime guarantee, which means that the windows will be replaced if they become damaged through general use. Therefore, they must be considered to have greater longevity.
Design
Again, it is difficult to separate the two companies. They both supply vinyl windows of good quality, but Wallside's are not only customized to the customer's exact needs, they include little features like child safety locks and handles that sit flush against the window frame and these things make a difference when living with the windows on a daily basis.

Conclusion
Wallside Windows and Hansons offer similar products and operate from the same part of the country. However, where Wallside manufacture their own windows and make everything to order, Hansons resells windows so has less flexibility with their design. Wallside also tends to come in slightly cheaper than their competitor, which gives them the overall edge. However, both companies do supply good quality replacement vinyl windows.
You might also be interested in:
---
Featured Image Credit: Left – Wallside Windows: WallsideWindows.com | Right – Hansons Windows: HansonsWindows.com