What Are Shipping Container Homes? Everything You Need to Know!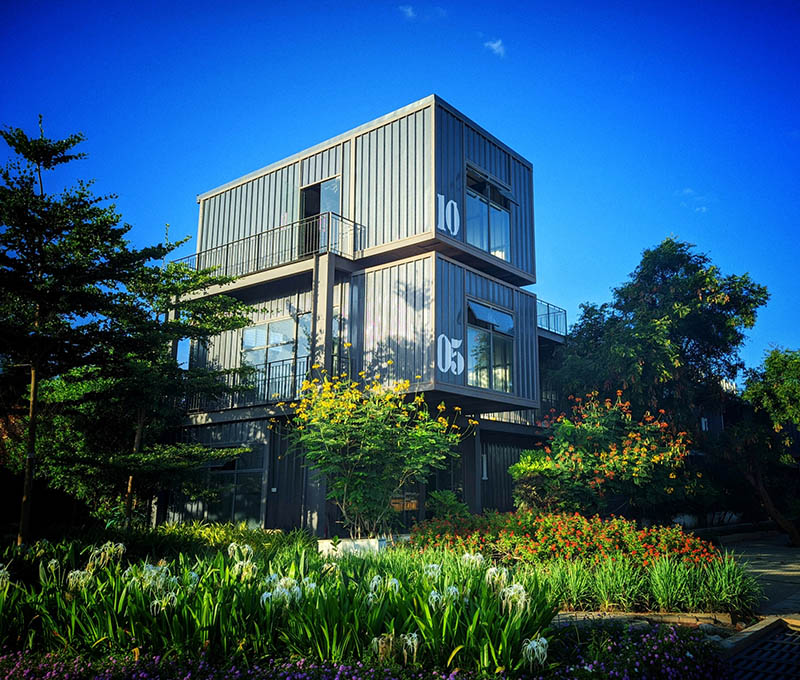 Cost is a common point of frustration for a growing number of prospective homebuyers. Spurred by the pandemic, home prices jumped over 20% from March 2021 to March 2022. And with rent pricing rising faster than the average wage increase, nearly anyone could appreciate a cheaper housing option.
Enter the shipping container home; it's a solution gaining popularity among those looking for an increasingly rare blend of comfort and affordability. Like a tiny home, a repurposed container offers an economical and offbeat way to customize your personal space. As more people realize the benefits of container homes, experts expect the market to exceed $73 billion by 2025.
There will be no better time than the present to take advantage of this budget-friendly trend. Discover the pros and cons of a shipping container home to see if it could be the perfect solution for you.
How Does a Shipping Container Home Work?
The housing market has been in dire straits since the Great Recession as new construction slowed. Supply couldn't meet demand, and affordability fell off a cliff.
In response, many began looking at alternative housing. According to a 2020 IPX1031 survey, 86% of respondents stated they would consider buying a tiny home. Of those, 65% cited affordability as the primary reason. Meanwhile, an estimated 14 million shipping containers sit unused and awaiting repurposing. Home conversions solve an availability issue while meeting the flexible minimalism most people want in their tiny houses.
Shipping container homes use new or unused steel containers as the frames and shells of the structures. The standardized forms make them easy to arrange into stacked and side-by-side configurations to expand the space. They often sit above ground and level on supports, much like mobile homes, though they can also sit on foundations if the site is permanent. Built to withstand the abuse of moving around the globe, containers make a suitable foundation for long-term residence.
Container homes aren't ideal for larger families. They're an excellent option for young couples or empty nesters needing a downsized dwelling. Many use containers as vacation houses, backyard hangouts, personal offices, and off-grid homes. Owners can customize them in different layouts, add rooftop decks, and build out windows and doors to create unique modern designs.
Container homes are also becoming popular with property management entities. They're a viable solution for apartment owners needing space-saving units, while organizations like Habitat for Humanity consider them for low-cost housing opportunities.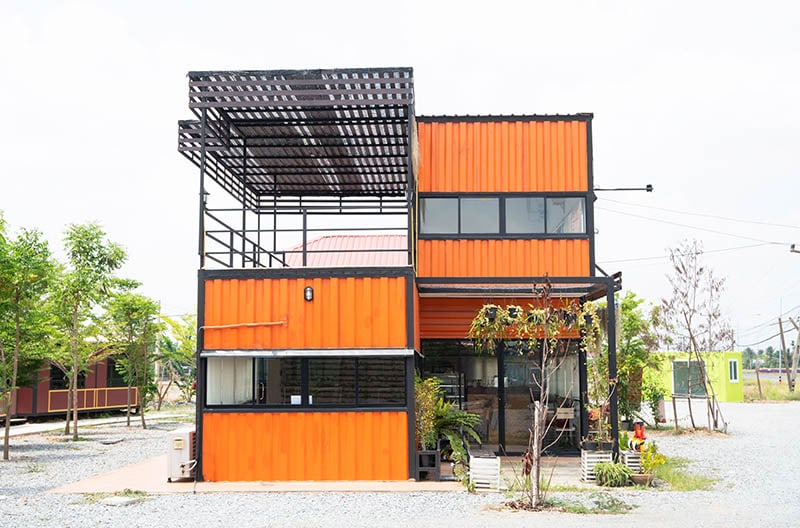 What Are the Different Types of Shipping Container Homes?
Shipping container homes can consist of a single container or several containers in different setups. They stack and sit next to one another perfectly, and you can perpendicularly arrange them for more configurations.
Containers are available in three sizes:
8×10 (80 sq. ft.)
8×20 (160 sq. ft.)
8×40 (320 sq. ft.)
A standard shipping container has an interior ceiling height of 7 feet 10 inches. More expensive high cube units add an extra foot in head clearance.
Door styles can also vary. Most containers include one dual-swing door at the end. Higher-priced units may include an extra 1–2 sliding or swing doors on the side. For a DIYer building their container home, these side openings can make it easier to set sections next to and perpendicular to one another.
Many containers that reach the consumer market come from China and only see one use. Others stay in use for a serviceable life of around 15 years before they're available to consumers, typically at a heavily discounted rate. Older containers have a limited life expectancy due to the higher likelihood of corrosion and other wear.
Stand-Alone Containers
Consumers can buy individual ISO-certified containers from suppliers across the map. Smaller used 8×20 containers run roughly $1,000–$3,000 per unit, while 8×40 units cost $2,000–$4,000. A new or one-use container can be much pricier at $5,000–$7,000, and many larger or side-door units can exceed $10,000. Due to delivery charges, your location will also determine the final cost of receiving a basic container.
Containers will need significant work before becoming livable, and insulation is critical for seasonal comfort. More expensive spray foam is the preferred choice, as it can provide the highest R-value while saving space in an already tight room. You'll then factor in framing and interior walls, window cutouts, hallway transitions, patios, decks, roofing, and overhangs. Walls will also need extra structural support when cutting into the steel siding. Plumbing, electrical, and HVAC systems will further add to the cost.
Aside from the unit itself, you'll also have to consider the cost of the land, site preparation, and building permits. With so many variables at play, container home conversion can have a final cost as low as $10,000 or over $150,000.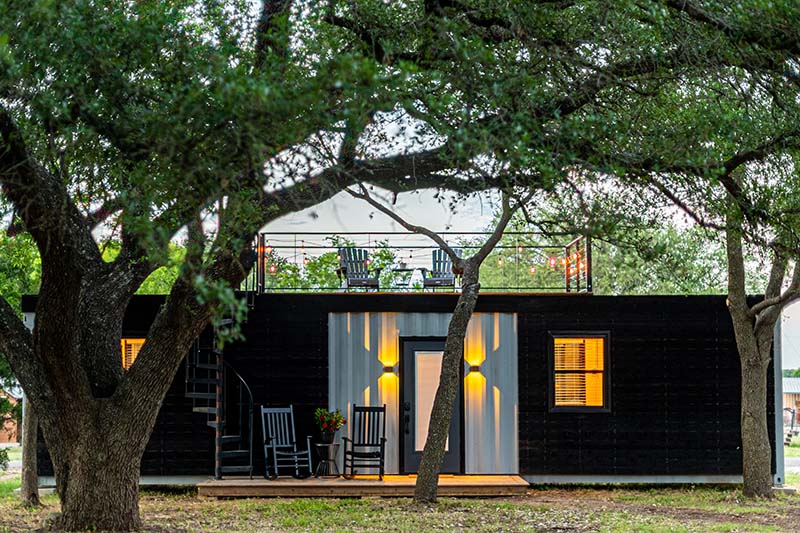 Prefabricated Container Homes
Plenty of companies offer prefabricated container homes, such as Giant Containers, Honomobo, and Container Homes USA. Some work regionally, but because container homes ship with ease, they're also widely accessible in many remote areas.
Shipping container home companies offer design catalogs with the flexibility to customize your space. They construct the interior and exterior features, plumbing, and electrical off-site to make it move-in ready. Your sole job is to tell them where to place it, add furniture and appliances, and decorate. Many companies have financing available, and some even handle the zoning and permit side to save you time and effort.
A single container prefabricated home (160–320 square feet) typically starts around $25,000. Depending on the company and its building standards, multi-container abodes can easily cost over $200,000.
Where Are Shipping Container Homes Used?
Shipping container homes are gaining wide acceptance across the globe. Many countries use them to solve social housing crises in an eco-friendly approach. They are legal in all 50 states, but the local zoning requirements will vary from one area to the next.
You'll need to research city and county ordinances for your shipping container home. Resources are available online or by calling the city planning department. Regulations can change according to the intended purpose. For instance, using the home as a rental versus a home business may make the difference in whether you can build in a particular place. And while most areas follow IRC and IBC standards, building codes can vary at the city level. You'll need to ensure your home follows every design standard.
Certain states offer better conditions for building a shipping container home. Looser zoning laws and building codes combined with proximity to shipping stations make states like Texas, New York, Louisiana, and Oregon some of the most popular places to set up a container home.
Advantages of Shipping Container Homes
The primary appeal of a shipping container home is the cost. With complete units starting at around $10,000, they make homeownership far more accessible. As needs change (or budgets increase), these modular units are also incredibly cost-effective to expand and reshape. But affordable living isn't the only appeal of the shipping container and tiny home lifestyle.
Shipping and Construction
As you can imagine, containers ship far more efficiently than other mobile, prefabricated, and modular homes, and construction can be remarkably fast. Many shipping container home builders estimate 6–12 months for construction, similar to a site-built home, but an expert builder or motivated DIYer can knock out the project in about 8–12 weeks.
If you want to move, a completed shipping container home separates, assembles quickly, and fits perfectly on the back of a semi. You can transport a small shipping container home from one location and set it up in another in a matter of hours.
Sustainability
Metal is one of the most recyclable materials, making every shipping container sent to the garbage dump more tragic than most items in the trash. By converting it into a home, you can extend its usable life for decades. Upgrades to prevent weathering will allow the container to fare far better than it would in storage or the landfill. You'll then be able to recycle it when the home is ready to come down.
When you care for a shipping container and keep it in use, you prevent it from breaking down and polluting the ground and water systems. From one perspective, it's even more eco-friendly than recycling. Melting and reforming metal to make new products still requires significant energy and water, but you can avoid the environmental costs by reusing it.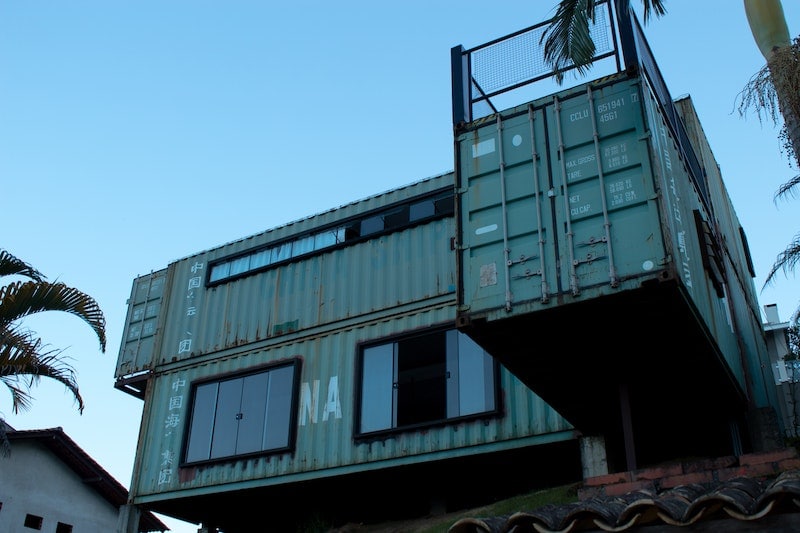 Durability
Shipping containers can handle the most intense weather at sea and on land, so they're more suitable for construction than most materials. A container can hold up to 400,000 pounds stacked on top while withstanding harsh conditions like high winds and saltwater spray.
The downside to metal is the rust potential. Corrosion will occur from poor weatherproof painting and sealing, faulty welds, and open gaps. But the tradeoff is often worth it, especially if you take the extra steps to button it up against moisture. Unlike wood framing, metal won't rot or develop mold, nor will it fall victim to pests, rodents, or fire.
Disadvantages of Shipping Container Homes
You swap cost for comfort in many ways with a shipping container home. With standardized sizing, the possibilities are finite, even though you can cut out entire walls to widen homes and open ceilings. They're more suitable for single people and couples. A shipping container home for the whole family isn't out of the question, but the construction cost to accommodate everyone can rival that of site-built homes, which would have far more options for customizability.
Approval
Zoning limitations can make shipping container homes more challenging than site-built houses. Many municipalities treat containers like mobile homes, considering them to lower the image and quality of life in residential areas.
That stigma can affect more than the house's location. You may face a tougher time with loan approval on a shipping container home. Lenders need collateral to hold you accountable for your debts. If they don't feel the home will have much value, they won't be as generous with their offerings. Working with an expert contractor who can provide detailed plans for a container home on a permanent foundation will maximize your chances of getting a construction loan.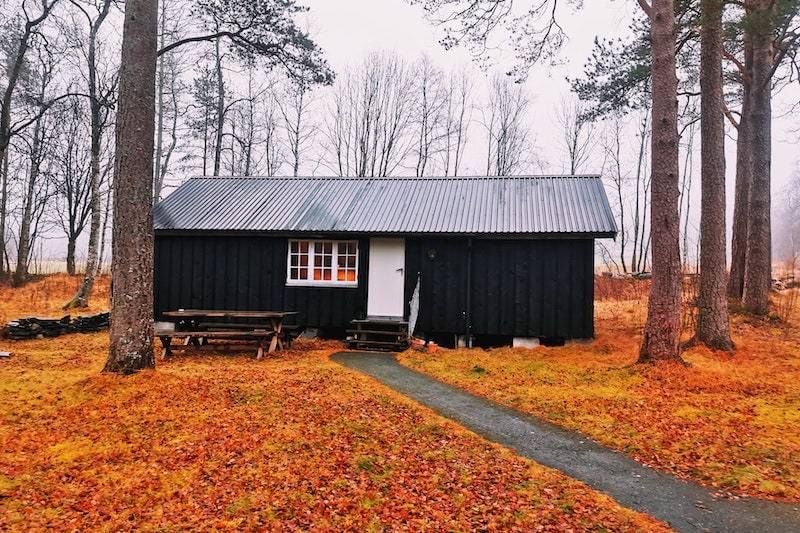 Toxic Substances
Shipping containers primarily house products and not people, so they don't always meet the safety standards of a typical home. Toxic elements like lead paint and rodenticides are common treatments in used containers. Your supplier must wash the unit and remove any potential health hazards before use.

Frequently Asked Questions (FAQs)
How Long Do Shipping Container Homes Last?
With proper upkeep, a shipping container home can last several decades. Shipping containers have service lives of roughly 15 years. As a building material, a used container will last about that long before needing significant maintenance. A new container typically lasts 25–30 years. But steel can survive over 100 years when you treat it well. You can double, triple, or even quadruple a container's lifespan with proper cladding, roofing, and sealing.
Conclusion
If you have the desire, resources, and location to build a shipping container home, now is the time to take advantage. More and more municipalities are seeing their unique value and allowing their use. But with greater acceptance comes greater demand. Shipping containers are available now and in abundance, yet that supply will dwindle and rise in price as more consumers adopt the container lifestyle. For capable buyers, being an innovator in this burgeoning market can pay off big now and in the future.
---
Featured Image Credit: Hithesh S, Unsplash