What Is Finish Carpentry? What You Need To Know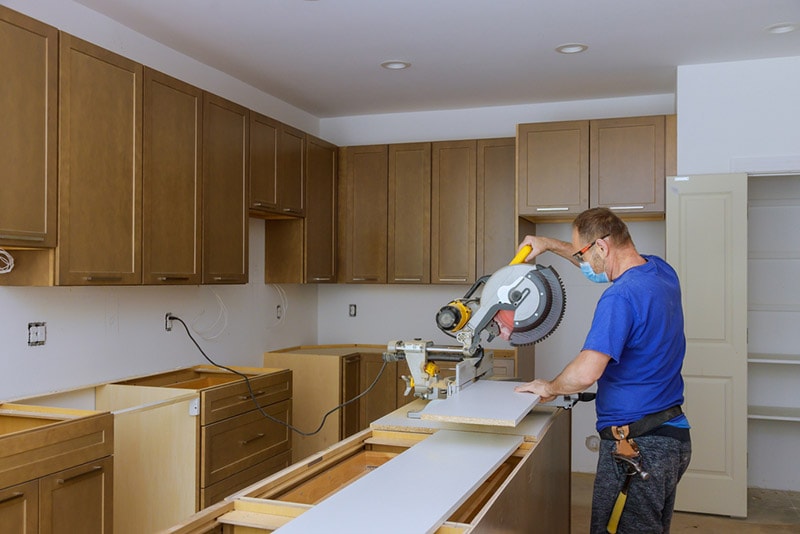 Finishing entails the final touches completed for any construction on the bits that are visible and make a house a home. Finish carpentry contrasts with the woodwork, form, or rough timber laid underneath and covered up during the building process.
In construction or remodeling, carpentry is done in series, and each stage may require a specialist's involvement. It's pertinent to ensure the building is done to exactness and that the structure has integrity, while beyond that, finish carpenters will add visual aesthetics.
In this article, we expound on what finish carpentry entails. Keep reading for deeper insight.

How Does Finish Carpentry Work?
Once the construction is completed, wired, and insulated, finishing comes in. It involves installing cabinets, doors, baseboards, jambs, stair banisters, treads, moldings, and shelving, among others.
A finish carpenter handles the last step in the carpentry process, which significantly involves measuring, cutting, and attaching. Tasks performed include installing finish wood and plastic or molded polyurethane trim, crown molding, doors, windows, stairs, and other aesthetically appealing features.
Finish carpentry comes when everything else is in place, and it can also include roofing where installation is needed for trim and gutters. So, anything that's going to be seen and all the finer details that someone sees when looking at a structure is the work of a finish carpenter.
This type of carpentry is distinguishable from its counterpart, rough carpentry, which needs to be more refined, structural, and basic. Rough or form carpenters design and build the structure and frame of a building to provide the foundation and skeleton of what finish carpenters will later aesthetically accomplish.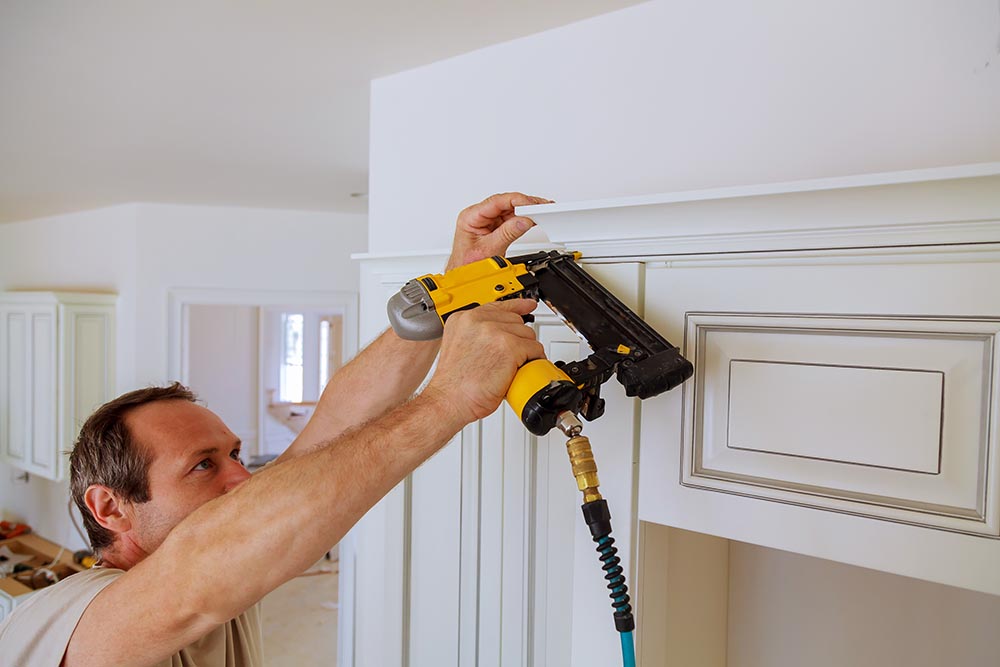 Skills Needed for Finish Carpentry
A finish carpenter must have stamina and physical strength for manual labor, but certain constitutions like detail orientation and math skills undermine that. That's because finish carpentry requires taking measurements, finessing down to the minimum levels, and attending to minute details of interior décor.
Excellent communication skills are also required to finish carpentry, as you'll make estimates, discuss customer expectations and delegate tasks to colleagues. Beyond that, it involves computing dimensions, performing basic calculations, and measuring for fitting purposes.
Not only do these carpenters need to be accomplished builders, but they must also be competent in aesthetic skills with an eye for detail. For example, finish carpentry requires placing and installing items accurately and evenly, matching colors, shapes, and sizes. As opposed to rough carpentry, if things don't match at this stage, such as baseboards of different sizes on the same wall, it's a potentially irritating and glaring problem.
Basics of Finish Carpentry
In finish carpentry, a carpenter must visualize some rules of thumb, which include:
Avoiding Numbers in Favor of Marking: It's more accurate to mark in place for trim than to measure and then transfer numbers since you can misread ruler readings before cutting. Rather than use tape, hold a board in place, especially for short measurements, because tapes can flex or bend to affect accuracy.
Avoid Flush Edges and Use Reveals: As the building settles and wood dries, it moves, and flush edges won't stay that way if discrepancies aren't separated. They're much easier for the eye to pick up. It's easier to step casing back from window edges or door jambs as that form reveals, which form shadowiness and isn't noticeable.
Split the Difference: Plan to have equal tapered gaps for each parallel instead of starting by working on one. That's especially if you're running material courses between diverging surfaces such as siding, decking, or roofing.
Don't Expose the End Grain: Avoid showing the end grain as it'll stain differently and absorb the paint. Instead, cut a return for a piece that must terminate suddenly. End grain also reflects light differently if left natural, and it's best for your installation if you've hidden it or covered it up with mitered corners.
Before Cutting to Length, Fit the Joint: Before you mark the miter, fit the joint, and then cut to length so that it fits well, especially for a crown or chair rail. The extra length is necessary if you make an error and must recut the miter or cope. Otherwise, it's back to the lumber yard.
When There's No Need, Avoid Fussiness: You can get some joints perfect, especially for baseboards or other fixtures that will be covered up to conform to the moldings' function. For instance, if you're installing a three-piece base and cap, the lack of flush with the wall or floor will be hidden, even if it undulates.
Avoid Perfect End Cuts by Planning a Sequence: Only the last cuts on the head of trims need to be perfect, and you can master the sequence, which requires the fewest when casing windows and doors. It's also applicable when running around the room trim, whether it's crown molding, baseboard, or chair rail.
It's More Important to Get Parallel Than Square or Level: When doing finish carpentry, certain rules are employed in framing, such as keeping finishing materials parallel instead of tracking plumb, square, or level. That's because the eye notices diverging lines more than it sees level and plumb, but exceptions occur in doors and cabinets.
Random Doesn't Exist: Since finish carpentry is craftsmanship, everything is in the details, and you should always consider what matters. However, avoid taking these nuances to the extreme; otherwise, you suffer analysis paralysis, and experience will train your eye to observe critically.
Finish Up Your Work: Always clean and wrap-up the job site before moving on to a new endeavor. If you're an owner builder, wait to move in before all the details are ticked, as once you have furniture and other obstacles in place, it becomes challenging to finish any leftover carpentry.

What Are the Different Types of Finish Carpentry?
Every woodwork fixture you see around a residential house or commercial building is probably placed there by a finish carpenter. But besides cutting and adding flourishes to floors, stairs, or ceilings, areas of expertise for finish carpenters include:
Trim Carpentry
A large portion of finish carpentry comprises installing wooden fixtures, jambs, moldings, and fascia, which may or may not involve using power tools. At the same time, there are several instances of measuring, cutting, and fitting for shelves, cabinets, walk-through doors, or bi-fold installation.
Painting, varnishing, and spray equipment aren't always necessary, but finish carpenters are adept at finishing using trim or casing for windows and doors. In trim carpentry, finish, brad, or pin nailers are preferred, as well as filling holes with crayon putty for the appeal and aesthetics of the work.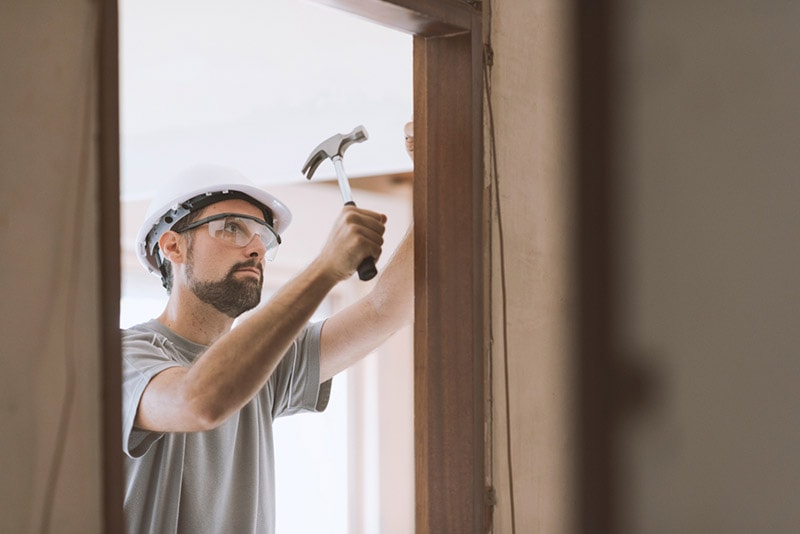 Door and Window Carpentry
While building and installing interior doors and windows isn't part of finish carpentry, there may be mishaps if they aren't pre-hung. Finish carpenters ensure they open and shut properly. Once the window or doorway is plumb, a finish carpenter may screw it to studs and cut trims with 45° miters.
Specialist Cabinet and Stairs Installation
Sometimes there needs to be more contrast between millworkers, countertop, and floor installers with the duties of a finish carpenter, especially for cabinetmaking and installation. For example, if the stairs and cabinets are built in the factory, it's the onus of finish carpentry to install these complex units on-site.
Painting, Staining, or Varnishing
Finish carpentry may not be specifically called for when painting, but depending on the project, the installed woodwork will require a coat or two of paint or staining. A finish carpenter is responsible for leaving the work site clean and clear of trash or debris and ensuring there are no scratches, putty stains, or mismatching colors on fixtures.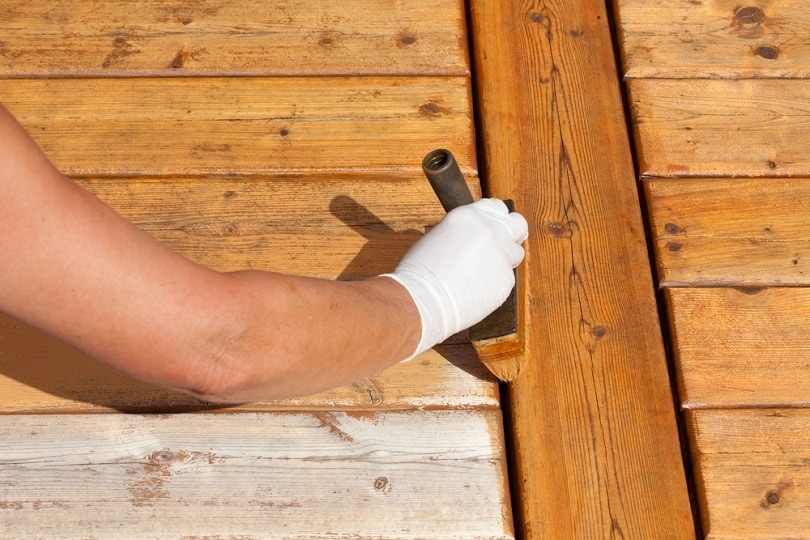 Where Is Finish Carpentry Used?
Finish carpentry involves ensuring that individual details, while fully functional, also look great and match the building's overall design. A finish carpenter's goal is to create aesthetically pleasing interiors, and to some extent, exteriors that go well with every aspect of the construction.
A large part of finish carpentry involves fascia and molding, cutting, fitting, and installation, mainly using hand tools.
A finish carpenter's work is mostly manifested in the following areas:
Interpreting charts and blueprints for house interior décor
Installing baseboards, wainscoting, door trims, and other finishing touches
Building and installation of cabinets, drawers, and shelving
Stair railing or banister building and installation
Building and installing furniture, wall paneling, or other wooden fixtures
Installing doors and interior aspects of doorways and windows, such as proper alignment
Adding design flourishes to doors, windows, and paneling
For effective finish carpentry, some aspects involve straightforward work while others require specialty of skill and proficient use of hand tools. Most of a finish carpenter's duties include handling projects' finishing and decorative aspects, including trim, wood flooring, and cabinets.
While jobs like flooring and roofing installation aren't strictly finish carpentry undertakings, you'll be called upon if there's no project design manager or general contractor. Instead, a skilled finish carpenter works with building supervisors and homeowners to choose the material, style, and finish of flooring or the roof.

Advantages of Finish Carpentry
Finish carpentry goes beyond putting on finishing touches or installing interior trim as it covers all the jobs done after building, wiring, insulation, and plumbing are complete. A finish carpenter is considered more of an artisan and often works directly on-site rather than at a workshop.
You can evolve into a finish carpenter from rough carpentry since it requires mastering how to measure, mark and cut perfectly and accurately. These carpenters split a saw cut on the pencil line, and it's second nature for them to work under close tolerances with little margins of error.
A finish carpenter pays attention to imperfections, unlike rough or form carpenters, so their eyes work hard to make the completed construction look great. In addition, finish carpentry requires an eye for detail and proportion, visualizing all the steps that lead to a finished, aesthetically pleasing product.
One upside of finish carpentry is the high levels of self-employment available for this career, which is about 36% of all other professions. In addition, a finish carpenter makes more per hour than form, rough or general carpenters due to the required skill-dependent tools and hands-on décor expertise.
Any aspect of the job that wasn't done by millworkers, cabinet makers, floor installers, or rough carpenters falls to these carpenters.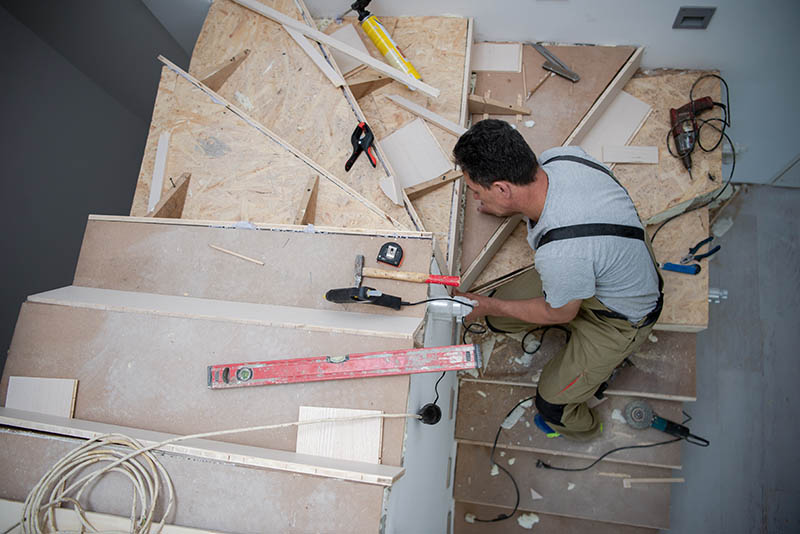 Disadvantages of Finish Carpentry
To become a finish carpenter, you start learning the ropes of rough or form carpentry, gradually adopting the specialized skills and getting comfortable with the tools. As you develop competence, you'll work on minor finish projects before you're proficient with complex or challenging tasks.
As such, it needs many years of training to undertake finish carpentry successfully, and once on the job, you may experience several drawbacks, including:
Exposure to Accidents: Finish carpentry involves using sharp instruments and power tools or machinery, for which there's always a risk of unforeseen injuries. For example, you're vulnerable to falls when working in high places for trim work or molding installation.
Comparably Low Earnings: Although a finish carpenter is a specialist artisan, earnings are calculated per hours worked or the number of projects you can complete. As such, finish carpentry nets in about $50,000 annually on average, especially when working as a contractor where work is inconsistent.
Hard Manual Labor: All carpentry is labor intensive and requires stamina and physical fitness, especially for finish carpenters. You'll be lifting heavy loads frequently, and you're also required to operate heavy hand or power tools. In addition, not only do you move and lift heavy doors, windows, or molding, you may often have to work in exposed environments and inclement weather.
Age Diminishes Efficiency: Job prospects in finish carpentry diminish with loss of stamina and physical strength due to advanced age. A successful career as a finish carpenter depends on properly coordinating your motor functions, and age-rated ailments reduce efficiency. In addition, job security in this sector depends on how many assignments you can handle in a short time, and health conditions will mean you'll need help finding appointments.

Frequently Asked Questions (FAQs)
What qualifications should a finish carpenter have?
Experience as a form or rough carpenter is necessary for a career in finish carpentry, as you'll need in-depth knowledge of construction materials and design trends in interior décor. Apart from measurements, proportions, and design execution, you'll need to be proficient in hand and power tools and machinery.
What tools are required in finish carpentry?
Finish carpenters must efficiently execute designs by measuring, cutting, and installing woodwork and fixtures, which requires significant tool usage. You'll be competent in measuring and scribing tools, combination, and speed squares, marking knives, and digital angles.
Scribing tools resemble compasses and are used to transfer uneven wall lines to wooden fixtures like mantels and trim fit cabinets so they fit into concrete and masonry. Hand-held coping saws are another finish carpentry specialty. They are used to prevent gaps in trim or molding by cutting angles inside miter corners.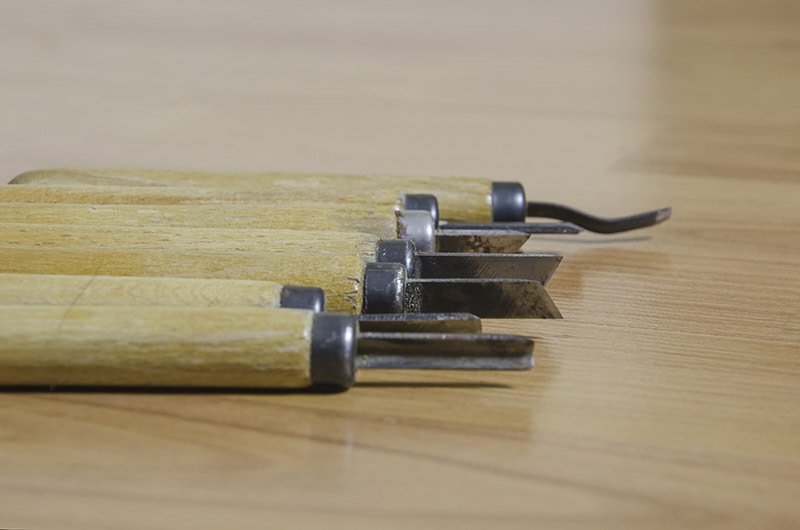 Can you DIY finish carpentry or should you hire a professional?
As a crucial aspect of building construction, finish carpentry is the final touch that determines how well the aesthetics of the interior will appear. Inexperience or amateurism in a finish carpenter will result in décor clashing and mismatching, or objects such as doors, windows, or drawers failing to operate effectively.
However, if you're well-skilled and equipped with the right tools or machinery, you can DIY certain projects with finish carpentry. For others, like stairs, floor, molding, or trim installation, you'll save money and get desired results when you hire a professional finish carpenter.
What's the difference between form and finish carpentry?
Form or rough carpentry is the building of basic wooden structures involved in framing foundations for houses. It's the woodwork you can't see, but which makes up the skeleton of a construction. Finish carpentry, on the hand, comes at a later stage before a building's painted.

Conclusion
In carpentry, a finish carpenter is possibly the most experienced and skilled artisan since their work reflects on the aesthetics and décor of the completed project.
Finish carpentry involves careful woodworking, and these craftspeople have intimate know-how of wood properties and aesthetics. In addition, they keep in touch with the latest developments and design trends for popular materials, tools, fasteners, and adhesives.
For instance, the green revolution drives interest in sustainable wood that grows quicker, like eucalyptus or bamboo. But different carpentry jobs will call for various finishes, and as such, a finish carpenter is geared towards offering fast, obvious, and appealing results.
---
Featured Image Credit: ungvar, Shutterstock