What Is the 8 Best Wood for Bed Slats? (With Pictures)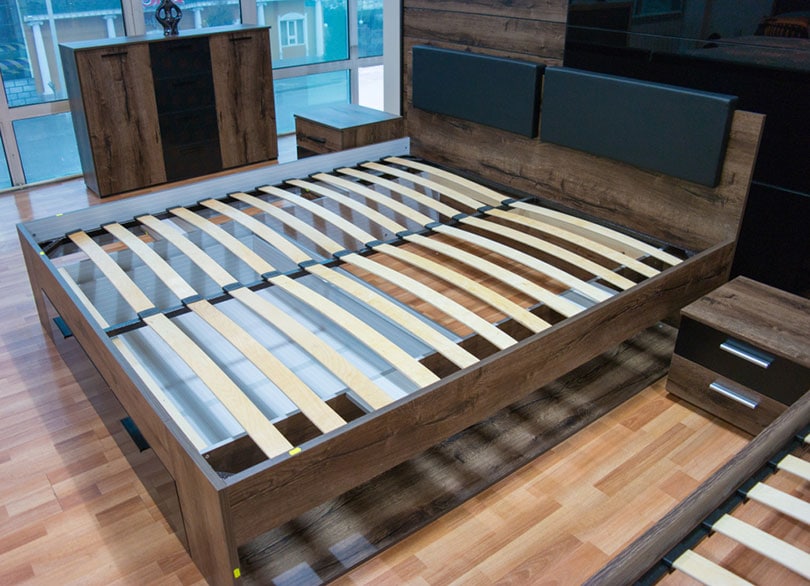 If you are building your own bed, it's essentail not to forget about bed slats. Bed slats support the mattress above so that the bed is comfortable and suited for your spine.
Selecting the right wood for bed slats is imperative. If the wood is too soft, it will warp over time, making it change its shape. Certain wood types are stronger than others, and the price tag varies. Because of these facts, the task is harder than you may assume.
Below, we will learn about the eight most popular wood types for bed slats. These wood types are frequently used as bed slats. It's up to you to decide which wood fits your budget and preferences best.

The 8 Best Woods for Bed Slats
1.

Douglas Fir
| | |
| --- | --- |
| Wood Type: | Softwood |
| Best For: | Budget beds with reliable framing |
Douglas Fir is considered one of the most popular wood types for bed slats. It has a vertical grain and high resistance to warping. This makes Douglas Fir wood incredibly durable and strong, which explains why it is used as bed slats frequently.
Better yet, Douglas Fir is pretty affordable too. You shouldn't have any difficulty affording or finding Douglas Fir wood at a lumber yard near you.
Pros
Resistant to warping
Durable
Affordable
---
2.

Oak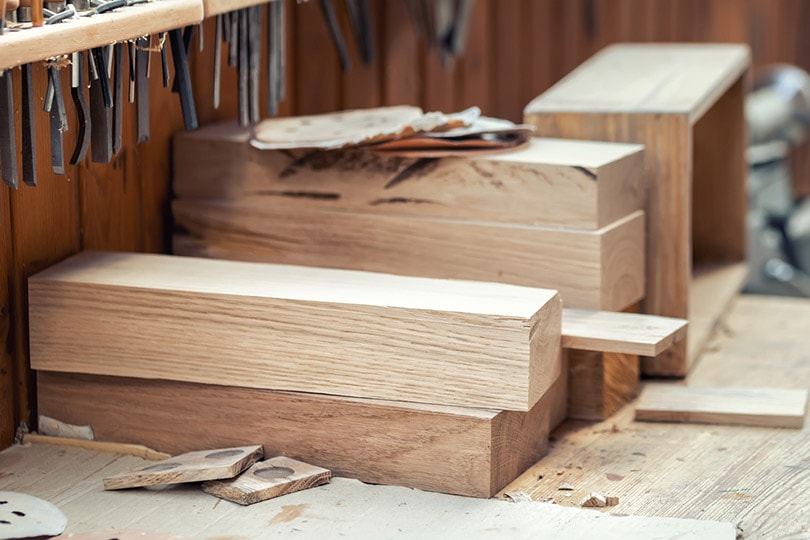 | | |
| --- | --- |
| Wood Type: | Hardwood |
| Best For: | Heavy-duty beds |
Oak is one of the most popular materials to make bed slats from. Both red or white Oak works perfectly. Oak is incredibly durable, stiff, and durable to regular wear and tear. Bed slats made from Oak will last a long time.
The only downside to Oak is that it is slightly more expensive than the other woods on this list, especially Douglas Fir. At least you should be able to purchase Oak pretty easily at any carpentry or hardware store.
Pros
Heavy duty
Produces long lasting beds
Easy to find at stores
---
3.

Hickory
| | |
| --- | --- |
| Wood Type: | Hardwood |
| Best For: | Bearing heavy weight |
Hickory is much like Oak. It is very durable and results in heavy-duty bed slats. It is lightweight at the same time, making it easier to handle and cut. This makes it a favorite for durable queen- and king-sized beds specifically.
The downside of Hickory wood is that it is more expensive than most other wood types, and it isn't as easy to find as Oak.
Pros
Heavy duty
Produces long lasting beds
Relatively lightweight
Cons
Expensive
Not as easy to find as Oak
---
4.

Yellow Pine
| | |
| --- | --- |
| Wood Type: | Softwood |
| Best For: | Bearing heavy weight |
Yellow Pine is typically the bed slat material of choice for king-sized beds. It has a firm grain, allowing it to bear a lot of weight. Even though it is a softwood, it is much more similar to hardwoods in terms of grain and durability.
The only difficulty with purchasing Yellow Pine is that it's critical to select Yellow Pine, as opposed to another pine variety. Other pine types are not going to be suitable like the Yellow Pine. This can make it difficult to find the right material depending on where you live.
Pros
Very strong
Great for bearing heavy loads
Cons
Cannot be replaced with other pine varieties
Can be difficult to find at stores
---
5.

Spruce
| | |
| --- | --- |
| Wood Type: | Softwood |
| Best For: | Budget beds |
Spruce is a softwood that is easy to use and manipulate. It is often chosen because of its affordability and availability, but Spruce is not the most reliable material. It's important that Spruce slats are very thick because they can dent and break more easily.
Pros
Affordable
Easy to find
Easy to work with
Cons
Not very strong
Easily dented
---
6.

Birch
| | |
| --- | --- |
| Wood Type: | Hardwood |
| Best For: | Light but strong beds |
Birch is a highly popular material to make bed slats from. It is lightweight but still strong, meaning it is known for bearing a lot of weight over many years. It can be expensive, but it may be worth it.
If you decide to select Birch, it's imperative that you select hardwood Birch slats because they can also come in various types.
Pros
Strong
Lightweight
Can carry a heavy load
Cons
Expensive
Must select hardwood birch
---
7.

Ash
| | |
| --- | --- |
| Wood Type: | Hardwood |
| Best For: | Easy to work with |
Ash is considered a very versatile wood. It is a favorite among carpenters because it is easy to work with. Its attractive color also makes it aesthetically pleasing. For bed slat purposes, it isn't the most popular would, but it certainly isn't a bad choice.
It can be a bit expensive for bed slats, especially considering that it isn't as durable as Oak and some of the other similarly priced woods.
Pros
Versatile
Easy to use
Attractive
---
8.

Beech
| | |
| --- | --- |
| Wood Type: | Hardwood |
| Best For: | Luxury, high-end beds |
The last wood type on our list is Beech. Beech is often selected for luxury bed slats because they are highly durable, strong, and dense. In comparison to other hardwoods, Beech is the most reliable.
Part of the reason why Beech is only used for high-end beds is that they adapt to weight better. Especially if you select slightly curved slats, Beech beds can last a long time, but they are very expensive.
Pros
Produces the best beds
Adapts to weight

How Many Bed Slats Does My Bed Need?
The number of bed slats you need depends entirely on your bed and its size. The easiest way to determine how many slats you need is based on standard bed sizes.
| | | |
| --- | --- | --- |
| Bed Classification | Standard Size | Number of Bed Slats |
| King | 76 x 80 in | 20 slats |
| Queen | 60 x 80 in | 20 slats |
| Twin | 75 inches long, variety of widths | 16–18 slats |
You will likely want to consider other factors as well, such as whether you want solid or sprung slats, if you want additional center support, and how many people will be sleeping in the bed at once.
Related Read: 15 Free DIY Bed Frame Plans [All Sizes]

Conclusion
Whenever you are selecting the best wood for your bed slats, you want the wood to be durable and worth the money. At the same time, you want it to fit into your budget so that you aren't spending a fortune just on the bed slats.
If you are on a budget, we recommend using Douglas Fir, but Oak is the better option if you have a little bit of money to spend. If you don't want either of these wood types, the six other wood options listed in this article are great as well.
See also: Do You Need a Bed Frame? Everything You Need to Know!
---
Featured Image Credit: Alexandr Serebrynnikov, Shutterstock