13 Woodworking Tools to Get You Started (Updated in 2023)
Woodworking is a great hobby and can even be a viable profession. There are woodworkers all over the world making everything from furniture to cabinets to cutlery and more. Woodworking is not a complicated hobby, but it does take some time to learn, and it requires a special set of tools to get the job done. Wherever you go, you are sure to find woodworkers using these specific tools.
These are the 13 best types of tools that all woodworkers should be familiar with and maybe someday own. We chose our favorite product for each type of tool so you can get a head start on building your own woodworking toolbox.
Here are 13 of the best woodworking tools for 2023, including top picks for every category.

Basic Essentials
1.

Combination Square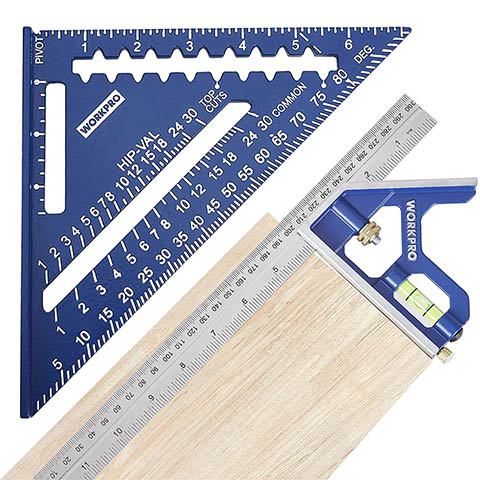 The combination square is such an integral part of woodworking that it is sometimes called a carpenter's square. The combination square is used to make straight lines, measure angles, and plan out specific cuts. It is an integral part of any woodworking job.
Our pick for the best combination square available on the market right now is the WORKPRO Rafter Square and Combination Square Tool Set. WORKPRO has a great reputation for creating excellent products for woodworkers around the world. This combination square is affordable, durable, and easy to read. This is the perfect combination square to add to your collection and get your tool set off to a great start.
---
2.

Tape Measure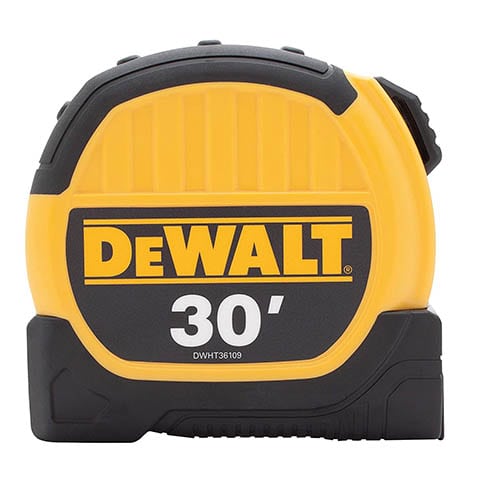 Another tool that is essential for anyone working in construction, including woodworking, is a solid tape measure. Tape measures allow you to make quick and accurate measurements on the job. It is perfect for measuring out exactly where you need to cut. Tape measures can measure up to dozens of feet long or down to a fraction of an inch. It is impossible to finish a woodworking job without a tape measure unless you are doing crude whittling.
Our pick for the ideal woodworking tape measure is the DeWalt DWHT36109 30′ Tape Measure. This tape measure goes up to thirty feet long, which is more than enough for most jobs. It has accurate interval measurements and is easy to read at a glance. This is a durable tape measure that will work perfectly well on almost any job site and is perfect for woodworkers.
---
3.

Workbench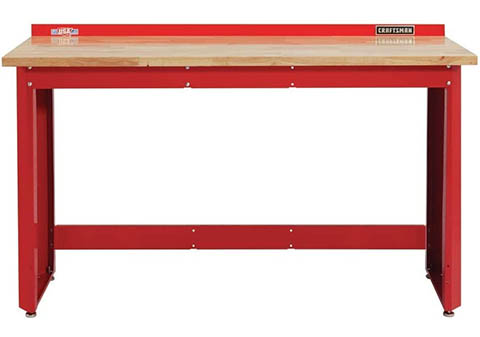 It is nearly impossible to do any serious woodworking without a solid workbench. Workbenches give you space to lay out your materials, make measurements, do cuts, arrange wood, and finalize appearances for your projects. Without a good workbench, you will have to put your materials on the floor, and you will have nowhere to lay out your wood. Workbenches are the heart and soul of any workspace. Workbenches do not need to be large, flashy, or elaborate, but they do need to be present to expedite work and make certain projects viable.
For a great workbench for any woodworker, we suggest checking out the CRAFTSMAN 2000 Series Workbench. This workbench is a fantastic mid-range bench that is built from a sturdy steel frame. It will not break the bank like some other professional tables, but it gives you enough workspace to get serious jobs done. The weight rating for the table is 1,400 lbs., and it provides 12 square feet of working space. This table is large enough and heavy enough to serve you for years to come.
---
4.

Powered Drill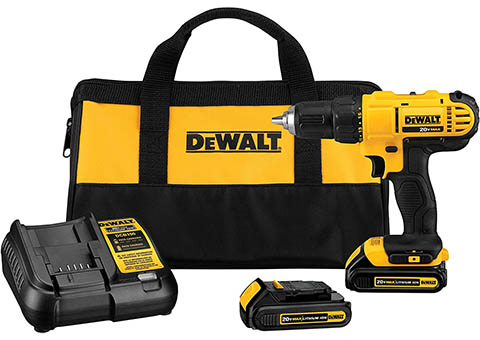 Most woodworking projects will require the use of a drill. Woodscrews are an integral part of almost every project, and wood screws are best installed with a cordless drill. Drills are used to join a variety of different boards, create corners, reinforce seams, and more. Every good woodworker needs an equally good drill. Drills can also be used to create holes with large bits that can be used to sink pegs or dowels. Unlike saws, which have unpowered hand tool equivalents, there are few modern equivalents of a drill that can be used completely by hand.
If you are looking for a solid drill for your workshop, you should consider getting the DEWALT 20V Max Cordless Drill. This drill is weighty, powerful, and reliable. The 20V battery can be used with any of Dewalt's 20V tools. One fully charged battery can sink dozens of screws without any problem at all. This drill feels great in your hand and is a fantastic all-around workhorse for your woodworking projects.
Saws
---
5.

Table Saw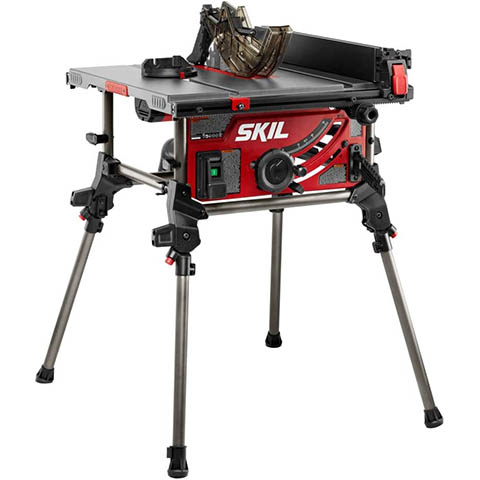 Table saws are more advanced tools used for ripping boards down to size. For example, if you need to get a piece of plywood down to 16" wide to fit a drawer. Or if you want to cut a 2×8 straight down the middle, long ways, you will need a table saw. These are vital tools for certain types of woodworking like cabinet making and furniture building. They can be tricky to learn and are one of the more dangerous tools available, but once you get comfortable with them, they are fantastic tools with a ton of versatile uses.
We suggest looking into the SKIL 15 Amp 10 Inch Portable Jobsite Table Saw with Folding Stand. This portable table saw is a great place to start. It is small, compact, and lightweight. This allows you to start using a table saw in your garage before you get a large workshop or on the job site. SKIL is a great company with a solid reputation. This table saw has all of the features that you could want, including variable depth and solid fence rails for straight cuts. This table saw will not take up too much space while giving you the cutting power you need to elevate your woodworking game.
---
6.

Miter Saw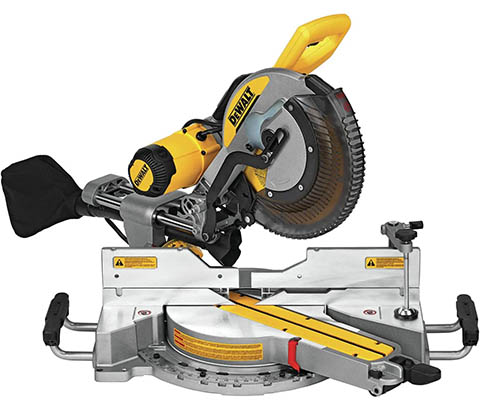 Miter saws are the backbone of every workshop. It is the workhorse that does a large amount of work. You can't effectively cut wood down to size in the 21st century without a solid miter saw. You can still use hand saws and miter boxes if your budget is tight, but miter saws make woodworking so much easier. Miter saws are great for cutting boards to specific lengths or for making angled cuts. Many woodworking projects require angled cuts to create solid corners, and miter saws do that better than anything.
When it comes to miter saws available on the market right now, few are as good as the DEWALT Sliding Compound Miter Saw. This saw can make accurate, smooth cuts. It also has a slider which makes cutting through wide boards a breeze. This saw can cut boards up to 12" in width. It can do accurate miter cuts and beveled cuts. If you are going to add one miter saw to your collection, it should be the DEWALT Sliding Compound Miter Saw.
---
7.

Router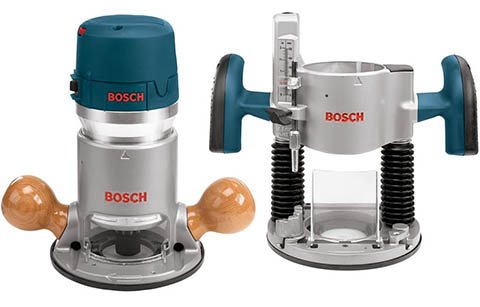 Routers are advanced woodworking tools that are used to up the appearance and functionality of projects. Routers are used to create scroll cuts, decorative patterns, cutouts, and more. A router requires deft hands and a keen eye to get it right. However, persistence on a router can lead to skills that can instantly increase the value and appearance of your work. Routers come with a variety of different blades and accessories, and they do not need to be an early purchase in your woodworking career. Still, routers are definitely something that most people graduate to once they are established.
When it comes to routers available for purchase online, one sticks out more than the rest. The BOSCH 1617EVSPK Wood 12 Amp Router Tool Combo Kit is a very solid router that is well-balanced and can be easily attached to a workbench. This router setup is easy to use, relatively affordable, and very durable. This product is one of the best-selling routers online because of how versatile it is. It can be used for precise bit plunging, edge forming, slot cutting, laminate trimming, and dovetail cutting. If you are looking for a woodworking router that is great for learning and very versatile, you should definitely consider the BOSCH 1617EVSPK Wood 12 Amp Router Tool Combo Kit.
---
8.

Band Saw
Band saws, also known as continuous saws, are blades used primarily in woodworking. Band saws are used to rip lumber and create unique shapes. They are similar to a router or a jigsaw in the way that they can shape wood. Band saws are very easy to use and very easy to learn. That makes them a great addition to almost any woodworker's arsenal. Band saws can be used to make scrolls, specialty shapes, and unique patterns that other saws simply can't achieve.
Band saws can get very large and very expensive. Our pick for the best available band saw is neither of these things. The RIKON 10-305 Bandsaw With Fence is the perfect starter band saw. It is not too large or complicated to operate. It is pricey but not budget-busting. It is very effective and comes with a bevy of excellent reviews from bona fide carpenters. It only weighs 75 lbs. and comes with a sturdy cast iron base and a solid fence that keeps you accurate and safe while working. This is a fantastic choice for anyone looking to dabble in the art of the band saw.
---
9.

Circular Saw
Circular saws are versatile tools that combine the ability to rip wood like a table saw and the ability to make straight cuts as a miter saw. The kicker is that everything has to be done by hand. There are only simple guides, so every movement and motion of the circular saw has to be done with a steady hand. That is why circular saws are also called skill saws. They require skill to wield effectively. Circular saws are a great starting point for people who don't want to invest in a table saw, band saw, or miter saw at the start. A circular saw can make angled cuts, shaped cuts, and straight cuts without having to buy any other tools.
If you are looking for a dependable and affordable circular saw, you want to look at the SKIL 15 Amp 7-1/4 Inch Circular Saw. This is a very standard circular saw with a 7.5" blade made by SKIL. SKIL is one of the best brands on the market, yet this saw won't break the bank. This saw is powered by a 15-amp motor that delivers 5 300-RPM for excellent cutting power. It even includes a dust blower that keeps your materials clear and visible for straight cuts. Other similar circular saws can go for much more money than this one. With the SKIL 15 Amp 7-1/4 Inch Circular Saw in your hand, you can do a lot in the shop for one single price.
Sanders
---
10.

Random Orbital Sander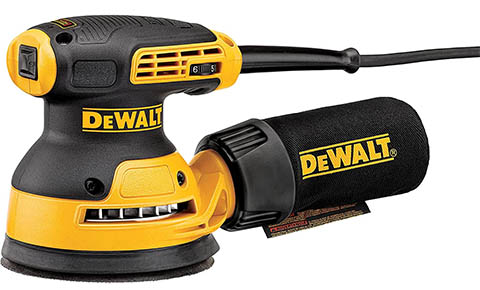 | | |
| --- | --- |
| What It Is For: | Sanding surfaces down to a smooth finish; removing the top layer of wood |
| Our Recommendation: | DEWALT Random Orbit Sander |
Random orbital sanders can serve two primary purposes. They can create a smooth finish for painting or staining, or they can be used to remove the top layer from a piece of wood. Sanding is the final step in most woodworking processes and leaves items smooth and professional-looking. Random orbital sanders work much faster and more efficiently than hand sanding.
When it comes to reliable orbital sanders available now, you can't go wrong with the DEWALT Random Orbital Sander. DEWALT makes two versions, a corded version, and a 20V battery powered version. These sanders are easy to use, feel good in the hand and provide proven results. These sanders will provide you with what you need to get a clean and professional finish every time.
---
11.

Planer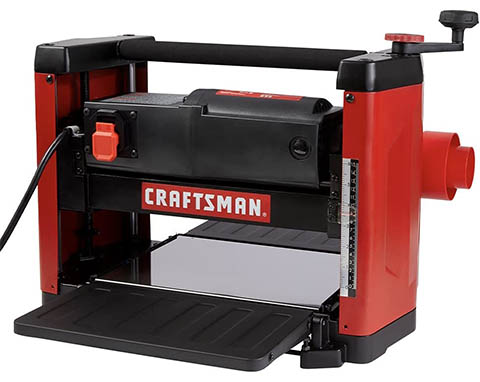 Planers are a great way to create sanded wood right in your own workshop. Many hardwoods come rough sawn, and rough sawn wood is cheaper than sanded wood. A planer can create very clean and smooth pieces of wood in a flash. If you are someone who likes to use hardwoods or often deals in rough wood, a planer is a must have tool.
We recommend looking into the CRAFTSMAN Benchtop Planer. This planer is very effective, small, compact, portable, and relatively affordable. This planer can be set up on a variety of wood benches and tables, allowing you to get a smooth finish in minutes. It has a 15-amp motor, is easy to use, and can work on hardwoods and softwoods. If you are thinking about getting a planer for your work, this one is a must consider.

Hand Tools
12.

Mallet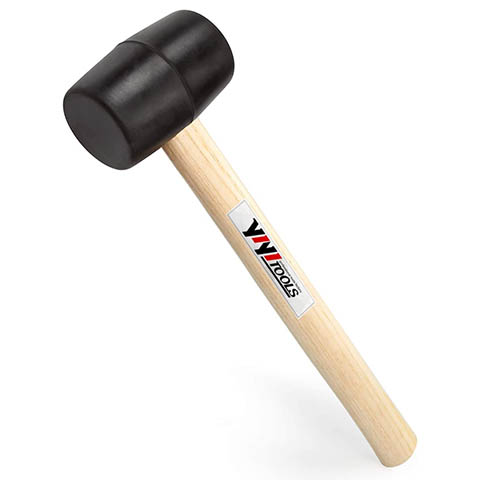 Mallets are different from hammers in that they have a softer head. Mallets are an important tool for joining in woodworking. Mallets work to help place pegs and dowels. They can also be used to tap two pieces of wood together. They work better than a hammer because they will not damage the wood while you apply force. Mallets are also used with chisels. Most woodworking shops will have at least one mallet, sometimes multiple, to complete various jobs.
Mallets are all very similar in shape and quality, but we recommend the YIYITOOLS YY-2-005 Rubber Mallet Hammer. This is a standard mallet that is affordable and readily available. It will get most jobs done without any trouble. If you need heavier mallets or a specialty mallet, you will need to look into different avenues. For basic mallet needs, the YIYITOOLS YY-2-005 Rubber Mallet Hammer will work every time.
---
13.

Chisels
Chisels are used to shape wood in ways that saws cannot. They are very basic tools that can be learned and mastered by hand. Chisels allow you to create character, shape, and form without the use of saws. They can be very precise. They are also used to work joints, split and pare wood, and chop small pieces. Chisels are often used in conjunction with a mallet.
If you are going to get woodworking chisels, you should invest in something that will last. Chisels can be an amazing tool, so we suggest getting the Narex 6 pc. Set of Woodworking Chisels. These chisels are very high quality, feel great in your hand, and will hold up over time. They also come with a protective box. Chisels are something that you can invest in in lieu of other more expensive products when you are getting started in woodworking, and this chisel set will get you pointed in the right direction.

Buyer's Guide: Choosing the Right Woodworking Tools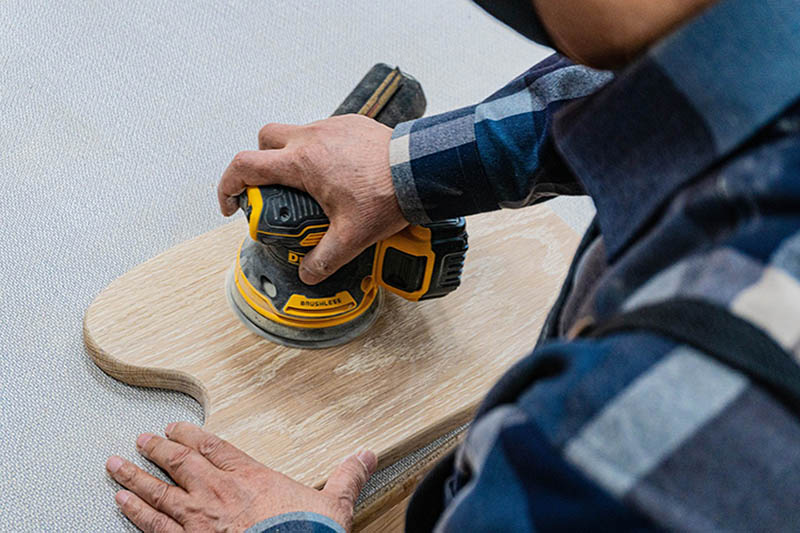 Getting Started
It can be daunting to think about buying tools to start on a woodworking journey. There are so many tools and options, and prices to consider. But you don't have to buy all of these tools at once. Not even close. You should start with the basics, like a square, a tape measure, and a workspace. Then you will likely need some sort of saw and a drill. That is all you really need to get started. One way to decide what you need to start is to decide what kind of woodworking jobs you want to take on to start with and work backward from there. You do not need to worry about buying something from every single one of these categories if you are just getting started.
Hand Tools vs. Power Tools
One way to save money at the start is to invest in hand tools over power tools. Very few projects absolutely require power tools. Many projects can be started and even finished with hand tools alone. You can get a hammer, mallet, screwdriver set, hand saw, miter box, chisels and files, clamps, and wood glue and get a lot done. Hand tools are simpler to understand, require less maintenance, and often cost less than power tools. They are often more labor intensive and a lot slower, but you can get started with hand tools without having to shell out money for power tools. After all, people did woodworking with only hand tools for centuries.
Power tools are more expensive, but they are more modern, faster, and more efficient than hand tools. They are also more dangerous. Tools like routers, band saws, lathes, and table saws can be very dangerous if used improperly. If you are concerned about your skill level or your budget, you can absolutely start with hand tools before graduating to more complicated power tools and still accomplish a lot.
Budget
The last thing to consider is your budget. Some of these tools can be expensive, especially if you want to buy multiple at one time. Sometimes, people want to spend a lot of money all at once to get themselves established. Other people like to buy tools one at a time once they get the money. You should start with the basics and tools essential to what kinds of jobs you are trying to do. It is generally a good idea to invest in high-quality tools once rather than possibly having to buy multiple versions of a tool because you invested in poor quality items. Don't be afraid to set a budget, stick to your budget, and build your toolbox over time. You don't need to buy everything at once. However, it is advised to get tools that are going to work for you and tools that are going to last after intensive use.

Conclusion
This is by no means an exhaustive list. There are other tools available for woodworkers, including sharpening stones, clamps, glues, and jigsaws that are also heavily used. However, these are the best tools to get you started and the tools that make up the backbone of almost every woodshop in the world. Each one of these recommendations was vetted and hand chosen to point you in the best direction possible for your woodworking needs.
---
Featured Image Credit: Ilya Karnaukhov, Shutterstock