1/8 vs. 1/16 Grout Line Subway Tile: Which is Better for My Home?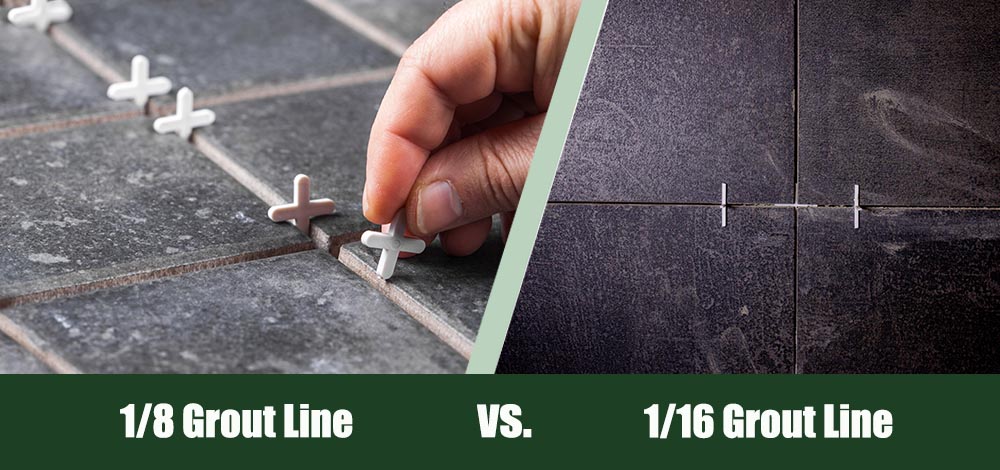 When looking for that classic tile look, subway tiles are an excellent choice. These rectangle files are typically 3 x 6 inches and lend themselves well to various patterns and application styles. So, if it's a timeless and flexible tile that you're looking for, they're a great option.
Choosing a type of tile is the first step in your bathroom or kitchen renovation. You'll also want to consider the color and pattern you want them laid with. Additionally, an often overlooked consideration is the size of the grout line—or the space between each tile.
This article will look at 1/8 and 1/16 grout lines, and which applications and designs fit each of them.

Overview of 1/8 Grout Lines
Between these two gap choices, neither is particularly more common than the other, because they are both ideal for different situations and color choices. One of the biggest things that sets a 1/8 line apart is that it's a suitable gap for unsanded or sanded grout, which opens up the options a little bit.
Another thing that a larger grout line provides is added protection for the tiles. Essentially, the more significant line creates less stress on the tile edges, so they are less prone to cracking or chipping if there is a small amount of shifting.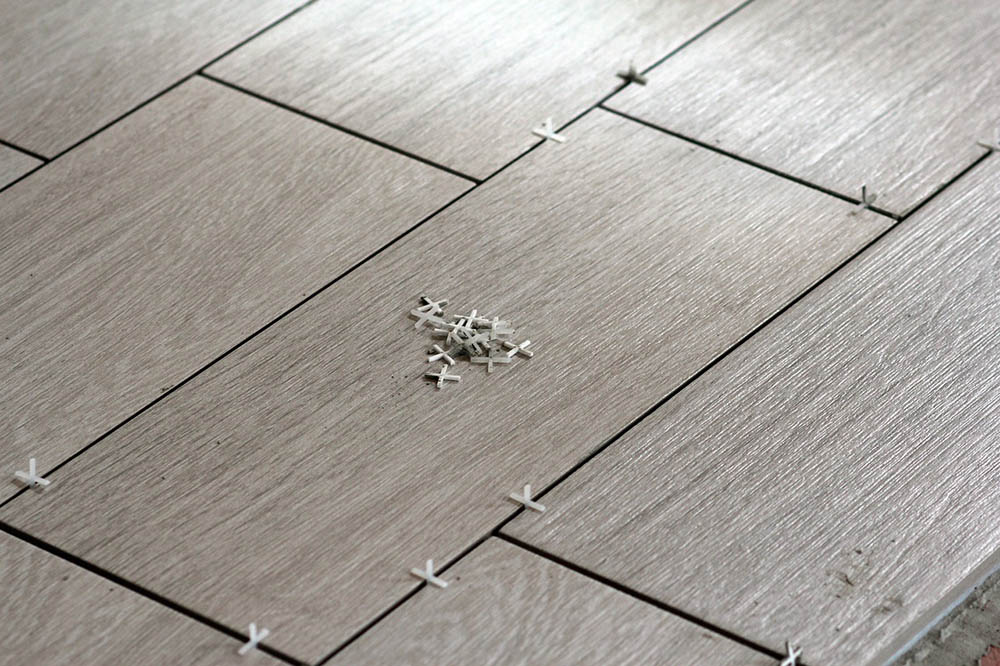 How Easy is It?
A great advantage of using a 1/8 grout line (or larger) is that they are much easier to work with. If tile work is not done straight and precisely, then the smaller the grout line, the more the imperfections will stand out.
This makes using a 1/8  line much better-suited for the average DIY-er. Even many professionals will use this thicker grout line, especially in large areas of tile where an imperfection will stand out.
Ideal Applications
Subway tiles are available in several different sizes. When using a larger tile, a larger grout line is typically the more attractive option. Also, larger grout lines can benefit tight areas where it's easier to make mistakes when setting the tile, as they can hide slight imperfections.
Pros
More forgiving application
Ideal choice for tight spaces
Looks best with larger tiles
Easier for less experienced tile setters
Cons
Can take away from or overpower smaller tiles
Not ideal for rooms with lots of grout lines
Doesn't look great with contrasting grout and tile colors

Overview of 1/16 Grout Lines
To look at these two grout lines side-by-side, the only physical difference you'll see is the width. However, if you look closely, you'll notice that the grout used is almost always unsanded in a 1/16 line, whereas the 1/8 line can be both.
But a 1/16 grout line adds a sense of refinement that you can't easily accomplish with the wider line. And that old saying, "less is more," is true with some tiles—especially small subway tiles. Using the narrower grout line, the subway tile is allowed to pop and be the focus of the room.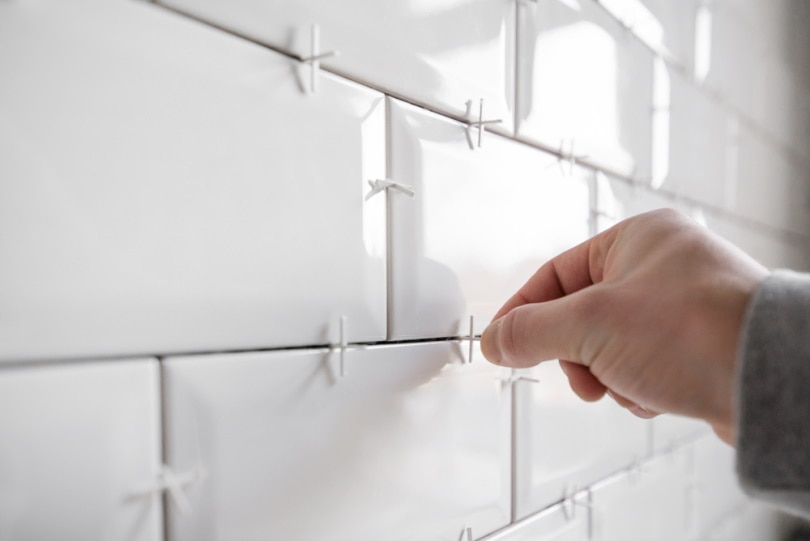 How Easy is It?
Unfortunately, using a 1/16 grout line is a lot less forgiving. Because there is a lack of distance between each tile, the smallest imperfections in spacing or straightness are quite noticeable. So, first-time tile setters may want to avoid this narrower line.
Ideal Applications
If you have small areas of tile, such as a backsplash or a small tiled area on the bathroom wall, this 1/16 line is typically a great choice. The tiles are allowed to shine without the grout line taking away from the mood. Additionally, using the same color of grout with this smaller gap between each tile is another great way to really let the tiles do their thing, versus having the grout steal the show.
Pros
Looks clean and modern
Allows the design of the tile to pop
Great choice for small areas of tile
Cons
Less forgiving when grouting
Reveals slight imperfections
Doesn't usually look good with dark grout

Picking the Best Option
In many situations, either grout line option will accomplish what you're looking for. However, there are a few things to consider when choosing that will ensure you're getting the best possible end result.
Location
In almost all situations, location is the most important factor to determine the best choice in the grout line to use. For example, if the tile is only taking up a small area of a wall, a 1/16 grout line is probably the best choice.
Whereas, if you're doing an entire shower in tile, the wider gap will provide more grace for imperfections. And the right tile and grout color combination will complete the room's feel.
Size of Tile
The size of the tile is another major consideration. As we covered in the overview above, small subway tiles do not typically look very nice with a 1/8 grout line. So, in these situations, the smaller gap will likely be the obvious choice.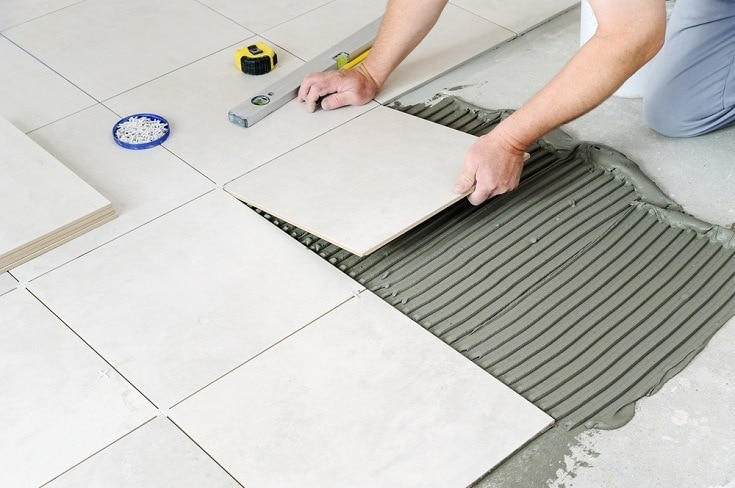 Color
Again, the color of the tile is an indicator of which grout line width you should use. For example, a narrow 1/16 line doesn't usually look good with dark grout. So you'll want to use a tile color that looks better with a light-colored grout.
In contrast, there is a lot more leeway with tile and grout color choice with the 1/8 line. However, you'll still want to avoid dramatic contrasts, as that can be an overwhelming design choice with the wider gap.
Future Maintenance
Eventually, grout will need to be redone, cleaned, or painted. The wider line is probably the ideal choice if you want this to be a less difficult task. Cleaning or repairing the narrower gap is still possible, it just takes a little bit more experience and effort.

Conclusion
There are definitely some significant differences between these two grout line widths. Each has its pros and cons that should make the decision of which to use easy. However, if you have a professional do your tile work, they will give you the best advice based on your particular situation. If you're going the DIY route and you're really stuck on which to choose, talking to a professional during the planning stage will be beneficial.
---
Featured Image Credit: (L) Oleksandr Lysenko, Shutterstock |  (R) Volodymyr Maksymchuk, Shutterstock