Are Tervis Tumblers Microwave Safe? (Microwave Safety Tips)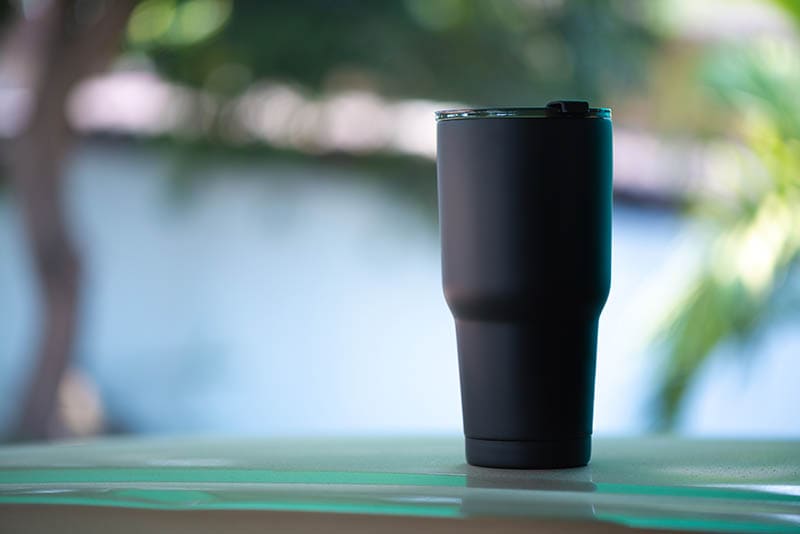 The Tervis Tumbler Company has been around for many decades. They make cheap, insulated drinkware that keeps beverages hot or cold for long hours. But can you put them in the microwave? This greatly depends on the material. Stainless-steel tumblers are not allowed in the oven, as they will damage the appliance. The plastic cups and mugs, in contrast, are microwave-friendly. So the short answer is yes, you can, but this only applies to plastic tumblers.
But you can only keep them in the cooking cavity for 30 seconds. So, does that mean all plastic Tervis tumblers are safe to use? Well, not quite. While you can, of course, heat a cup of your favorite drink in a microwave without causing any accidents, it's important to know about the "dos" and "don'ts". Learn all about that in our detailed guide!

What Is a Tervis Tumbler? Breaking It Down
Tall, straight cups and glasses with no handles are called tumblers. They are cheap, easy to use, and do a great job of keeping drinks at the right temperature. As for the Tervis drinkware, it's a product lineup manufactured by the Tervis Tumbler Company. Established back in 1946, this brand focuses on insulated drink containers.
You've probably already seen or used their signature double-walled cups, mugs, and glasses. At a glance, it looks like a Tervis tumbler is just a smaller cup sitting inside a bigger mug, but it's actually a liner placed within an outer shell. This unique design ensures proper air circulation and has proven to be effective not only at containing liquids but also keeping them hot or cold for a long time.
Why Is This Drinkware So Popular?
Insulation is the biggest selling point here. If you're a big fan of hiking, climbing, jogging, or just like your drinks to stay hot or cold for a while, tumblers are the way to go. As for the Tervis products, they are crafted from sturdy, long-lasting, and BPA-free plastic, glass, and stainless-steel. That means you won't have to worry about damaging the environment or having hazardous chemicals in your drinks.
Backed by a customer satisfaction guarantee, the plastic drinkware is designed and made in the States. On top of that, the tumblers can be put in a dishwasher (including the steel ones) and come in different shapes and sizes (10–24 ounces; 32 for the steel products). More good news: the clever double-cup design makes the cups safe to touch.
Can You Put Plastic Tervis Tumblers in a Microwave?
The short answer is yes, you can, but this only applies to plastic tumblers. They are specifically designed to be microwave-safe. To be sure, take a quick look at the cup. You should find a tag on it that says it's safe to use in a microwave. If there is a "Do Not Microwave" warning, that means the cup isn't heat-resistant (or, at the very least, the manufacturer can't guarantee safety).
Even if the tumblers do have safety tags, Tervis still recommends keeping them in the microwave for no longer than 30 seconds. This way, you'll be able to heat the drinks while keeping the plastic from deforming. As mentioned, this brand's drink containers are BPA-free (since 2021), which is great news. Still, melted plastic is nothing to play around with. So, again: quick, 30-second heating sessions are perfectly safe.
What About the Stainless-Steel Tumblers?
Microwaves and metal don't go well together. So, if the lids are made of aluminum or stainless steel, you need to keep them away from the microwave. Even if they stay in the cooking cavity for a couple of minutes, that can lead to all kinds of unwanted consequences. And, obviously, if the entire cup or mug is made of metal, it shouldn't be anywhere near the oven.
But why is that, though? Well, metal doesn't absorb radiation waves produced by microwaves. Instead, it reflects them, which makes the temps in the appliance go crazy. Often, this causes severe damage to the device; in the worst-case scenario, the microwave will go up in flames! Or, at the very least, your meal won't be cooked properly.
The Best Alternatives for Tervis Tumblers
Tervis isn't the only company out there that's made a fortune making tumblers. The competition includes the likes of YETI, Starbucks, and Hydro Flask, to name a few. If you're looking for reasonably priced plastic or stainless-steel cups/mugs/glasses, you can go with one of these brands. At the core, they're all very much alike and appeal to the same target audience.
Safety, ease of use, durability, and affordability: that's what people look for in an insulated drink container. It has to be good at maintaining a desired temperature as well, of course. Now, instead of looking for a particular nameplate, you should make a list of the things that you need in a tumbler and pick the one that meets the requirements.
Is All Drinkware Allowed in Microwaves?
There are so many different brands in the US that you can't be 100% sure whether a certain cup or bottle can go into the microwave or not. That's why manufacturers use labels. As mentioned, if the drinkware is safe to use, you'll see a big "Microwave Safe" or "Microwave When Full" tag on the tumbler. This is true not only for plastic but for glass bowls, stoneware, and other materials as well.
A quick note: the "Microwave When Full" label means the tumblers are made of microwave-friendly materials. However, to use them safely, ensure they're full of liquid. It can be tea, coffee, or a different drink, as long as the liquid is an inch short of the lid (made of plastic, not steel) or the top of the cup.
Are Tervis Tumblers Recyclable?
The company claims to be a Zero Waste to landfill enterprise that reuses or recycles rather than throws waste products into dumping grounds. On top of that, most of the tumblers made by Tervis can be returned to them for recycling. The waste is then repurposed into flower pots, park benches, and new tumblers. Packaging is being recycled as well. In fact, the Tervis Tumbler Company recycles 84% of the packaging products.
To achieve its sustainability goals, Tervis has partnered with prAna, SB, 30A, and other famous brands that take their environmental impact very seriously. Do keep in mind, though, that metal lids are much harder to recycle. So, if you want to help keep the planet healthy, don't send the lids back to Tervis. Instead, take them to a local scrap yard or recycling location that can handle metal.
Tervis Tumbler Maintenance Tips
Recycling is a great process, no doubt about that. However, you don't HAVE to send a tumbler back to Tervis after a single use. These products are not disposable, meaning they shouldn't be thrown away instantly. Tervis tumblers take very little effort to maintain, too. All you have to do is keep them clean. The cups are dishwasher-friendly. Put them in the top rack, set the right settings, and the washer will do the rest.
Rinsing is also essential, especially after drinking coffee, tomato juice, or a beverage made of citrus fruits. These products are known to cause discoloration. So, a quick wash after each use should keep the tumblers up and running for a very long time. The stainless-steel tumblers can also be rinsed and washed by hand, by the way; the same goes for the metallic lids of the plastic drinkware.
Why Do Tervis Cups Get Cloudy?
You might think that this is caused by exposure to heat in the microwave, but that's not the issue here. The strange haze is the side effect of using sunscreen. When it comes in contact with the tumblers, it leaves distinctive stains on the surface. This is true for a wide range of plastic cups. The chemicals contained in many sunscreen products cause a chemical reaction.
Thankfully, the foggy stain is easy to remove. A classic water + soap mix should get it off hassle-free. You can use a toothbrush or a towel to rub the stain off or just create a soapy mix and leave the tumbler in there for a couple of hours. To achieve the best results, try adding some baking soda or vinegar. With the gaze gone, the drink container will look good as new!

Conclusion
In general, plastic drinkware doesn't go well with microwave ovens. But that's not always the case with the Tervis tumblers. If you take a moment to check the materials used in making the cups and make sure there are no "Do Not Microwave" stickers or tags at the bottom, you will be able to put them to good use.
Stainless-steel cups and mugs are off-limits. The same goes for lids and decorative elements made of steel or aluminum. If you accidentally put even the tiniest metallic piece into the microwave, that might end in a disaster. So, use the info from our guide to pick the right drink containers, learn about the limitations, and follow the 30-second rule!
---
Featured Image Credit: Tony Stock, Shutterstock