10 Best Miter Saws of 2023 (Compound, Sliding) – Reviews & Top Picks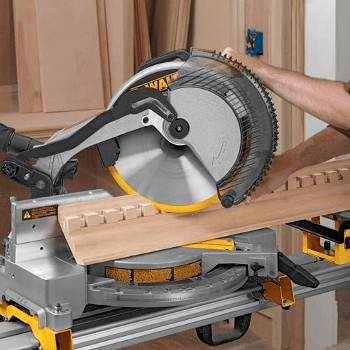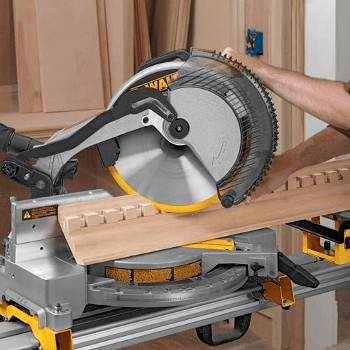 If you've ever attempted to create mitered corner cuts using a miter box and a hand saw, then you know just how much time, effort, and frustration an actual miter saw can save you. No more burning forearms and slightly-off angles.
A quality miter saw can make short work of even complicated angled cuts, and it will do them smoothly and efficiently. But there are some drastic differences between miter saw models that you need to be aware of before you pull the trigger and cut the competition down to a single saw to add to your collection.
Miter saw blades range in size from 7¼ inches to 12 inches. Saws can be just over 20 pounds or as heavy as 60+ pounds. There are many variables to consider, and it's important to ensure that the saw you choose can perform the tasks that you need it to. While shopping around for our next miter saw, we did some extensive testing to see what models are the absolute best, and the following 10 reviews will compare some of our favorites.
---
A Comparison of our Favorite Picks in 2023:
| Rating | Image | Product | Details | |
| --- | --- | --- | --- | --- |
| Best Overall | | DEWALT DWS779 12″ Sliding Compound Miter Saw | Cuts lumber up to 2X16 ,3-year warranty ,Powerful 15-amp motor | CHECK PRICE |
| Best Value | | Metabo HTP C10FCGS 10″ Compound Miter Saw | Powerful 15-amp motor ,Lightweight and portable ,5-year warranty | CHECK PRICE |
| Premium Choice | | Bosch GCM12SD 12″ Sliding Compound Miter Saw | Excellent dust collection ,Extremely sturdy and well-built ,14-inch cutting capacity | CHECK PRICE |
| | | Metabo 12″ C12FDHS Compound Miter Saw | Plenty of cutting power ,Bevels to both sides ,5-year warranty | CHECK PRICE |
| | | DEWALT 12″ DWS715 Miter Saw | Tall sliding fences,More portable,Very sturdily built | CHECK PRICE |
The 10 Best Miter Saws:
1.

DEWALT DWS779 12″ Sliding Compound Miter Saw – Best Overall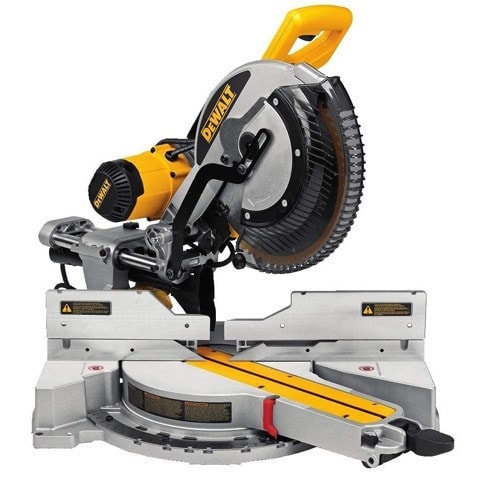 There's a reason why you'll find DEWALT tools in the hands of many professionals. Truthfully, there are quite a few reasons, and the DWS779 12-inch sliding compound miter saw displays all of them. This is a beast of a saw that's capable of everything you can imagine and quite a few things you've never thought of. For instance, it can cut through lumber that's up to 6.75 inches thick. Just as impressive; it can cut through a 16-inch wide piece of lumber thanks to the sliding rails and large 12-inch blade. Add the powerful 15-amp motor into the equation and it's easy to see why this saw tops our list.
Most miter saws these days can bevel to at least one side. The DWS779 can bevel to both sides beyond 45 degrees. The fence will even slide out of the way to allow the blade plenty of room. While most saws feature some sort of dust containment system, the DEWALT version on this saw actually works and prevented us from having sawdust in our faces or much mess to clean up. The catch is that this is a heavy and expensive saw, but we think it's well worth the tradeoff. All in all, we rate this as the best miter saw on the market right now
Pros
Cuts lumber up to 2X16
3-year warranty
Powerful 15-amp motor
Double 45-degree bevel
Dust collection system that actually works
---
2.

Metabo HTP C10FCGS 10″ Compound Miter Saw – Best Value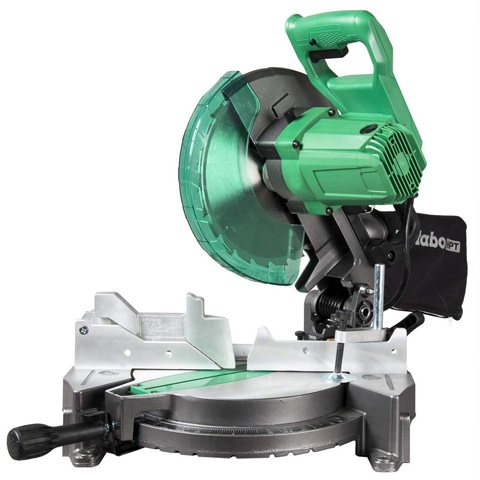 Power tools can get expensive, and miter saws are on the larger, higher-priced end of the spectrum. But with the Metabo HTP C10FCGS, you can get an excellent miter saw at a very affordable price. It's got a smaller 10-inch blade that can't cut through larger lumber, but for anything 2×6 and smaller, it's a great choice. Equipped with a powerful 15-amp motor, it's got plenty of power to cut through anything that the blade will reach through. It's even great for cutting through metals if you switch the blade out.
One problem we noticed with a lot of the premium 12-inch miter saws was that they were extremely heavy and bulky. You wouldn't want to move them around often. That's fine for a saw that will spend its life in a workshop, but if you ever move outside of your workspace for a project, then the smaller size and lighter weight of the Metabo C10FCGS will be a blessing that you'll appreciate. Even though it's smaller and cheaper than a lot of the competition, the five-year warranty should provide peace of mind. For us, it all adds up to the best miter saw for the money.
Pros
Affordably priced, even for hobbyists
Powerful 15-amp motor
Lightweight and portable
Cons
10-inch blade can't cut larger lumber
---
3.

Bosch GCM12SD 12″ Sliding Compound Miter Saw – Premium Choice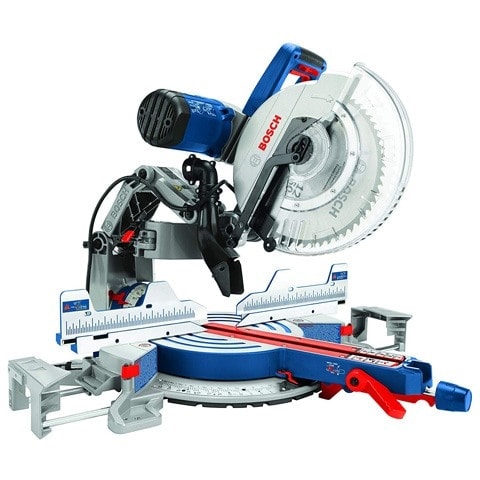 Tools are one thing that a lot of us can justify spending top dollar on to get a premium device that will safely perform for many years without issue. For those individuals, the GCM12SD 12-inch miter saw from Bosch Power Tools is the Rolls-Royce of miter saws. It's packed with every feature and extra that you can imagine, but it comes with a premium price tag. This saw is also a heavyweight beast, tipping the scales at 88 pounds. But it's got the punch of a heavyweight too, with a three-horsepower, 15-amp motor sending nearly-unlimited power to the blade.
While this is a powerful monster of a miter saw, that's not all that you're paying for. You also get some great extra features that add up to a top-notch machine. On the back of the saw is a port where you can attach a vacuum to clean up the dust as you cut, eliminating any mess. The table is large to provide support, but it goes a step further with extendable support arms to give you 40 total inches of support. That all sounds nice, but this is a well-built and sturdy machine that you need to use to appreciate.
Pros
Excellent dust collection
Extremely sturdy and well-built
14-inch cutting capacity
Vacuum adapter
Built-in sliding supports
---
4.

Metabo 12″ C12FDHS Compound Miter Saw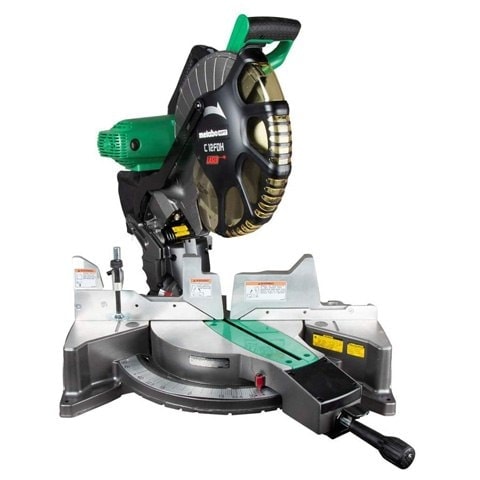 Metabo HPT is the new name for the well-known tool brand, Hitachi. They've been making quality tools for a long time, and their new name and lineup have brought high performance to a more affordable price point. The C12FDHS is a 12-inch saw packed with all the standard features for a reasonable price. It's got a 15-amp motor that packs 1,950 watts of power spinning the blade. It doesn't slide, but you can still cut through anything 2×8 and smaller. For trim work and finer carpentry, the blade bevels to both sides. The inside pieces of the fence flip out of the way to allow room so the blade doesn't hit them when it's beveled.
Like many saws, the C12FDHS has a laser guide system to help you see where the blade will cut. But also like many saws, the laser was inaccurate, dim, and not very useful overall. Coming in under 60 pounds, this saw was much easier to move than some of the other 12-inch miter saws we were comparing it against. However, the shorter reach means it can't cut the same size lumber, which is why this saw just missed our top three.
Pros
More affordable than other 12-inch saws
The 15-amp motor makes plenty of cutting power
Bevels to both sides
Five-year warranty
Cons
Can only cut up to 2×8 lumber
Laser is inaccurate and low-powered
---
5.

DEWALT 12″ DWS715 Miter Saw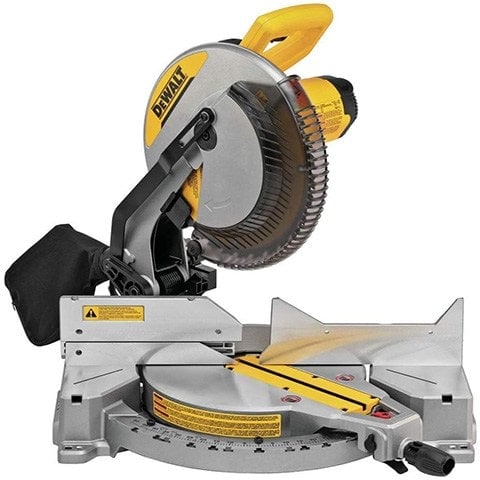 Being one of the kings in the power tool world, it's not surprising that DEWALT has ended up with two offerings on our list. The DWS715 is a stout 15-amp miter saw with a 12-inch blade that's capable of sinking its teeth into anything five inches thick and eight inches wide or smaller. Overall, it's a very capable saw, but it's more expensive than some of its closest competitors without offering quite as many notable features. That said, DEWALT is known for producing sturdy tools with a very high build quality and this saw certainly lives up to that reputation.
With the DWS715, you get a tall fence that's great for cutting larger material. The fence even slides out of the way for doing beveled cuts, but the blade only bevels to the left, unlike the Metabo saw in the position ahead of this DEWALT. This saw also doesn't have a laser light for lining up your cut. However, the DEWALT is a good bit lighter at just over 40 pounds. DEWALT covers their tools with a three-year warranty, which isn't the best in the industry, but it's far better than nothing.
Pros
Tall sliding fences for large material and bevel cuts
More portable than sliding miter saws
Very sturdily built
Cons
Only bevels to the left
More expensive than similar competitors
---
6.

Ryobi 10″ Compound Mitre Saw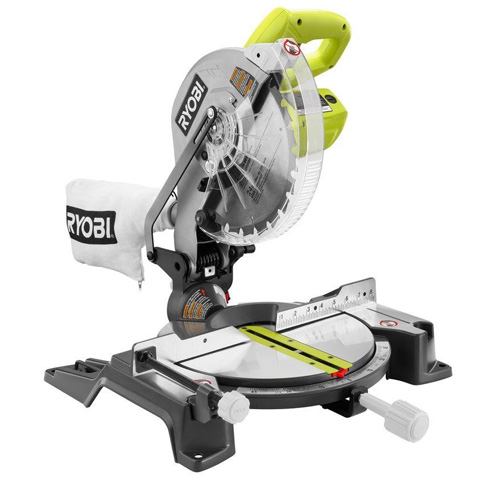 Most of the miter saws we tested for this list had 12-inch blades because they can work with much larger lumber, making them altogether more useful in our eyes. But this Ryobi miter saw has a 10-inch blade and is still a useful tool. One of our favorite things about it was the smaller size and low weight. It's just 26 pounds, so it's easy to pick up and carry from one job to another or just to another area of your workshop. It's also got some useful features like the electric blade stop which stops the blade seconds after you release the trigger so it doesn't keep spinning and risk grabbing onto your piece.
Though there was plenty we liked about this saw, several notable flaws were holding it back. For instance, a saw this size is great for doing trim work, except it only bevels one way! If it were to bevel in both directions, it would be a great option for cutting trim and would probably have earned a much higher position on our list. The dust containment also doesn't work at all, and we ended up with faces full of sawdust whenever we used this saw.
Pros
Compact and lightweight
Portable
Electric brake stops blade quickly
Cons
Only bevels one direction
Dust containment doesn't work well
---
7.

TACKLIFE 12″ Sliding Compound Miter Saw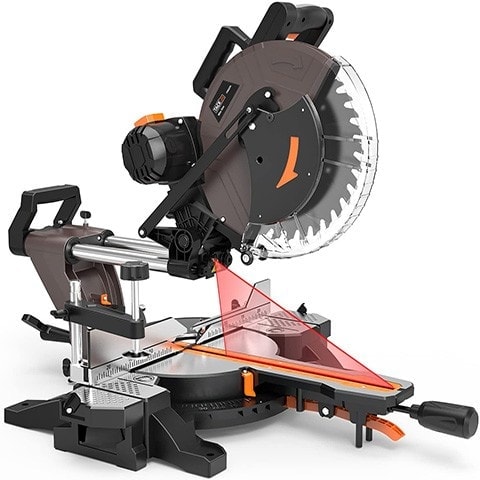 TACKLIFE is a less-known tool manufacturer that doesn't share the same clout and reputation as DEWALT or Ryobi. For what you pay, this sliding compound miter saw offers a lot of great functionality, but it's got some hard-to-miss flaws as well. The platform is pretty large to start, which we liked, and extends on each side for even more support. A dust containment bag is included but doesn't work so well on its own. That said, you can attach a vacuum instead and we experienced very little mess with it attached. This saw bevels both ways and has a 13-inch cut length thanks to the 12-inch blade and sliding rails.
Though it has some nice features, the build quality of the TACKLIFE saw isn't up to the standard set by some of the other saws we tested. It's not as solid and doesn't feel like it would survive too many trips in the back of your work truck. It's also got a very low fence that doesn't provide support when cutting taller trim. When cutting miters, there aren't as many miter stops as we've come to expect, and the back rail is marked in centimeters instead of inches.
Pros
Lower-priced than similar products
Double-bevel
Large cutting capacity
Vacuum attachment port
Extendable platform
Cons
The fence is very short
Lower RPMs than competitors
Few miter stops
CM marks instead of inches
---
8.

Kobalt 7-¼" Sliding Compound Mitre Saw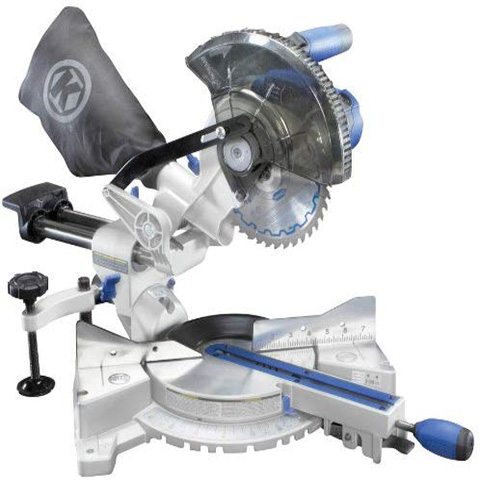 Strewn amongst the 10-inch and 12-inch saws, we also tested several 7¼-inch saws, and the Kobalt compound miter saw is the only one that made our list. Despite the smaller blade, this saw can cut through lumber up to eight inches wide thanks to the sliding rails that give the blade extra reach. Even though it can cut through wood that generally requires a 12-inch miter saw, the Kobalt is still compact and lightweight, coming in under 30 pounds. This means it's much more portable than those larger saws. But we did notice that when pulling the saw back, there's a small gap at the very back of your wood piece that doesn't get cut because the blade doesn't retract quite far enough
This saw features a dust catcher that does pretty much nothing. However, you can hook a vacuum up to the port, and then it's rather effective. You also get a laser guide with this saw, though ours was inaccurate and we didn't end up using it. But our biggest complaint was the uneven cutting deck. Ours had an ⅛-inch difference between the parts of the table, making it very difficult to evenly cut smaller pieces like trim.
Pros
Can cut lumber up to 2×8
Vacuum attachment port
Lightweight and portable
Cons
Inaccurate laser guide
Ineffective dust catcher system
The blade doesn't cut through the back of boards
Uneven cutting deck
---
9.

Delta S26-262L Miter Saw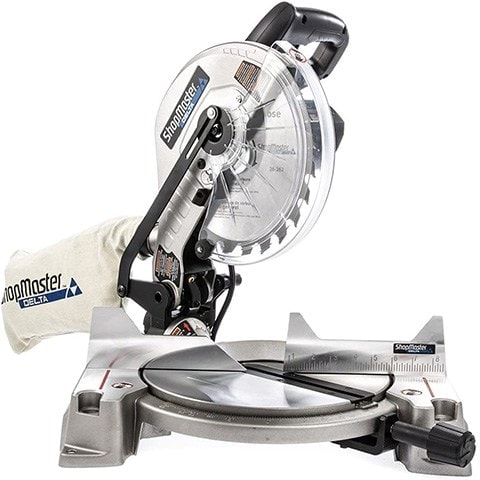 We always love affordable tools, and the Delta S26-262L is one of the lowest-priced tools on our list. Unfortunately, its performance matched the low price, which is why it's ranked so poorly. Aside from the affordable price, our favorite things about this saw were its light weight and smaller size that made it more portable than larger saws. This one has a 10-inch blade, which means it has a limited cutting capacity. It can cut through lumber up to six inches wide but don't ask it to cut a 2×8.
Like many of the lower-priced saws we tested, this one only bevels to the left. It does have a laser for sighting up your cut before making it, but the laser is battery-powered so you'll need extra batteries for it, and if you leave it on, it will be dead the next time you need it. Aside from the laser, this saw is devoid of any other helpful extras. Its barebones feature set helps it stay in the low end of the price range, but we prefer the Metabo HTP C10FCGS that earned our best value pick that's cheaper and offers better functionality.
Pros
Very affordable
Lightweight and portable
Cons
Can only cut up to 2X6 lumber
Only bevels to the left
Laser is battery-powered
No helpful extras
---
10.

SKIL 12″ Compound Miter Saws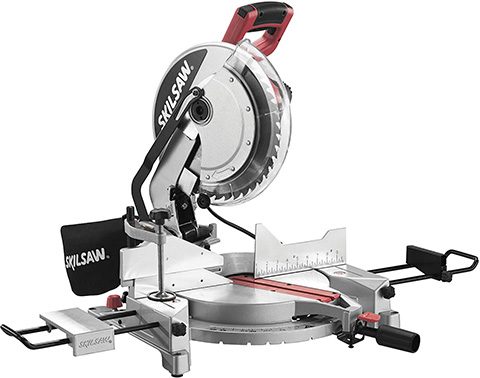 It wasn't one of our favorites, but the Skilsaw 3821-01 compound miter saw is a very solid product. Like most miter saws at this price point, this one is powered by a 15-amp motor. It's got a 12-inch blade that can cut through 2×6 lumber with ease, but rather disappointingly, wouldn't quite reach through a 2×8. Nine positive stops are built-in to make it easy and quick to set your miter angles. You also get a laser light to sight up your cut, and to our surprise, this one is pretty accurate and even somewhat visible. But our favorite feature was the slide-out table extensions that give you more support for when you're cutting long pieces.
Despite all the features we enjoyed on this saw, there were still plenty of complaints from our testers. The short cut length was our first complaint since it wouldn't reach through a 2×8. It can only cut pieces with a maximum height of 3.5 inches as well, so it's not great for trim work. The blade only bevels to the left, but some other saws in the price range bevel to both sides. It's acceptable for basic wood-work, but we don't recommend it.
Pros
Table extensions for stability with longer pieces
Accurate laser light
Cons
Not completely square from the factory
Only bevels to the left
Only cuts 2×6 and smaller lumber
Not great for trim work
---
Buyer's Guide: How to Select the Best Miter Saw
There were so many great miter saws to choose from that we had a tough time narrowing it down to just ten. Each of them has a different set of features, varying blade sizes, and drastically different price tags. But how can you decide which saw is the best one for you? If you're stuck trying to pick between them, then this short buyer's guide will help you cut through the advertising to determine what features and functionality you need.
Blade Size
One of the most obvious differences that separate some of these saws is the blade size. The smallest blade on this list is 7¼ inches while the largest is 12 inches. In between these two sizes are saws with a 10-inch blade. But a 12-inch blade doesn't mean that a saw can cut a 12-inch wide piece of lumber. Most 12-inch saws will cut through a 2×8, but some are limited to a 2×6. Smaller blades naturally have a shorter reach, so a 10-inch blade will generally only be able to cut through a 2×6 unless the saw features sliding rails.

A bigger blade can also cut thicker material, but this also depends on just how high the blade lifts. Each saw has a maximum standing height that it can cut through. This is important for trim work particularly, where you may have to stand up a piece of baseboard vertically to cut your mitered end. Some saws have a meager maximum cut height of just over three inches. Others can cut pieces over six inches thick, so if you're going to be cutting thick pieces of wood or large trim, then you'll want to get a saw with a tall maximum cut depth.
Sliding Rails
Blade size has an effect on what size lumber you can cut, but it's not the only factor. Some saws feature a rail system that allows the blade to slide forward and backward, increasing the width of lumber that it can cut. Some of the best 12-inch mitre saws with sliding rails can achieve a 16-inch long cut, so you can cut very wide pieces with your miter saw. Even a small blade like a 7¼-inch can cut through 2×8 with a sliding rail system. So why would you choose a sliding 7¼-inch saw over a 12-inch saw with the same cut length? One set of reasons is size, weight, and portability.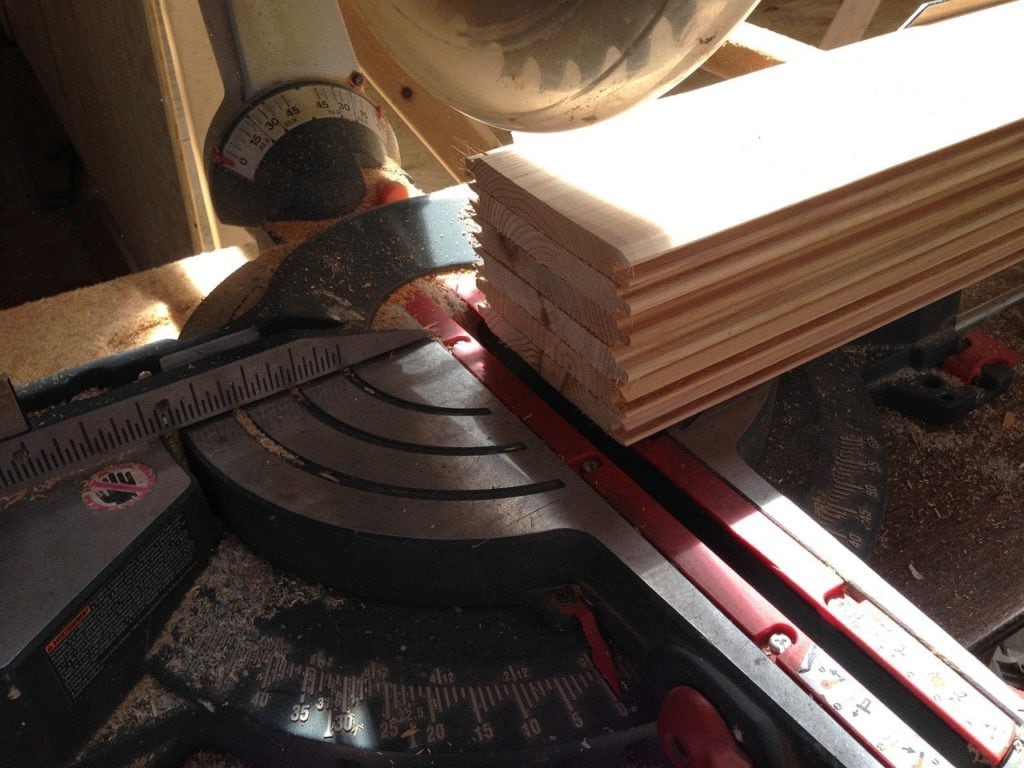 Size, Weight, and Portability
Some people bolt their miter saw down to their shop table and it never moves again. If your saw is going to live such a life, then you may not care how bulky or heavy it is. On the other hand, some saws see near-constant traveling, being transported from job to job, or around the workshop to wherever is most convenient at the time. In these cases, a smaller, lighter saw could be a serious advantage. Some of the 12-inch saws we tested weighed nearly 90 pounds. But some of the smaller saws weighed less than 30 pounds. Obviously, this is much more reasonable for transportation, so if you know you'll be moving your saw around a lot, we suggest looking for a lighter, more compact miter saw.
Extra Features
We've already discussed a lot of the most important considerations for picking a miter saw, but extra features can definitely add a level of convenience. For instance,
laser lights
can make it easier to see exactly where the blade will fall when you cut.
Dust containment systems attempt to keep the sawdust out of your lungs and eyes and collect it into a small bag, making it easy to keep the mess contained. While these often don't work as well as we'd hope, some saws feature a vacuum attachment port that works wonders when a vacuum is hooked up.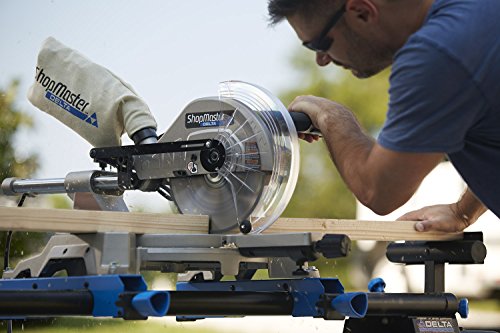 But one of our favorite features are sliding supports on the table. If you've ever done "carpenter's yoga" while attempting to make a cut, then you'll know firsthand just how useful the extra support length can be.
Warranty
Power tools live a difficult life, especially under our supervision. For that reason, we always look for a good warranty that will keep our investment protected. Most of the major tool manufacturers cover their tools for several years. For instance, DEWALT covers its tools for three years. Metabo HTP warranties their tools for an impressive five years. Whichever route you go, make sure that you check on the warranty period from the manufacturer so you know how long your tool will be covered in case of accidental damage.
Conclusion
These saws can cut through pretty much anything you need, creating miters, bevels, and speedy straight cuts. Nothing can replace a good miter saw, so when we set out to find the best miter saws available to replace ours, we wrote up short reviews comparing each of our favorites so that you can get the benefits of all that testing without spending so much money. In the end, our favorite overall was the DEWALT DWS779 12-inch sliding compound miter saw. This monster can cut wood up to 16 inches wide, has a dust collection system that actually works, bevels to both sides, and is protected by the DEWALT three-year warranty.
On the cheaper side of the spectrum, the Metabo HTP C10FCGS was our pick for best value. It's dirt-cheap, lightweight, and easy to transport, and is covered by one of the best warranties in the business. But when you don't mind breaking the bank for the best of the best miter saw, the Bosch GCM12SD is king. This 12-inch sliding miter saw is built like a tank and features a 14-inch cutting capacity, slide-out supports, and a vacuum attachment to help keep the sawdust to a minimum.
Note: we also have a miter saw stand buying guide found here. This may be of interest since a stand is crucial if you want to take your miter saw to the next level. You could also check out our top 5 jigsaw picks or learn how to make a miter saw dust bag.