9 Bathroom Vanity Trends for 2023 — Design Ideas for A modern Home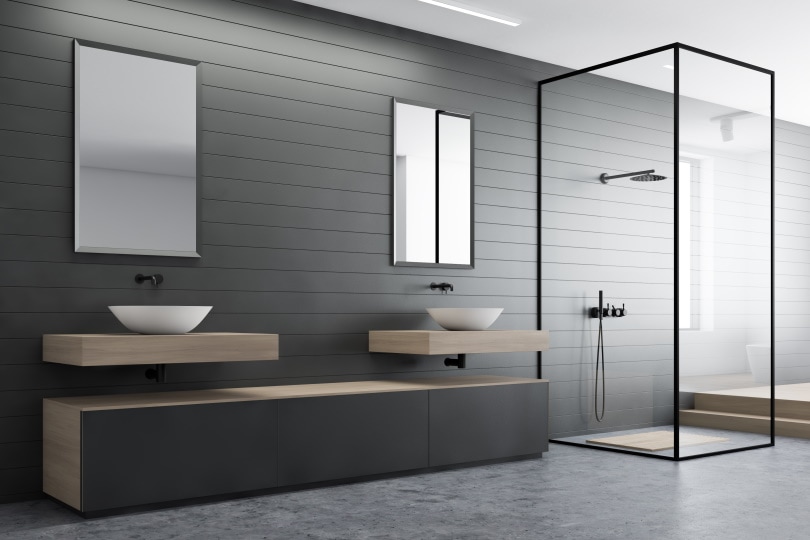 A vanity is not just something that looks cute in the bathroom and helps you hold the sink. It serves several functions, including concealing the plumbing system, providing storage, and even countertop space.
We like to think of it as the centerpiece of a bathroom, that's designed to uplift the general outlook of your space, in addition to making it more useful to all users. Therefore, if you're thinking of installing a new vanity update, we have a few ideas that might help transform your bathroom into a sanctuary that works for you.

The 9 Top Bathroom Vanity Trends
1.

Floating Bathroom Vanities
We realized that most people who often go with the floating bathroom vanity have already done some research, and know what this type of vanity brings to the table. They know this is the type of vanity that has the ability to make a tiny bathroom space appear unusually bigger, by fooling the eye.
The space left at the very bottom of the vanity will allow light to move around more freely, thereby creating some sort of illusion of an increased space. Consciously, you'll know this space doesn't mean much. But subconsciously, you'll believe more light means more space.
The toe kick area in this case can be useful, as it can be used as exterior storage space. Additionally, because it's open access, getting rid of dirt won't feel like an uphill climb.
Unfortunately, because floating bathroom vanities are designed to create that sleek, stylish modern look, they don't quite blend well with traditional homes. Something that you should definitely consider, before getting one.
---
2.

Minimalist Style Bathroom Vanity
Most homeowners are always a tad bit hesitant whenever they are asked to explore this option because they believe a minimalist style is a style that makes spaces look "bland." We don't know how or why they came to that conclusion but for the record, we (and several other homeowners) disagree.
Minimalist, as you may have guessed, is a word derived from minimalism. The art of working with items that are essential to one's survival. We're experienced enough to assure you that this style will help bring not just simplicity, but also calmness, and peace into your bathroom space—Something that you'll appreciate after a long day's work.
The fact that it often makes the room look more spacious is the other reason why we think so many people will go for it this year. Who really wouldn't want to use a bathroom that's bigger and airy?
Also, if by any chance you've got kids who drive you nuts by leaving their toys everywhere, that uncluttered countertop will certainly make them think twice.
---
3.

Marble Vanity Countertops
Homeowners love going for all things marble because this hard crystalline metamorphic form of limestone has a way of bringing out timeless beauty in anything. And when we say anything, what we mean is everything, including our bathroom vanities.
It's, quite honestly, difficult to comprehend why some people are repulsed by this material. How can someone not like something that comes with unique patterns and colors, and doesn't take the shine off anything?
Durability is the other reason why the marble vanity countertop is becoming increasingly popular. Compared to all the other synthetic materials, marble has proven to be a lot more durable.
You'll be glad to know that it can't be easily damaged by the heat emanating from appliances such as the hair straightener or curling iron. And if at all you were wondering just how far you can push it, let's just say you'll have to drop the "Thomas Inch" dumbbell on it, to make it crack.
---
4.

Open-shelf Bathroom Vanities
In all honesty, we think the one thing that makes open vanity cool is the fact that it's open. A quick glance is all it takes to know where everything is. You don't have to waste time looking for this or that, especially if you're running late to work or for a meeting.
What about the space, you ask? Well, that's the other selling point here. If you're thinking of installing an open vanity in your tiny bathroom but the space is an issue, you could go with the table-style vanity that has a bottom shelf. That shelf will be big enough to store all your toiletries, and then some.
Those who own apartments prefer open vanities because they can be custom made to fit anywhere—including that narrow margin between your bathroom's window and sink.
And… if it ever gets to a point where you feel like that entire section of exposed plumbing is making the whole space look bad, you could always add doors.
---
5.

Wood Bathroom Vanities
We have a feeling that the wood bathroom vanities are going to reign supreme this year, as well. And yes, we know most people love the quintessential sleek spa look in their bathrooms, but you also have to bear in mind that times are changing. Homeowners seem ready and very much willing to explore other options. Options like the wood bathroom vanity.
Wood offers something that all those other materials don't—Natural elements. And because our primary goal has always been to ultimately blur the line that makes it difficult to connect our living spaces to nature, we see no reason why anybody would discount the benefits of using wood in a modern setting.
We feel obligated to also let you know that there are different wood materials often used to construct wood bathroom vanities. There's one made of rubber wood, plywood, Medium Density Fiberboard (MDF), and solid wood. Whatever you choose will depend on your personal preferences, but we'd prefer working with solid wood.
The cost factor notwithstanding, strength and durability makes solid wood the premium option. Of course, there's the whole issue of how it handles humidity in the bathroom, but if you find a way to keep that in check, there's nothing else to worry about.
---
6.

Industrial Themed
In our eyes, homeowners are basically consumers with different tastes and preferences. Some love that modern look, while others prefer to work with utilitarian spaces that scream warehouses and factories. If you happen to fall into the latter bracket, we believe the industrial element bathroom vanity will suit you perfectly.
There's really not much to say about these types of vanities. Except that they are very basic, kind of stylish but not as stylish as most vanities in the market, and very tough. By that we mean they'll offer you just enough to give your bathroom that down-to-earth on-trend look, while catering to all your needs for a long period of time.
The other good news is, if you're looking for elegance, you can pair some of the industrial bathroom vanity elements with those of the marble or ceramic countertops. Just install that deep trough basin with the marble vanity countertop, and you can enjoy the best of both worlds.

Bathroom Vanity Color Trends
7.

White Vanities
White has always been one of the best colors, if not the best color, for bathroom vanities. This color has never gone out of style, as it has the ability to warm up dark spaces. Also, there's a psychological aspect to it. You see, experts believe they have a way of making rooms appear larger, more spacious, cleaner than usual, and simple in a more sophisticated way.
---
8.

Ebony Vanities
Ebony is basically black. The only difference is, it usually has undertones of brown or olive. We got that name from the dark heartwood of the ebony plant, a species commonly found in Sri Lanka and India. By the way, it's the same color that you often see on the 'black' piano keys.
Ebony colored vanities are designed to add depth and sophistication to different spaces. Assuming your bathroom walls are white, pairing that with an ebony-colored vanity will help you make the room appear spacious.
---
9.

Gray Vanities
Gray is often described as a neutral non-emotional color that has the ability to manipulate and even contain different energies. So if you walk into a room and spot an object which has been painted gray, presuming you were in a terrible mood, chances are you'll have your spirits lifted. That's why we believe gray colored vanities are going to be trendy this year.
Related Read: 10 Master Bathroom Trends — Design Ideas for a Modern Home

Conclusion
If you're thinking of getting a bathroom refresh, these vanity design ideas will help you get just that. Of course, you don't have to risk it if you're not ready to. But remember, there's no reward earned without some sort of risk being taken. Go ahead and give them a try, and then send us some feedback.
See also: 10 Best Bathroom Countertop Materials: Pros & Cons (Guide With Pictures)
---
Featured Image Credit: ImageFlow, Shutterstock