11 Bauhaus Interior Design Ideas (with Pictures)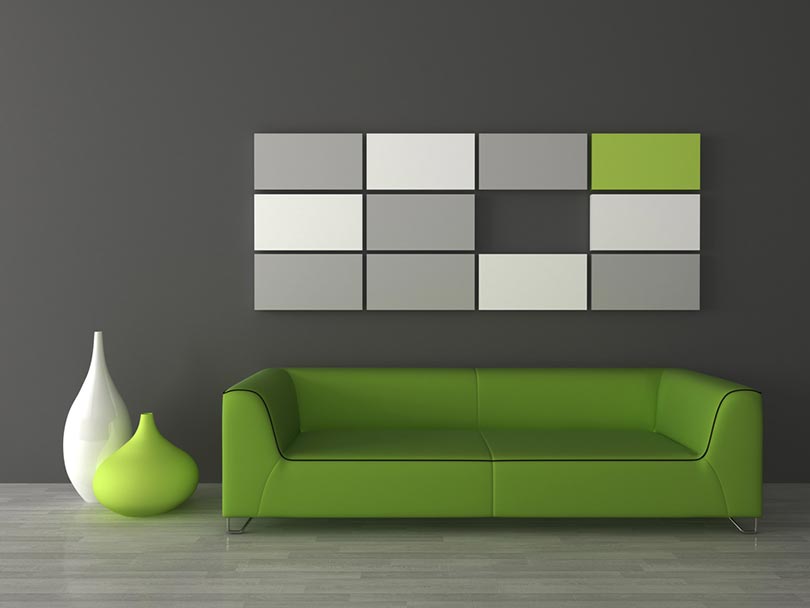 If you're someone who appreciates modern designs that feature clean lines and geometric shapes, you'll love Bauhaus design. What originally began as an architectural phenomenon over 100 years ago, we now view today as modern and industrial.
As with any design, there's not really a right or wrong way to do it because it's up to personal taste. The nice thing with Bauhaus design is that it's about the shapes and colors in the design, so it's easy to incorporate different elements into other styles.

The 11 Bauhaus Interior Designs
1.

Colorful but Clean- rockin cushions
This Bauhaus-inspired design offers a vibrant color pattern that makes all the nice sharp lines pop. When you add in the nice geometric shape of the chairs and the rug, you get a lot of complementary contrasts that are pleasing to the eye. Another thing that pops out about this design scheme is the arched doorway.
---
2.

Simple yet Stylish- ant wedesign
This design features some decor items on the wall that pull away from that Bauhaus style. However, the cantilever chair and sharp wall lines bring us right back to it. This room shows how "less is more" when doing a Bauhaus room. You get a nice stylish room with subtle colors and no fancy decor to clutter up the space.
---
3.

Clean, Colorful Lines- archi lovers
This room has some nice features like pleasing geometric-shaped chairs and light sconces. But the thing that seems to pop the most is that two-tone color separated by the crisp, clean line. It gathers the whole spirit of Bauhaus design into one place. And the floor compliments the simpleness of the room with a little bit of texture.
---
4.

Wild Bauhaus- hunker
At first glance, this room appears to have a lot going on. But at another glance, you notice how everything ties together. The colors are bold, yet it's not overwhelming, and the color palette is not overly complicated, either. The little bit of pink on the rug adds a really nice flair as it stands out from the rest of the colors.
---
5.

Hard Lines With Color- home and decor
This is such an interesting room design. All the squares and rectangles in the room tie together—even the ones on the window frame. The other really cool thing about this room is how there is trim on the walls and ceiling. In addition, the height differences in the ceiling create neat geometric shapes at every corner of this room.
---
6.

Geometric Shape & Color Combinations- ignant
For some, this room may be a little extreme for Bauhaus style. However, look past the amount of color and you'll see that it's still not an overly complicated palette. The colors all complement one another, and the amount of pleasing geometric shapes is awesome. This room embodies the Bauhaus elements of having very little emotion or historical roots.
---
7.

Cantilever Chair- this is glamorous
True to the Bauhaus style, cantilever chairs are usually constructed with tubular metal like the Wassily chair. However, the actual design is quite different. Cantilever chairs are fun to sit in because they almost give you that rocking feeling as the frame shifts when you sit down. Again, they come in several materials and fabrics for the seat material.
---
9.

Area Rug- over stock
Adding an area rug is a great way to finish off a room's design. The unique designs on this rug are a visual feast if you're looking for varying shapes in a room. One thing that looks really cool is if you have a conservatively designed room with minimal colors and textures, and then add a rug like this one to get a burst of shape and texture to the room.
---
10.

Laccio Table- design-milk
Holding to that same industrial design that the two chairs above have with their metal frames, the Laccio table also features tubular metal construction. As a result, these tables pair well with either Wassily or cantilever chairs in a Bauhaus room. You can get various tabletop finishes to match the rest of the decor with these tables as well.
---
11.

Arc Lamp and Table Combo- zeitlosberlin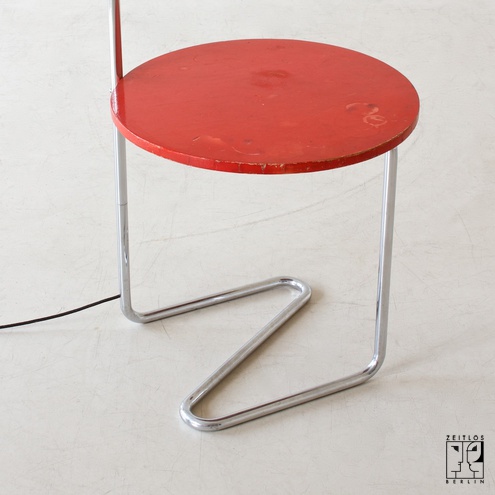 Why put a lamp on the side table when the light could be part of the table? This table and lamp combo gives us that modern and industrial feel with the metal construction. It's also functional because it combines two common decor pieces—a table and lamp—into one piece that you can place anywhere in the room. A piece like this will also be available in several different tabletop finishes.

Where Did the Bauhaus Style Come From?
This unique and modern style has its roots in Bauhaus architecture. This school of architecture and design began with Walter Gropius of Germany in 1919. Even after the school became inactive just over 20 years later, the style and architecture choices continued.
Nowadays, we view the Bauhaus style as industrial and modern, which is ironic considering the style choice is over 100 years old.
Common Features of Bauhaus
There are several things that most Bauhaus designs share, whether inside or outside a building.
Functional and straightforward shapes—geometric shapes are a favorite of the Bauhaus style.
Unique and industrial materials like glass, concrete, and steel lead to Bauhaus being a very modern design choice.
Cohesive and simple color schemes—which still get vibrant at times due to lots of reds, blues, and yellows.
Asymmetry instead of symmetry are staples in a Bauhaus design—this is why it can be a very unsatisfying design choice for someone who likes everything to be symmetrical.

Closing Thoughts
The nice thing about Bauhaus is that it can be extremely conservative and reserved or loud and popping. It all depends on your personal flair. It's also easy to incorporate Bauhaus-style decor items into many other design schemes. We hope this article has inspired you to do something fun in that room that's just waiting for a makeover!
Other interior design ideas:
---
Featured Image Credit: designdepot_ltd, Shutterstock