19 Southwest Interior Design Ideas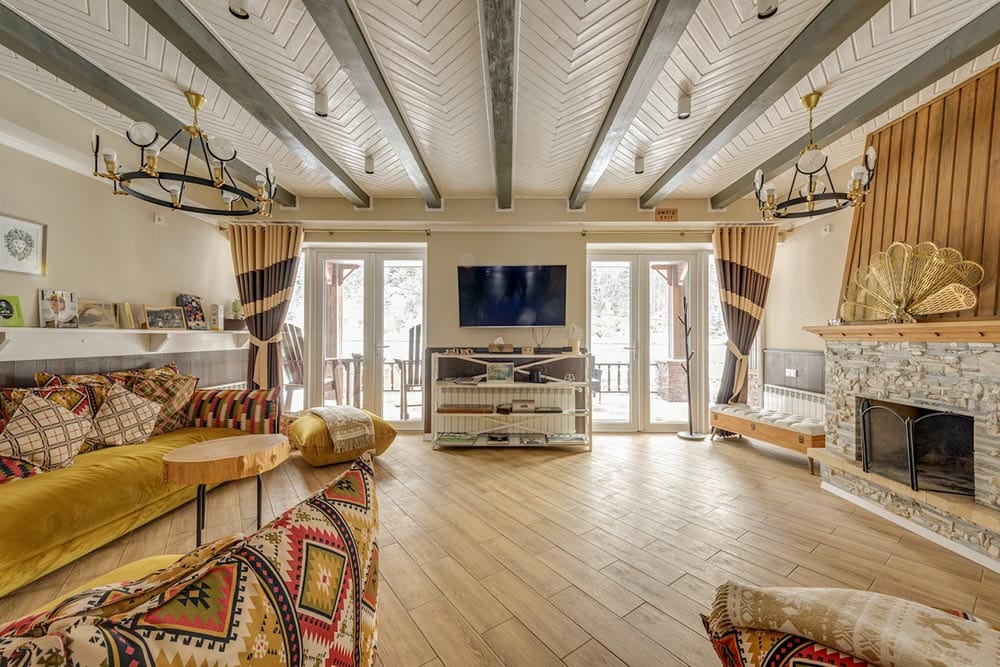 If you're looking for a design emphasizing rustic elements and unique decor choices, then check out these 19 Southwest interior design ideas. We've included everything from vibrant, Spanish-inspired colors to muted browns with that rustic country feel.

19 Southwest Interior Design Ideas
1.

Vivid Patterns
If you've ever been to Mexico or seen pictures of the locals, you've probably seen the incredibly vibrant ponchos that they wear. Those incredible colors and vivid patterns make it through into this rustic southwest living room.
Not only does it have that incredible area rug, but the unique pillows all pull it together. And the light colors on the walls and the couch give it that modern feel for a nice contrast.
---
2.

Art and Rustic Design
There is a heavy focus on rustic elements when it comes to a Southwest design. Everything about this space yells rustic—the table, the art, the plant, and the rug. However, they feel rustic without feeling old or outdated. In fact, there is a real modern feel to the way everything comes together.
---
3.

Spanish-Inspired in the Southwest
Many Southwest designs incorporate a lot of Spanish–inspired colors and patterns. This space is an example of how Southwest doesn't mean it has to be rustic with muted colors. There is still a rustic feel here, but it's complemented by the incredible, vibrant colors and art.
Another nice thing about this room is the exposed beams on the ceiling and curved doorway. Both add to that cozy Southwest feel.
---
4.

Minimalist and Rustic
Sometimes we expect a rustic design to require tons of decor and lots of wooden furniture. This entryway proves that simple decor can achieve the desired result. Simply hanging a hat and rosary over a wooden stool gives you all the info you need to know this is a classic Southwest space. The crisp white walls and floor also contrast nicely with the bit of color from the vibrant area rug.
---
5.

Bold Art With a Modern Flair
It doesn't take a lot to bring a Southwestern design to life in any space. Take this one, for example. The steel hanging light and the picture of a cow skull blend together with the clean, white walls and table perfectly to create a beautiful balance between modern and rustic Southwest.
---
6.

Sleek and Modern
This nursery has a lot going for it. It's a clean, modern design that is gender-neutral. But the addition of the critter hanging on the wall and the Southwest designs on the area rug give it that rustic edge. This is a great idea if you're not ready to dedicate yourself to that full-on rustic look but still want some country flavor to the room.
---
7.

Southwest Living Room
Here's another living room that does a great job of striking that balance between clean and modern with lots of light creams and whites and the contrast of rustic tables and patterns. Then the cactus in the corner gives it that true-blue Southwest flavor. The thing that really stands out with this design is that none of it is too overpowering.
---
8.

Sticks and Stones
If two things are guaranteed to add that country flair to a room, it's stones and exposed wood. This room features both in spades. The beautiful stone fireplace is the focal point of this room. Then you have the beautiful wooden mantel and the exposed beams in the ceiling. Combine that with the muted browns and blues throughout the space, and you have a bonafide Southwestern space.
---
9.

Lots of White
When a room has a lot of white, it can sometimes feel clinical or sterile. However, even with as much white as this space has, it still feels warm and inviting. The painted wall paneling and exposed beams in the ceiling maintain their country feel, and the massive area rug makes the Southwest character explode. Also, the arrows on the wall give it a unique rustic feel.
---
10.

Southwest Nursery
Where the other nursery on the list was clean and modern with a little country flair, this one flips that design upside down. It still features lots of light colors, but you have the nice exposed wood paneling on the roof, and unique prints on the towels and blankets give it a more country feel. Plus, the unique designs on the rug and the woven light cover give this room an unmistakable Southwest feel for you to enjoy with the baby.
---
11.

Uniquely Southwestern
All the decor in this space is ultra-unique. Everything from the masks to the rug and weaved bench to the exciting painting of the bull gives it that ultimate Southwest feel. Then you have the lovely deep blue color on the panel walls accented beautifully with the wood corner trim.
---
12.

Southwest Bedroom
This bedroom features a similar blue color to the previous design idea. However, this bedroom incorporates a lot more traditional Southwestern decor like pillows, an area rug, and a throw blanket on the bed. The addition of a lot of white and that unique hanging light gives it a more modern feel—an almost steampunk design—which is a nice contrast with the room's rustic appeal.
---
13.

Desert-Inspired Bedroom
If there is one room that goes all out with that rustic, desert-inspired design, this one's it. Everything from the ceiling to the floor is bursting with a country flair. You have those white, exposed ceiling beams and painted wood walls, and then there's the beautiful hardwood floor. And all the decor gives the nod to that Southwest and desert-inspired style.
---
14.

Wall Chalkboard With a Southwest Flair
They didn't have chalkboard walls in the Wild West, but the chalkboard wall in this space gives it a fun, modern feel to an otherwise Southwest design. The old wooden table and the area rug are country through and through. Then you have a big steer skull hanging from the chalkboard so that no one forgets what inspired this room.
---
15.

Lots of Color
This design isn't for someone who needs everything to match and complement itself; there is a lot going on. At a glance, it almost doesn't look like it makes sense. But even the many different colors and patterns work for what this room is. An old parcel as a table and the drum are two unique decor additions that really make this room stand out as something special.
---
16.

Southwest Decor
Not quite as in-your-face as the last one, but there is still a lot going on in this space. The main difference is there's a much bigger emphasis on the muted colors. There are lots of browns and blacks incorporated into this decor. The hanging rug, the hanging lights, and the cacti all bring together this room's Southwest feel.
---
17.

Spanish-inspired Entry
Not quite as much going on in this Spanish-inspired Southwest design as the previous one. However, there is still a lot; it's just different. The emphasis is on the magnificent area rug with all its colors and patterns. Then there are the pillows and drapes as well. The exposed ceiling beams and curved doorway both add a nice country flair to the whole thing as well.
---
18.

Lots of Brown in the Southwest
For how much color there is in this room, it's actually pretty easy to miss because it features very muted browns, yellows, and reds—all of which are very Southwest design color choices. One nice thing about this space that we haven't seen in any of the others is the rustic brown tiles. It's a nod to a more modern design, but it retains that country feel through the color and texture.
---
19.

Curved Architecture
Curved, stucco architecture is common in some of the older, more rustic Southwest designs. The indented spot for the pictures in this hallway adds an interesting depth. Walking down this hallway would surely feel like you're walking into an old cowboy movie as you take in the beautiful hardwood floor covered by the Spanish-inspired area rug. Then you have the super unique decor hanging at the end of the hallway.

Characteristics of Southwest Design
Several characteristics are common to find in a Southwest interior design. A lot of them come down to color and decor.
Spanish and desert-inspired color palette: You'll find lots of tans, browns, oranges, and reds in a Southwest room.
Hand-crafted decor: When it comes to decor, you'll commonly find hand-crafted decor like carvings, mounts, rugs, pillows, etc.
Geometric shapes: You'll come across many geometric shapes throughout the design.
Boho style: People that dig a traditional Southwest style are typically the same people that enjoy a bohemian-styled room.
Modern isn't off the table: Even though a Southwest style has unique decor and colors doesn't mean you can't incorporate it into a modern style. Many people successfully combine the two.

Closing Thoughts
There you have it. Now that we've got those gears turning with this list of southwest interior design ideas, how will you style that next reno project? Suppose you're interested in mixing various styles. In that case, there are many modern elements and boho elements that will fit into a Southwest design to create something functional and aesthetically pleasing.
Other interior design ideas:
---
Featured Image Credit: Max Vakhtbovych, Pexels