10 Luxury Interior Design Ideas (with Pictures)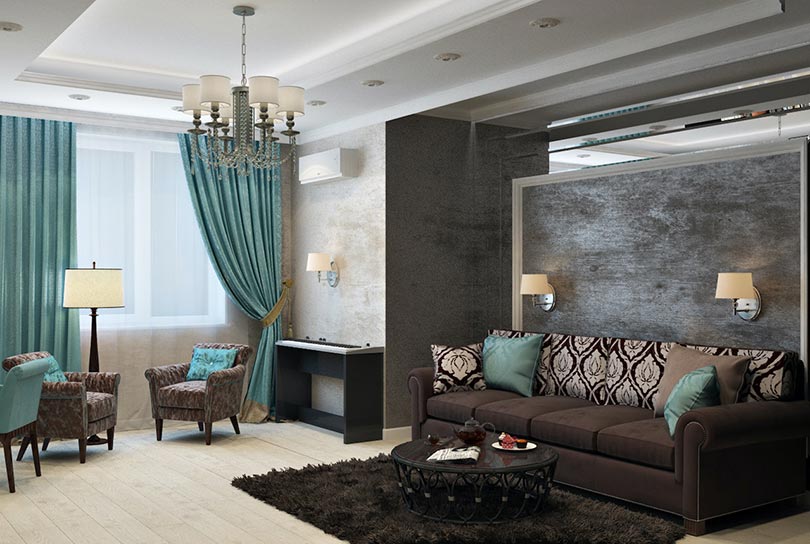 Changing up the interior of your home can be a great way to get a fresh outlook on life, and it enables you to decorate in ways that you normally can't. However, most people aren't decorators, so it can be challenging to come up with ideas that will improve the look of the home. If you need help getting started, keep reading as we provide you with several luxury interior design ideas.

The 10 Luxury Interior Design Ideas
1.

The Neutral Color
A neutral color palette is a great place to start because little can go wrong. Simply paint everything, furniture and all, the same color, or use different shades of the same color. Neutral colors are the ones that aren't bright and bold, like blue or red. The purest neutral colors are white, brown, gray, and black.
---
2.

Custom Furniture
Custom furniture can be a great way to add a unique appearance to your interior. It can be extremely luxurious, and in many cases, you can build something using only a few tools. This DIY Couch from WoodShop Diaries is a great example of custom furniture that will help your environment be more comfortable and look more luxurious.
---
3.

Lighting Fixtures
Many homes use traditional lighting that tries not to attract attention. However, adding designer lining can go a long way toward making the home feel fancier. Chandeliers are great choices, as are decorative lamps. Another advantage of lamps is that you can often find beautiful models for sale inexpensively at antique shops or yard sales. You can also build a lamp, like this DIY Pendant Light from SugarAndCloth. It only requires a few supplies, like a woven basket and a lamp mounting kit, to create something that no one has.
---
4.

Natural Light
One thing that can make any home feel more luxurious is having large windows that provide a good view of the surroundings and allow plenty of natural light to enter the home. Many people also like to use this additional light to grow plants, which can help make the home more inviting.
---
5.

Eco Friendly
As many people are concerned about the environment, it's only natural that eco-friendly products are the hot trend in modern interior design. For example, many people prefer products that use wood hemp and other materials in their construction instead of plastic, vinyl, and even steel. Natural wood also looks good and can be quite luxurious.
---
6.

Extra Storage
One of the best current trends in modern interior design is adding hidden storage spaces. It helps eliminate clutter, and you can hide storage spaces in chairs, footstools, etc. The options available are nearly limitless. For instance, ComeStayAWhile provides a step-by-step tutorial for creating a fireplace with hidden storage compartments that is surprisingly easy to build and looks amazing.
---
7.

Minimalist
Reducing clutter is quite popular with modern interior designers, and it's also a great way to make more space. It results in a cleaner appearance that's easier to maintain, especially if you have pets. The open area also appears more luxurious to many people.
---
8.

Contrast
A good color-based theme idea is to use contrasting colors. Two contrasting colors can help accent the room or create an attractive design. The most common contrasting colors are black and white, but you can choose from several other combinations to create your desired appearance.
---
9.

Bling
One good option when designing for a luxury appearance is to add plenty of shiny objects and jewels. Chandeliers work well, especially ones made of gold, brass, or copper or with accents. Mirrors can also help the room seem larger and appear to have more shiny objects.
---
10.

Art
Art is an easy way to make any living environment more luxurious with minimal effort. Many homes of the rich and famous have amazing artwork, so putting something on your wall will instantly make the connection in your visitors' minds. High-quality artwork can be incredibly expensive, but many independent artists can provide you with something more affordable but equally stunning.

Design Tips
Start small. In many cases, a new paint job will work wonders, so see how it looks if you don't have any pre-design plans. It may be all that you need to do.
Look at pictures of people's homes shared on the internet to find ideas that you like.
Ask your friends for advice, especially if you like how they decorate their homes.

Conclusion
Redecorating the interior of your home can seem like a big job at first, but you can start small and tackle bigger jobs as needed. In many cases, a neutral paint color or contrasting scheme will give the environment a new life at a low cost. If it still needs more changes to look good, try reducing the amount of furniture around and switching to biodegradable materials. Extra storage space can help reduce clutter, and changing the lighting can be as effective as new paint. Custom furniture and larger windows are also good options but can be expensive and labor intensive.
Other interior design ideas:
---
Featured Image Credit: Victoria Borodinova, Pexels