Best 60cc Chainsaws 2023 – Reviews & Buyer's Guide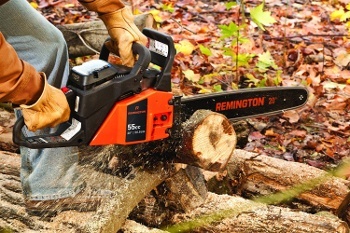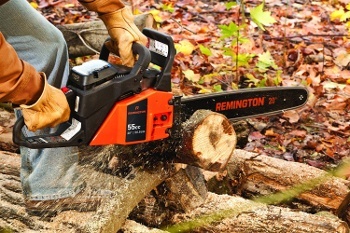 If you've been working with power saws for a long time, you might nod knowingly just from reading the words "60cc chainsaw." It's hard to equal the power, versatility, and sheer rush that comes from using a chainsaw with a high-displacement engine. There's nothing like starting a job with the confidence that nothing can stop you until the work is done.
For the uninitiated, "cc" stands for cubic centimeters, and measures the volume of air displaced by the engine's pistons. A higher cc translates into more cutting power. Most chainsaws marketed to homeowners sit somewhere in the 30-40 cc range. But if you're a professional or just a private landowner in need of more power, you can easily find saws that go harder.
While 60cc saws are rare on the open market, it can still be hard to sort through the noise and figure out which one is right for you. That's why we wrote these reviews: to give you trustworthy information you can use to buy the 60cc chainsaw that'll bring your woodlands to heel. Let's get started.
---
A Quick Comparison of Our Favorites in 2023
Rating
Image
Product
Details

Best Overall

Husqvarna 460 Rancher 60cc Chainsaw

Cuts incredibly smoothly
Easy to wield
Starts quickly
CHECK PRICE

Echo CS-590 60cc Chainsaw

Chain lasts a long time
Great anti-vibration technology
Cutting powerhouse
CHECK PRICE

Best Value

COOCHEER Ladyiok Chainsaw 62cc Gas Chainsaw

Auto-oiler and debris filter
Comfortable to use
Convenient chain tensioning
CHECK PRICE

HUYOSEN 18-Inch 2-Cycle 60cc Chainsaw

Cheap
Shorter bar for added versatility
Engine holds up to long workdays
CHECK PRICE

X-BULL 20-Inch 58cc Chainsaw

Simple oiling and chain tensioning
Lots of power from direct-air carburetor
Well-balanced
CHECK PRICE
5 Best 60cc Chainsaws
1.

Husqvarna 460 Rancher 60cc Chainsaw – Top Pick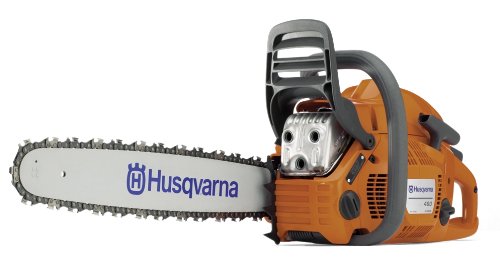 One reason we wrote this list was to convince you that there's a noticeable difference between basic 42cc chainsaw for beginners and a professional 60cc model. Nothing comes close to illustrating that difference as clearly as the Husqvarna 460 Rancher.
Featuring a 20-inch bar and a 2-cycle engine capable of reaching 9000 RPM, the 460 Rancher can cut through any wood you're likely to encounter. We put it through its paces, slicing up tree trunks at an average of two feet in diameter, and it never once bogged down or seized up. Toward the end of the day, we tested it on a much larger tree just for giggles and dissected it with no trouble at all.
Performance is the main thing that puts Husqvarna at #1, but this saw is also fantastically easy to use. The manual is straightforward and informative. Starting it is a breeze. It's a heavy beast, weighing almost 21 pounds, but the cushioned, ergonomic handles make it feel like it's a lot less.
Our one complaint is that there's no tool-free chain tensioning system — you have to use the included wrench. It's not hard, but it's a pain if you lose the wrench. Without doubt, this is the best 60cc chainsaw on the market today
Pros
Cuts incredibly smoothly
Easy to wield
Starts quickly
Runs all day on one tank of gas
Simple setup
Can tackle trees far above its size
Cons
Heavy
Chain tensioning requires tools
---
2.

Echo CS-590 60cc Chainsaw
Our runner-up in the race for the best 60cc chainsaw is the CS-590 Timber Wolf from Echo. It's a powerful chainsaw that compares to the Husqvarna 460 in almost every way — save for a couple of glaring flaws that drag it down.
The CS-590's 2-stroke engine (usually) starts easily, even on freezing-cold days, thanks to a well-designed decompression valve. The factory chain will last you through months of jobs. With its ability to continue running smoothly through cut after cut, it makes an ideal firewood saw. Echo has also nailed the anti-vibration technology in this chainsaw, making it a total joy to use. The CS-590 cuts quickly and is easy to keep on a straight line.
What about those flaws? First off, the CS-590 cannot be returned and has no warranty. This wouldn't be a problem if Echo hadn't made some of its most important parts out of cheap materials. Specifically, the blade guard's plastic is thin and flimsy, and we can't condone skimping on safety.
One more drawback: the start is easy, but finicky. Temperature doesn't affect it, but atmospheric pressure can. The engine is also incredibly easy to flood, so take care, particularly on the first start.
Pros
Easy to start on cold days
Chain lasts a long time
Great anti-vibration technology
Cutting powerhouse
Cons
Atmospheric pressure can make it hard to start
Cheap safety materials
No warranty
---
3.

COOCHEER Ladyiok Chainsaw 62cc Gas Chainsaw – Best Value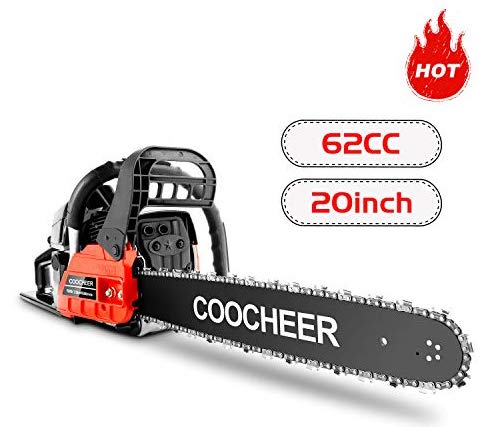 For homesteaders and property managers on a budget, the Coocheer Ladyiok is the best 60cc chainsaw for the money (62cc, actually, but it's more of a bracket than a hard number). It runs at up to 8500 RPM and supplies plenty of power to the 20-inch bar while managing to be surprisingly fuel-efficient — so you're saving money on several fronts.
As our value pick, it's of course extremely easy to afford, but the real value comes from how much this chainsaw manages to offer for a small amount of money. Its pre-installed chain lasts a long time, helped by an efficient auto-oiler, and an air filter that removes foreign contaminants.
While using the Coocheer Ladyiok, we were struck by how friendly it felt. Gripping the handle was comfortable, and re-tightening the chain was intuitive. It's also awesome that it ships with an extra spark plug, a spare chain, and a replacement starting rope.
Unfortunately, the reason there's an extra spark plug is that this chainsaw blows through spark plugs almost as quickly as it cuts through wood. The oiler is also prone to leaking. Finally, while the blade is high-quality, we can't say the same for the plastic construction.
Pros
Budget-friendly
Sharp chain included, plus a spare
Auto-oiler and debris filter
Comfortable to use
Convenient chain tensioning
Cons
Shoddy construction
Auto-oiler leaks
Often blows out spark plugs
---
4.

HUYOSEN 18-Inch 2-Cycle 60cc Chainsaw
Another low-priced 60cc chainsaw, the Huyosen 18-inch is worth checking out if you're strapped for cash and can't get ahold of a Coocheer Ladyiok.
It's got a couple of strong selling points outside of the low price. The packaging quality is stellar, avoiding a common problem with cheap power tools. At 18 inches, the bar is shorter than the majority of gas-powered chainsaws, which can be great if you're working in a tighter space. It also maintains consistent power for a long time, holding up through tough workdays.
That would be better if the power level was higher, but sadly, the Huyosen 60cc is all bark and no bite. It's definitely loud, but it doesn't cut very fast. Compounding the problem, the teeth on the factory chain take very little time to blunt.
The biggest reason we can't recommend this any higher than #4 is that, despite all its good points, the marketing seems to be insisting that it's also an electric chainsaw. Don't let all the copy about an "8-amp motor" or a "push-button start" confuse you – this is a gas-powered chainsaw, and we have no clue why Huyosen wants you to believe otherwise.
Pros
Cheap
Shorter bar for added versatility
Engine holds up to long workdays
Cons
Very loud
Engine doesn't translate to power
Factory chain turns blunt quickly
Falsely claims to have an electrical system
---
5.

X-BULL 20-Inch 58cc Chainsaw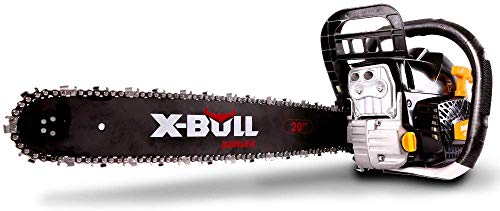 To finish out the list, we've got this 20-inch, 58cc chainsaw from X-Bull, a new brand which is about as close to generic as chainsaws can get. We were cautiously excited about it right off the bat, partly because it's one of the first high-powered gas chainsaws to take reducing engine emissions seriously.
As big fans of not breathing in toxic fumes, we couldn't wait to try X-Bull out. We ran into problems with the setup instructions, which are basically useless: we were able to figure them out, but people who don't review saws for a living won't be so lucky. After that, the pull-rope got stuck, and we had to remove part of the casing to unbind it.
Once we actually managed to cut something, X-Bull performed impressively, cutting quickly through all the lumber we used it on. However, the "low-emission" engine turned out to be a sick joke — this chainsaw smokes more than a great-aunt.
The bottom line: it cuts well, and it's cheap, but we don't know enough yet about how these saws perform long-term. We do like the balance, though, and the auto-oiler is trouble-free, so we'll be watching to see what X-Bull does next.
Pros
Lots of power from direct-air carburetor
Simple oiling and chain tensioning
Cheapest 60cc chainsaw
Well-balanced
Cons
Lots of fumes
Poor-quality instructions
Unknown manufacturer
Starting rope frequently seizes
---
Buyer's Guide – Choosing the Best 60cc Chainsaw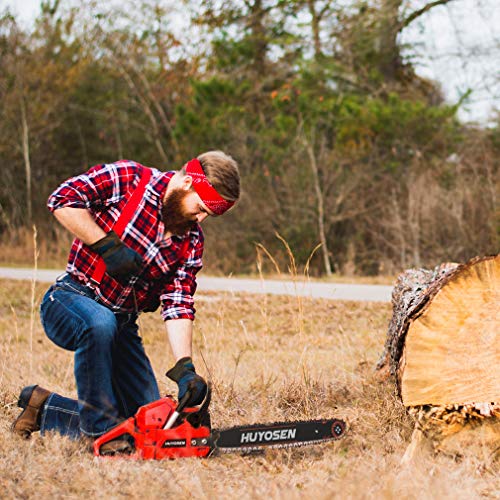 We're always surprised when a chainsaw is the weapon of choice for the murderer in a horror movie. Chainsaws are so loud that any intended victim will hear them coming from a mile away. And what's the killer going to do when he runs out of gas? Sure, he could be using an electric chainsaw, but he'd still have to recharge it — plus that's just not very intimidating.
What were we talking about? Oh, right: how to shop for a 60cc chainsaw. In this buyer's guide, we'll give you all the information you need to make an informed decision.
What does engine power mean?
We mentioned the meaning of "cc" early on, but we'd like to get a little deeper into it here. You might remember that "cc" stands for cubic centimeters of displacement.
The purpose of a chainsaw's engine is to burn a fuel-oil mixture and use the energy released to power a rotating belt of small saw blades. Once you start the engine, the fuel is ignited by a spark plug. The resulting force pushes a piston back and forth, a translational motion that converts into the rotational motion that the chain needs in order to move.
That's a brazen oversimplification. There's really only one thing you need to take away from it: all the energy that moves your chainsaw's blade comes from the back-and-forth ("two-stroke") motion of a piston. From there, you can grasp that the more space the piston has to move, the more power it will be able to build up.
That, in turn, is why displacement is so important. A higher cc measure informs literally everything about a chainsaw, including:
How big it is
How heavy it is
How long the bar can be
How fast it can cut
You know: all the important stuff.
Do you need a 60cc chainsaw?
This is the first question to ask yourself about any tool. It can feel so good to unbox a new gadget that we neglect to find the proper uses for the workhorses we've already got. On top of that, you never want to find yourself stuck with more tool than you need — you wouldn't use a sledgehammer to hang a picture.
If you aren't sure how much power you need, run through the pros and cons of a high-powered chainsaw.
60cc Chainsaw Pros
More power = faster chain speeds
By cutting more efficiently, you'll get more done in a single workday
Longer bars for cutting larger trees
60cc Chainsaw Cons
Heavier and harder for amateurs to control
Often bulkier, unable to work in close spaces
Increase in emissions and noise
Starting is more difficult
When should you use a chainsaw?
Higher-displacement gas chainsaws are for people who have a lot of work to do. That can mean cutting through a few huge trees, a large thicket of smaller ones or a lot of biomass spread out across a wide area.
If you mainly use a chainsaw for pruning shrubs, clearing small branches for trails, or getting rid of hazardous limbs, 60cc is much more power than you need. In fact, you might be better off with a gas-powered pole saw, many of which have 2-in-1 capabilities that include a small chainsaw.
What should you look for in a 60cc chainsaw?
Here's how to comparison-shop with confidence for a 60cc chainsaw.
Component Quality: Chainsaws are intricate machines. If they aren't built from components that hold together, they can't perform. When you use a cheap chainsaw, you'll feel it: cuts start out awkward and grow laborious the longer you work. It'll also degrade much faster, costing you money as you replace first the parts and then the entire saw.
Your chainsaw's engine housing and blade guard will almost certainly be made of plastic, which offers the best combination of lightness and durability. However, not all plastics are created equal. Read reviews to learn whether the guards hold up or crack under repeated use.
The handles should be lined with rubber or foam that's soft without being squishy. Be sure they're easy to grip and comfortable to hold for hours on end.
The chain itself should be made of high-carbon steel. Additions like diamond tips are great, but not required for a good product.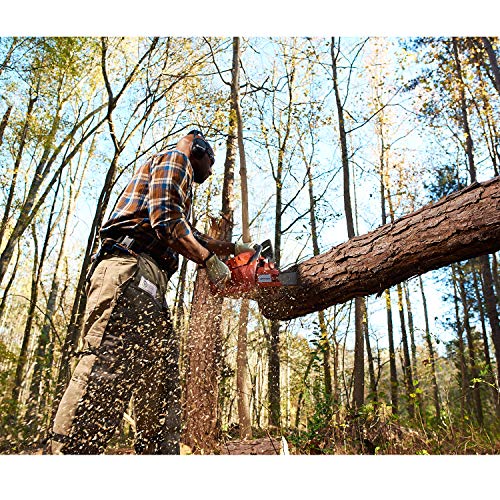 Handling/Ease Of Use: You can have the best components of the greatest quality, but if the chainsaw doesn't handle well, it's all for naught. This isn't just a convenience issue – it's a safety issue. If you can't control a chainsaw, or if you get tired and sloppy while using it, you're one step away from grievous bodily harm.
A chainsaw should be easy to set up. Look for a model with clear instructions that you can be sure you've put together correctly.
It should also be easy to start. 60cc chainsaws are often more difficult to start, especially the first time, when there's a high probability of flooding the engine. Be careful to follow the instructions exactly.
Never get a chainsaw with a bar longer than you can control. If you're an untrained amateur, 20 inches should be the maximum.
A 60cc chainsaw should have anti-vibration technology, in the form of a shock-absorbing barrier between the engine and the handle.
A chainsaw's weight should be well-balanced so that you can focus all your strength on controlling it — both for the first cut and the 31st.
---
Conclusion
Our reviews are based on real-world experience. We'd never recommend something we haven't used. It's because we've spent so much time cutting with Husqvarna tools that we like them so much.
The Husqvarna 460 Rancher didn't disappoint, sailing to victory in our search for the best 60cc chainsaw. It's user-friendly, fuel-efficient, and balanced, and it cuts like a dream. Although it's a bit heavy, and re-tightening the chain can cause some trouble, we have no qualms about giving the 460 Rancher our highest recommendation.
The Echo CS-590 makes for a strong runner-up. It's also a fantastic cutter and can run just about forever without complaining. If it weren't for the thin blade guard, sometimes-obnoxious start, and lack of a warranty, it might have taken the #1 spot.
Now that you've read to the end, you're ready to go out and buy the 60cc chainsaw that will change your yard and your life. Good luck — we'll see you on the back forty!
Related Reads: