6 Best Top Handle Chainsaws 2023 – Reviews & Top Picks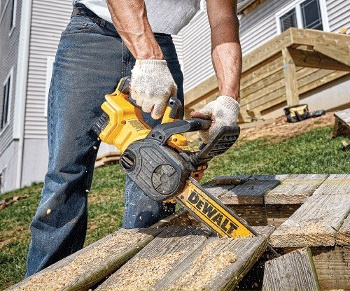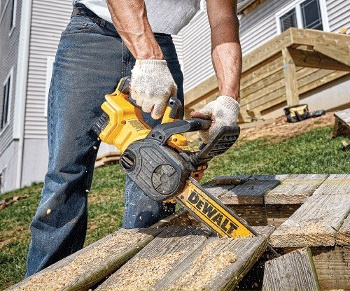 Contrary to popular belief, chainsaws aren't just used to fell and limb trees from the ground. As a matter of fact, much of the work done with chainsaws require the operator to actually be off the ground.
This can prove to be tricky with standard rear grip chainsaws. It can be hard to maneuver your body properly while trying to make safe, angled cuts. But that problem can be alleviated (at least partially) through the use of a top handle chainsaw.
Top handle chainsaws allow you to position yourself on top of the cutting surface and let the weight of the saw do most of the work, which is especially helpful in tight situations. But there are so many top-handle options out there for you to choose from. The biggest issue is cutting through the nonsense and finding the right chainsaw for your needs.
Fortunately, we've decided to help you skip straight to the top contenders. These reviews of the best top handle chainsaws should help you make an informed decision. Our buyer's guide will set you up with some key factors to consider when making your choice for the best top handle chainsaw.
---
A Quick Summary (updated in 2023):
Rating
Image
Product
Details

Best Overall

Makita XCU02PT Top-Handle Chainsaw

Excellent batteries
Strong performance
Quiet operation
CHECK PRICE

Husqvarna T435 Top Handle Chainsaw

Lightweight
Rope attachment
Anti-vibration feature
CHECK PRICE

Best Value

DeWalt DCCS620P1 Top-Handle Chainsaw

Lightweight
Decent power
Quiet operation
CHECK PRICE

Tanaka TCS33EDTP/14 Top-Handle Chainsaw

Powerful workhorse
Ultra-low emissions
Fuel saver despite high output
CHECK PRICE

Echo CS-271T Chainsaw

Powerful
Easy to start
Anti-Vibration handle
CHECK PRICE
The 6 Best Top Handle Chainsaws:
1.

Makita XCU02PT Top-Handle Chainsaw – Best Overall
When it comes to our pick for the best top handle chainsaw, our overall selection goes to the Makita XCU02PT. It's a 36V addition to Makita's 18V LXT line, powered by the same batteries as the rest of the tools. However, you're going to need to use two batteries instead of one. But the LXT batteries provided from Makita are among the best in the business. They can charge up to three times faster and last almost twice as long as other batteries.
The Makita runs at 1,600 FPM (feet per minute) to provide unparalleled performance from an electric chainsaw, with much quieter operation than a standard gas-powered saw, and zero emissions.
It's equipped with a 12-inch guide bar as well, making this an excellent top handle chainsaw for smaller and medium-sized trees. Makita also solved one of the biggest problems plaguing chainsaws today—chain oil leakage when not in use. And they provide for tool-less chain adjustments with the switches on the side of the saw.
For those reasons, we think that this is the best top-handle chainsaw of the year.
Pros
Excellent batteries
Strong performance
Quiet operation
Zero emissions
Chain oil doesn't leak when not in use
Tool-less chain adjustments
Cons
Relatively expensive
Plastic chain adjustment levers
---
2.

Husqvarna T435 Top Handle Chainsaw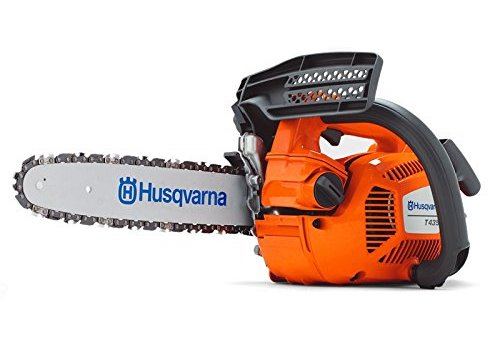 If you're partial to gas-powered saws, you may want to consider the Husqvarna T453 chainsaw. This top handle option from Husqvarna is great for hoisting up into trees for work. So much so, in fact, that the manufacturer has built in a specific rope attachment just for that purpose alone.
But that's not the only feature built into this saw that really solidifies it near the top of our list. It comes with an anti-vibration system to help you further control the chainsaw, especially when performing one-handed cuts and maneuvers. The saw's modest weight (7.5 pounds) helps to reduce operator fatigue during longer operations.
The Husqvarna top handle chainsaw is a great little gas-powered saw if you're looking to perform light to moderate work. However, don't expect to be felling large trees. You'll get bogged down and need to make some serious chain adjustments afterward. Also, to save on weight, the gas tank is a little smaller than usual. This means you'll probably only get 30 minutes or so worth of work before needing a refill.
The gas-powered aspect is what keeps this saw out of the top spot. While we don't have anything against gas-powered saws, we prefer electric saws for tasks that require a top-handled chainsaw.
Pros
Lightweight
Rope attachment
Anti-vibration feature
Cons
Small gas tank
Not for big jobs
Chain adjustment is awkward
---
3.

DeWalt DCCS620P1 Top-Handle Chainsaw – Best Value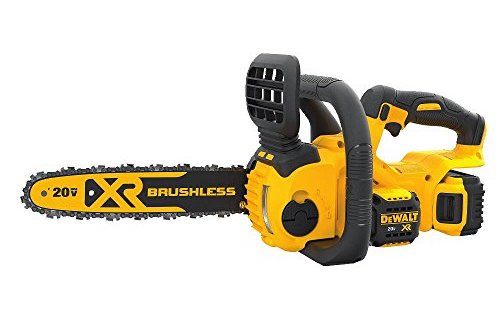 Buying a top handled chainsaw can be expensive. And if you're on a tight budget, you're going to want to buy the best cheap top handle chainsaw, it's without question the DeWalt DCCS6201P1. Although DeWalt hasn't been in the chainsaw game as long as Husqvarna or Stihl, they put out a great product.
This is a perfect little chainsaw if you're trying to take care of errant tree branches or topping small trees. Its brushless motor is powered by a 20V lithium-ion battery and part of DeWalt's 20V Max system. It comes equipped with a 12-inch Oregon bar and chain, although it can easily handle an upgrade to a 14-inch bar with a larger chain.
Honestly, the biggest thing holding this back from our top spot is the battery, bar, and chain. Not to say that they're bad, it's just that they can be easily upgraded—which costs more money. However, the DeWalt is almost designed for a 14-inch bar and chain and will work for hours with a 5A battery installed. But it arrives out of the box underpowered and not at its full potential. Despite this, we think this is the best top handle chainsaw for the money.
Pros
Decent power
Lightweight
Quiet operation
Part of DeWalt 20V series
Cons
Need upgrades to max potential
Not for big jobs
---
4.

Tanaka TCS33EDTP/14 Top-Handle Chainsaw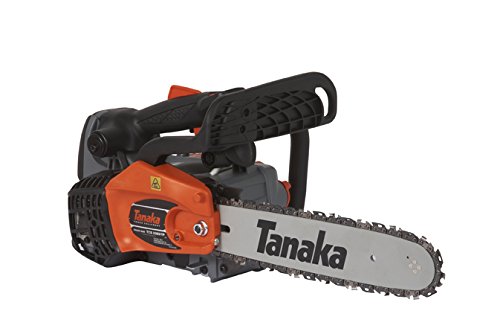 Tanaka might not be the most well-known of chainsaws, but don't let that fool you. They still put out a quality product. Their TCS33EDTP model is a 12" bar gas-powered chainsaw. The saw is designed to produce ultra-low emissions while maximizing work output.
Along with low emissions, this saw also consumes less fuel than other chainsaws of its class. And its half-throttle choke system with primer bulb allows for an easier startup when compared to other gas-powered machines.
It's a decently powerful saw as well. However, we do have just a few concerns. First, it's heavy. When bare, the saw weighs just over 12 pounds. Equip it with fuel, chain, and bar, and it's only going to get heavier. Be prepared for fatigue. Also, it seems to have some difficulty oiling the bar at times. But what gets us the most is that there are reports of the on/off switch not working. Now, we haven't experienced this issue, but it does raise a flag of concern.
Pros
Powerful workhorse
Ultra-low emissions
Fuel saver despite high output
Easier to start than some gas-powered chainsaws
Cons
Heavy
Difficulty oiling bar at times
Reports of ON/OFF switch not working
---
5.

Echo CS-271T Chainsaw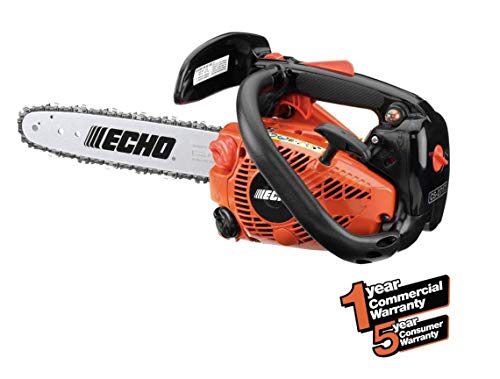 With a few adjustments, this Echo CS-271T could easily be within our top three picks—if not our number one. It's a super reliable machine that can works like a larger unit. It's a 12-inch gas-powered chainsaw and lighter than other similar models.
The Echo comes equipped with an anti-vibration handle which is great because the 26.9cc engine pumps out a lot of power. And it's extremely reliable when it comes to starting. The saw may take a few extras pulls when starting cold, but overall it's still pretty easy to start.
What's holding this particular saw back is a couple of quality of life and safety issues. The chain brake is a bit too flimsy and slippery for our liking. We could see where a hand-slipping accident would be entirely possible. Also, we wish the top handle gave us a bit more room. Larger hands may find difficulty in obtaining a good proper grip. And lastly, it would be nicer if this saw were to have a dedicated hoisting connector for a climbing belt.
Pros
Powerful
Easy to start
Anti-Vibration handle
Cons
Flimsy chain brake
More room needed for top handle
Not easy to attach to climbing belt
---
6.

Echo CS-2511T Chainsaw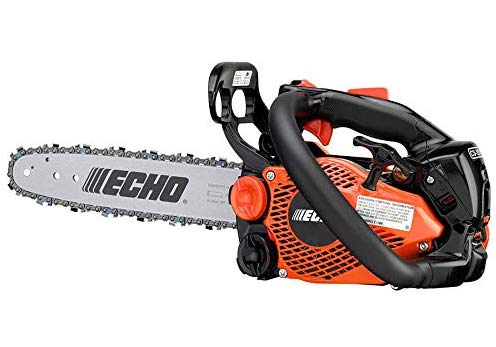 This is the second entry on our list from Echo and for good reason. They're an underrated company that makes quality chainsaws. The 25cc two-stroke gas-powered engine makes this 14inch saw a powerful and reliable machine. It has little problem cutting through just about anything you put in front of it.
We really like the easy-to-open side access for the chain tensioner. It allows for some real easy adjustments even if they aren't tool-less. And the clutch-driven adjustable oiler is great too. It conserves oil by operating oil when the chain is actually moving.
However, there are a few things we'd love to see changed on this saw. First, like the Echo above, you may have some difficulty sliding larger hands into the grip particularly if you're wearing gloves. And you might want to be since there's no anti-vibration handle or even rubberized coating.
And while many chainsaws make an argument for putting on a larger bar, this does the opposite. This would be an absolutely amazing 12-inch saw instead of 14. The extra maneuverability combined with the Echo's power would make for a truly excellent saw.
Pros
Powerful and reliable
Easy to open side access
Clutch-driven oiler
Cons
Needs more grip room
No anti-vibration handle or rubber grip
Would be better as a 12" saw
---
Buyer's Guide – How to Purchase the Best Top Handled Chainsaw
Purchasing a top-handle chainsaw is a lot like choosing the right rear grip saw. However, you are going to have to take in account some special considerations. And that's because you're more like going to be using these as climbing saws.
Let's take a look into some of the more top-handle-specific criteria you'll need to examine when selecting the best top handle chainsaw for you.

Grip Comfort and Ergonomics
This is an absolutely crucial area to examine when finding your saw. You'll want to ensure that the saw is comfortable for you to hold and operate while still providing good positive control. Look for features such as:
Rubberized grips
Foam grips
Anti-vibration handles
Large enough spacing within the handle
Streamlined hand guards
Features like these will help to improve your experience when operating the chainsaw and give you a higher degree of safety as well.

Convenience
Convenience refers to how easy it is to check the oil and adjusting the chain, along with other small things. Again, go on the sales page and look for things like "adjustable chain tensioner" and "oil filling port with view window" to discern the convenience of the chainsaw.
Attachment Points for Hoist, Rope, or Climbing Belt
With a standard ground saw, there's no need for these features. However, if you're climbing a tree to do some limbing or topping, you're going to want a way to securely fasten your saw. There's nothing worse than dropping your saw out of a tree because you didn't have it properly secured.
Some top handle saw come with dedicated attachments (like the Husqvarna T453), while others just have more room allowed near the handle for easier connectivity to a harness, hoist, or climbing belt.

Performance and Starting Considerations
Gas vs Electric Chainsaws
It's no secret that most
gas-powered saws
have more power than their
electric-powered
equivalents. And if you're working with larger trees and cuts, we definitely recommend that you go with a saw that can handle those needs.
Gas Chainsaw Pros
More power and cutting speed
Good for large jobs
Long runtime
Available in a wide range of bar lengths
Gas Chainsaw Cons
Noisy
Creates pollution
Often more expensive
Heavy
However, if you can get away if using a good quality electric saw, we recommend doing so. And that's because of starting considerations. Some gas-powered saws can be difficult to start—and even more so when teetering on a tree branch. An electric saw requires no pull-start which minimizes fall chances for both you and your saw.
Electric Chainsaw Pros
Good for light work
Lightweight and portable
Zero emissions
Easy start
Almost no maintenance
Electric Chainsaw Cons
Not great for heavy-duty sawing
Battery-powered saws only last for about an hour
Corded saws have limited range (up to 100 feet)
Not ideal for professional use
Conclusion
Choosing the best top handle chainsaw can be a daunting task. It's not necessarily like selecting the right rear gripped chainsaws. There's special considerations that must be made. That being said, we narrowed down our favorite three.
Our number one pick has to go to the Makita XCUO2PT. And that has a lot to do with Makita's 18V LXT series. The battery on these is just incredible and lends the saw so much power and reliability. It's also got a great grip for one-handed and climbing operations.
But if you're looking for the raw output and stamina of a gas-powered saw, we recommend the Husqvarna T453. It provides a great reliable option with lots of great features.
And finally, if you're looking for something a little more budget-friendly, the DeWalt DCCS6201P1 is perfect for you. And after seeing this model, we're convinced that DeWalt will soon work it way to the top of this list with just a few minor adjustments.