5 Best Homeowner Chainsaws – Reviews & Buyer's Guide 2023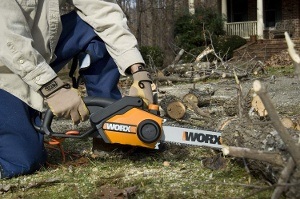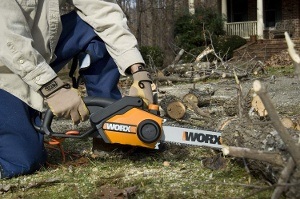 Maintaining or improving a property can be a lot of work, as most homeowners are aware. Minimizing the workload requires the right tool for the tool job. If you live somewhere with trees and greenery, then the right tool is probably a chainsaw.
With a chainsaw, you can fell trees, chop them up, cut firewood, trim branches, and much more. This can vastly improve your productivity, accelerating your pace, and saving you tons of energy along the way.
But, which chainsaw should you choose? There are loads of them on the market, and they come in varying sizes with different features. Some have a long reach, some short. Some are very powerful, some are lightweight. To help you narrow down your search, the following five reviews will compare the best chainsaws for homeowners from all different categories.
---
A Quick Comparison of Our Favorites in 2023:
Rating
Image
Product
Details

Best Gas Chainsaw

 Husqvarna 135 Mark II Gas Chainsaw

Easier to start
X-torque engine
Anti-vibration system
CHECK PRICE

Best Corded

Oregon CS1400 Corded Electric Chainsaw

Nearly silent
Low-kickback
Plenty of power
CHECK PRICE

Best Cordless

Greenworks 12" 40V Cordless Chainsaw

Portable
Long run time
Adjust chain tension with no tools
CHECK PRICE

Best Value

BLACK+DECKER CS1216 Corded Chainsaw

Lightweight
Well balanced
Chain break feature
CHECK PRICE

Premium Choice

Husqvarna 20-Inch 455 Rancher Gas Chainsaw

9
000 RPM maximum speed
Cuts easily through hard lumber
Provides enough reach for the largest trees
CHECK PRICE
The 5 Best Homeowner Chainsaws:
1.

 Husqvarna 135 Mark II Gas Chainsaw – Best Gas Chainsaw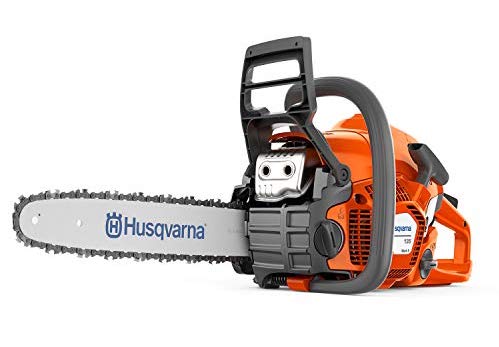 No matter how many trees you have to clear or cut, the Husqvarna 135 Mark II Gas Chainsaw has the power to take them down. The 16-inch bar provides plenty of reach to cut through all but the thickest of lumber. In conjunction with the 38cc gas engine, it makes for easy work cutting through any type of wood.
Of course, all that power requires extra control, which is why this saw is equipped with an effective anti-vibration system that makes it much more comfortable and easier to hold for long periods. Meanwhile, the X-torque engine produces lower emissions and better fuel efficiency than competitors.
Because it's gas-powered, the Husqvarna 135 will require more maintenance than electric chainsaws. But it starts nearly as easily as any electric chainsaw, thanks to the combined choke-stop, which prevents the engine from flooding.
While using it, we were impressed with just how easy it was to make cuts with this saw. It's powerful, but still not difficult to keep under control. If the chain gets loose, you can tighten it in seconds with a screwdriver without any disassembly.
In short, we think that this is the best homeowner chainsaw of the year.
Pros
X-torque engine = fuel efficiency and lower emissions
Anti-vibration system
Chain-tensioning system is easy to adjust
Lightweight
Combined choke/stop makes it easier to start
Cons
More maintenance is required than with other chainsaws
---
2.

Oregon CS1400 Corded Electric Chainsaw – Best Corded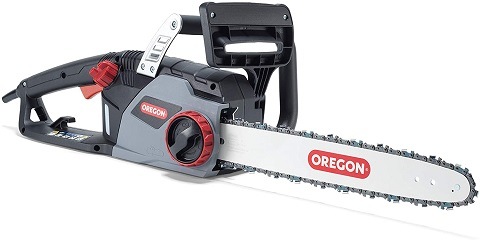 Quick to set up and simple to use, the Oregon CS1400 is our pick for best corded chainsaw. It's extremely convenient, starting up instantly when you pull the trigger. There's no gas to run out and it doesn't make any noise unless you're actually cutting.
Some chainsaws make you carry around extra tools to keep the chain tight. But the Oregon CS1400 is well thought out, instead, employing a small dial that allows for tool-free chain adjustment. To keep it running cool, an auto-oiler keeps the chain lubricated, but you can't control how much oil the chain is getting.
You might expect this chainsaw to be a slouch since it's electric and extremely quiet. But, you'd be mistaken. With a powerful 15-amp motor turning the chain, this chainsaw has enough power to get through any lumber that the 16-inch bar will reach through.
Speaking of the bar and chain, this one includes a low-kickback Oregon chain and bar, widely considered to be one of the best options in the industry. Overall, the Oregon CS1400 represents the best of corded electric chainsaws in an affordable package.
Pros
Uses low-kickback Oregon chain and bar
The 15-amp motor provides plenty of power
Nearly silent
Tool-free chain tensioning
Cons
Can't adjust how much oil is added to the chain
---
3.

Greenworks 12" 40V Cordless Chainsaw – Best Cordless
What chainsaw is best if you need the portability and convenience of a gas-powered chainsaw, but the low noise, emissions, and maintenance of an electric chainsaw? We think it's the Greenworks 12-Inch 40V Cordless Chainsaw.
This saw uses a 40V battery pack to provide cordless power anywhere you need it. But it's nearly silent and requires very little maintenance like other electric chainsaws. No oil changes or air filters to worry about. But if your battery dies, you'll be twiddling your thumbs until it charges!
For anyone who might have trouble controlling the heavier weight of a gas chainsaw, the Greenworks cordless chainsaw weighs just six pounds, making it easy to maneuver and handle for almost anyone.
And you don't need prior chainsaw experience to use this one. There's almost nothing to mess up. The chain tension is adjusted with no tools and the only oil it needs is in the automatic chain oiler. However, we do wish that it was compatible with all Greenworks batteries, not just the G-Max line.
Pros
The cordless design provides the ultimate portability
40V batteries provide tons of power and long run time
Weighs a paltry 6 lbs
Adjust chain tension with no tools
Cons
Doesn't work with other Greenworks Lithium-Ion batteries
12-inch bar limits your woodcutting capacity
---
4.

BLACK+DECKER CS1216 Corded Chainsaw – Best Value

BLACK+DECKER is a well-known and respected manufacturer of power tools, and their 16-Inch CS1216 Electric Chainsaw might just be the best homeowner chainsaw for the money. It's one of the most affordably priced chainsaws we've seen, even though it packs in quite a lot of performance.
This is a corded electric chainsaw, so you'll always need to be plugged in. But you won't need much maintenance or any gas. Instead of mixing oil and gas into the right mixture, you'll just add chain oil to the auto-lubing system. That's about the end of your maintenance with this machine.
We were also pleased to find some very useful features on this cheap chainsaw, such as the tool-less chain adjustment system. It's also very lightweight and manageable at just 10 pounds. But the 12-amp motor isn't the most powerful, and it has a tendency to slow down a bit on the thickest cuts.
Though it's low-priced, this tool isn't low-quality. It's even protected by a two-year warranty, showing that BLACK+DECKER stands behind their product.
Pros
Lightweight
Well balanced
Cons
Uses lots of oil
Some assembly required
Some units are dead on arrival
Tool-less tensioning is cumbersome
---
5.

Husqvarna 20-Inch 455 Rancher Gas Chainsaw – Premium Choice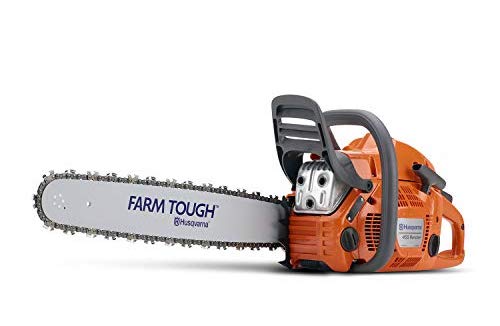 Some homeowners may only have a few small trees to take care of on their property. But for those who have larger and more numerous trees to contend with, the Husqvarna 455 Rancher Gas Chainsaw is a monster tool that can tear through lumber of almost any size.
With a 20-inch bar, this saw has more reach than any other saw on this list. That makes it the automatic choice for the largest trees. Furthermore, this saw is seriously stacked, packing a 55cc 2-cycle gas engine that lays down gobs of power and up to 9,000 RPM. Nothing we threw at this saw even slowed it down in the slightest.
To help make that power more manageable, the Lowvib anti-vibration system reduces the impact on your forearms. But at 13 pounds, it's still a pretty hefty chainsaw, so you need some muscle if you plan to lug this beast around. It's also a lot pricier than the other options we covered, so the Husqvarna 455 tends to be best-suited for sizable properties with numerous large trees.
Pros
The 20-inch bar provides enough reach for the largest trees
The gobs of power cut easily through hard lumber
Anti-vibration system lessens the impact on your forearms
Maximum speed of 9,000 RPM
Cons
One of the most expensive options
Heavier than other chainsaws
---
Buyer's Guide – Choosing the Best Homeowner Chainsaw
When comparing the best chainsaws from each category, it can become difficult to determine which one is the best fit for you. If you're still unsure after reading our reviews, then this short buyer's guide is for you. In it, we're going to discuss the differences between each type of chainsaw to help you understand where each one shines. Hopefully, this will help you figure out which one will best meet your needs.
What Type of Chainsaw Do You Need?
You might think that all chainsaws are relatively similar since they all perform the same job; cutting lumber. In a way, you'd be right. They all have toothed chains that spin to cut through wood. But that's about where the similarities end.
Before you can actually purchase a chainsaw, it's important to know the three major types of chainsaws you can use. Let's take a closer look at each and see when you might choose one over the other.
Gas-Powered
For a long time, gas-powered chainsaws were pretty much the only option. Even once electric chainsaws came on the scene, gas chainsaws were still the only option for serious work until relatively recently when electric chainsaws started being able to rival the smaller gas saws power-wise.
Advantages of a Gas Chainsaw
Power
One of the big advantages of a gas chainsaw is raw power. You can get a gas saw with a large engine that produces over three horsepower. Such a powerful saw will have no trouble cutting through lumber of any size.
With a gas saw, even when you get to the thickest part of the cut, the engine will continue to make the same amount of power, unlike an electric saw that can start to bog down considerably.
Portability
Gas chainsaws don't require any cords, so you can take them anywhere. You can easily take it from one property to another, or carry it from one end of the property to the other without the need for extension cords.
Disadvantages of a Gas Chainsaw
Maintenance
Gas chainsaws require a lot of maintenance. They need to have the oil changed regularly, as well as the spark plug and air filter. You'll also need to drain the fuel when you store it and drain all the liquids for winter. If you don't keep up on the upkeep, then your saw won't be functioning when you need it, and it will live a much shorter life than intended.
Noise
There's no question, gas-powered chainsaws are loud! They sound like a motorcycle because they similarly use a two-cycle engine. Once you start a gas chainsaw, you'll hear it running til the work is done. And when you're actually cutting, it's loud enough to require ear plugs.
Fuel
You'll need to keep extra fuel on hand. If you run out, you're done working for the day! But don't let the gas sit too long, it'll go bad. And remember, you need to mix your gas with oil; an extra step and one more thing to remember.
Difficulty Starting
Gas chainsaws are notoriously difficult to start. Priming the pump, ripping that pullcord repeatedly, then realizing you flooded the engine! They've gotten easier to start than the chainsaws of yesteryear, but they can't compete with the simple start of an electric chainsaw.
Corded Electric
Corded electric power tools have been around for quite a while, but it's only in recent years that they've been powerful enough to compete with their gas-powered brethren. These saws offer some notable advantages over gas saws, but they have their downfalls as well.
Advantages of a Corded Electric Chainsaw
Never Run Out of Fuel
The most obvious advantage to a corded electric chainsaw is that you can never run out of fuel There are no batteries to die and no gas to use up. As long as you have electricity available, you have a running chainsaw.
Very Quiet
Another big advantage to electric chainsaws is that they're much quieter than gas saws. When you're not actually cutting, they make no noise at all. The noise only begins when you actually pull the trigger, as opposed to a gas saw that's running constantly once you start it.
Low Maintenance
If you're not excited at the prospect of changing oil and spark plugs, then an electric chainsaw is your best bet. They require almost no maintenance, as long as you keep oil in the reservoir for the chain.
Easy to Start
To start an electric chainsaw, just pull the trigger! It couldn't be easier. No priming and cord yanking necessary.
Disadvantages of a Corded Electric Chainsaw
Always Tied to an Extension Cord
Though you can never run out of gas with a corded chainsaw, it also means you're always tied to an extension cord. If you don't have enough cord to reach what you need to cut, then you're out of luck!
Not The Most Powerful
Though they've gotten considerably more powerful in recent years, electric chainsaws still can't quite match the impressive power output of the largest gas-powered chainsaws.
Cordless Electric
The best compromise between the previous two types of chainsaws is the cordless electric chainsaw. Only recently have these become powerful enough to be serious contenders, but at this point, it's clear that they're here to stay.
Advantages of a Cordless Electric Chainsaw
Portability
Like a gas chainsaw, a cordless electric chainsaw has no cords, so it can be used anywhere. These saws run off batteries, so you have no limit to how far you can take one.
Maintenance
Similar to a corded electric chainsaw, a cordless electric chainsaw requires minimal maintenance. There's no oil to change, no spark plug, no air filter. Just make sure the chain has oil and you're set.
Starts Right Up
With a cordless electric chainsaw, all you have to do is pull the trigger and it cuts. No pulling of cords, no priming. It just runs when you need it with no extra hassle.
Quiet Operation
Gas saws run constantly, making noise even when no cutting is being performed. But a cordless electric saw only makes noise when you pull the trigger, and it's much quieter than a gas saw at full power!
Disadvantages of a Cordless Electric Chainsaw
Battery Life
The biggest disadvantage of a cordless electric chainsaw is the battery life. They've become powerful enough to compete with gas saws, but even the biggest batteries will only cut through about a third of the lumber that a full tank of gas will get through with a gas saw.
Conclusion:
After reading our reviews, you know how some of the best chainsaws for homeowners stack up against each other. We tested many different chainsaws for this list, and in the end, these were the top performers.
The Husqvarna 135 Mark II was our favorite gas-powered chainsaw overall. It's got lots of power for easy cuts through thick lumber with an anti-vibration system to save your arms. The combined choke/stop prevents flooding and makes it easier to start, and the whole machine weighs just 10 pounds.
If you're looking for a corded electric chainsaw, we suggest the Oregon CS1400. It comes equipped with a low-kickback Oregon bar and chain, a tool-free chain tensioner, and a powerful 15-amp motor.
For ultimate portability with the convenience of an electric power tool, the Greenworks 40V 12-Inch Chainsaw was our favorite cordless electric chainsaw. The 40V batteries provide plenty of power and lifespan, and the whole machine weighs just 6 pounds.
And for the best value, we think the BLACK+DECKER CS1216 is the top choice. It's very affordably priced, has an auto-oiling chain, and is even protected by a two-year warranty.
We truly hope that our guide helps you find the best homeowner chainsaw. Good luck in your search!
Related Reads: