10 Best Portable Band Saws – Top Picks & Reviews 2023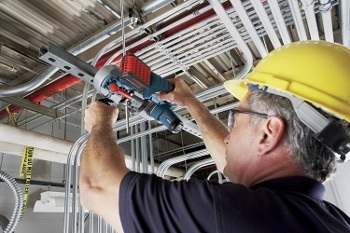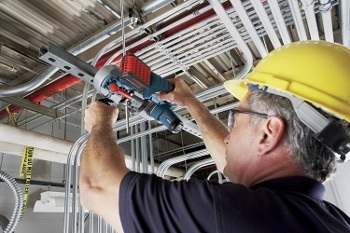 Portable band saws are compact yet powerful saws capable of cutting through challenging wood and even metal. They are found in workshops as well as professional shops, and they are used by keen home amateurs as well as professional craftsmen. Although this type of saw, which consists of rows of teeth that rotate around two or three gears, is most often used to make short work of cutting large sheets of material, they can also be used to cut decorate finishes and ornate edges on shelving and other workpieces.
Mobility is obviously important when choosing a portable band saw, but so too are factors like power, maintenance requirements, and any additional features that a particular model offers over others.
Choosing the best portable band saw that offers mobility without sacrificing power can be a challenge. Thanks to our portable band saw reviews and comparison table, you can choose from our list of the best models to find the one that most closely meets your requirements.
---
A Quick Glance at our Favorites in 2023
Rating
Image
Product
Details

Best Overall

DEWALT DWM120K Portable Band Saw

10-amp motor
Big front handle for portability
Adjustment system can prolong blade life
CHECK PRICE

Milwaukee 6238-20 Portable Band Saw

11-amp motor
Comfortable front and rear handles
Constant Power Technology system
CHECK PRICE

Best Value

Bosch BSH180B 18V Portable BandSaw

Cheap
18V battery makes it fully portable
CHECK PRICE

Makita XBP02Z Portable Band Saw

Safety trigger
Runs from an 18V battery
Very lightweight
CHECK PRICE

Milwaukee 2429-21XC Band Saw

Very light
Compact
CHECK PRICE
The 10 Best Portable Band Saws
1.

DEWALT DWM120K Portable Band Saw – Best Overall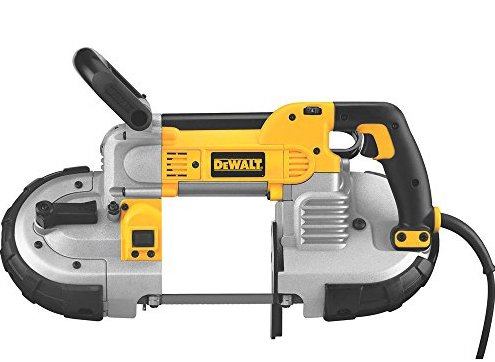 The DeWalt DWM120K uses a 10-amp motor and offers a 5-inch depth cut. Its powerful motor ensures that you get a reliable and straight cut and that the portable band saw doesn't tear and rip the workpiece material. It offers variable settings between 100 to 350 square feet per minute, operated by simple speed dial.
The blade tracking adjustment not only ensures a precise cut every time, but it also enables you to prolong the life of the blade. It has an LED light, which enables you to achieve straight cuts without the need for additional tools and accessories, and it has a large front handle that makes it easy to lift and carry around. Portable band saws are heavy, and they can become very uncomfortable if they are not designed well.
The combination of decent power, variable speed settings, and user-friendly features like the LED guide light make this the best portable band saw on this list.
Pros
10-amp motor
Big front handle for portability
Adjustment system can prolong blade life
---
2.

Milwaukee 6238-20 Portable Band Saw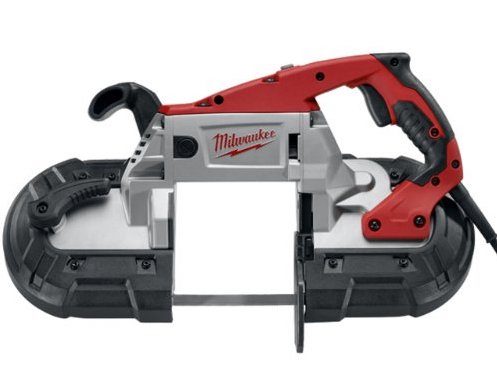 The Milwaukee 6238-20 portable band saw has a powerful 11-amp motor and 5-by-5-inch cut capacity to make easy work of cutting through even some of the thickest wood and material. It has a variable speed option so it can be used for safely cutting through various materials, and the clutch helps absorb vibrations and knocks, which means that the saw should have a long life, even with regular use.
The 6238-20 has been designed in such a way as to minimize user fatigue, with a front handle that is easy to grip and keep hold of and a really comfortable rear handle. Also, although the product is manufactured in China, Milwaukee has offices in Oregon, and buyers can contact the US office with any queries about chain size.
The only real problem with the Milwaukee model is that we found the blades wore down quicker than with the DeWalt, which means that you will have to buy and replace them more often.
Pros
11-amp motor
Comfortable front and rear handles
Constant Power Technology system
---
3.

Bosch BSH180B 18V Portable BandSaw – Best Value
The Bosch BSH180B is the best portable band saw for the money, being one of the cheapest models on the market. Despite its affordability, however, it is still a highly capable machine that is ideally suited for working with wood. There have been some complaints that the blades can wear down quite quickly, so it might not prove suitable for use on metal or other difficult materials. Unfortunately, you have to buy blades specific to this saw, so check blade availability before you invest in one of these.
For the average user, the cost of the Bosch is its greatest appeal, but some power users might find the cutting span of 2.5-by-2.5 inches to be a little too shallow for their requirements.
Pros
Cheap
18V battery makes it fully portable
Cons
Blades break at a higher rate than premium brands
Has a lower cutting range
---
4.

Makita XBP02Z Portable Band Saw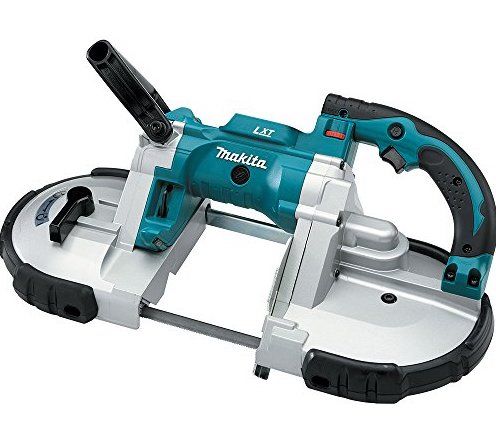 The Makita XBP02Z operates via an 18-volt battery and is very lightweight. Simply charge the battery and you are good to go at any location. It features a variable speed dial that is not only intuitive to use and quick to master, but that enables you to match the speed of the saw to the job at hand.
The XBP02Z has a safety switch so that you can turn the safety on when you're not cutting, therefore protecting fingers and surfaces. The Makita has a large, movable front handle, and is lightweight which makes it comfortable to use even for prolonged periods of time.
Despite its benefits, though, the Makita does not offer as precise a cut as other models, and this lack of precision is further witnessed in the variable speed dial which some users have reported as slipping and being relatively inaccurate. All things considered, this is a good saw with decent power and some beneficial features.
Pros
Safety trigger
Runs from an 18V battery
Very lightweight
Cons
Some complaints of a lack of precision
Variable speed dial is not accurate
---
5.

Milwaukee 2429-21XC Band Saw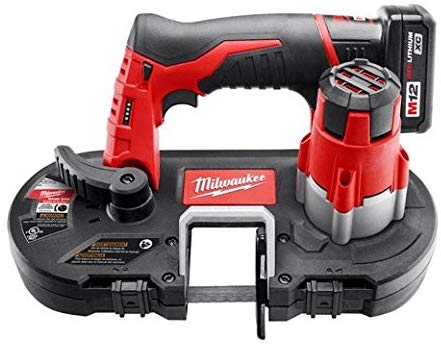 Sometimes portable isn't quite enough and you need something more compact. Say hello to the Milwaukee M12 cordless sub-compact bandsaw. At just 8 pounds, this little saw is designed for one-handed use. It can fit into small areas where a full-size portable band saw would not. An LED light also allows you to see your cut, a nice feature that we appreciated having. There's also a less than generous 1.6-by-1.6-inch cut capacity.
The problem with this saw comes from the M12 battery system. Twelve volts is just not enough to really power a band saw. It's just too underpowered and has a more difficult time getting through materials than its higher-powered competitors. Plus, a less than generous 1.6-by-1.6-inch cut capacity. Also, the only blade offered for this saw is the 18-TPI blade, so you don't get much variety.
Cons
Underpowered
Terrible blade selection
---
6.

DEWALT 20V MAX Portable Band Saws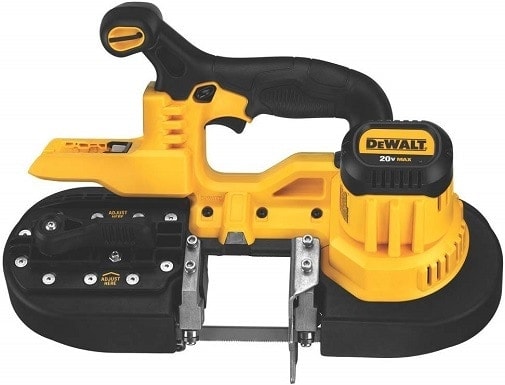 With a small footprint and light weight that's easily manageable, this little band saw from DeWalt is great for making cuts in harder to reach places. With a 2.5-inch cut capacity, this saw makes short work of 2-inch SCH40 pipe. That said, we noticed that the throat is only 2.375 inches, which falls shy of the advertised cutting capacity. While it is small and light, it's also pretty unbalanced, making it less than pleasurable to use. This model also features the "idiot" button, a second button that you must keep pressed during operation, making the saw less comfortable and a bit more of a hassle than competitors.
Cons
Two-button operation
Cut length is shorter than advertised
---
7.

Hitachi CB18DBLP4 Portable Bandsaw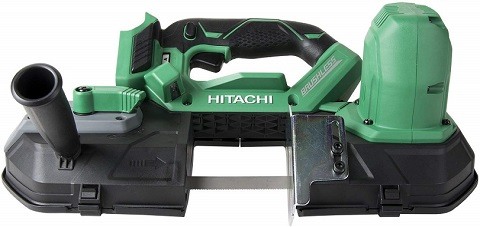 With a cut capacity of 3.25 inches, this Hitachi cordless band saw is capable of cutting larger materials than many of its competitors. Overload and overheat protection keep the motor safe from damage, and a lifetime warranty show that Hitachi really backs their products. This saw is quite light, coming in right about six pounds, so it's easy to use for most people. It's a bit more expensive than other similar saws, though we didn't feel that it really earned the higher price.
We noticed the big issue with this saw when we tried to switch blades. This saw uses metric blade measurements. Imperial blade sizes are all a bit too small or large and won't fit. Clearly, this creates an inconvenience, as replacing the blades is now a very difficult process. If this saw used standard imperial sized blades it would have earned a higher placing on this list.
Cons
Only uses metric sized blades
Overpriced
---
8.

WEN 94396 Portable Band Saw
At about half the price of similar portable band saws, this WEN unit is attractive to many hobbyists. At 14.5 pounds it's definitely on the hefty side, so you may have difficulty with one-handed operation. Where it really shines is the cut capacity at 5 inches deep and 5 inches wide. If this reviews list were based solely on specs and price, this tool would have earned a much higher position.
Where this saw goes wrong is in the longevity. Granted, a two-year warranty is included, so you do have a bit of a safety net. The bearings on our saw fell apart after only a few days of light work though. It's possible we got a lemon, but it's also possible that this saw provides a quality reflected by the low price. At the end of the day, it's not reliable enough for us to recommend over other saws that are less likely to let you down.
Pros
Affordable price
Large cut capacity
Cons
Short lifespan
Bearings went out early
Quality reflects low price
---
9.

Bauer Variable Speed Band Saws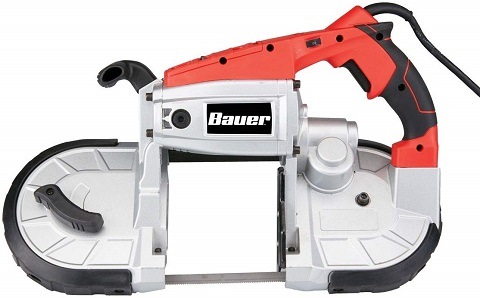 With a 5 by 5-inch cutting capacity and a 10-amp motor, this Bauer band saw offers quite a bit of bite for the price which is very affordable. It's pretty heavy at 16 pounds, so don't expect easy one-hand use from this tool. Right off the bat, this tool performed adequately when making cuts. It wasn't a Rockstar performer, but it was sufficient.
We noticed pretty quickly that the blade speed was inconsistent. It seemed to speed up and slow down at will, regardless of the speed knob. This was disconcerting, but not a deal-breaker. What really killed it for this saw was when the motor died in the second week for no apparent reason.
Even though it's priced cheaper than many of its competitors, if the saw doesn't hold up to light use, then it's not a very reliable tool. For this reason, the Bauer band saw is relegated to the lower rungs of our review rankings.
Cons
Unreliable
Blade changes speed at will
Very heavy
---
10.

May Very Portable Band Saws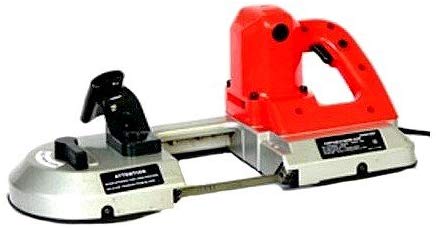 Made by May Very, this portable electric band saw is a no-frills basic saw at a budget price. While it's not the cheapest on this list, it is the most basic saw. The handle is uncomfortable and holding this isn't as pleasant as the other models. The 1-horsepower motor is sufficient though, and it provides two cutting speeds. There is a cover on the blade that was causing the blade so slip due to a buildup of metal shavings. This was an irritating issue but was easily solved by removing the cover. At 20 pounds, this was the heaviest saw we tested, and you can definitely feel it. Overall, it's a usable saw, but for the price, you can get something much better.
Cons
Very heavy
Blade cover holds shavings causing blade slippage
Not comfortable to use
---
Buying Guide – Choosing the Best Portable Band Saw
Now that you have a better idea regarding the right band saw for you, we need to talk about what you should be looking for in a band saw. It's a sizeable investment, so you need to get this right the first time to avoid any nasty surprises. Let's look at the different factors you should take into account when looking for the best portable band saw:
You may also be interested in
Comfort
The first point is comfort. Your band saw should be ergonomically designed for natural holding. That means the handles should be padded and it should be geared towards natural holding.
The weight of the band saw also goes into this. We believe that you should always opt for the lightweight approach to reduce fatigue and to make cutting easier.
Durability
You have to address durability in two parts. The initial part of this section focuses on the body. Unfortunately, some lightweight band saws focus on how easy the tool is to carry around at the expense of durability. There has to be a balance struck.
Some band saws use a simple tough plastic outer coating while using a steel shroud to protect the most vulnerable parts of the tool. We also recommend looking for a band saw that comes with a strong holder for when you're not using it.
The second aspect of durability pertains to the blades. Do the blades last a sufficient amount of time? When blades break it's either because the blades are of low quality (tainted metal maybe?) or due to the fact the motors are too strong for the blades used.
Versatility
You never know what you might need your band saw for in the future. Your band saw should be able to take on a variety of different metals to make sure that you're never left badly equipped for the job. Premium band saws will be able to cut everything from lumber to the strongest metals.
Crucially, it should be able to do this accurately. Cutting is only one part of the process. You must be able to cut accurately and with smooth edges.
Another feature you should look for is whether that band saw is able to cut in difficult to reach places. Is it lightweight enough? Is it cordless? Can the blade cut in a variety of positions?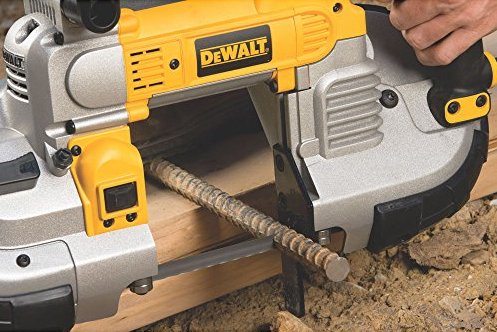 Added Features
Band saws are incredibly advanced today. The most basic feature you should look for is a variable speed setting. The more settings it has the better because this ensures accuracy and precision in your projects.
Some band saws include features that prevent wear and tear on the blade by adjusting the blade position at the micro-level. That way you can reduce blade breakage and a reduction in performance as time goes on.
Other band saws contain features that protect against overloading and overheating through an internal link between the battery and the tool itself. This is excellent for safety and ensures that the user and the tool are kept safe at all times.
A Word on Safety
As we talk about safety, we have to mention the need for your band saw to come with a safety lock. These tools are dangerous and accidentally pressing the button could be catastrophic. A safety lock prevents this from happening and should be considered essential for any band saw you own.
It's also worthwhile to look at the supplied carry case. Make sure it comes with a lock, so your band saw can stay out of the hands of novices.
---
Conclusion
The DeWALT DWM120K is the overwhelming winner when it comes to the band saws we have put to the test. It wins out in every area and is easily the best tool for whatever job you're about to take on.
If you want to spend less and still get a great band saw, then we recommend the Bosch BSH180B. It doesn't come with the premium features of the two other band saws, but the price is lower to account for that. Unless you're a professional, this will almost certainly cover most of your needs.
We truly hope that our article helps you find the best portable band saw for your workshop. Good luck in your search!