5 Best Blenders For Protein Shakes in 2023 – Guide & Reviews
Protein shakes are a great way to up your nutritional intake without adding a ton of calories or spending too much time crafting the perfect meal. Consequently, the best blenders for protein shakes are going to be the ones that are easy to use, and that comes with the power you need to make the perfect shakes, without adding a ton of features you'll never use that drive up the price.
However, when you're shopping online, it's not always easy to tell which models are a good deal and which ones will make you wish you never spent your hard-earned cash. Of course, you could try out each model on its own, but that would be an expensive and time-consuming task.
We've done that hard work for you and created this list of reviews of some of the best blenders for protein shakes of 2021. We also created a buyer's guide, so if you've never shopped for a blender before, you can quickly get up to speed on what features for which you should be looking.
A Comparison of our Favorites for 2023
Rating
Image
Product
Details

Best Overall

Nutri Ninja BL456

Great blade
Powerful motor
Two portable cups
CHECK PRICE

NutriBullet NBR-1201

Good power
Multiple cups
Multiple blades
CHECK PRICE

Best Value

Hamilton Beach 51103

Inexpensive
Good for shakes
CHECK PRICE

Oster BLSTPB-WBL

Quiet
Stylish bottle
Push-to-blend
CHECK PRICE

Homgeek HM011-PB

Cheap
Simple to use
CHECK PRICE
The 5 Best Blenders For Protein Shakes
1.

Nutri Ninja Protein Shake Blender – Best Overall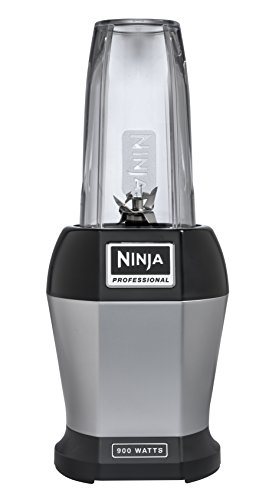 The Nutri Ninja BL456 is one of the best blenders on the market for making personal-sized smoothies for yourself. The 900-watt motor in this blender is one of the most powerful on the market. It's so strong that you'd only expect to find it on a far more expensive blender. The Ninja blade is designed to reduce the hardest parts of fruits and vegetables into something drinkable so that it will plow through most standard protein shakes with no trouble. If you're looking for something more exotic, try one of the recipes from the 75-recipe cookbook.
This model includes two portable cups that also serve as the blending container. Once you screw on the included travel lids, you're ready to hit the road. One cup is 18 ounces, and the other is 24 ounces, which gives you flexibility in serving size. However, this machine is very loud. It's a good choice if you're not blending at a time where'd you bother other people, but it might be too loud for people living in an apartment complex. Overall, this blender can do just about anything, and it makes crafting protein shakes fast and easy.
Overall, this is our favorite blender for protein shakes available this year.
Pros
Powerful motor
Two portable cups with lids
75-recipe cookbook
Great blade
---
2.

NutriBullet NBR-1201 Protein Shake Blender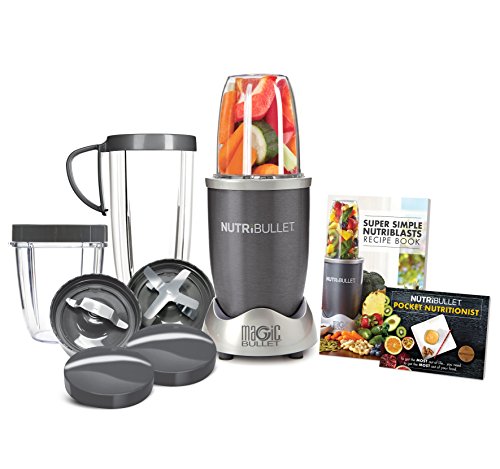 Some blenders are great for protein shakes, and others give you the flexibility to make anything you can think of. The NutriBullet NBR-1201 is one of the latter, as it includes three different blades that you can use to create different textures and consistencies, no matter what you're blending. You also get three blending jars of different sizes that double as cups, which means you can always make the exact amount you want. This model is also small, which makes it easy to store when you're not using it.
It has a 600-watt motor, which is more than enough for blending ice, and should make short work of the fruits and vegetables that you may add to your protein shakes. This model does have some quality control issues. These blenders tend to become leaky over time or are that way right out of the box. It's not a guaranteed problem, but it is a common one. However, if you're looking for a versatile blender for short-term use at a low price, you'd be hard-pressed to find a better fit than this one.
Pros
Good power
Multiple cups
Multiple blades
---
3.

Hamilton Beach 51103 Blender – Best Value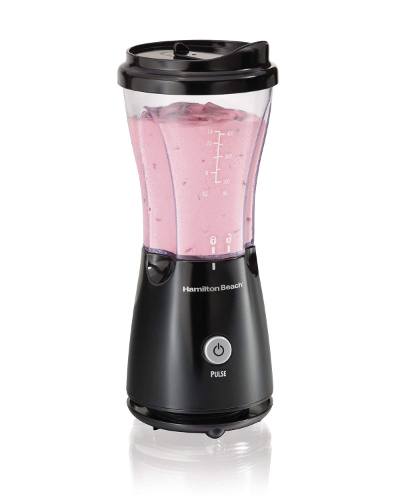 The Hamilton Beach 51103 is our choice for best for the money for making protein shakes. If you're looking for an all-around great kitchen blender, you're going to be disappointed in this model, but if you're looking for a shake-making workhorse, you're in luck. The good news is that you're never going to accidentally liquify something and end up with a gross, runny shake, as this model comes with a weak motor. That means to get the best results, you're going to have to help it along a little, cutting ingredients up beforehand and adding water to the mix before blending.
However, that means that this model is well-suited to shake-making, especially if you're not working with a lot of raw produce. Another potential downside to this model is that it only comes with one lid, which is less than many of the other models on our list. However, you can get this model for a low price, and for a lot of people, that's going to offset a lot of the cons on this list.
Pros
Good for shakes
Inexpensive
---
4.

Oster Protein-Shake Blenders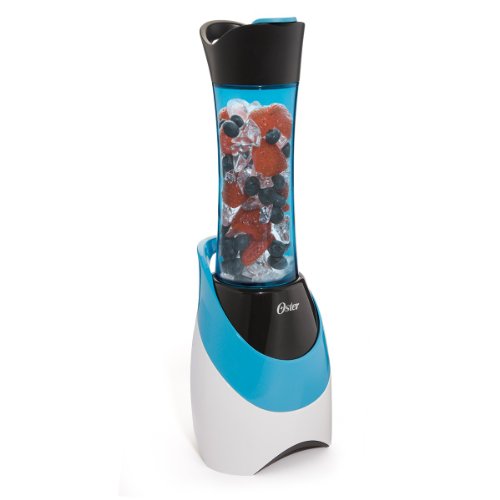 The Oster BLSTPB is another excellent choice for the discerning protein shake-maker. Most people will love the stylish bottle with an included travel lid. While protein shakes may be a utilitarian nutrition choice, there's no reason why they should be served unattractively. This model is a push-t-blend machine, which gives you fine control over the final texture of your protein shake, no matter what fruits, vegetables, or other superfoods you add to your shake.
This model is also quiet compared to most blenders, which makes it good for when you need to make early-morning shakes. However, it only comes with a 250-watt motor, which means that it may struggle to blend many ingredients. But, if you're looking for a cheap, reliable blender for making shakes, that might not be a big problem for you. If you're not looking to use the blender for cooking purposes beyond shake making, there's a good chance this is the model for you.
Pros
Stylish bottle
Push-to-blend
Quiet
---
5.

Homgeek HM011-PB Protein Shake Blender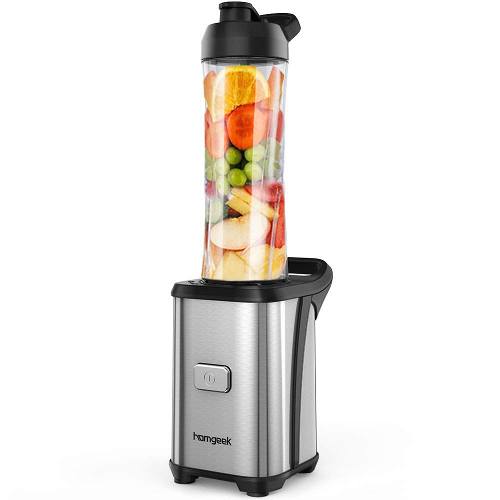 The Homgeek HN011-PB has two major selling points. The first is the fact that it only has one button, which makes it simple to use. There's no messing around with a dozen blending settings here. However, that means that this blender only comes with one blending speed, so you don't get the fine control over the texture and consistency that you can get with other models.
You can also get this model at a bargain price, but that's largely because it's a bargain model. It only comes with 350 watts of power, which isn't great and means you probably end up struggling to blend ice effectively. It's also fairly low quality, and that leads to a lot of problems. This model is prone to breaking in different ways each time, so there's no single point of failure. Unfortunately, you can't expect this model to last very long, and given its other flaws, this model won't be the right one for most people.
Cons
Power
Only one speed
Poor quality
---
Buyer's Guide: How to Find the Best Blender for Protein Shakes
Even though no one blender will be the best choice for everyone, there are steps that you can take to make sure that you're getting the right model for you. One of the most important things you can do to maximize your value is to approach the buying process methodically, and that means knowing what you're looking for before you go to buy. We created this buyer's guide in the hopes that you could learn about what you should be looking for and use the information to make a great buy.
Blades
One of the most important parts of a blender is the blade. While many people will think that power is the most important thing, the blade often has a bigger impact, especially on lower-priced models. Some models include multiple blades, which means you have choices that allow you to control the texture and speed of the blend with a good degree of precision. Other models only come with a single blade, but those blades tend to work the best overall, no matter the task. However, single-blade blenders also tend to be more expensive.
You'll want to make sure that you get a blender with a good blade because failing to do so could mean that you're wasting money. A low-quality blade can cancel out increases in wattage or make it hard to blend things effectively. That means that you end up with poor value, even if the rest of the blender functions flawlessly.
The blade material matters a lot. The best blades are made from stainless steel, which gives them a long service life, and means that they generally hold their edges well. Higher-end models include blades that have a Teflon coating on their blades, which helps them stay sharp and resists scratching in the finish, even if they have an especially-fine edge. This means that they work well and also look good for a long time.
Another important thing to consider is how the blades connect to the main machine. Some are mounted in a way that makes it difficult for them to blend ingredients that settle at the bottom of the container. That could be a result of poor container design, but sometimes it's merely a failure in the blade design. Getting a model that doesn't have this problem will save you a lot of time and frustration, as those models will be easier to clean and will also produce a higher-quality blend.
Containers
Even if it seems unlikely to you right now, the container is the second most important part of a blender. The experience you get when using the container can make or break the whole experience for you, so you want to make sure that you get a good one.
The shape of the container matters. Some companies make containers that are shaped like rounded rectangles or squares instead of the circular style we all know. The rounded-rectangle models work to funnel ingredients back towards the blade, instead of sending them endlessly around the edges like sometimes happens in perfectly-round containers. However, the weird angles mean that "squarish" containers are often harder to clean. In some circumstances, it's also more difficult to get thicker blenders out of a rounded-rectangular container.
You also have to decide between plastic or glass containers, and it's going to work opposite of how you might guess it does.
Plastic is a better material for blending. It holds up better to the stresses of blending and has a much higher survival rate when accidentally dropped. Glass containers can last you a long time, but in most circumstances, a plastic container will last longer. Plastic is also more pliable, which means that it's easier to create the "squarish" shapes that funnel ingredients back onto the blade.
However, plastic containers can take on a smell if you don't clean them promptly, which is a problem you'll never experience with a glass container. You can avoid this problem completely by thoroughly cleaning your plastic container immediately after finishing off your shake.
You'll also want to make sure that the markings on the side of the container are clearly-visible if you plan on using your container as a measuring device. It's generally better to measure your ingredients in a measuring cup if you need precise measurements, but if you just need general measurements to make sure that you're close, then you're going to want an easy-to-read model. Some low-end models include markings, but they can be etched and not printed, which can make them very hard to read.
Power
Power is the last entry in our guide for two reasons. The first is that it's not the most important attribute for making protein shakes, as power is generally important for blending ice, something that's uncommon with protein shakes. Second, power isn't the most important feature overall because flaws in the blade or the container design can greatly offset gains in power. You don't always need the most powerful model in the world, but if you have bad blades or containers, your quality goes way down, and you may like the experience far less.
However, more power is still generally better, especially if the other factors are roughly the same. If you have less than 350 watts of power, you're probably going to have trouble crushing ice, and your blends are going to be, on average, a bit chunkier. If you're going to make shakes or smoothies with ice regularly, then you're going to want to invest in a model with at least 500 watts of power, as that's the threshold at which blending ice becomes easy. You should also look for a model that comes with an ice-crushing blade, which is designed for that exact task.
Past 500 watts, you start to have diminishing returns for additional increases in power. You don't gain any new abilities, though you have the possible upside of getting your blends done faster. However, more powerful units depend less on the sharpness of their blade to function, which means that it can get dull and still deliver good results, whereas less powerful models generally need a sharp blade to work best, so you'll have to replace the blade to maintain the best results periodically.
---
Conclusion
The Nutri Ninja BL456 is our top model for making protein shakes, due to its powerful motor, portable cups, and great blade. The NutriBullet NBR-1201 is a great all-around blender, and quality-control problems are all that keep it out of first place. The Hamilton Beach 51103 is the best value, having the power needed for shakes, without any extras that would drive up the price. The Oster BLSTPB is a great budget model that's easy to use and comes with a stylish bottle and a low price. The Homgeek HN011-PB falls to the bottom of our list due to its poor quality and lack of blending options.
Hopefully, our reviews and our buyer's guide have given you some insight into what makes a great blender of protein shakes. You should now be able to use that knowledge to buy a blender that you love, and that works great, too. We wish you good luck with finding the best protein shake blender for your needs!
Related Reads: