10 Best Budget Cordless Drills under $100 – Top Picks & Reviews in 2021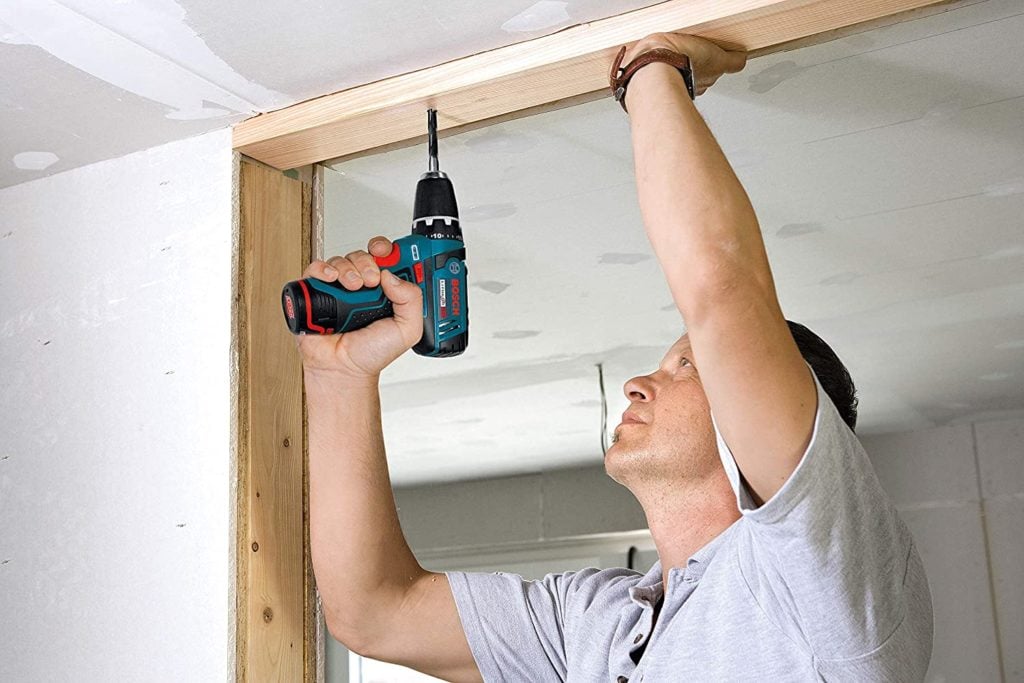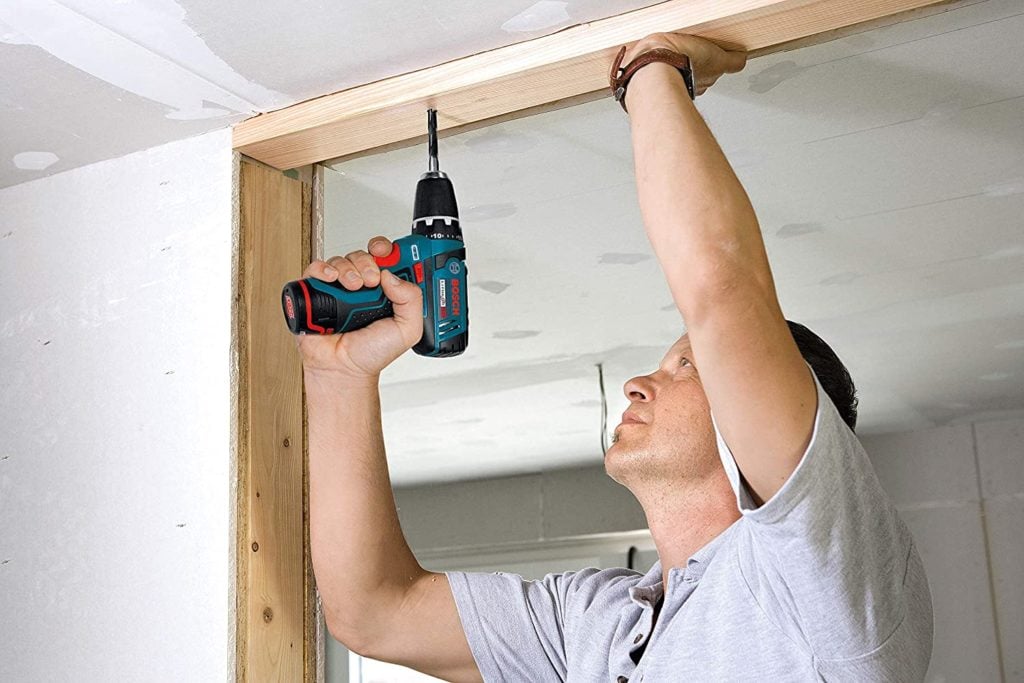 Did you know that over half of Americans own at least five power tools? While that might sound all well and good, you might also wonder how they manage to collect so many awesome tools without breaking the bank.
The answer is budget-friendly power tools, like some of the best budget cordless drills under $100. Not only are these affordable, but they're oftentimes just as good as their more expensive counterparts.
Our in-depth reviews will showcase a handful of top cordless drills that are functional, versatile, and affordable, even for those on a tight budget. Let's dive in.
A Quick Comparison of Our Favorites of 2021:
Rating
Image
Product
Details

Best Overall

BLACK+DECKER LDX120C MAX Cordless Drill

Very easy to handle
Variable speeds and clutch settings
Good battery
CHECK PRICE

DEWALT DCD771C2 MAX Cordless Drill

Comes with two batteries and charging station
Good motor power for small jobs
Lightweight at just over 3 pounds
CHECK PRICE

BLACK+DECKER LD120VA MAX Cordless Drill

Long but balanced grip makes it easy to hold
Comes with 30 accessories
Has good speed and clutch settings
CHECK PRICE

KIMO Cordless Drill Driver Kit

Very lightweight
Very lightweight Has LED lights on the front for illumination in dark environments Good torque for most drilling tasks
Has LED lights on the front
CHECK PRICE

Avid Power MW316 MAX Lithium-Ion Cordless Drill

Has flexible shaft for hard-to-reach places
Battery comes with USB port for charging phones
Has LED lights for illumination
CHECK PRICE
The 10 Best Budget Cordless Drills under $100:
1.

BLACK+DECKER LDX120C Cordless Drill – Best Overall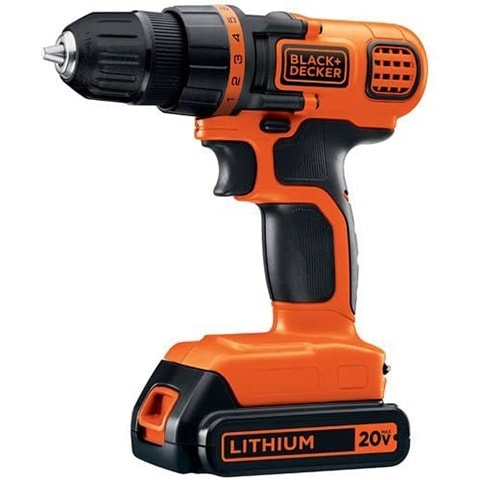 Few cordless drills provide the versatility and ease-of-use as the BLACK+DECKER LDX120C. Take the clutch, that comes with 11 positions, and you'll be able to drill into any material you can imagine including wood and metal. More importantly, the varied clutch will ensure that you don't accidentally strip screws. The drill also comes with a variable speed setting that gives you the fine control you need to accomplish precise construction tasks.
We also like that the drill can be purchased with a variety of different accessories, like a stick vacuum or a screwdriver set that comes with a whopping 109 pieces! This is valuable since it allows you to spend money only on what you need instead of buying a full kit with tools you'll never use.
Other advantages bring it up even higher to our number one spot, including a long-lasting lithium-ion battery. This will allow you to use the cordless drill for longer sessions without having to recharge it. All in all, it's affordable, versatile, and lightweight enough at just 3.15 pounds that we think it'll serve as an ideal cordless drill for just about everyone.
Pros
Very easy to handle
Variable speeds and clutch settings
Good battery
Multiple accessories available for purchase
Cons
Power is too low for some jobs
Chuck quality could be better
---
2.

DEWALT DCD771C2 MAX Cordless Drill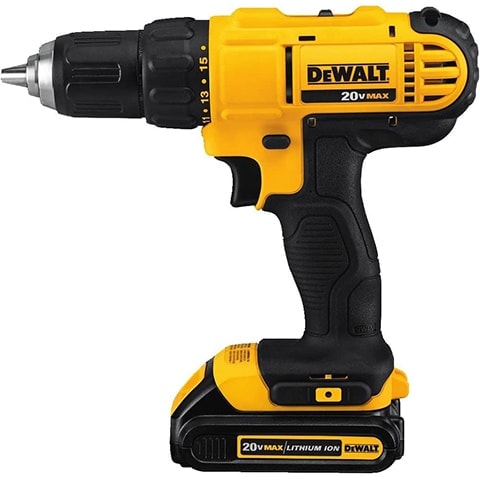 The Dewalt DCD771C2 MAX Cordless Drill just sneaks in under $100, but it comes with a lot in the purchase. The drill itself has a great motor and a high-speed transmission that can oscillate between 450 and 1500 RPM depending on your needs. Furthermore, it comes with a comfortable and ergonomic handle, plus a relatively high-performance motor that can produce up to 300W of power. All this is to say that the drill is easy and comfortable for home hobby or small-scale construction needs.
Beyond the drill, this pack comes with two lithium-ion batteries instead of one, plus the requisite charging station to keep things powered up at all times. This means you can always have a battery charging while the other is in use. When you run out of power with one battery, swap them out and you can keep drilling. This is very convenient.
You'll also get a carrying bag for the drill, charging station, and batteries as a bonus accessory. The biggest downside here is that the chuck, which is ostensibly supposed to provide good gripping strength, weakens over time. Still, it's one of the best budget cordless drills under $100 for the money when you consider the accessories you get and the general ergonomics of the drill.
Pros
Very comfortable to hold thanks to the ergonomic handle
Comes with two batteries and charging station, plus a bag
Good motor power for small jobs
Lightweight at just over 3 pounds
Cons
Chuck weakens consistently
Each battery lasts about 30-45 minutes
---
3.

BLACK+DECKER LD120VA MAX Cordless Drill
Another product from BLACK+DECKER, the LD120VA MAX Cordless Drill is incredibly affordable and ideal for many home maintenance tasks. It falls just short of the top two slots because of its power, or lack thereof – users will find it difficult to use this drill to force screws into anything harder than drywall.
This being said, the drill is a perfect choice for softer wood, some types of plastic and similar materials. It comes with a long-lasting lithium-ion battery, plus 30 included accessories – there are enough bits and drivers here for most maintenance or repair tasks you can imagine. The drill is also equipped with a magnetic bit holder that makes slotting new ones into place quick and easy.
The drill also comes with 24 clutch settings, so tasks requiring extra care to prevent stripping of the screws should be more than manageable. Variable speed settings of up to 750 RPM mean you can go as fast or carefully as the current job requires. Altogether, it's the cordless drill with the most value for money, so long as you don't need to drill into anything too tough.
Pros
Long but balanced grip makes it easy to hold
Comes with 30 accessories
Has good speed and clutch settings
Comes with magnetic bit tip holder for ease-of-use
Cons
Power is lacking for harder materials
---
4.

KIMO Cordless Drill Driver Kit
The KIMO Cordless Drill Driver Kit is a more advanced pick than the last drill and a little pricier. Of particular note are the built-in LED lights at the front of the drill that will help you see screws in dark or cramped spots. Screwing or unscrewing stuff in any enclosed work environment will be easier than ever with this feature.
It comes with an all copper motor as well that can provide up to 330 inch-pounds of torque, so it's suitable for drilling through or screwing through most materials except for the hardest wood and metal. It has two-speed settings between 350 and 1350 RPM, plus a variable clutch for added user precision and safety. The drill is overall quite compact and only weighs 2.2 pounds, making it one of the lightest and easiest cordless drills to use on the market.
With all these positives, the downsides are also notable. The KIMO suffers from a sparking motor that's impossible to ignore every time you turn it on. Furthermore, the battery's maximum capacity can deplete quickly after 6      months, necessitating a replacement. Still, it's an overall solid tool with a lot of value for those who hate handling flashlights and drills at the same time.
Pros
Comes with 46 accessories, including bits, a charger, and a carrying bag
Very lightweight
Has LED lights on the front for illumination in dark environments
Good torque for most drilling tasks
Cons
Battery may not last beyond 6  months
Motor sometimes sparks when starting
---
5.

Avid Power MW316 MAX Lithium-Ion Cordless Drill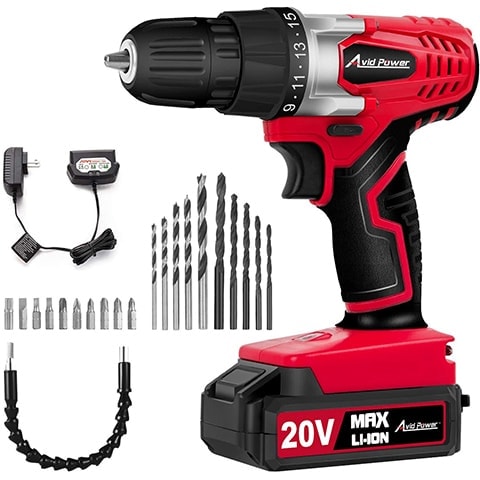 The Avid Power MW316 is another LED-light-equipped drill, featuring a shining spotlight at the end of the drill's nose to illuminate any dark working areas. It's not the fastest drill on the market, featuring speeds between 0 and 550 RPM. But more importantly, the drill comes with an electric brake that can help you avoid stripping screws or drilling them into tightly.
It's an altogether ergonomic drill with a rubber covered handle that's comfortable and that makes the drill difficult to drop, even if you get sweaty palms. An adjustable clutch with 16 positions in total is included as well, adding more precision functionality to its design. The lithium-ion battery is also notable since it comes with a USB port – you can use this to charge your mobile phone or another device. It's an odd inclusion, but certainly welcome in a pinch.
Beyond these aspects, it comes with 22 excellent accessories, including several types of bits and screws. The most important of these is the flexible shaft that will let you drill (albeit slowly) into hard-to-reach places, like corners. But the flexible shaft is quite vulnerable to being broken, and many of the attachments are similarly cheap. Perhaps it's to be expected for the low asking price. All in all, it's a solid budget-friendly choice so long as you don't expect it to last for years on end.
Pros
Good rubber grip
Has flexible shaft for hard-to-reach places
Has LED lights for illumination
Battery comes with USB port for charging phones
Cons
Attachments are fragile
Power could be a bit better
---
6.

Bosch PS31-2A Power Tools Cordless Drill Kit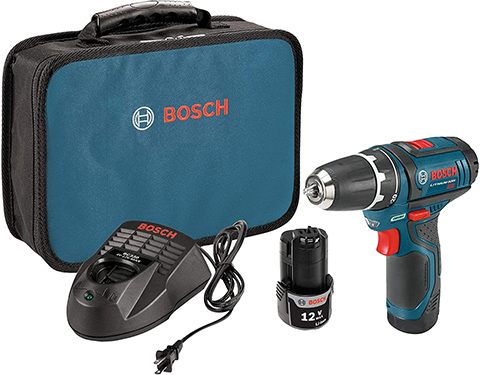 The Bosch PS31-2A weighs just over 2 pounds, so it's one of the lightest drills on the market. Even with this small size, it can drill between 350 and 1300 RPM and comes with over 20 clutch settings. Versatility and customizability is the name of the game, so it's a great pick for precise home maintenance or light construction jobs.
The drill also comes with a pair of 12V lithium-ion batteries, plus the charger you need to fill them with energy. This lets you keep using the drill by swapping between the batteries as they run out, lowering your potential downtime.
Even though it's one of the smaller drills you can find, it can provide decent torque in part thanks to the automatically locking chuck that stops bits from falling out too easily. It's also a pretty easy drill to use, with the variable speed settings operating based on how hard you pull the trigger. The biggest downside we noticed was that actually swapping out the batteries could be tricky. The drill's battery slot is a bit too tight for comfort. Other than that, it's a quality piece of hardware with a well-sized carrying case included in the purchase, to boot.
Pros
Very small, ideal for smaller hands
Easy to control speed settings
Has locking chuck to secure bits
Comes with two batteries and a carrying case
Cons
Swapping batteries is often difficult
---
7.

WORX WX176L Switchdriver 2-in-1 Cordless Drill
The WORX WX176L is one of the most innovative devices on the market. The head actually has two noses, so you can swap between two different bits in an instant. This multiuse functionality makes it a perfect all-in-one tool for home repair specialists. Swapping between the heads is as simple as pressing a button on the drill's handle.
It's even great for preventing screws from being stripped thanks to an automatic torque control that kicks in when things get dicey. Like practically all cordless drills, this model comes with two speeds. But it also comes with LED work lights that activate automatically as soon as you pull the trigger – talk about ease-of-use!
With all these positives, there are a few negatives. For starters, the charger doesn't automatically stop charging when an inserted battery is full. So, remember to take it out in a timely manner. Then we also discovered that the included drill bits aren't very high-quality and are susceptible to breaking. Still, this drill's innovative design and easy controls make it a solid choice for many.
Pros
Has flipping head that can hold two bits/screws at once
LED lights turn on automatically when drilling
Has auto-torque stop function to prevent stripping
Cons
Included bits aren't that great
Charger can over-charge the battery
Power isn't good enough for harder woods/metal
Nose swapping can make it hard to use in compact environments
---
8.

PORTER-CABLE PCC606LA Cordless Drill
This PORTER-CABLE PCC606LA  20V drill is designed like a high-powered tool in a compact frame. It can go up to 1600 RPM, delivering decent speed and power all around, although you'll definitely feel it struggle a bit with harder types of wood. It does come with a 330W motor and a metal ratcheting chuck – this is one of the better parts of the drill since it stops bits from falling out too easily.
It comes with a battery and a charger that takes about four hours to refill the battery from zero. But it also comes with a battery fuel gauge, so you're never surprised about running out of battery, which is a nice added factor. An LED work light is included for added illumination in dark environments.
Aside from the aforementioned issues with power, the drill is also susceptible to overheating, which can cause a nasty burning smell to emanate from the motor. The battery also doesn't last too long. But it'll still be a great choice for those who need a functional drill for an affordable price, as well as one that doesn't drop drill bits all that often.
Pros
Has very secure ratcheting chuck
Includes battery life indicator
Decent speed settings for softer materials
Cons
Motor isn't powerful enough for harder materials
Motor sometimes overheats
Not very comfortable to hold
---
9.

CRAFTSMAN CMCD700C1 Cordless Drill
This CRAFTSMAN CMCD700C1 Cordless Drill is functional and affordable but, for the asking price, doesn't include as many accessories or extra bits as we'd expect. It only comes with a single bit that is admittedly not that great, so you'll need to supplement from other kits or previous tools. It provides 20V of power while weighing 5.2 pounds —  definitely one of the heavier budget-friendly cordless drills on the market.
It does come with two-speed settings, with 1500 RPM is the max. An additional keyless chuck makes it easy to change bits, but it's not very secure and you may find yourself fumbling to replace dropped bits more often than not. The drill does come with a handy LED light to improve visibility, plus an included hanging hook that makes storing the drill in your garage or even under a desk fairly easy.
The handle is rubberized to make it difficult to drop, which is more likely considering the fatigue your wrist might experience. Overall, it's not a terrible cordless drill, but there are plenty of better choices above.
Pros
Chuck allows for quick bit swapping
Rubberized handle for better gripping
Has LED light to improve illumination
Cons
A little heavier than is comfortable
Included bit isn't very good
Doesn't come with extra accessories
Chuck doesn't hold bits very well
---
10.

Skil DL527502 Cordless Drill Driver
The Skil DL527502 Cordless Drill Driver comes with a battery and charger and nothing else save for a basic bit, like the last pick. This is a bit of a downside since it's also not the most affordable drill on this list. The chuck, as well, also allows for fast bit changing but doesn't grip them as well as we'd like.
The high or low-speed controls are functional if not all that impressive. More interesting is the LED direction indicator that tells you whether you are screwing forward or backward. This feature is mostly useful for beginners that don't have a lot of experience with power drills, but it's not a bad thing to include for anyone. An additional LED light on the front activates whenever you press the trigger and stays active for 10 seconds after releasing the trigger.
The battery has decent life and, if you need to drill something quickly but forgot to recharge the battery beforehand, only needs to sit in the charger for 5  minutes before it's ready to go for a short session. Recharging the battery to full takes several hours, however. The drill also weighs over 4 pounds — not nearly as light as many other drills we've seen so far. As with the last pick, the Skil drill isn't the worst drill on the market, but there are certainly better choices available.
Pros
Has LED lights on front and for indicating direction
Chuck lets you change bits fast
Cons
Not as light as we'd like
Battery takes a long time to recharge to full
Bit included isn't very good
---
Buyer's Guide – Finding the Best Budget Cordless Drill under $100
Cordless drills are fantastic power tools that are suitable for a variety of maintenance and construction tasks. Their smaller than average size and temporary power make them better for home repair or construction hobbies more than as dedicated power tools at a construction site, though they can serve there as well provided they have a powerful enough motor.
Are Cordless Drills Worth Your Time and Money?
Absolutely. Cordless drills provide a level of versatility and ease of use that their corded counterparts can't match. Cordless drills work by drawing power from portable batteries that are slotted into their handles. These batteries are almost universally lithium-ion varieties, meaning they should last for at least 6 months, even with repeated draining and recharging.
The portable battery design means that there are a few drawbacks to these drill types, however. Cordless drills aren't usually as powerful as corded ones, and they must have their batteries recharged in between multiple sessions.
How Well Do Cordless Drills Work?
The suitability of a cordless drill to your needs depends, of course, on those needs! Because budget-friendly cordless drills under $100 don't normally top power over 300-400W or so, such tools are best used for softer wood materials or certain types of plastic instead of metal. However, some cordless drills can drill through metal with the right bit and torque settings.
We think cordless drills are particularly good for home repairs, like fixing up a busted doorknob or cabinet. They're also great for putting together furniture or making your own wooden furniture or accessories in a garage workshop. Again, softer wood is normally better since these drills can't provide as much juice as corded ones in many cases.
What to Look For in a Great Cordless Drill under $100
Awesome cordless drills don't often come exactly alike. Here's what you should keep in mind as you browse before buying.
Power
Power plays a big role in drill efficacy. More power means that a given drill can screw a bit into a material with more force, so it'll be better for harder materials like some kind of metal. Keep in mind that more powerful drills take bigger batteries and may drain those batteries more quickly, as well as be heavier.
Speed/Torque Settings
Most electric corded drills these days will come with variable speed and torque or "chuck" settings. Speed settings allow you to screw or unscrew things with more or less precision, while torque settings are important to prevent you from stripping screws or drilling things too roughly. More settings are almost always better since it offers you, the user, better control, and precision.
LED Lights
The best cordless drills under $100 will often include LED lights on the front by the chuck. This illuminates your immediate environment and can help you see a screw or drill hole that's otherwise shadowed. Sometimes drills create these so they activate as soon as you pull the trigger.
Weight and Ergonomics
Lighter drills with more comfortable handles will be better to use over longer drilling sessions. Lighter drills are also better if you have smaller hands and/or wrists. Heavier drills can quickly become a pain to use, so aim for cordless drills around 3 pounds or less for maximum comfort.
Battery Life
Most cordless drill batteries will last anywhere between 30 minutes to an hour of consistent drilling. Anything less isn't really worth your time. Additionally, most cordless drills come with the chargers they need in the purchase. If you want something really great, target drills that come with two batteries in the purchase; this allows you to swap between charged batteries over and over without having to stop.
Included Accessories
Lastly, consider whether a given drill comes with extra accessories like a carrying bag or, more importantly, extra drill bits and screws. More drill bits are good for drilling different kinds of holes and other screw tips are, you guessed it, perfect for using the drill with different types of screws.

Conclusion
Ultimately, these budget cordless drill reviews emphasize one big thing: you really can find quality without spending too much money. For instance, the BLACK+DECKER LDX120C MAX Cordless Drill is easily one of the best power drills on the market, never mind that it's affordable and cordless to boot. The Dewalt DCD771C2 MAX Cordless Drill shows that, for less than $100, you can buy a cordless drill that will last for a long time to come and let you complete all your light construction or DIY home projects with ease.
Hopefully at least one of the above cordless drills has caught your eye. We think many of these models are very much worth most folks' time and money.